Mood EA is a fully automated Forex robot that was launched on 13th December 2020. It is sold on the MQL5 marketplace and you can use this system with the Metatrader 4 trading platform. As per the vendor's claims, this EA has the ability to detect the traders' sentiment while initiating a position.
Is this the perfect automated trading system?
Mood EA does not have an official website. The presentation on the MQL5 product page is quite brief and inadequate. We can see that the vendor has not put too much effort into explaining how this system functions. They have presented a list of EA settings instead of explaining the trading strategy. We also have some screenshots showing the backtesting results.
Vasiliy Strukov, the creator of Mood EA, is based in Russia. According to their MQL5 profile, this person has 2 years of experience. Since there is no background information available on this person, we can say there is a lack of vendor transparency. There is no official contact information and the only way to get in touch with this person is to message them via MQL5. This developer has built other expert advisors like Isolation, EA Idea Pro, Checkpoint, EA Locker, EA Almanac, Hacker EA, EA Gold Stuff, EA Antivirus, and Checkpoint.
Mood EA is compatible with currency pairs like EUR/AUD, EUR/CAD, EUR/JPY, EUR/USD, GBP/AUD, GBP/CAD, and XAU/USD. It uses a momentum indicator for entering trades. Before opening a position, it analyzes the overbought and oversold conditions, trying to analyze the market sentiment. The vendor has not shared any further details on the strategy, and this prevents us from accurately gauging its profitability.
How to start trading with Mood EA
The current price of this expert advisor is $149, which is pretty close to the market average. If you wish to test the performance of the system using virtual money, you can download the free demo version. However, the vendor does not entertain refund requests.
From the EA settings, you can change the starting lot size. If you want it to manage manual orders, you need to enable it in the settings. It also has a hedging option that enables the robot to place both buy and sell orders. Mood EA can also perform automatic lot size calculation and has a drawdown reduction algorithm that needs to be activated manually.
Mood EA backtests

Mood EA started this backtest with an initial deposit of $500. It conducted a total of 1600 trades, winning 1092 out of them. Thus, it had a win rate of 68.2% and a total net profit of $3531.91. There were 16 maximum consecutive wins and 4 maximum consecutive losses during the testing period. The relative drawdown was very high – 81.88%. It is therefore clear that Mood EA carries a high risk of ruin.
Trading results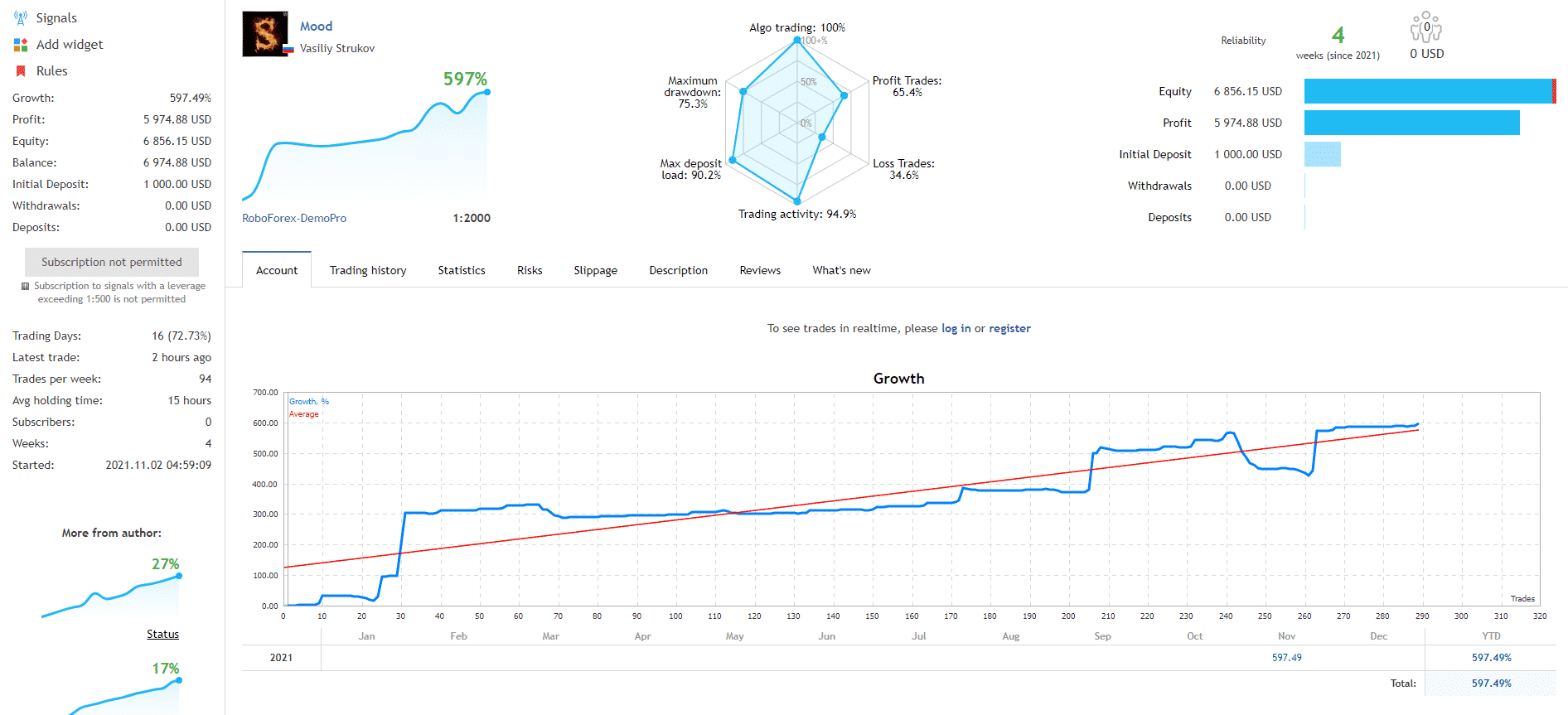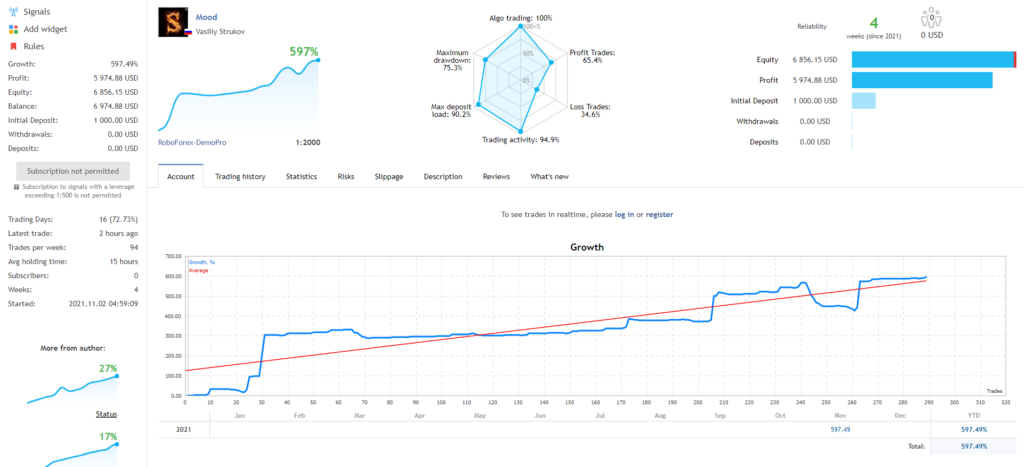 Since the vendor has not shared the verified trading results for this expert advisor, we must rely on the trading statistics presented on Myfxbook. However, since the results are not monitored by an independent body, we cannot entirely consider them authentic.
This account has been active for only 16 days, which makes it difficult for us to judge whether the EA can deal with different market conditions. The EA has placed a total of 289 trades through this account, winning 65.39% of them. As a result, it has generated a total profit of $5974.88. Here also, we can see a high drawdown of 75.3%. We don't think you should risk investing real money into a robot that follows such a high-risk trading approach.
Other notes
You have the option of applying dynamic distance in your order. From the EA settings, you can change the starting value for the dynamic distance as well as the multiplier.
People feedback


At this moment, there are no reviews for this expert advisor on trusted third-party websites. Because of the lack of verified results, most traders do not use this robot. There are several reviews on the MQL5 website, but of course, we cannot consider them authentic.
Conclusion
Advantages
Available at an affordable price
Disadvantages
No money-back guarantee
No verified trading results
Lack of vendor transparency
Mood EA is an unreliable EA that cannot be trusted. The vendor has zero reputation and they fail to provide enough information about the system. In the absence of verified statistics, there is no way we can recommend traders to spend money on this robot.