Neural BOT is a fully automated trading system that places and manages trades. It analyzes the market 24 hours a day and because of this, its developer claims it's more effective than a human.
Its current version is 1.30 and it was last updated on June 19th, 2021. According to the statement on the vendor's website, the software updates and optimizations are made on an ongoing basis and will be made available to the buyer.
Its developer hints at a plan to further develop the robot, which he says will help to achieve an even better trading effect in the future.
Is a Neural BOT EA still good to go?
The EA is developed by Piotr Stepien who hails from Poland. He is an active user of the mql5 platform. His other robots include Daily change percent, Volume Profile, Supply Demand Zone, Market Profile, and SuperTrend ATR. Apart from developing EAs, Stepien also provides trading signals.
Neural Bot is designed and optimized for the MT5 platform and the EURUSD currency pair. However, there is a feature for advanced users where traders can adapt it themselves to other currency pairs. An external link is provided on the developer's website to direct the traders to read the guide on how to do it. After the optimization is done, traders can run the robot on different currencies at the same time. The developer acknowledges that the EA performs few trades but of good quality. Therefore he asks traders to be patient with the system.
How to start trading with Neural BOT
The EA works on any timeframe with the MetaTrader 5 platform. According to the developer, even in case of the internet connection of electricity loss, your orders will be protected with SL.
The recommended leverage is 1:500. However, if you want to use another leverage, you should use the appropriate setting in Money Management.

The system trades on a Raw Spread account with a minimum balance of $300. The EA costs $600 for the lifetime package, however you can rent it for 1 year at $500. A free demo version is also available.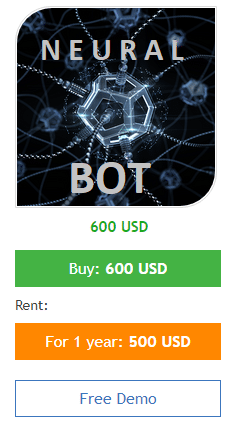 Neural BOT Backtests
From the backtesting report provided in the screenshot, the EA made a profit of $2215481.33 in 1836 trades. Its win percentage was 99.78% while the maximum drawdown was 19.70%. The average profit trade and average loss trade were $1248.79 and $18077.77 respectively. This represents a poor risk to reward ratio where winning trades were closed early while losing trades were let to run as a result of tight take profit and wide stop loss. The initial deposit and current balance are not shown.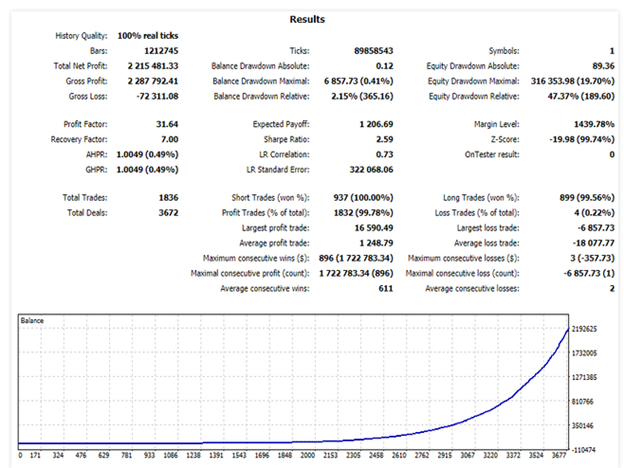 Trading Results
From the trading results provided, the EA has been running on the account since April, 14th, 2021. We can see a growth of 49.78% representing a net profit of $501.06 pushing the balance to $1508.88 from a deposit of $1007.82.
The robot performs 3 trades per week with an average holding time of 1 day. The profit percentage is 98.1% whereas the maximum drawdown is 35.9%.
Both backtesting and trading results have almost the same profit percentage. The maximum drawdown for the backtesting report is 19.70% while that of trading results is 35.9%.


Other notes
The Neural BOT has a high rating on the mql5 platform and records approximately 39 purchases per month.
People Feedback
The EA has no customer reviews on Forexpeacearmy, Trustpilot, and Myfxbook. However, the feedback attached shows what customers say about it on the mql5 platform.
From the feedback, we can see that everything does not move smoothly as one may think. A customer going by the name David Lee is concerned about one error he keeps getting after every few minutes.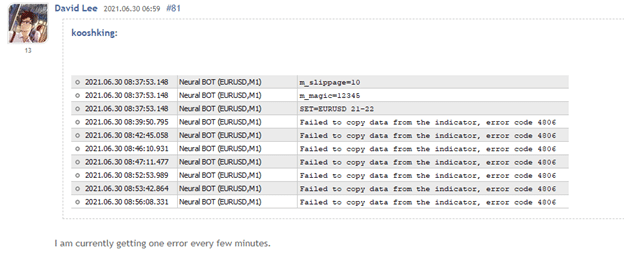 Wrapping Up
Advantages
Backtesting data provided
The vendor identity is provided
Trades little account balance
Disadvantages
No customer reviews on third-party platforms
No strategy explanation
Hih pricing
No trading results on Myfxbook or Fxblue
Only trades one currency pair unless optimized to trade other pairs
The developer of this EA sells it at a very expensive price yet he does not provide us with a proper explanation on which type of trading strategy he uses. What makes him think that we will just buy a robot with no verified trading results on platforms like Myfxbook? These are crucial details that we need to see. Therefore, we urge traders to stay away for now.