Targeted at traders considering making profits from leveraging news events, News Action Trader is a system that considers spreads, slippage, and whipsaws for its trading method. With over two years of experience in live trading, the system claims to exploit liquidity and news for optimizing the profit target, stop loss as well as trailing stops. The vendor claims to use an advanced design and revolutionary technology with fast speed for trading the news.
Is The Trading System EA An Effective One?
This EA is a completely automated trading program developed by Mikhail Zapudrin in partnership with LeapFx systems, which have launched several such EAs. Based on the developer's statement regarding the efficacy of this robot, it can double your money in a few months. However, we are skeptical about the claims as other systems of LeapFx we have reviewed also use lofty claims but do not deliver.
This Forex robot works on six main currency pairs including the XAU pair. For platform compatibility, the EA conforms to both MT4 and MT5 platforms. M5 is the time frame used by this robot.
Strategy Used Is Vague
In contrast to the regular scalpers, this EA is designed to be suitable for average execution span and spreads. The currency pairs that have the highest liquidity are used by the robot, as these work effectively with the short holding time used here. Other than this information, the developer does not provide the exact strategy used so it is difficult to assess how effective the method used is.
How To Start Trading With News Action Trader
Two different price packages are provided for this EA. One is a 2-monthly plan that costs $247, and the other is a one-time payment of $397. Both have the same features including support for 6 currency pairs, best settings for trading, and a money-back guarantee of 30 days. Lifetime support, updates, and license are offered for the two packages.
According to the developer, the minimum recommended balance is $200. A risk percentage of around 2% is recommended for steady and safe profits, while the default setting for risk is 1% of the account balance.
News Action Trader Backtests
There are no backtests available on the official site of the EA. This may be due to the trading strategy used, which requires incorporating news influence in historical data. Further the spreads, slippage, etc. are also difficult to duplicate when economic news is concerned.
Trading Results
For verified proof of the trading results, the site has verified accounts on FxBlue and MyFxbook. On the Myfxbook account verification with Pepperstone broker, the robot reveals a gain of 215.64% and a drawdown percentage of 20.45%. With the number of trades going over 1100, the monthly gain is fixed at 3.21% and the daily gain is 0.11%. The average trading length is 2 minutes and average wins arrive at 32 pips mark, while the -16 pips mark is where the loss occurs on an average.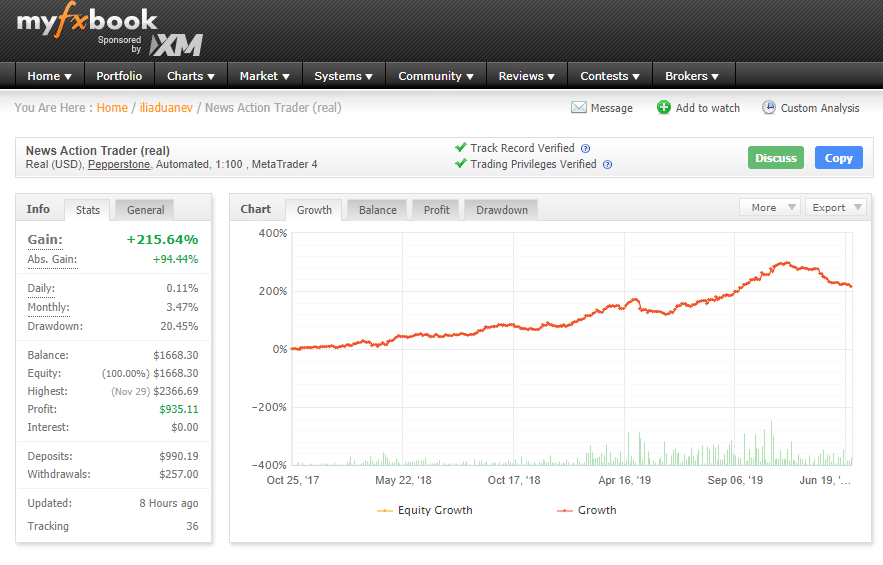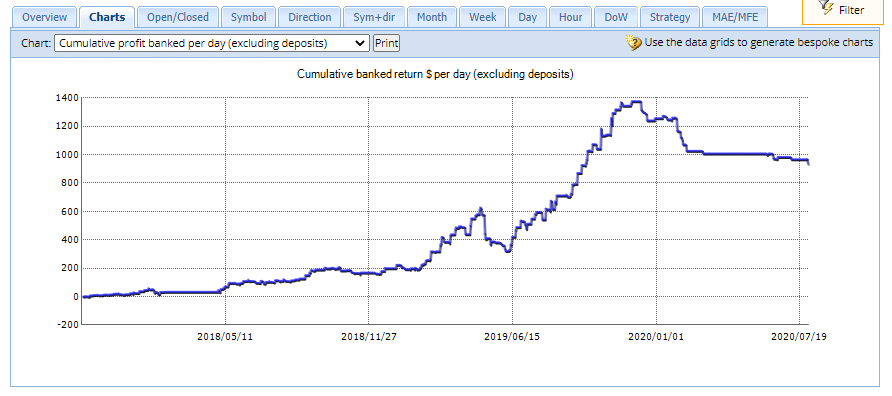 Stable And Fast Internet Connectivity
For the software to work effectively, it is necessary to have a fast and stable internet connection. This is because the trades are of a short term of a minimum of one or two seconds. So, when there is a lag in your system connectivity, you will not receive the same effect. Further, we believe that to mimic the results shown on the home page of the site, it is necessary to have a set that is similar to what the developers use to gain the results. We believe that having the same broker and server can reduce the workload and hassle involved which is not possible for all traders.
People Feedback
There are no relevant feedbacks from users, even if the official site has several real and verified accounts to boast of. With the EA being introduced just a couple of years back, and considering the expensive price package, it is not surprising that there are no feedbacks from users.
Summary
As a Forex robot focusing on news action for trading, News Action Trader EA does not measure up to the hype that surrounds It. The high claims of the developer are mostly on paper only and do not reflect in the real trading scenario. We found the drawbacks outnumbered the advantages of the robot.
Advantages
Verified results shown on FxBlue and Myfxbook
Money back guarantee of 30 days
Disadvantages
Expensive price
Strategy used is not explained clearly
No backtests available
Lack of vendor transparency
Wrapping Up
Although New Action Trader Robot assures of decent profits, when we reviewed the real account results on Fxblue and Myfxbook, we found them to be too impractical to be true. And even if the results are real, it is not possible to mimic the situation. We have another big concern which is using high-speed trades, which can backfire if your internet is not stable. The suspicious results, expensive price, lack of vendor transparency, and low chance of producing similar results in real-time, indicate that this is not a robot you should rely on.
The Best Forex Robots Report Is Already Here!
Check out 30+ best expert advisors with daily updated live results and statistics.