Pinpoint EA is a new Forex robot launched on 29th October 2020 that is based on 12 months of high-quality backtesting data and which promises a win rate of 94%. This is a fully-automated system that trades daily and generates profits on a weekly basis. It is a FIFO compliant system with an estimated monthly profit of 2.5.
Is This Robot Capable of Making Profits?
Pinpoint EA is a product from Responsibleforextrading.com, which is the brainchild of Ryan Brown, an American trader with 15 years of market experience. On the official website, there is a video where he claims to have built 880 Forex trading algorithms for long-term trading. He says that the Forex EA churns out profits at a consistent rate and doesn't destroy your account, unlike some of the others.
We appreciate the fact that the vendor has maintained transparency and created a video showing successful live trading results on multiple Myfxbook trading accounts. This Forex EA trades in the GBP/USD and EUR/USD pairs and follows bigger trades for better long-term results.
Pinpoint EA uses the Relative Moving Index (RMI) indicator to identify scalping points in the market. However, it uses other indicators in combination with this one to create balanced trading schemes. The vendor does not seem to conceal losing trades and has pointed out several occasions where losses were recovered in the following weeks.
How to Start Trading With Pinpoint EA
Pinpoint EA is available for $397 and the vendor provides a couple of rental options as well. If you wish to try out the EA for some time before fully committing to it, you can rent it for 1 month at $30 or for 3 months at $90. Compared to other Forex EAs on the market, this is not quite expensive, but the absence of a money-back guarantee is a bad sign.
This Forex robot uses the M15 timeframe for trading and recommends using an ECN broker and leverage of 30:1. The vendor also maintains a free discord channel where you can get backtesting data and live trading results on a regular basis. Pinpoint EA takes into account international events that trigger key market phases and aims to make the best of these situations to earn gains.
Pinpoint EA Backtests

The backtesting results for Pinpoint EA have been provided on the official website and these are independently verified by Myfxbook. From this data, we can see that the system has made steady gains over the period of 9th May 2003 to 16th September 2020. Here the daily and monthly gains are 0.03% and 0.91%, respectively, while the time-weighted return is +572.8%.
During this period, the Forex EA had won 93% of long trades and 94% of short trades. Out of 2996 trades in total, it has won 2526, which means it has a profitability of 94%. It has a profit factor of 1.73, which is pretty standard as far as Forex robots go. Plus, it has an average win of 11.21 pips/$5.36, which is quite decent.
Trading Results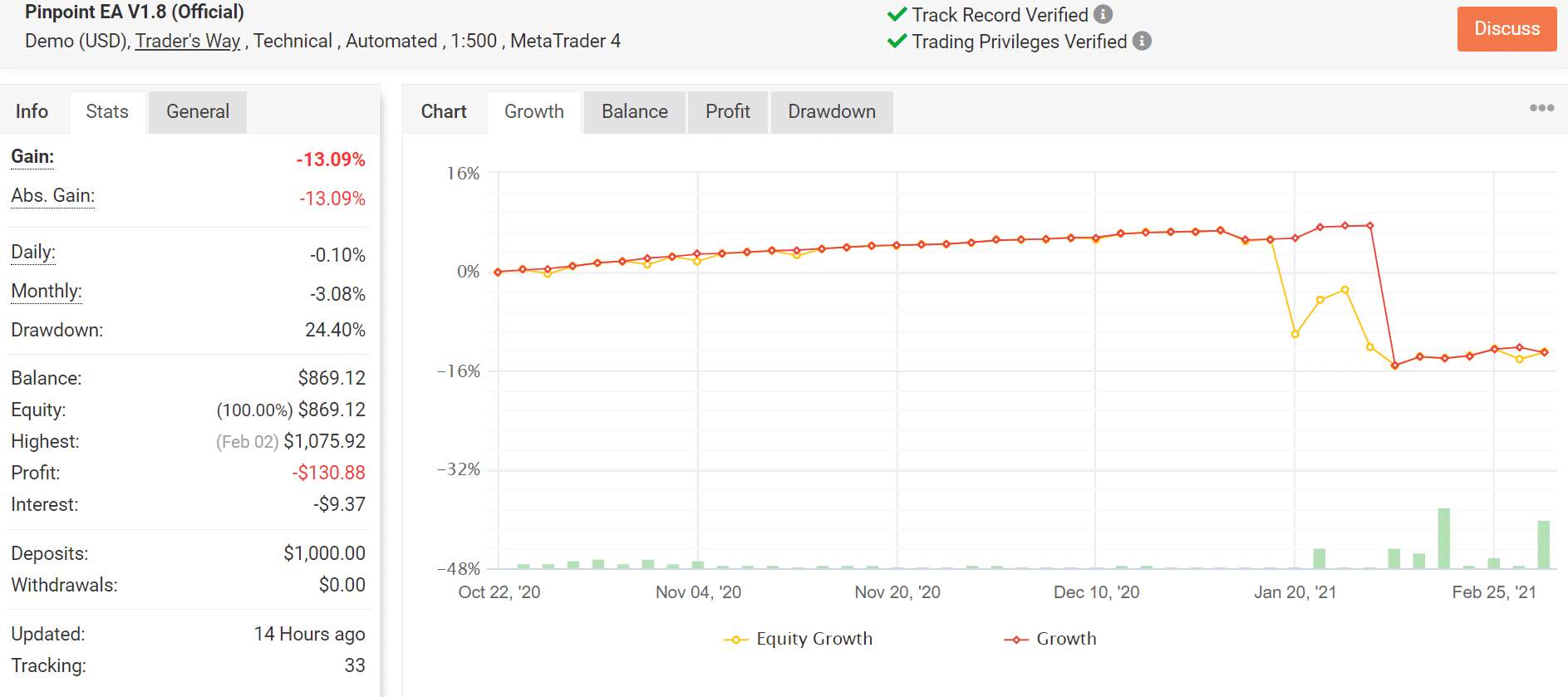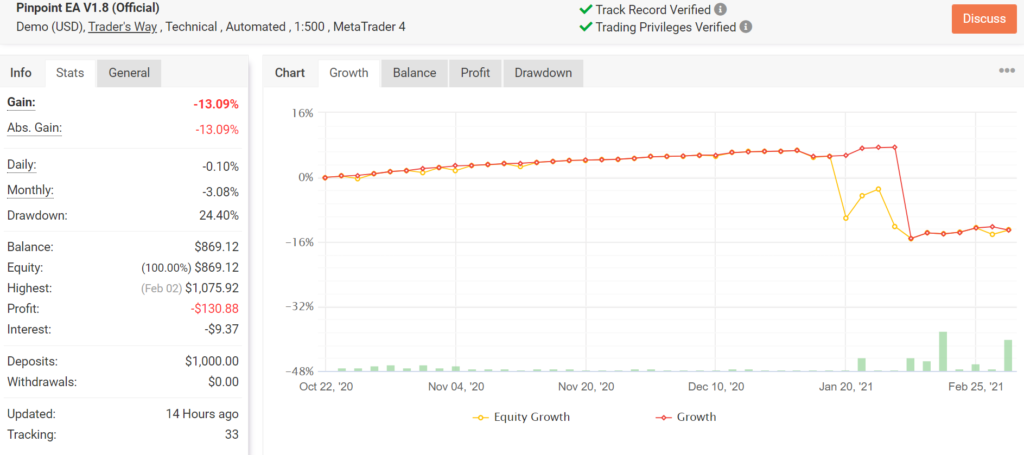 This is a live trading account for Pinpoint EA that was opened on Myfxbook on 22nd October 2020. Since then, it has placed 74 trades, which tells us that system does not overtrade. It has won 94% of long trades and 95% of short trades with a combined win percentage of 95%.
Winning on an average of 11.47 pips for every $3.16, this account has a profit factor of 0.63, which is quite low. This is because it has suffered a huge money loss in February 2021.
In early January, this system placed a trade on the EUR/USD and this resulted in a huge loss of -21.14%. It seems the losses are stacking up for this account because the profit currently stands at -$130.88. Compared to the backtesting data, the live trading results do not look that impressive to us.
People Feedback
We couldn't find any customer reviews for Pinpoint EA on third-party websites like Forexpeacearmy and Trustpilot. Since this is a new system, we believe not many people know about this Forex EA yet and it may take some time before the reviews start to appear.
Wrapping Up
Advantages
Live trading results are available
Backtesting data is provided
Clear explanation of trading strategy
Disadvantages
No customer reviews
Live trading results show infrequent, but huge losses
No money-back-guarantee
Summary
After analyzing the various aspects of the system, we have mixed feelings about this Forex EA. While the backtesting results are quite impressive, we can see some enormous losses made in the current year, which makes us wary about investing in this system. The vendor seems to maintain transparency, but then he doesn't provide a money-back guarantee, which is disappointing.