Easy Money X-Ray Robot is a user-friendly Forex EA that promises a compounded monthly profit of 35-50%. As the vendor claims, you can turn small deposits into huge profits using this Forex robot without spending hours reading charts and trading articles. While these are pretty tall claims, it is always wise to be skeptical about them, and as such, we need to assess all the different aspects of the system before deciding whether it can be trusted or not.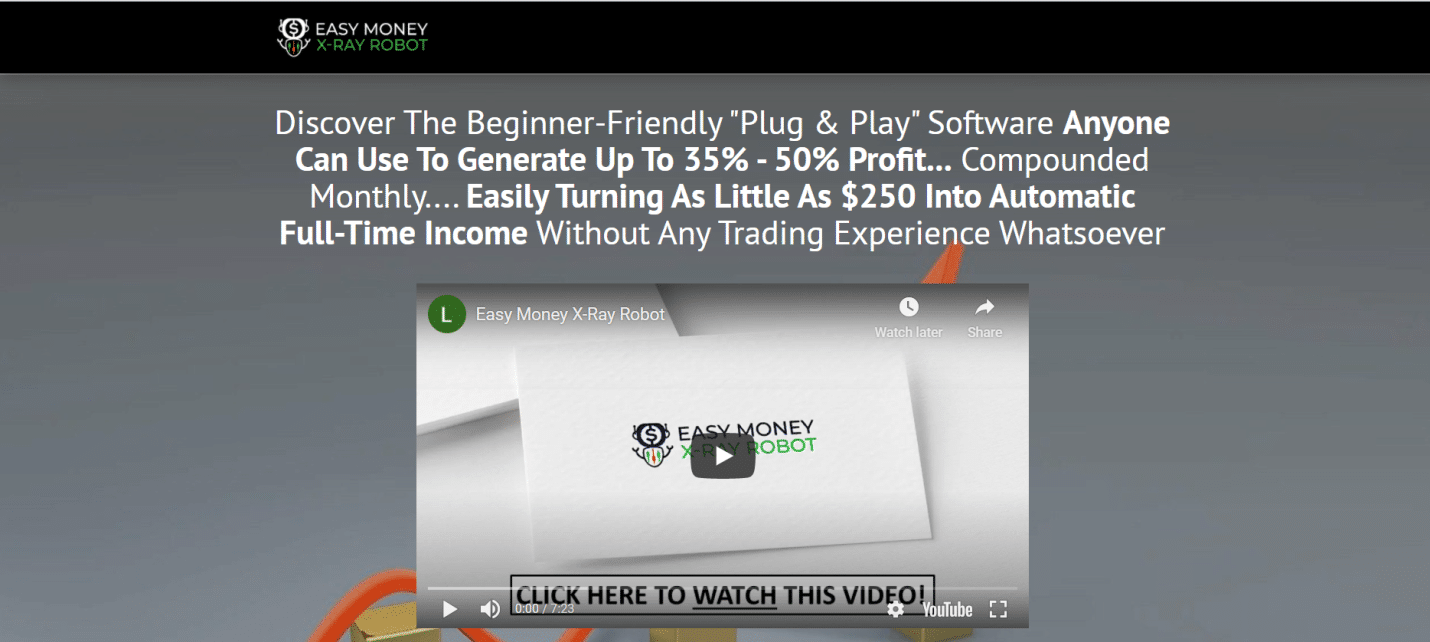 Is This a Forex EA That Can Bring You Profits?
Easy Money X-Ray Robot promises 3000% profit without any manual intervention on your part. On the official website, the vendor has clearly outlined the advantages offered by the system and highlighted the live trading results showing profitable outcomes. Moreover, the pricing packages have been detailed, along with the features included in them.
We don't have any information related to the company behind this Forex EA, and the vendor hasn't revealed the identity or location of the developers. The lack of vendor transparency comes as a disappointment and it would deter many Forex traders from investing in this expert advisor.
Easy Money X-Ray Robot trades in all the major and minor pairs, but nothing is mentioned about how the system spots trading opportunities or what indicators it uses for gauging the strength of a trend. While it is stated that the system uses a combination of four indicators to identify trading occasions, we don't know what they are. Since there is not enough information about the trading strategy, we cannot properly assess the profitability of this Forex EA.
How to Start Trading With Easy Money X-Ray Robot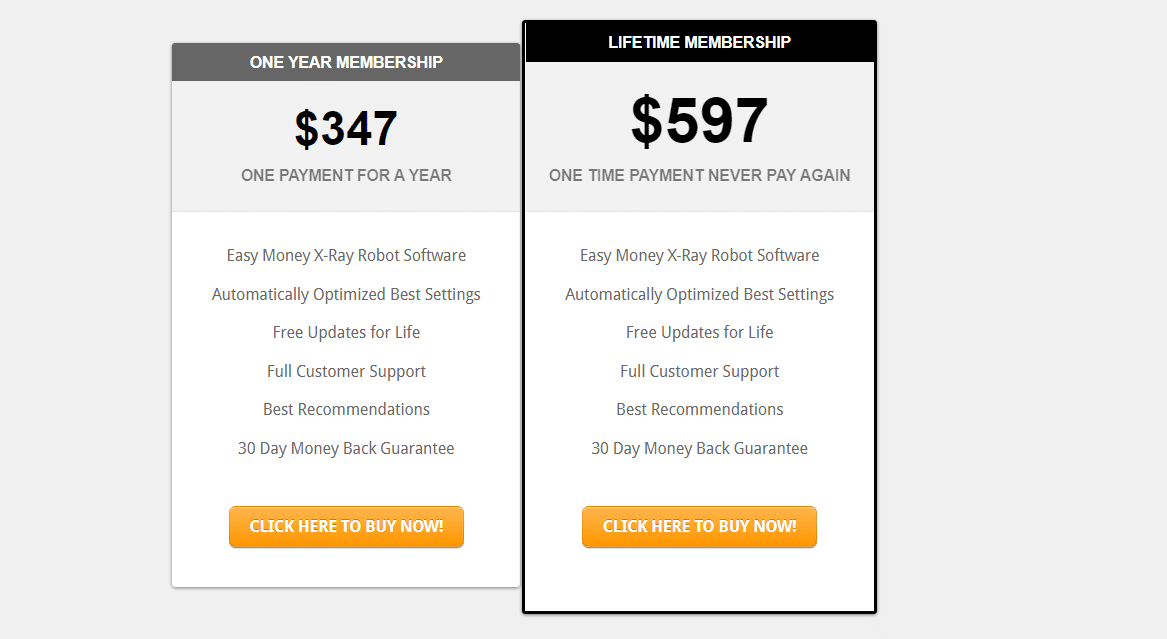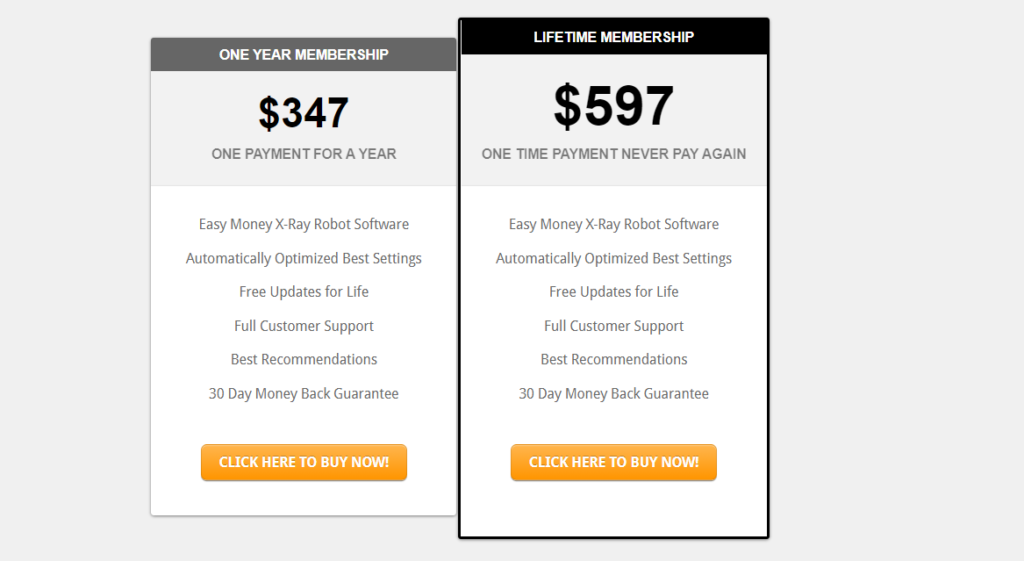 There are two pricing plans offered by this Forex EA, one for a yearly membership and the other one for a lifetime membership. Priced at $347 and $597, respectively, these plans offer the same features, including optimized best settings, free lifetime updates, customer support, and best recommendations. The vendor also provides a 30-day money-back guarantee for this product, so you can get a refund if the performance fails to meet your expectations.
Easy Money X-Ray Robot is a plug-and-play software that zeroes in on profits consistently with the help of a dynamic management system. There is no need to adjust the settings, and you can start trading by selecting the level of risk you are willing to take.
The vendor recommends you start trading with a balance of $250. After you install the software, it will open, manage, and close trades by itself. The settings are adjusted beforehand so you can start making profits immediately.
Easy Money X-Ray Robot Backtests
We don't have any backtesting results for Easy Money X-Ray Robot. Without this data, we cannot determine how the system would have performed based on old data. Thus, it is not possible to make a comparison between the live trading results and the backtesting data and gauge the profitability of the system from an objective viewpoint.
Trading Results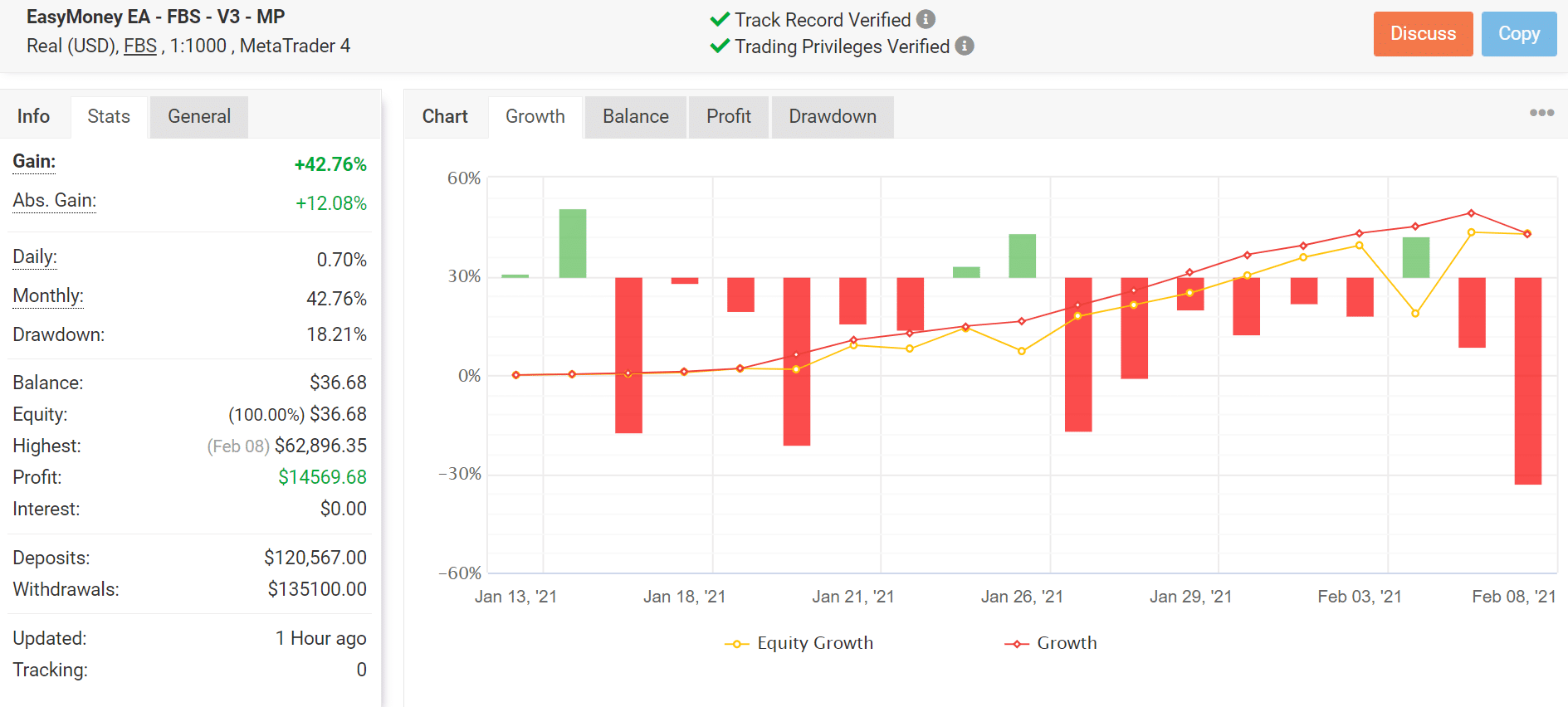 We have been provided with the live trading results for seven different trading accounts on Myfxbook. Here we shall analyze the Real USD account using the FBS broker on the MetaTrader 4 trading platform with leverage of 1:1000.
This particular account was opened quite recently on January 13th, 2021 and to date, it has placed 5055 trades. It has managed to win 62% of these trades with the average win and loss being 6.32 pips/$14.95 and -14.40 pips/-$16.59, respectively.
We can also see that the daily and monthly gains generated by this account stand at 0.70% and 42.76%, respectively, with the latter being quite high compared to other Forex EAs. The low drawdown of 18.21% further confirms the fact that this system is a profitable one.
Other factors to note are the absolute gain of 12.08%, the time-weighted return of 42.76%, and the profit factor of 1.45. As we know, any system with a profit factor above 1 can be considered decent, so this system seems to be genuinely capable of generating profits on a consistent basis.
People Feedback
There are no user reviews available for Easy Money X-Ray Robot on popular review websites like Trustpilot and Forexpeacearmy. While there are a few screenshots of customer testimonials posted on the website, these do not look authentic. The absence of real customer reviews tells us that this Forex EA doesn't have much of a reputation as of now.
Wrapping Up
Advantages
Live trading results are provided
Plug-and-play system
Money-back guarantee is provided
Disadvantages
A lack of strategy insight
No information on the trading strategy
Customer reviews are not available
Summary
To summarize, this Forex EA is not a scam, but it has a few shortcomings that cannot be overlooked. We couldn't find any information related to the trading strategy and there are no customer reviews that tell us about the user experience. While the live trading results are promising, we think it is a bit risky to invest in this system.