Forex Real Profit EA is a Forex EA that claims to provide long-term profit with minimum drawdown. The vendor states that this system is built to survive in the long run and it constantly undergoes improvements in order to stay ahead of the curve. Users also get customized support and receive a setup guide that helps them place trades through this system using the MetaTrader 4 platform.
Is This Forex EA Still Good to Go?
The presentation on the official website of Forex Real Profit EA looks quite professional and there are separate sections for the robot's working principle, trading performance, testimonials, FAQs, Contact, Forum, and Bonus offers. We also found a Blog section where details about Forex expert advisors and the MetaTrader 4 platform are provided.
There is little or no information about the developers behind the system, so we don't know if they have any prior experience in the Forex market. We think the vendor should consider providing some details about the identity and location of the developers in the future.
This Forex EA mainly trades in the GBP/USD and EUR/USD pairs. It uses six different trading strategies, including two scalping schemes for the Asian session, three strategies based on a breakout, and another one for tend-scalping 24*7. The lot sizes are adjusted as per market conditions and stop losses are placed between 50 and 200 pips based on the chosen strategy.
We don't have any further details available on the trading strategy. Some Forex traders are very particular about technical details and they might find the information provided on the website to be inadequate.
How to Start Trading With Forex Real Profit EA
Forex Real Profit EA costs $199 per year, and this is quite reasonable compared to other Forex robots available on the market. The vendor provides a 30-day money-back guarantee for this product, so you can get a refund in case the system does not work for you. It does not trade on weekends and does not use grid or martingale strategies that carry huge risks.
After you purchase the robot, you will receive your username and password via email. You can use these credentials to access the members-only area of the website and download the Forex EA software. For this, you need to open the MetaTrader 4 app and select this system in order to place trades through it.
The vendor recommends using a minimum deposit of $1000 for best results. If the average short-term and daily ranges exceed the maximum limits, the robot does not trade. In case the total loss is more than 7% of your account balance, open trades are automatically closed.
Forex Real Profit EA Backtests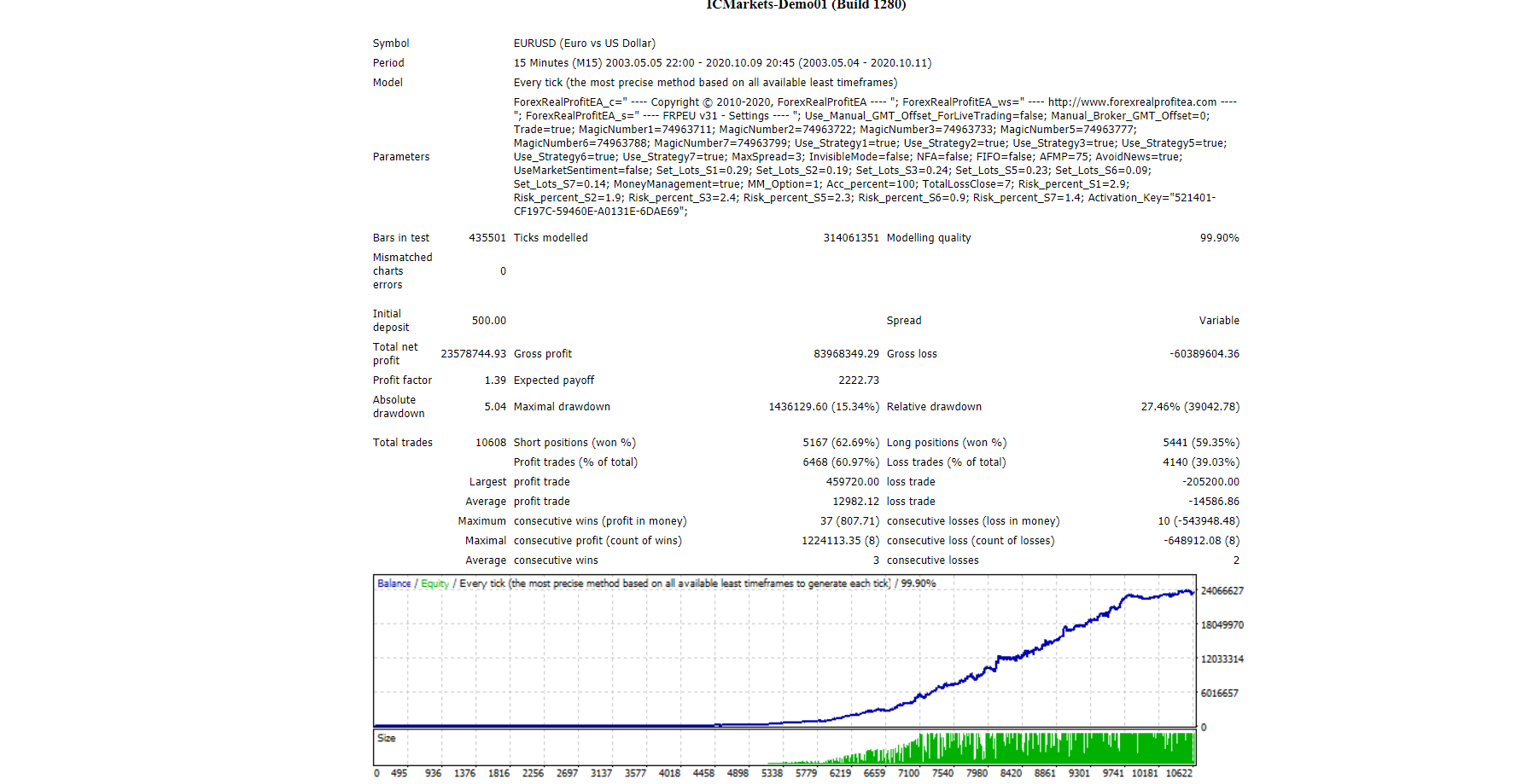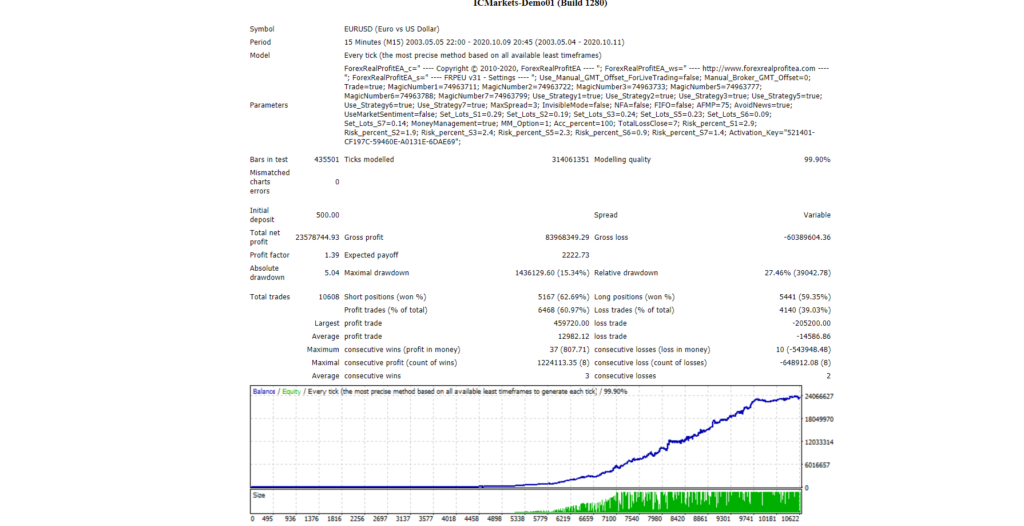 We have provided multiple backtesting results for Forex Real Profit EA, but here we shall discuss the one conducted on the EUR/USD pair for the M15 timeframe. The duration of this backtest was from May 2003 to October 2020, so we have a large enough sample size based on which we can judge the system's performance. A total profit of $23578744.93 was generated by this Forex EA from an initial deposit of $500 during this time period.
We can also see that during this backtest, 62.69% of short positions and 59.35% of long positions were won. The percentage of profitable trades stands at 60.97% and the profit factor is 1.39. All of this tells us that this is a trustworthy system that closes most trades in profits.
Trading Results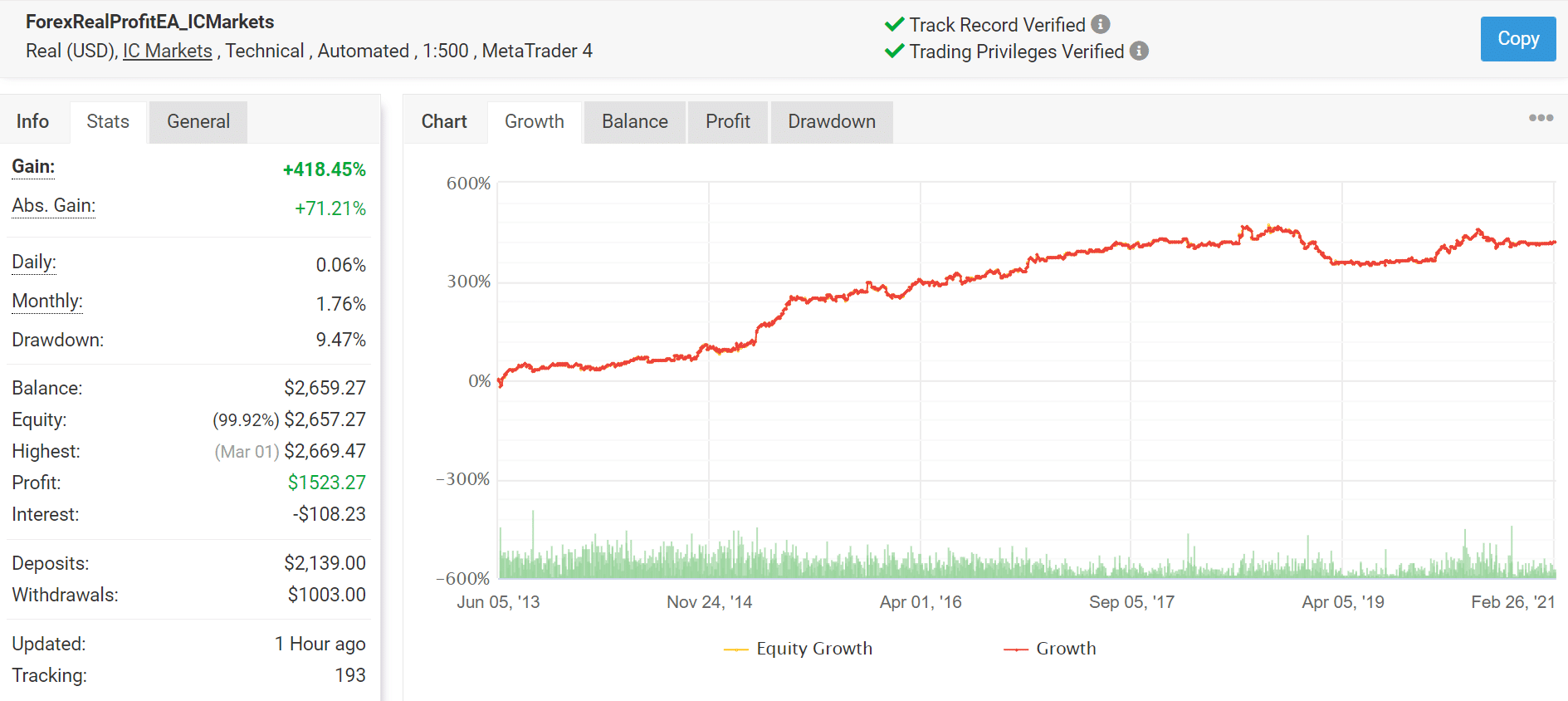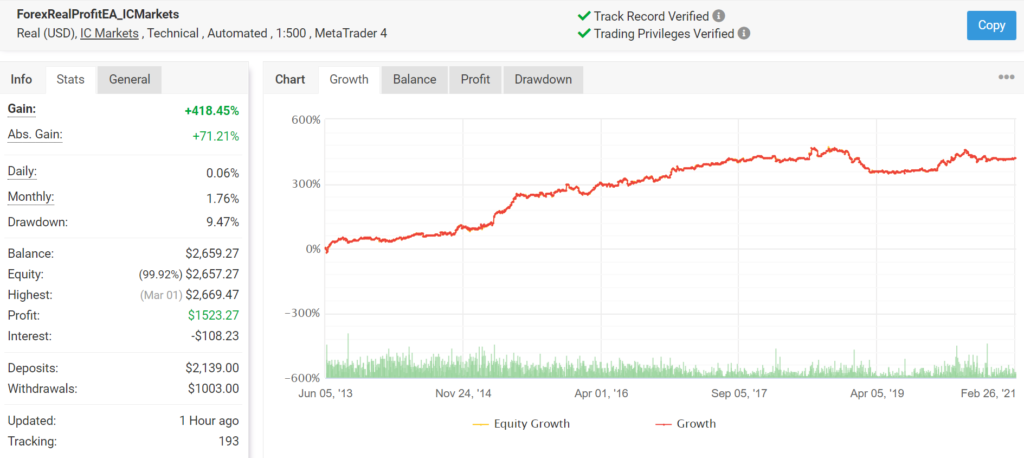 Here is the live trading result for a Forex Real Profit EA account on Myfxbook that trades in the EUR/USD pair. As we can see, a total profit of $1523 has been generated through this account from deposits of $2139. The absolute gain is 71.21%, while the time-weighted return is 418.45%.
This account has a profitability of 64% and an average win of 12.38 pips/$2.23. The profit factor of 1.16 is quite decent and the drawdown of 9.47% is very low as compared to other systems. Overall, it looks like a reliable Forex EA that provides consistent gains.
People Feedback


There is only one customer review for Forex Real Profit EA on the forexpeacearmy.com. Here, the user states that while this robot performs well on a demo account, it fails to live up to the expectations when applied in the live market. It would be great to have more reviews to compare this to, but for now, things don't look too promising in the people feedback department.
Wrapping Up
Advantages
Live trading results are shared
Backtesting data is available
Money-back guarantee provided by the vendor
Disadvantages
Lack of vendor transparency
Negative user reviews
Lacks information about trading strategy
Summary
Forex Real Profit EA seems to be one of those systems that show a lot of promise. It reveals enough information about it, so in no way is it a scam service. But, owing to the lack of vendor transparency and negative user reviews, we cannot call it a perfect Forex EA.