Punisher SCALPER EA is a Forex scalping robot that works on the Metatrader 4 trading platform. The system was launched on 4th September 2021, which means it is brand new. Thus, it becomes necessary to determine the profitability of the EA by analyzing its live performance, along with other factors.
Is this a reliable Forex EA?
Since there is no official website for this robot, we only have the MQL5 website from which we can gather information. On the product page, the vendor has highlighted the offer and shared their recommendations without explaining the features in detail. We have some links for set files, a video showing trade setups, and a screenshot of the live trading account.
The developer behind this system is Hemza Barour, who is based in Algeria. We don't have any information on this person and their service history. The complete lack of vendor transparency is a tell-tale sign of a scam. Other than Punisher SCALPER EA, this developer has built other systems like Desert Funk EA and Evil twin scalp EA.
Using this EA, you can trade in four currency pairs, namely XAU/USD, GBP/USD, USD/JPY, and EUR/USD. It uses a stop loss with each trade. According to the vendor, each trade has in-built protection against large slippages and spreads. However, they haven't elaborated further on this protective feature, so we don't know exactly how it works.
The EA follows a scalping strategy where it extracts small profits from each trade. This is a high-frequency strategy that requires you to keep the EA running on a 24/7 basis. It is a highly stressful strategy that is not suitable for beginners.
How to start trading with Punisher SCALPER EA
Currently, the selling price for this robot is $200. The vendor claims that after the sale of one more copy, they will increase the price to $300. However, this seems like a cheap tactic to lure in buyers. Reliable EA vendors do not usually resort to such tactics. You can download the free demo version for testing purposes, but unfortunately, there is no money-back guarantee for this robot.
Punisher SCALPER EA trades on the M30 timeframe. It is a fully automated system using a search and breakdown mechanism for local extrema. The vendor recommends testing the system with minimal risk using a demo account, prior to live trading. Since it follows a high-frequency strategy, you need to use a VPS server. You also need to sign up with an ECN broker offering zero spreads. The starting balance for this EA is $100.
Punisher SCALPER EA backtests


For this backtest, the EA conducted 870 trades, managing a win rate of 64%. Between 2018 and 2021, it generated a total profit of $3198030.53. The daily and monthly gains for this backtest were 0.91% and 31.32%, respectively. We can see that the drawdown was quite high at 27.28%, and this indicates a high risk of ruin.
Trading results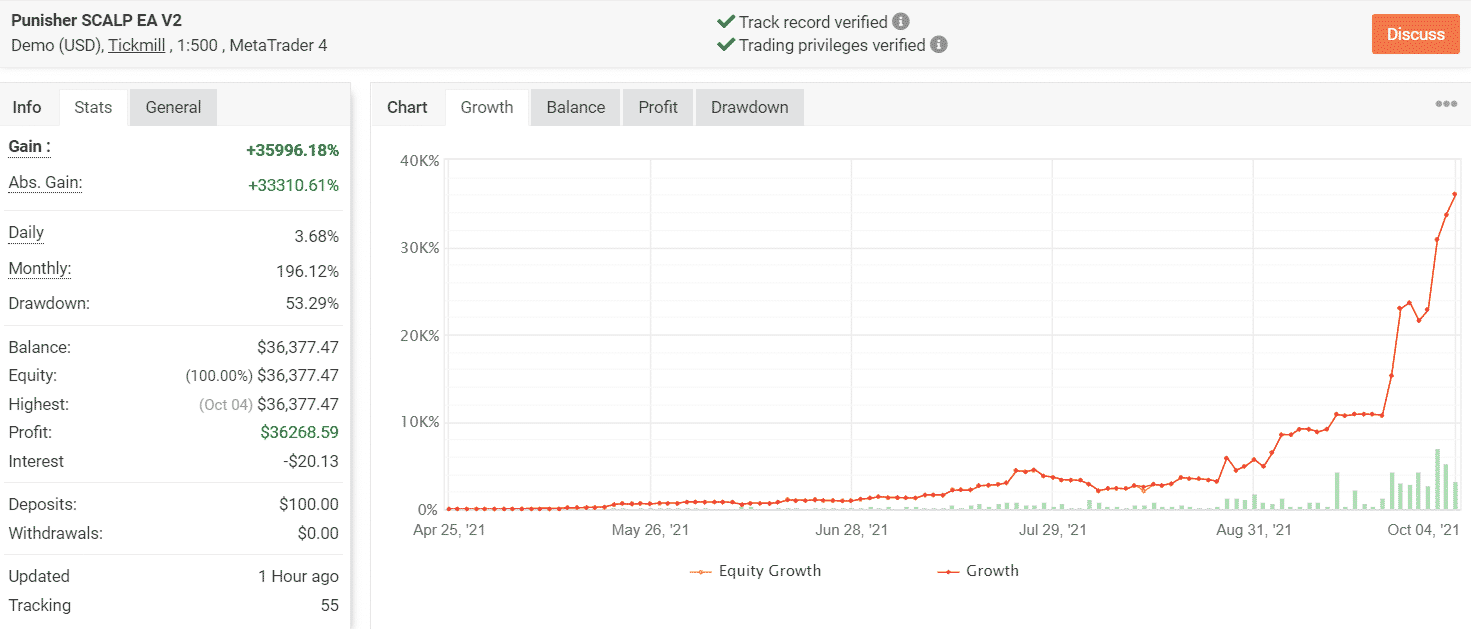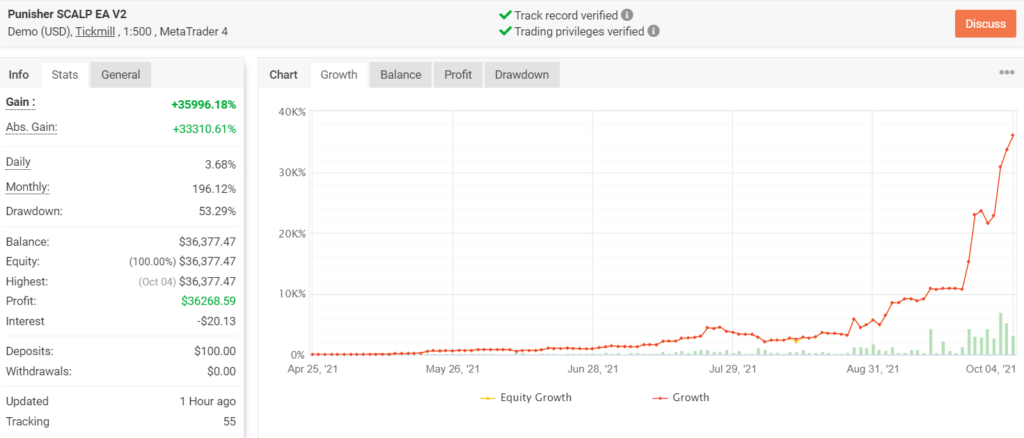 The first thing we noticed about this live trading account is the low win rate of 42%. There is no way you should invest in a system with profitability lower than 50%. The account was launched on April 25, 2021, so the EA doesn't exactly have a long track record. To date, it has placed 571 trades through this account, with daily and monthly gains of 3.68% and 196.12% respectively.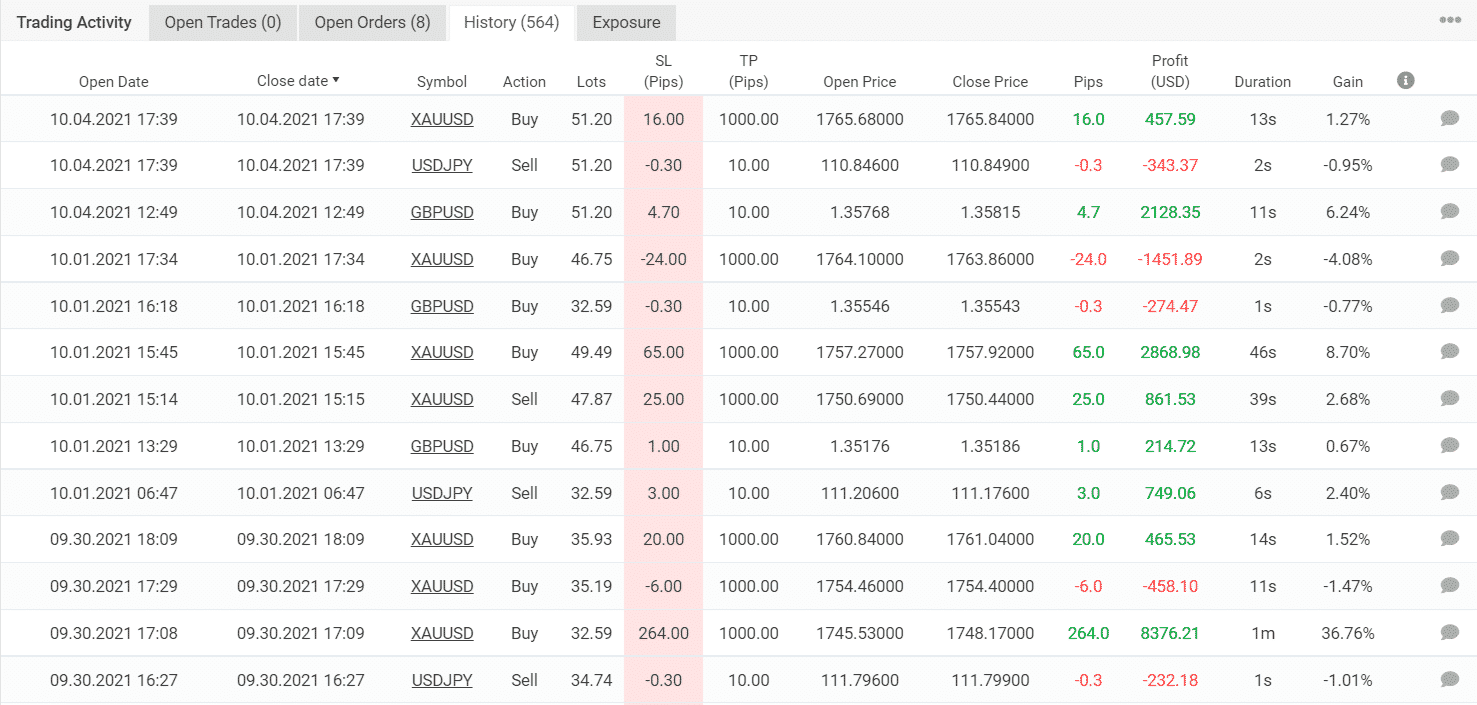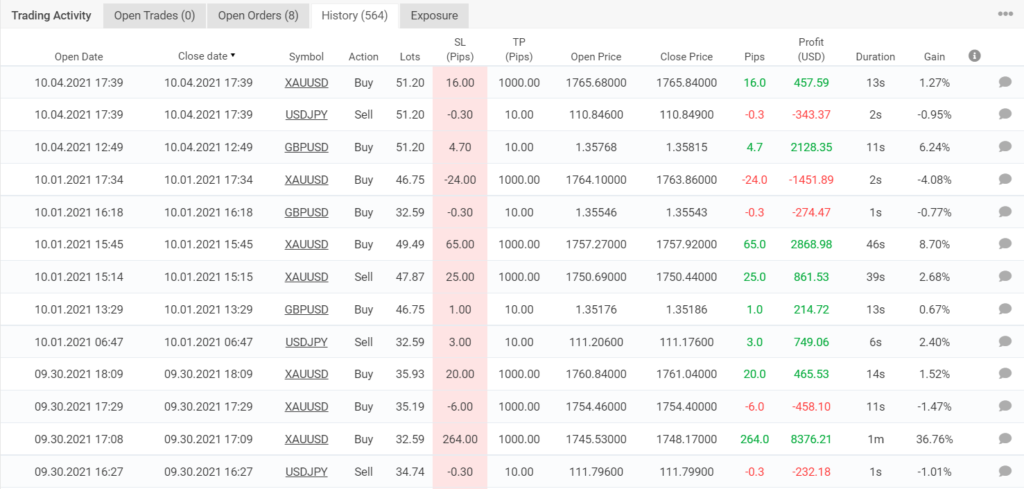 The trading account has an extremely high drawdown of 53.29%. This tells us that the robot follows a high-risk strategy. Looking at the recent trades, we can see that the EA is prone to suffering heavy losses.
Other notes
Punisher SCALPER EA has three risk settings, namely low, mid, and high. The vendor has shared the set files for the risk levels based on the currency pairs. For EUR/USD, GBP/USD, and USD/JPY, there is one set of files and there is a separate set for gold or XAU/USD.
People feedback


There are no authentic user reviews for this EA on third-party websites. We cannot possibly consider the one review present on the MQL5 product page. The lack of user reviews tells us that this system has zero reputation.
Conclusion
Advantages 
Disadvantages
High drawdown
Low win rate
Lack of vendor transparency
It makes little sense to invest in a system with low profitability such as Punisher SCALPER EA. It loses more than it wins and trades with a high drawdown. Furthermore, the vendor does not entertain refund requests.