Red Fox EA is a trading advisor that makes profits on a real account. The system is introduced by My EA Academy that is a part of the SinryAdvice brand. We can read the main statement: "Red Fox EA is able to analyze technical and fundamental data."
Is this robot a viable option?
No, it's not. The system works with insanely deep drawdowns that can screw up our account easily.
How to start trading with Red Fox EA
The expert advisor has a short and not informative presentation. The developers could write it better.
Red Fox EA is designed as a fully automatic trading solution
It should work with low drawdown periods.
We can use aggressive settings if we want.
The low drawdowns settings can provide from 10% to 28% of the monthly profits.
The aggressive settings – from 17% to 48%.
The system automatically calculates lot sizes based on the free margin.
There's a news filter to be protected.
It doesn't trade with Martingale.
It includes a spread control.
We can work on one real and one demo account.
The main strategy is market reversal.
It works with low risks as well.
The robot works only on the MT4 terminal.
The minimum deposit should be higher than $1000.
"The Low Drawdown pairs: EURCAD, EURUSD, GBPUSD, GBPCAD, USDCAD."
"The Aggressive pairs: AUDUSD, EURAUD, EURNZD, EURUSD, GBPAUD, GBPCAD, GBPNZD, GBPUSD, USDCAD."
The advisor should be tested on a demo account first.
We are not allowed to trade on this account during EA working.
The system should work 24/7 on the account.
The account type is ECN with 1:500 leverage.
OpoForex is a broker that developers suggest we work with.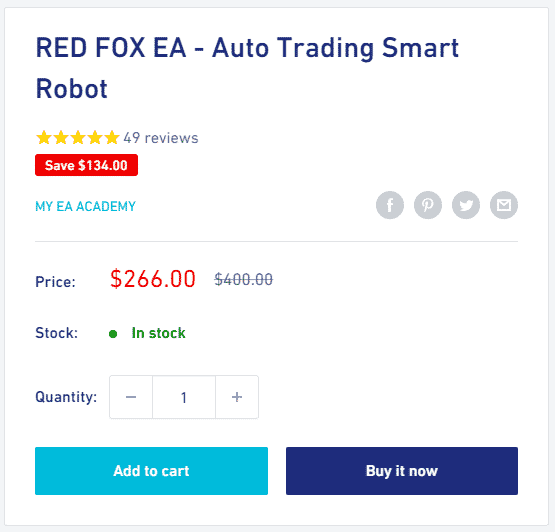 The advisor can be bought for $266 instead of the original price of $400. There's a 14-day refund policy.
Red Fox EA backtests
The presentation doesn't include a backtest. It's a typical mistake of SinryAdvice. So, we don't know what trading results were obtained by the robot working on the past tick data.
Trading results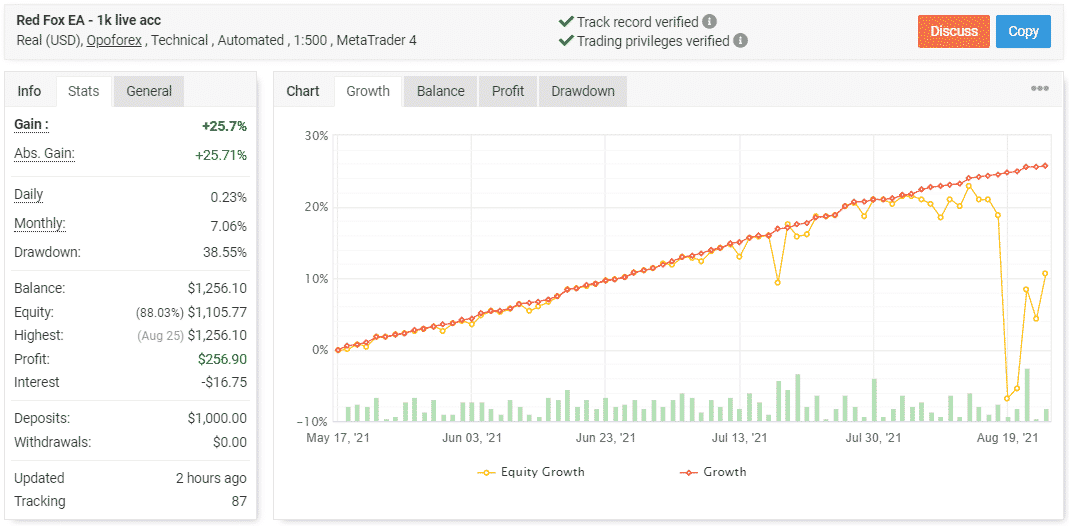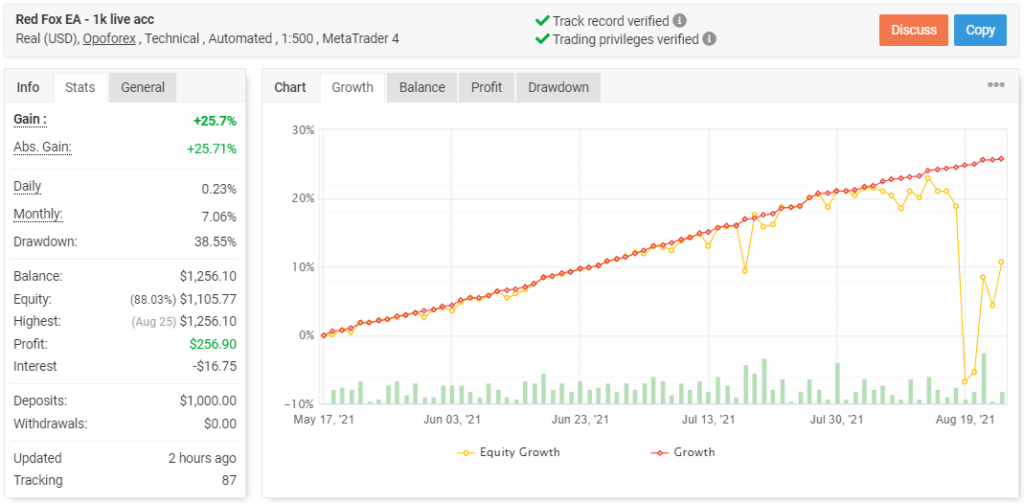 The advisor has been running the real USD account on OpoForex automatically using technical data from MetaTrader 4 platform with 1:500 leverage. The account has a verified track record and verified trading privileges. It was created on May 17, 2021, and deposited at $1,000. Since then, the absolute gain has become 25.7%. An average monthly gain is 7.06%. The maximum drawdown is 38.55%. It's such a risky number for any trader.


The system traded 538 orders with 3337 pips. An average win is 13.94 pips when an average loss is -21.35 pips. The accuracy for longs is 78% when for shorts is 77%. An average trade length is 16 hours 46 minutes. The profit factor is 2.10.


Most trades occurred on GBPCAD – 148 deals. The most profitable is EURUSD with $90.50.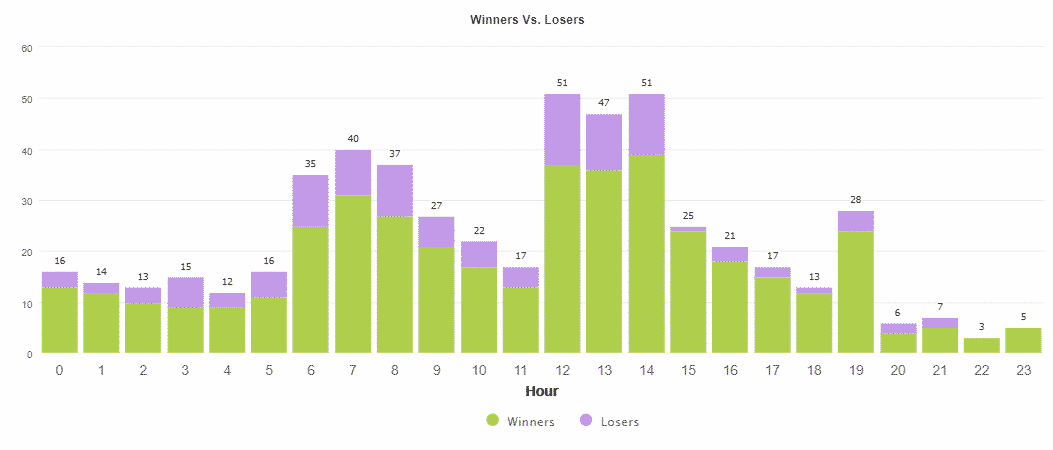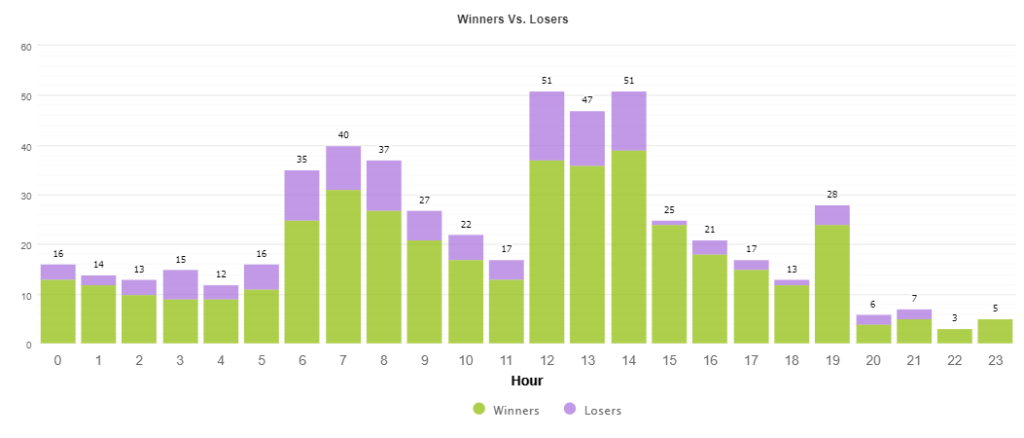 The advisor opens orders on the European session only.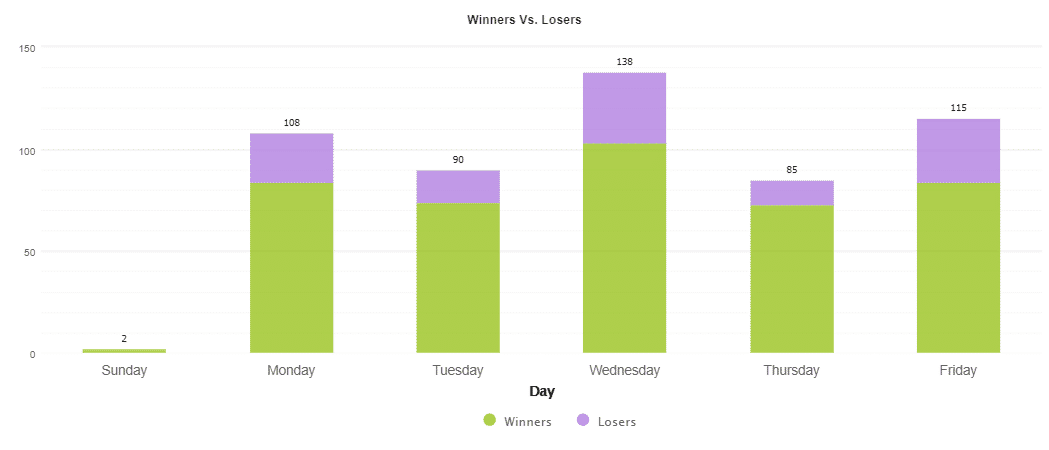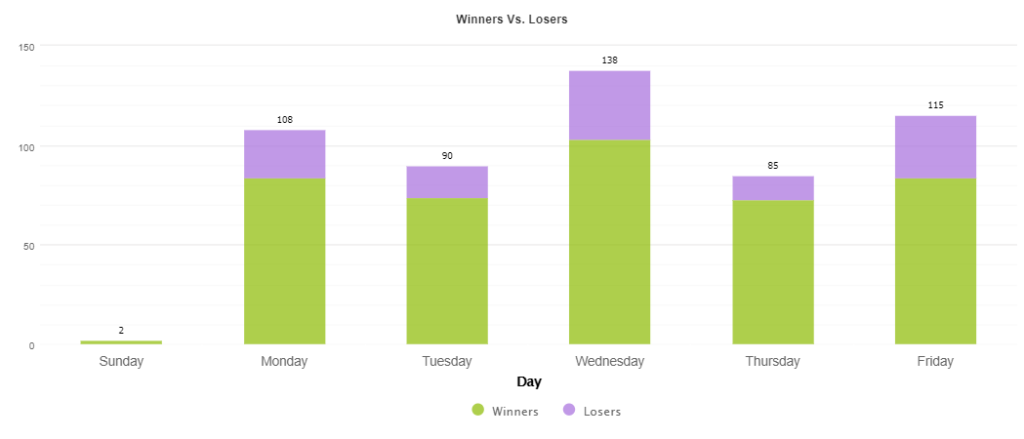 Thursday with 85 orders is the less traded day.


It knows how to work with low risks on the market.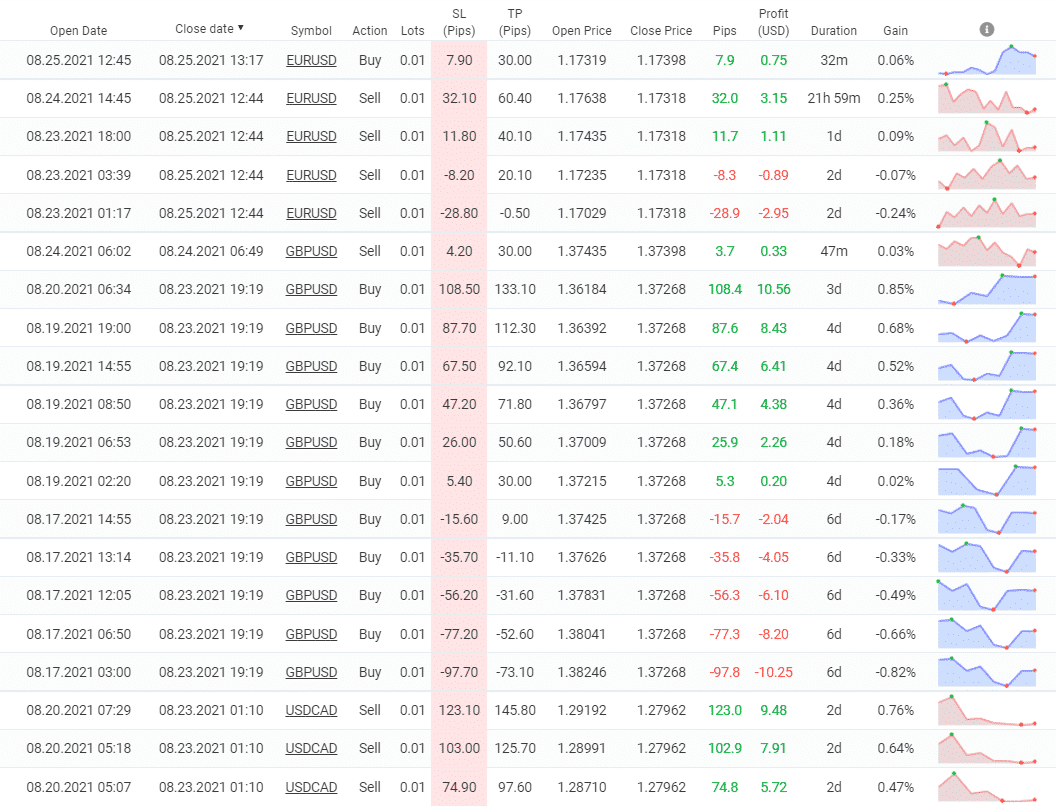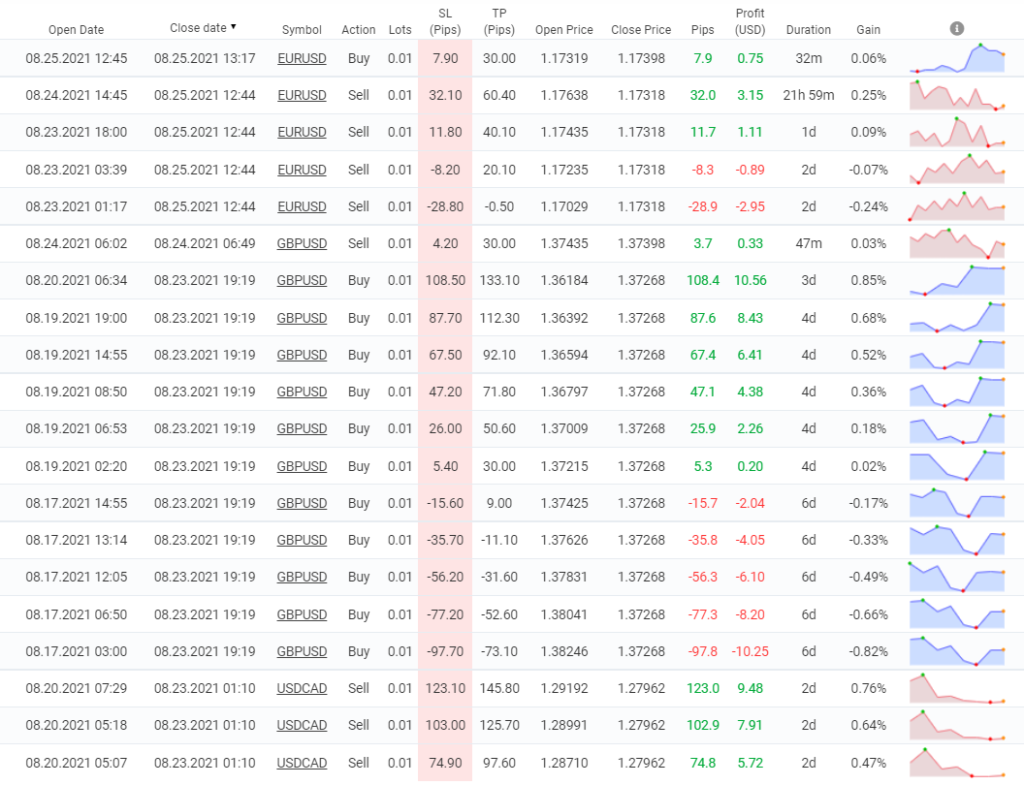 The system runs a trailing stop feature to keep orders closed in profits.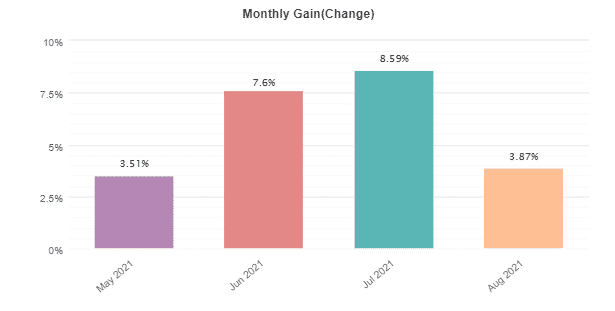 August 2022 profitability is going to be twice lower than usual.
Other notes
The system worked with huge drawdowns when the developers claimed that there should be almost no drawdowns at all. It's so misleading.
People feedback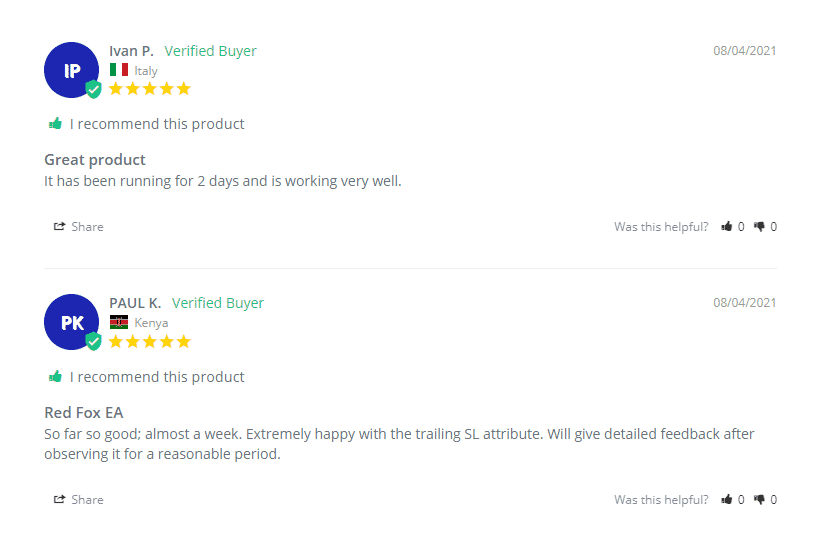 The bottom of the presentation includes some fake testimonials that are published by no-name clients.
Wrapping up
Advantages
Trading results provided
A 14-day money-back guarantee provided
Disadvantages
No team revealed
No settings explanations provided 
No risk advice given 
No backtest reports provided
The robot trades with deep drawdowns
No real testimonials published
Red Fox EA is a trading solution that works using a Grid of orders strategy. The system is profitable but sets the account at sky-high risks during trading. The presentation is short and doesn't include backtest reports. So, we aren't going to suggest you use it on a real account.