Robo.1 is a Forex expert advisor that promises a 'new way of trading' that 'allows you to trade without the need for experience and without emotion' that often lead to lost trades and ruined trading accounts. The developers of this EA represent their product as an effective and easy-to-use trading system designed to help all kinds of trades to earn profits in the Forex market.
They have also mentioned that there are too many scams in the Forex market these days and said that Robo.1 is the solution to that problem.
Well, how good is EA? Can you trust this recently launched EA? Keep on reading out Robo.1 expert advisor review, to find out the answers.
Can We Trust Robo.1 EA?
We do not recommend Robo.1 anyone. This is a total scam. Their presentation is several pages long and provides very little to no useful information about the robot. We do not know the person who stands for this EA. The one thing we know is that the idea to develop an EA was born in 2016. However, they decided to put it on the market in 5 years. They explained it because 2021 'would be the year where automatic revenue would be very important'.
Let's talk about the key features of this expert advisor the developer mentioned on his website:
It's a completely automated EA that places trades on a 24/7 basis
The robot is advertised as a 'glimpse into a new way of trading'
It excludes any human interference, thereby avoiding emotional factor

The Robo.1 robot can be used for trading in 28 different currency pairs
It can run on the MT4 or MT5 platform
This EA works with 10 special indicators (what these indicators are?)
Each trade is provided with Stop Loss and Take Profit
Traders can start as low as $250
Frankly saying, we are disappointed with the lack of trading strategy insight from Robo.1 robot. This sort of information is highly important for every trader as it provides a detailed insight on how the system works, how profitable it is, and what trading risks it has.
How to start trading with R0B0.1 EA
Now the robot is available to be purchased with a $150 discount and interested in the system traders can buy a lifetime license of Robo.1 EA for $147. In addition to this, there is a monthly subscription option offered. A one-month subscription costs $37 when a 3 months subscription plan costs $67.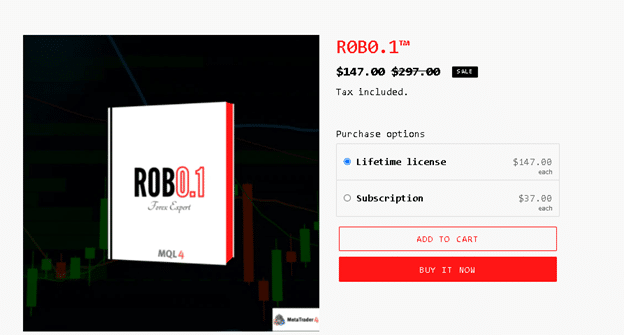 Each digital copy of the robot comes with a 30 days money-back guarantee.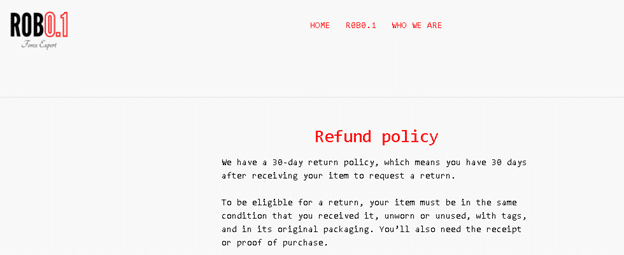 Recommended balance to start trading with this EA is $250. Unfortunately, the vendor failed to provide step-by-step instructions on how to set up the system.
R0B0.1 Backtests
A way to share the past trading result of the robot is very specific. The dev provided a short video with a screenshot of the backtesting results of this expert advisor. This EA was backtested for roughly three months for the USD/JPY currency pair on the M1 timeframe. The first red sign of this report is its modeling quality that equals 27, 34%. Thus, it's a useless report. The account was deposited at $1000 and generated $2339, 05 of profit. It traded 21 trades and won 20 out of them, which represents a win rate of 95, 24%. The win-rate for Short positions was 95% and 0% for Long. Its profit factor was 55, 83. The maximum drawdown was low – 3,12%.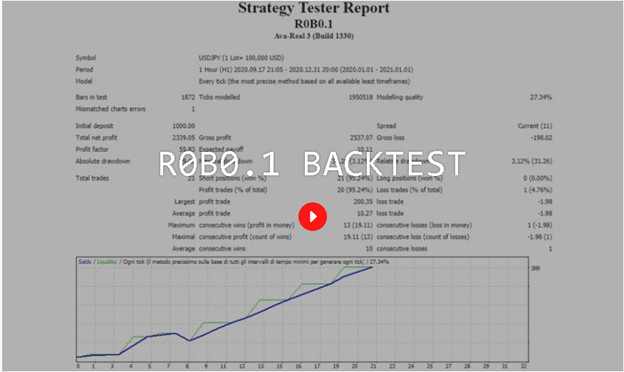 Trading Results
The dev does not provide any live trading account results on his website. Although it is good that the vendor provided a backtesting report, the absence of live trading results is a huge con. Nobody wants to invest in a system based on backtesting data alone. Without this, it makes impossible to analyze the efficacy, productivity, and reliability of this trading system. It is a red flag for Robo.1.
Robo.1 Website
On whois.domaintools.com we've found that the Robo.1 website was created on March 15, 2021. So, the website is 14 days old.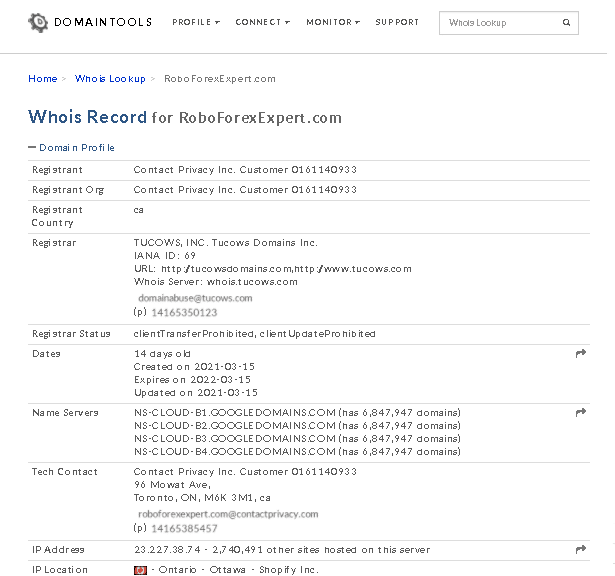 People Feedback
The vendor provides fake customer reviews. They cannot be verified. Historically, customer reviews written on the websites of developers are paid, manipulated, or concocted.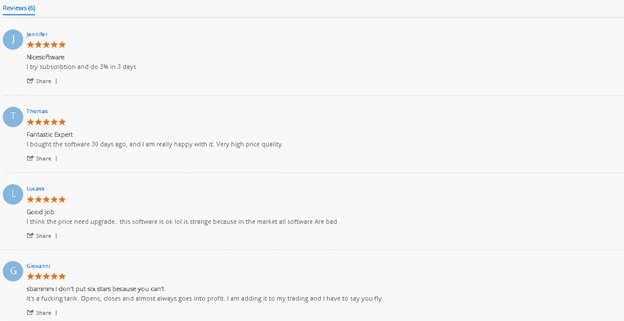 Even after conducting additional research on the other third-party websites like Trustpilot, FPA, and Quora, we couldn't find any customer review for Robo.1 EA.
Summary
Advantages
Backtesting report provided
30-day money-back guarantee
Disadvantages
No verified live trading results
Undisclosed trading strategy
Zero vendor transparency
No customer reviews on 3rd party websites
Summary
Although the system is being sold for a very attractive price, we cannot recommend it to traders. Robo.1 EA is a total scam. We know neither the trading strategy the EA uses nor how it performs in the different market conditions. It is not worth your time and money.