Is the Smart Scalper PRO Robot a viable option for the rest of 2020?
Today's robot was designed by the FXAutomater company.

A lot of their presentations start with the "Limited Time Offer" that looks kinda strange. This one is -20% OFF.
This robot is a paid version of a free scalper BF Smart Scalper EA.
The robot has got the next features:
Well-designed trading logic
Money management system and ATR algorithm
Low drawdowns
Supporting multiple currency pairs
News Filter
Improved exit logic
Notification system
Friday exit logic
MT4 and MT5 trading allowed
The robot automatically "calculates the lots according to the risk and your account free margin."
News Filer allows not to trade during the most influential events.

In order to set this feature up. the robot has to be connected to the main FXAutomater site.
Friday Exit system allows traders not to keep open trades and close them on Friday.
Email and push notification systems will keep you up to date wherever you are.


To trade not only GBP/USD we have to download additional set files. Why didn't they apply them to the system by default? Who knows?
The system's most common settings
There are some of the most crucial settings:
Auto MM=2% (low risk) up to 10% (high risk)
0.05 lot size for $1000 accounts, 0.5 lots for $10000 balance
"If you use multiple currency pairs, you should consider decreasing the risk accordingly"
GBP/USD, EUR/USD, USD/CHF, USD/JPY, and USD/CAD currency pairs trading
optional GBP/USD high frequency – high-profit settings
default settings have been designed for GBP/USD
M1 and M15 time-frame
After this explanations, there are about 7 pages of describing every setting.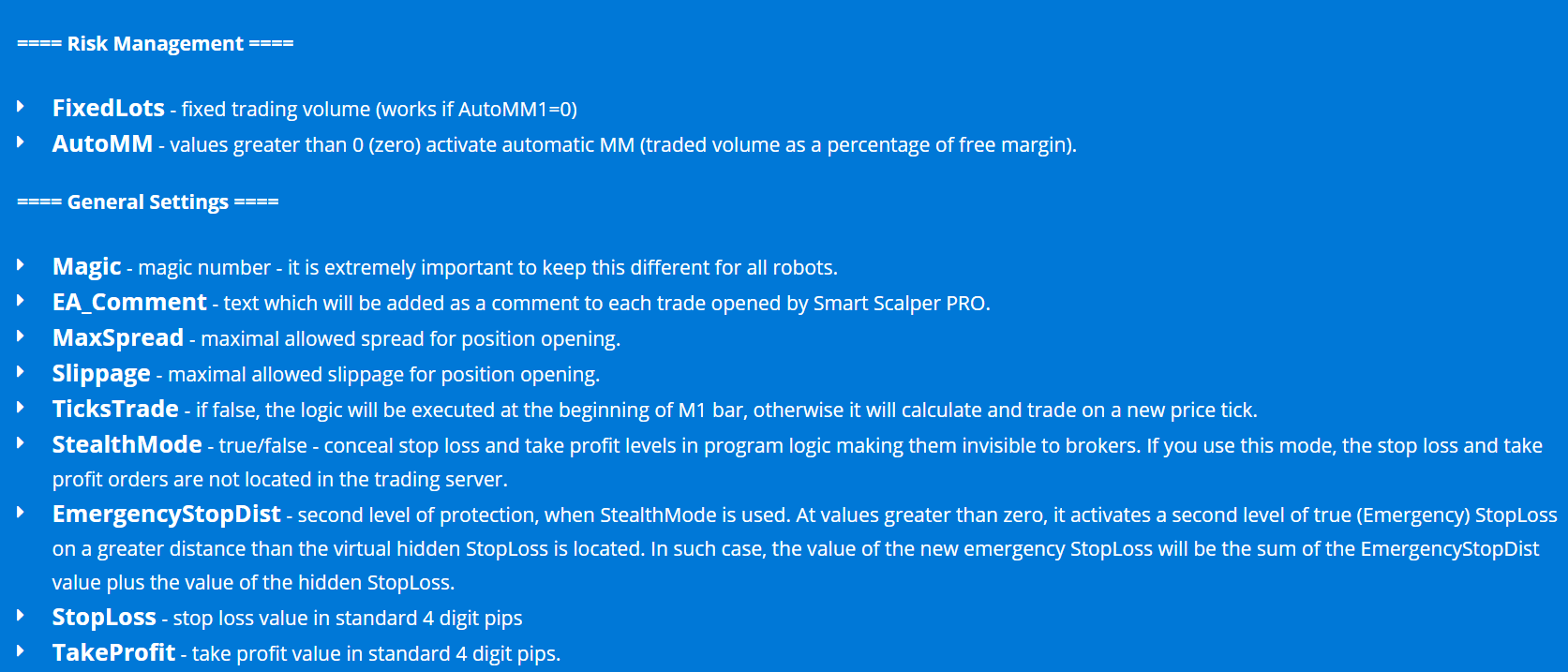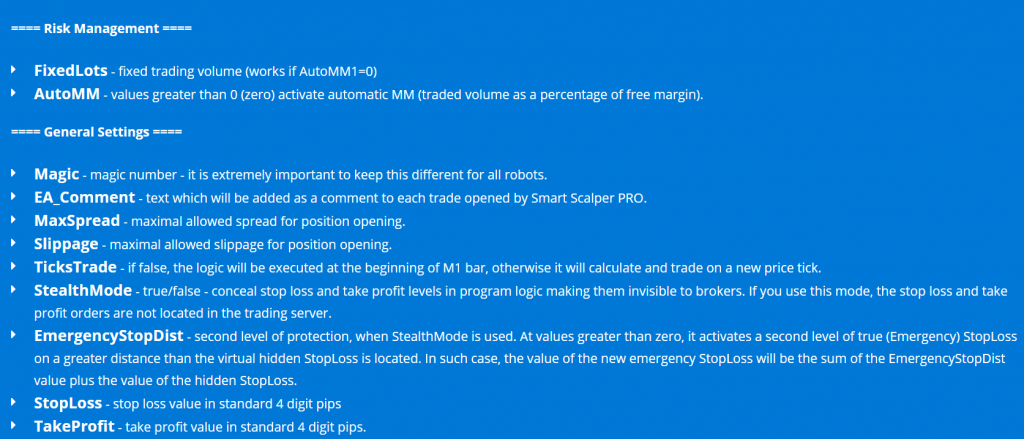 It looks like this.
Backtests
There are twelve backtests with different settings and currency pairs.


Everyone has been run with fixed lots. It's 19 years backtests USD/CHF. The max drawdown is 3.07%. The profit factor was 1.46. The win-rate equaled 77.62%. 1.35 is the lowest profit factor across the backtests was on USD/JPY.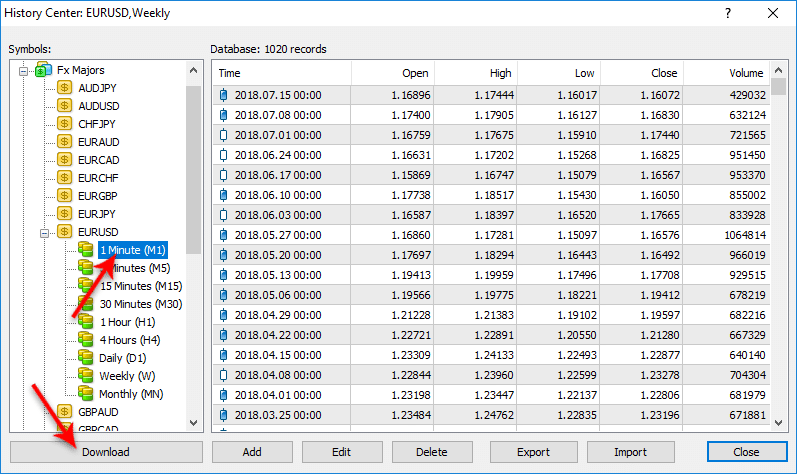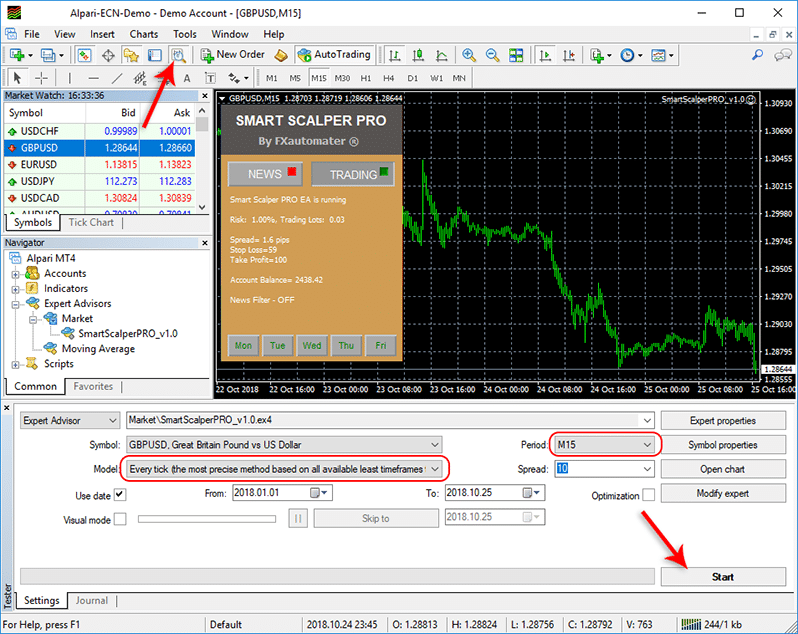 The devs provided explanations of how to perform backtests on our own.
The offer


The final price for Smart Scalper Pro is as less as $120. We'll get one real account, three demo ones, support, and a 60-day money-back guarantee.
People feedback


The dev usually answers very quickly. The most common issue people try to understand is about how a dynamic stop-loss works.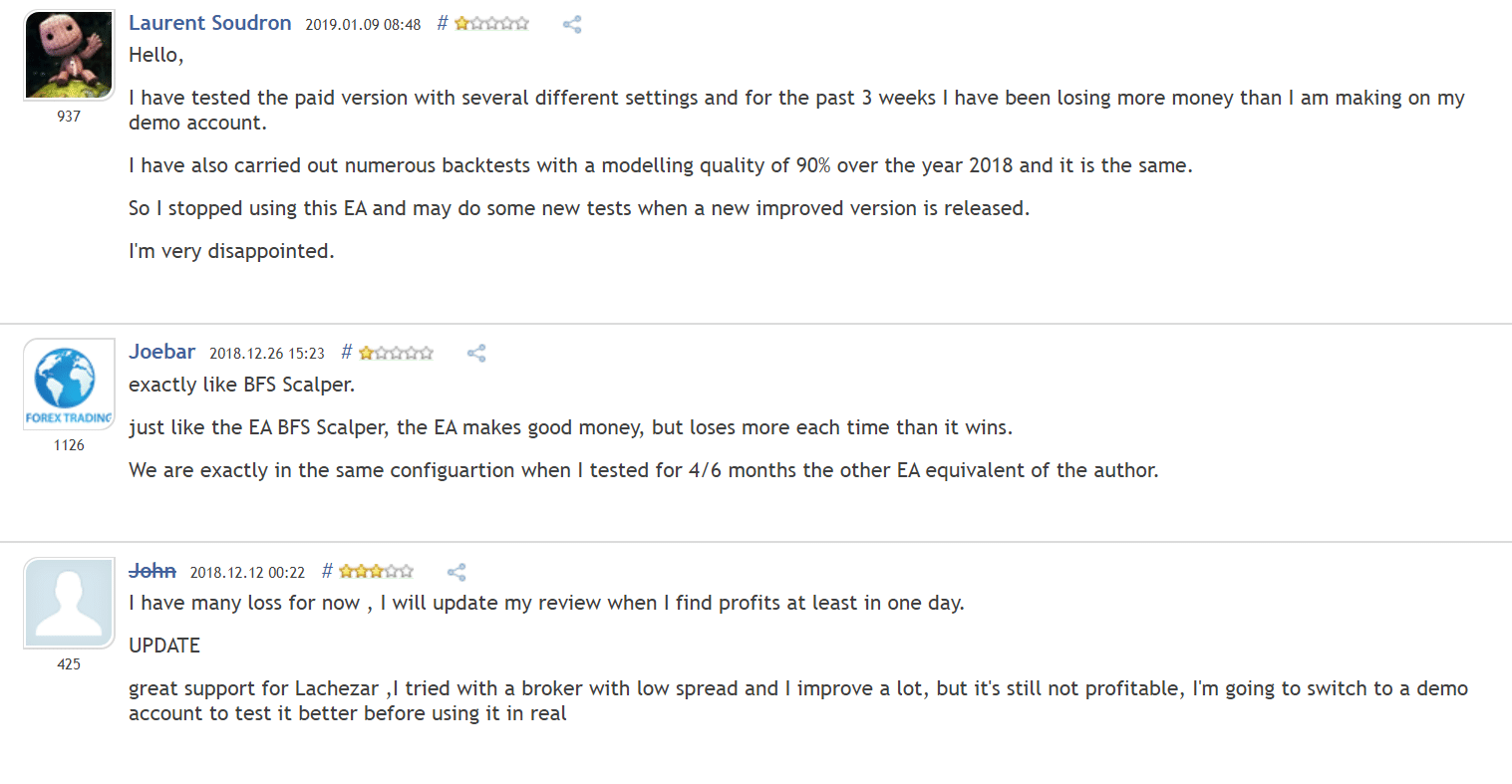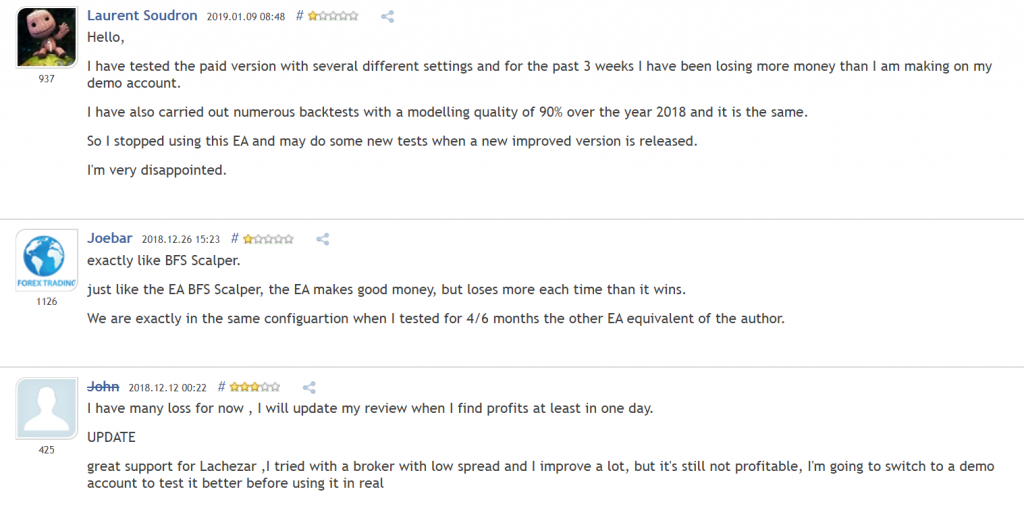 Many people said that the robot has been not profitable. The rest said that it was ok.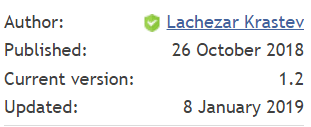 From the MQL5 site, we knew that the robot's current version is 1.2 and it hasn't received any updates since January 2019.
Smart Scalper Pro Robot Review Summary
Pros
The real person behind the robot
MT5 trading allowed
6 currency pairs supported with the one as the main one
Settings well-explained
Settings for other currency pairs provided
Backtests provided
How-to-do backtests info provided
-20% OFF provided
Cheap price
Demo accounts provided
60-day money-back guarantee
Real people feedback & reviews exist
The robot has received several updates up to the 1.2 version of it
Cons
The annoying timed offer presented
The strategy was not well-explained
No real trading results provided
Settings for other currency pairs were not implemented int he robot by the default
Cheap price
It's a robot. There are, as you could see, people who tried to use it with completely different results. We have no idea how the robot works and in thinking about it we have to rely on the dev's authority and people's feedback. In general, it's a very cheap offer. So, there's no problem for any of us to buy it to run on one of three provided demo accounts. The dev provided the longest trial, having allowed us to be funded during the next 60 days after the purchase.