Stealth Trader EA is an expert advisor that is developed by Greg Jones to trade on the MetaTrader4 platform. The seller claims a low drawdown system is achieved by avoiding harmful grid or martingale strategies. The system works by identifying consistent patterns in daily market movements and executes a price action accordingly. This review will give you an in-depth analysis of the statistics to help you with your decision-making.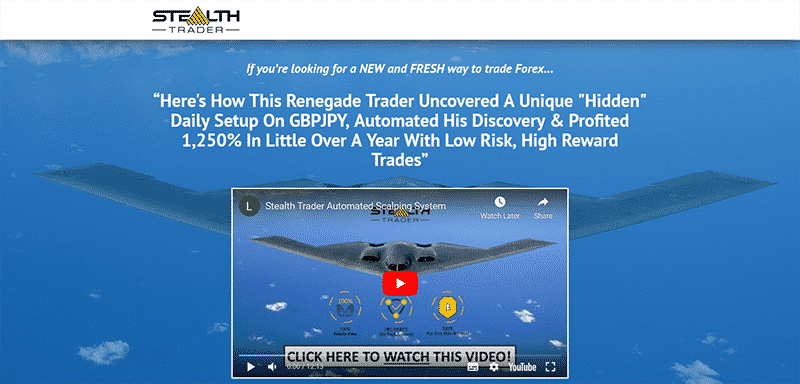 Is Stealth Trader EA profitable?
The algorithm has a verified live record available on the Myfxbook platform. The developers provide customer support and are willing to respond to customer queries. To ensure that the system performs well, traders can corroborate their findings with the results on Myfxbook.
Vendor transparency
The parent company, Leap FX, owns stealth Trader EA. This company provides automated solutions to cater to the demands of crypto and forex traders. Their products and services include broker recommendations, managed account services, automated trading systems, and virtual private servers (VPS).
Their website's terms and conditions section indicates that this brand has been in the market since 2018. Contact options include a query form or email. Greg James is the author behind Stealth Trader. He claims to have started out their trading journey before 2005. Being a forex geek he began his own trading platform in 2005. They abandoned that niche 5 years ago and then used their unique knowledge of currency trading to develop the algorithm under review.
Strategy
The developer claims that the robot trades on GBPJPY due to its volatility and wide ranges. It does not use averaging or lot multiplication techniques to recover from losing positions. The history on Myfxbook records state otherwise. The algorithm uses the grid and martingale approach in trades, which is evident when we look at the closing time of the executions.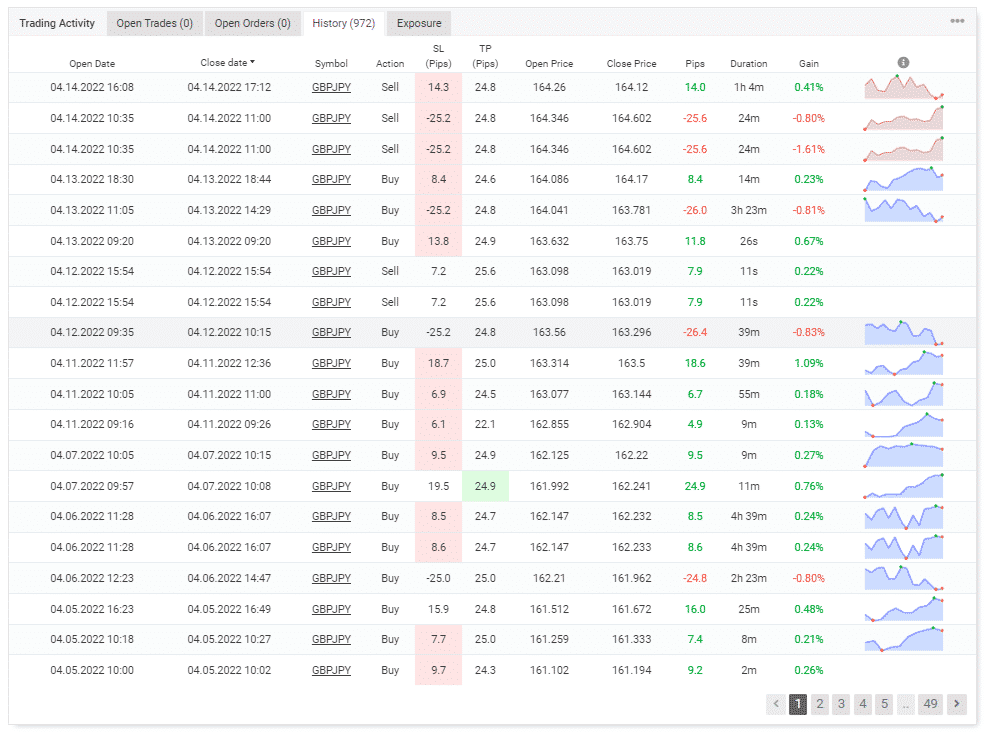 How to start trading with Stealth Trader EA
To start using this service, traders have to follow the following steps:
Purchase the EA from the website
Download the robot files onto the desktop
Launch MT4 platform
Drag the bot files onto the charts section and enable auto-trading
Price
The robot is sold in two packages: One-year membership for 347 USD and Lifetime membership for 597 USD. Making a purchase requires an account created on the seller's website.
Both packages include lifetime upgrades, free customer service, developer's recommendations, and a 30-day money-back guarantee. This product is priced relatively higher than its competitors in the market.
Stealth Trader EA backtests
Backtesting records verified by Myfxbook have been provided as image links on the seller's website. These record performances from Jan 02, 2018, until Mar 07, 2022, on the M5 charts. IC Markets was the broker used during this trade. During this period, the system showed a monthly gain rate of 1.43%, with a drawdown value of 10.49%. Balance stood at 5,152.28 USD, with a profit valued at 2,652.28 USD, and the deposits were reported as 2500 USD.
The EA executed 1,060 trades, of which 23% resulted in a loss. The profit factor stood at 1.39. The average trading length was mentioned as 47 minutes.


Trading results
Live trading results have been made available on Myfxbook. However, it is stated that the track records have not been verified, which reduces the validity of these results. The date range of these results is Jul 11, 2020, until Apr 07, 2022. The leverage used for this session was 1:100. The monthly gain rate was stated as 12.98%. However, a slightly high drawdown value of 28.89% puts the gain rate into question.
The seller has hidden many key metrics like balance, equity, profit, interest, deposits, and withdrawals. This is not a good practice at all. The robot participated in 963 trades, of which 30% resulted in a loss. The profit factor stands at 1.36, but this number is not very promising without knowing the standard deviation. The average trade length of the bot is 1 hour and 14 minutes.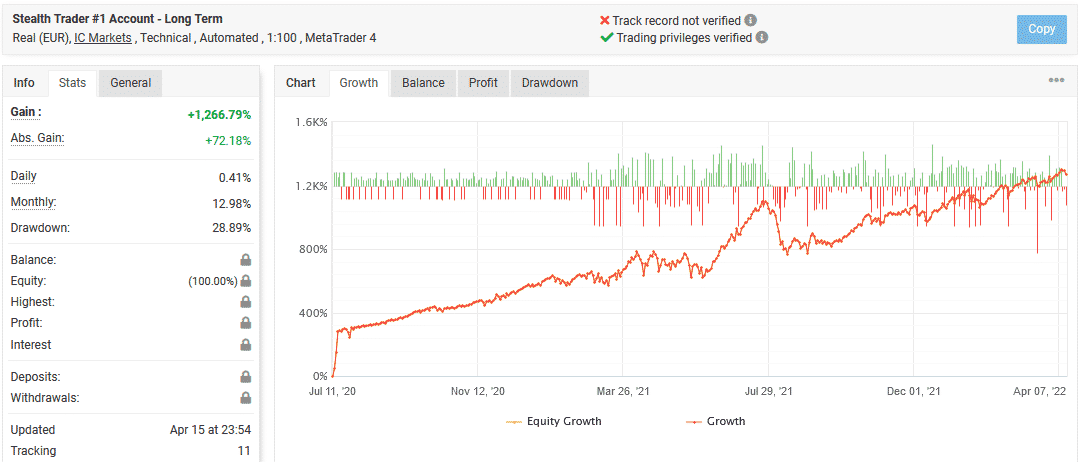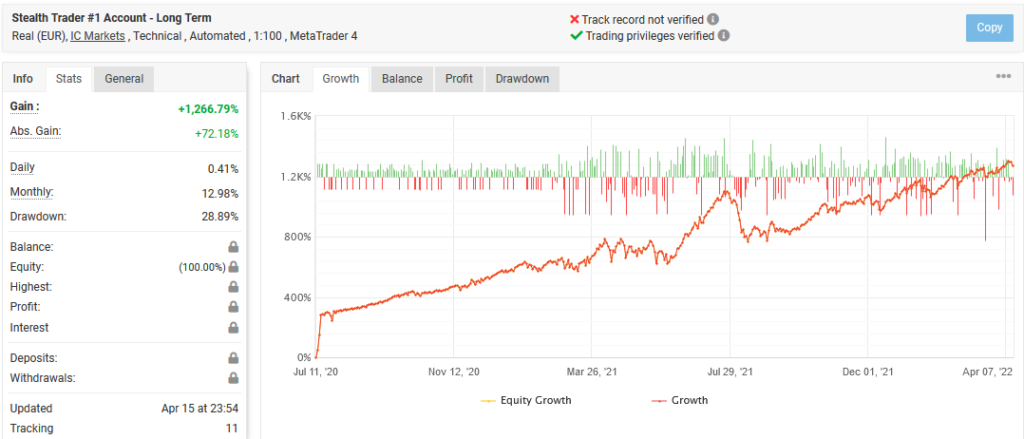 People feedback
We could not find any specific customer reviews for this bot. However, we did manage to locate general comments about the parent brand, Leapfx, on TrustPilot. An angry customer blamed the company for making them lose a lot of money. They also hurl their dissatisfaction by revealing the suppliers' lack of professionalism, indicating poor customer service. Moreover, their comments depict that this EA is shaky and not stable in its work. This raises some serious concerns about this algorithm.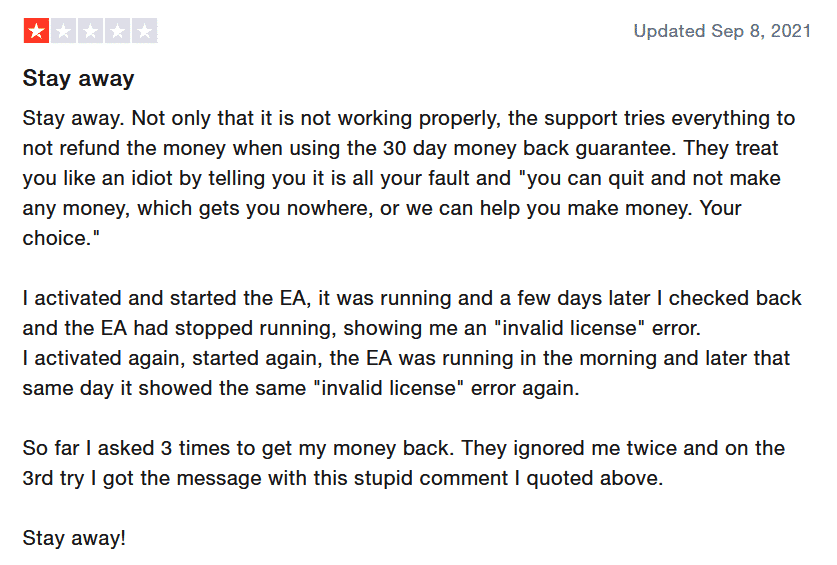 Summary
Advantages
It comes with live trading results
30 days money-back guarantee
Extensive backtesting records
Disadvantages
Negative customer reviews present
The price is a bit high
Multiple live account metrics are hidden
Stealth Trader EA is unclear about its operating strategy and the underlying techniques used. The sellers have also gathered negative customer feedback that diminishes their offer. Moreover, the authors are not transparent about their whereabouts and market experience, which does not paint a compelling picture.