Coinrule is a platform where you can build and test automated bots for dealing in digital assets. In this review, we are going to analyze the various aspects of this system like features, working principle, profitability, pricing, safety, etc.
What is Coinrule?
It is a secure platform that works with some of the top exchanges on the market. It is a system designed for beginners and has a wide range of trading rules you can select from. The official website has an extensive tutorials section that helps you get started.
Quick summary
The most important features of the platform are as follows:
In-built trading strategies
Thanks to the readymade strategy templates, you can quickly get started with this system. Withmore than 150 trading rules on this platform, you will surely find the strategy that best suits your requirements.
Smart assistant for building strategies
The smart-assistant lets you easily create strategies with the IFTTT logic. First, you need to decide when the algorithm has to execute an action. You can decide to place orders at specific time intervals or depending on specific event triggers.
Backtesting
Coinrule lets you test your strategies using historical data. For this, you need to select the strategy, the timeframe, and the asset. From the testing results, you can see the total profit, profitability, maximum drawdown, and profit factor. This helps you test the potency of the strategies without real money.
Coinrule: background
We don't know in which country the parent company is registered or when it was founded. The key members of the team are CEO Gabriele Musella, COO Oleg Giberstein, and CTO Zdenek Hofler.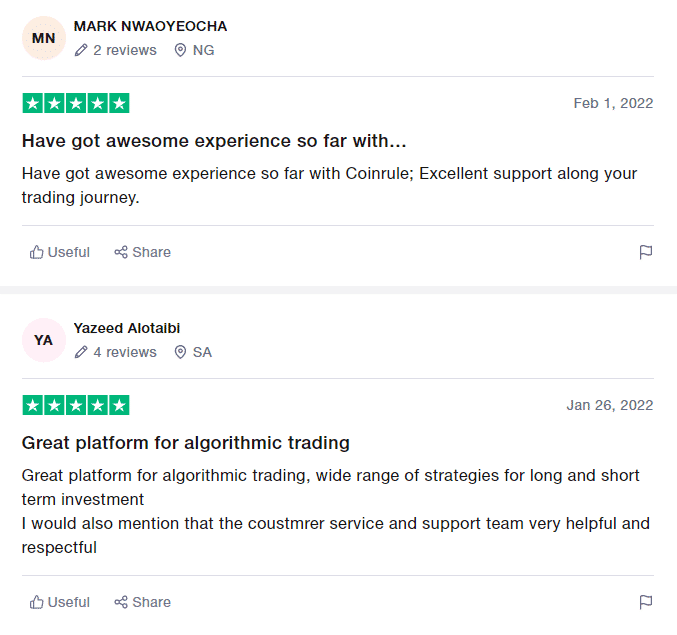 On Trustpilot, Coinrule has a rating of 4.3 out of 5 based on 64 reviews. Many users have praised the performance of the bots as well as the customer support. So we can tell that the platform has a great reputation.
How does it work?
After signing up on the platform, the first step is to link to an exchange using an API key. In the action section, you can select whether you want to be selling or buying a coin. You can either trade any coins in your portfolio or choose from a list of available coins. The platform lets you select indicators and you can also choose whether to trade based on the increase or decrease of a variable.
How to sign up with Coinrule?
On the official website, you will find a Get Started button. After clicking on this, you can create an account by entering an email name and a password. Next, you need to choose one of the pricing plans. After connecting an exchange, you start conducting trades.
Does Coinrule offer a demo account?
Yes, you can practice trading on Binance using 10 BTC and 100 ETH in virtual currency.
Profitability of Coinrule
Profitability depends largely on the selected trading rules and the market conditions.
Payments, deposits, and withdrawals
You cannot deposit and withdraw funds through this platform.
Exchanges supported
Supported exchanges include Binance, Coinbase Pro, Okex, HitBTC, Bitstamp, Bitpanda Pro, Kraken, Poloniex, and BitMEX.
What about customer support?
Support is provided via live chat and email.
Benefits of using Coinrule
The benefits are as follows:
More than 150 trading rules
Historical testing
Rule-based strategy builder
Drawbacks of using Coinrule
Here are the drawbacks:
Pricing review
Apart from the free plan, there are three paid plans known as Hobbyist, Trader, and Pro, the prices for which are $29.99/month, $59.99/month, and $449.99/month, respectively.
What are security measures?
The platform does not store any of your assets and uses advanced encryption. For added safety, you can enable 2-factor authentication.
Is Coinrule legit?
Yes, it is a legit brand with a decent reputation that is trusted by traders worldwide.
Ease of use
The user interface is quite simple and there are no confusing or complex functionalities.
Is Coinrule a good choice for automated trades?
Yes, it is a platform that is suitable for both novice and pro traders. It is highly secure and offers a wide variety of strategies you can take advantage of.
What are the risks of using Coinrule?
There is always the chance of suffering losses due to an erroneous trading rule or sudden market shifts.
The Review
Review verdict: secure bot with multiple strategies
Coinrule is a platform that guides you through the entire process of trading through its helpful guide. It allows you to retain 100% control over your holdings and you don't need any coding knowledge in order to build automated trading schemes.
Review Breakdown
Features:

Exchanges Supported:

Security:

Price:

Customer Support: