Disclaimer: The information provided here does not constitute any form of financial advice. Readers are fully responsible for conducting their due diligence before making any investment decisions.
Shiba Inu: Market Sentiment
The most popularly used sentiment tool in crypto is the Fear & Greed Index (provided by Alternative.me), which we'll use for Shiba Inu. The chart below shows the index's readings over the past week, including the present reading (23).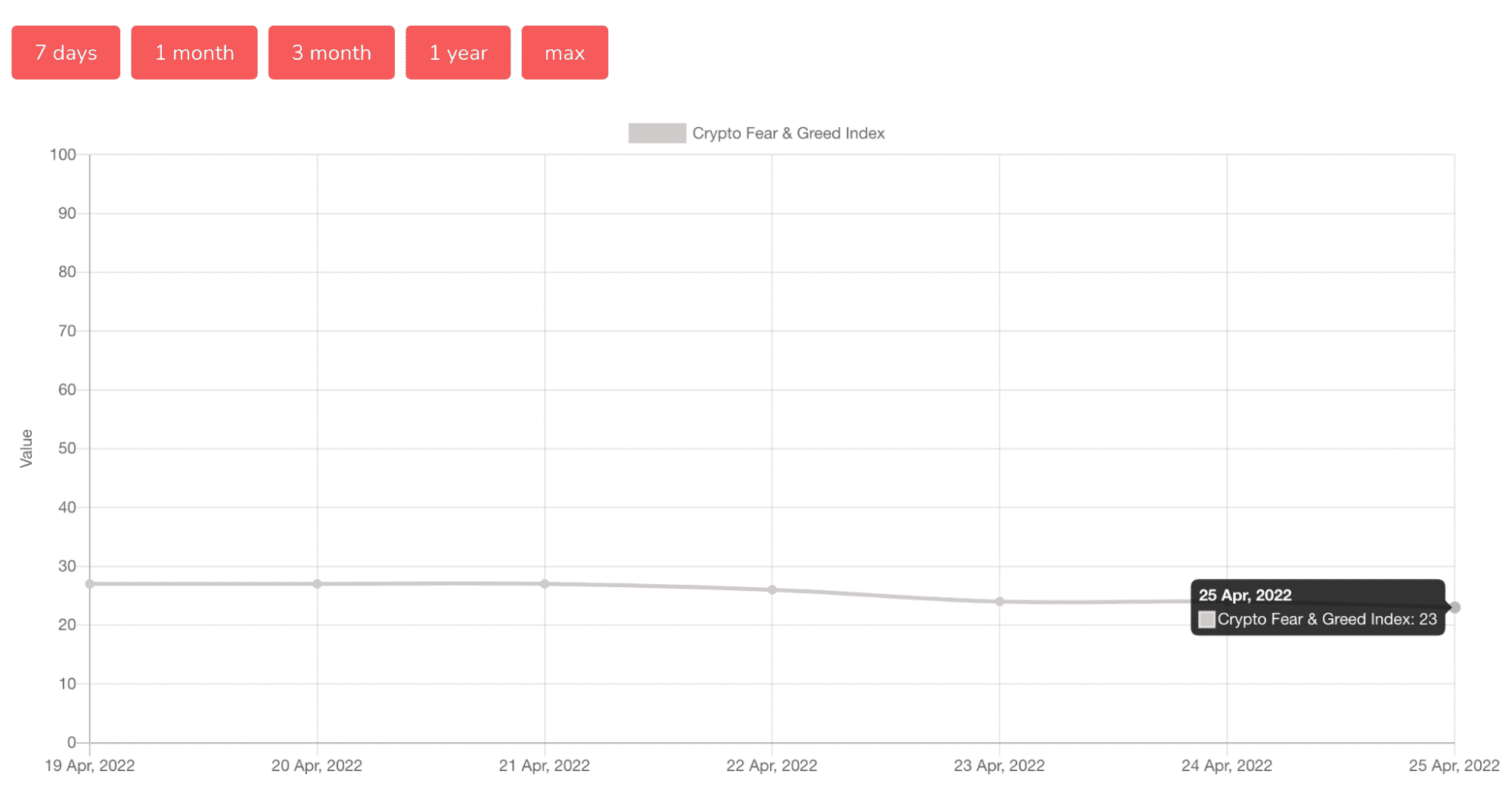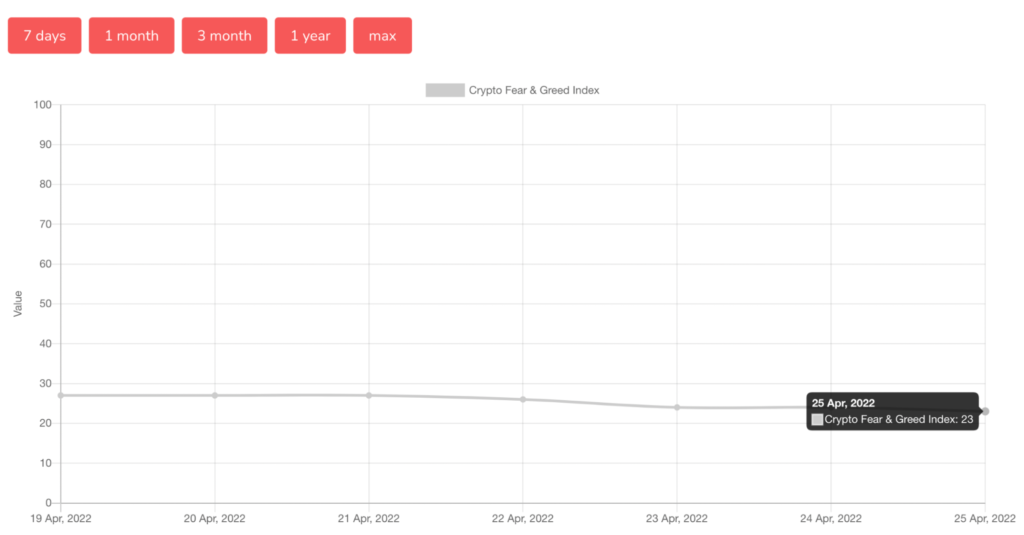 23 is considered 'extreme fear,' meaning we should generally expect buying opportunities for many cryptocurrencies. We can observe that the index has been below 30 in the past week on the chart above.
However, coins like Bitcoin and Ethereum have lost some value in the same span. Although the sentiment is positive, it doesn't necessarily mean that buying opportunities currently exist from a technical analysis perspective.
Yet, it's been over a month since there was 'extreme fear' in the crypto markets. Therefore, traders would eventually expect to see signs of bullishness.
Technical analysis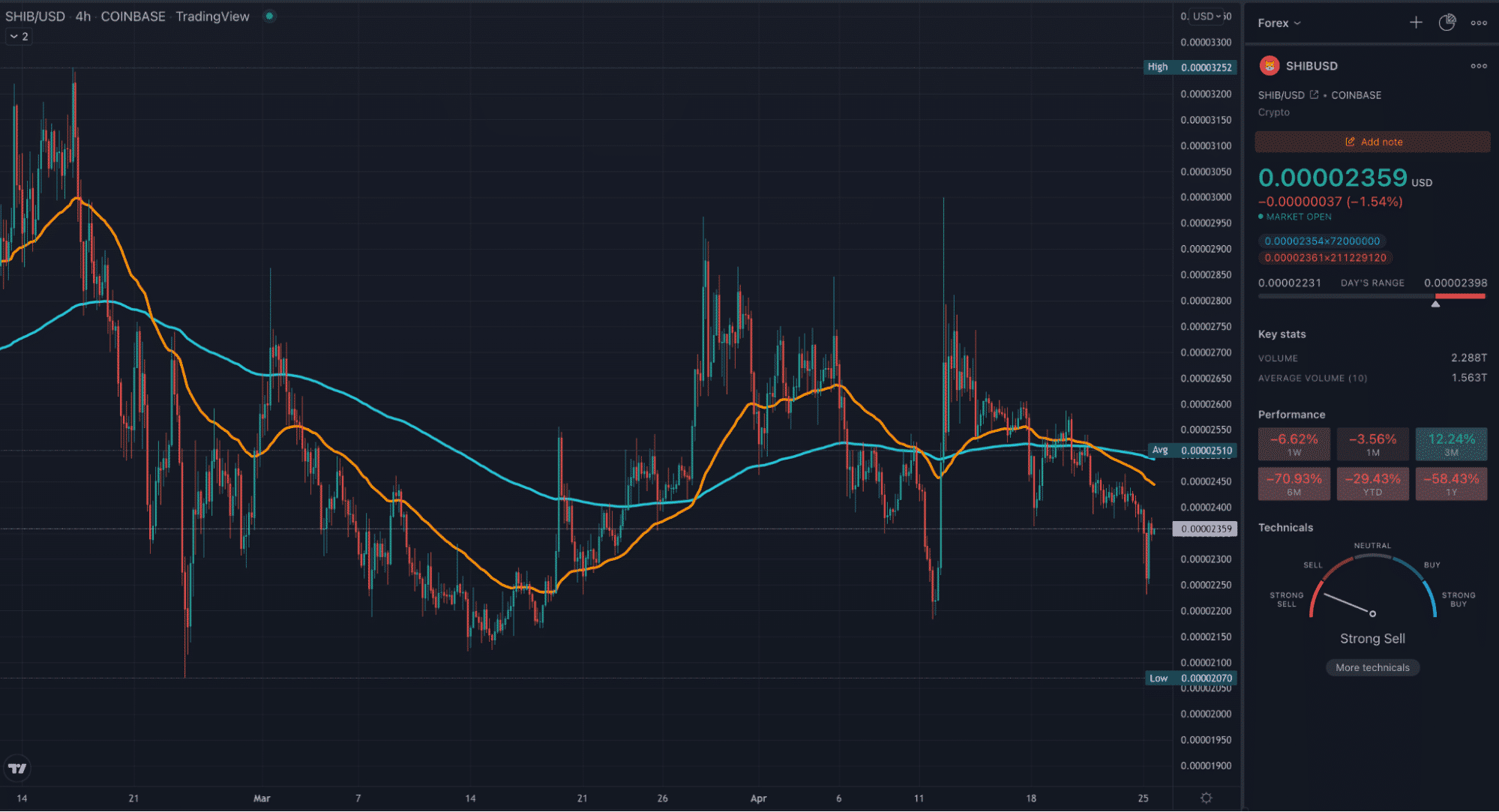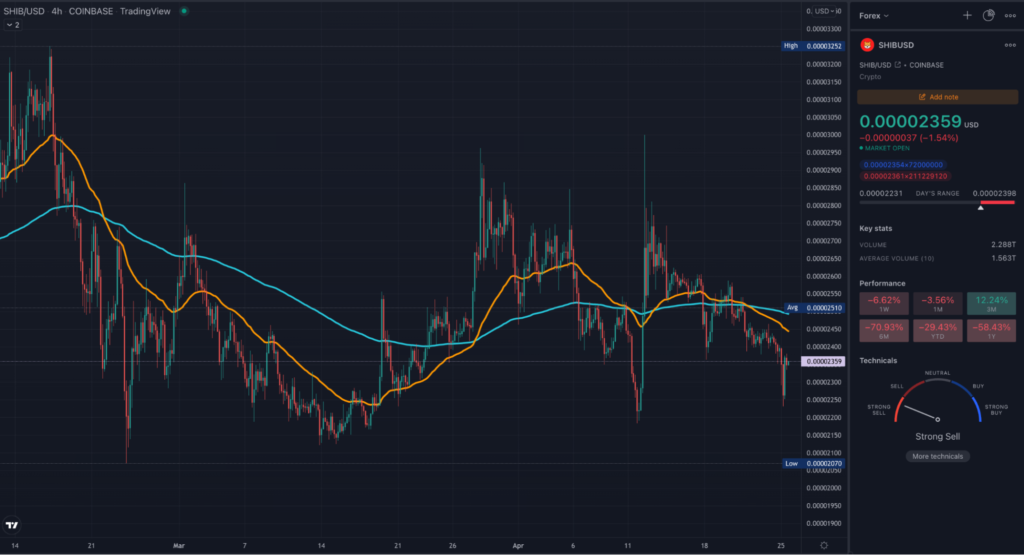 Our technical analysis for SHIB suggests this market is bearish. Firstly, TradingView's 'technicals' (bottom right corner of the chart) clearly show 'Strong Sell.' Moreover, the 50-day (orange) and 200-day (blue) moving averages we've applied also tell the same story.
We can see the price is below the MAs, indicative of a downtrend. Furthermore, the somewhat flat slope of the moving averages might suggest a ranging market. This is additional evidence that the price is not yet trending upwards.
Fundamental analysis
Along with its closest competitor, Dogecoin, SHIB has been one of the most-searched cryptocurrencies since the start of 2021, outperforming many others in popularity.
The developers behind Shiba Inu desire to move the coin away from being perceived as another meme token into one with increasing usefulness. Thus, some of the current fundamental developments include:
AMC Entertainment recently announced it would accept payments in SHIB, becoming one of the few merchants to have done so.
A demo version of the 'Shibaverse,' Shiba Inu's highly-anticipated metaverse, is now available. Interestingly, a recent blog from SHIB's developers stated the plots of virtual land would only be purchasable using Ethereum (the blockchain securing the SHIBA token).
Therefore, it's fair to assume the potential value of Ethereum over time will be linked to Shiba Inu.
The noteworthy news for SHIB revolves around a new burning mechanism recently launched through a dedicated portal to reduce the token supply, consequently making the coin more scarce.
As SHIB technically has no hard cap (trillions of coins in existence), this deflationary practice is positive overall. Moreover, community members who participate in the process are rewarded with annualized yields of about 9%.
Shiba Inu (SHIB) Price Prediction: 2023-2025
Let's explore where the price of SHIB could realistically be next year and 2025.
2023 forecasts
Based on observing several forecasting sites, the average estimate we derived was $0.0000202. However, the highest predictions came from Wallet Investor, one of the more reliable resources in this regard.
The website suggests a minimum of $0.0000275 to a peak of $0.0000540 by 2023. The latter value would effectively result in SHIB doubling in price, which, for a meme coin, is realistic (and conservative) between now and the beginning of next year.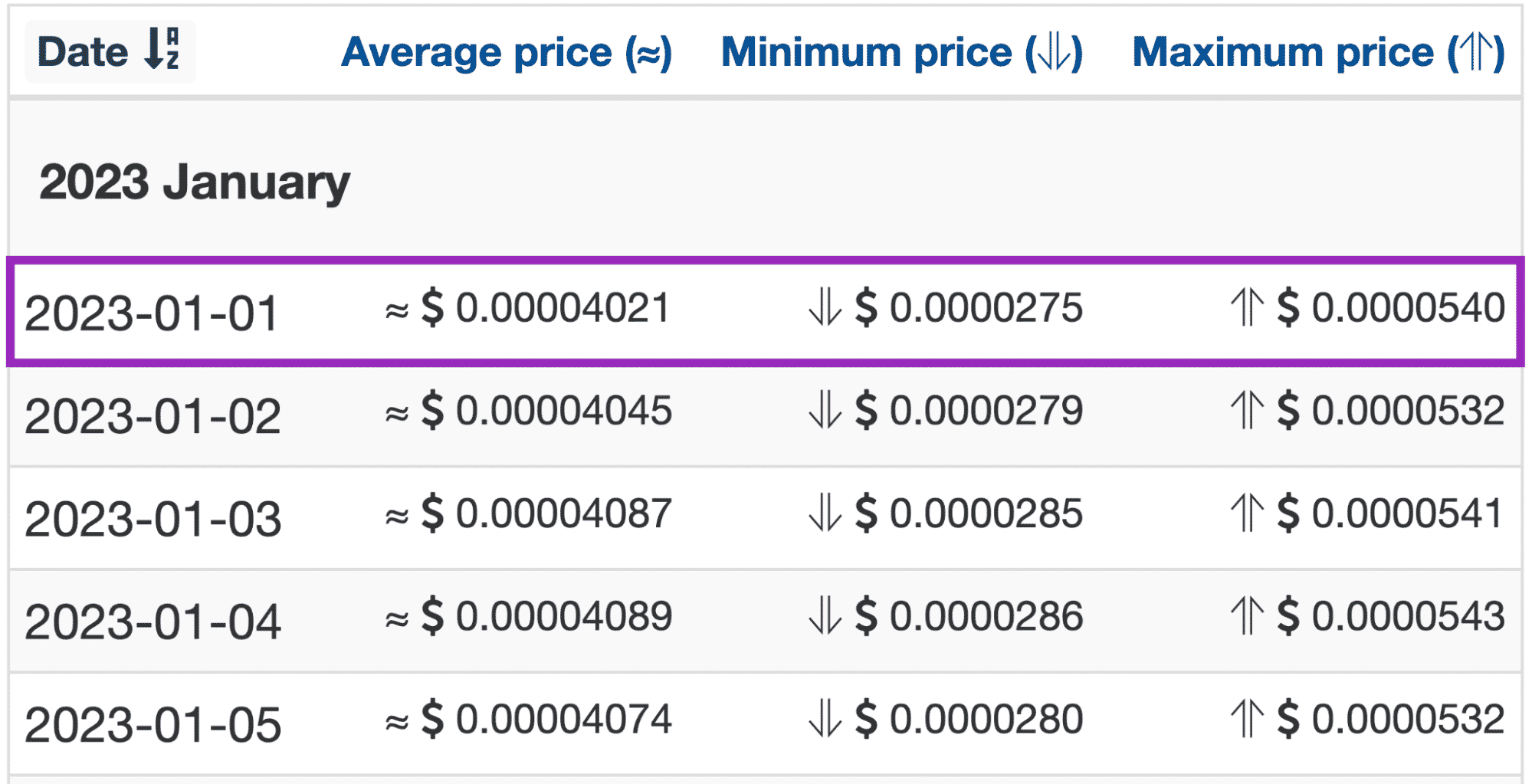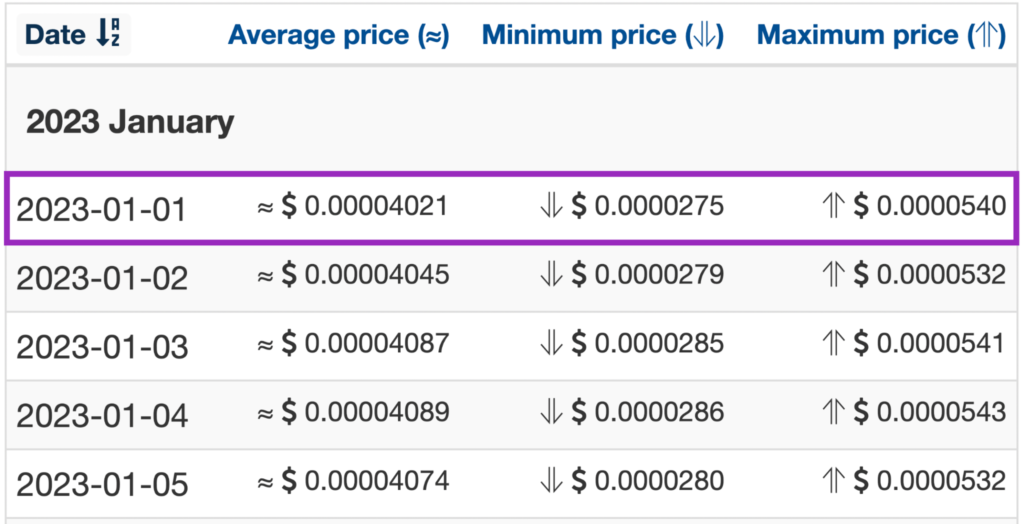 2025 forecasts
The average we got looking at the same sites was $0.0000723 (or about seven thousandth of a cent), which is roughly 3.5 times more than our last one. This suggests that SHIB could be a profitable investment for the foreseeable future.
Again, the most ambitious forecasts came from Wallet Investor, approximating from $0.0000771 to a maximum of $0.0001052 (about a hundredth of a cent).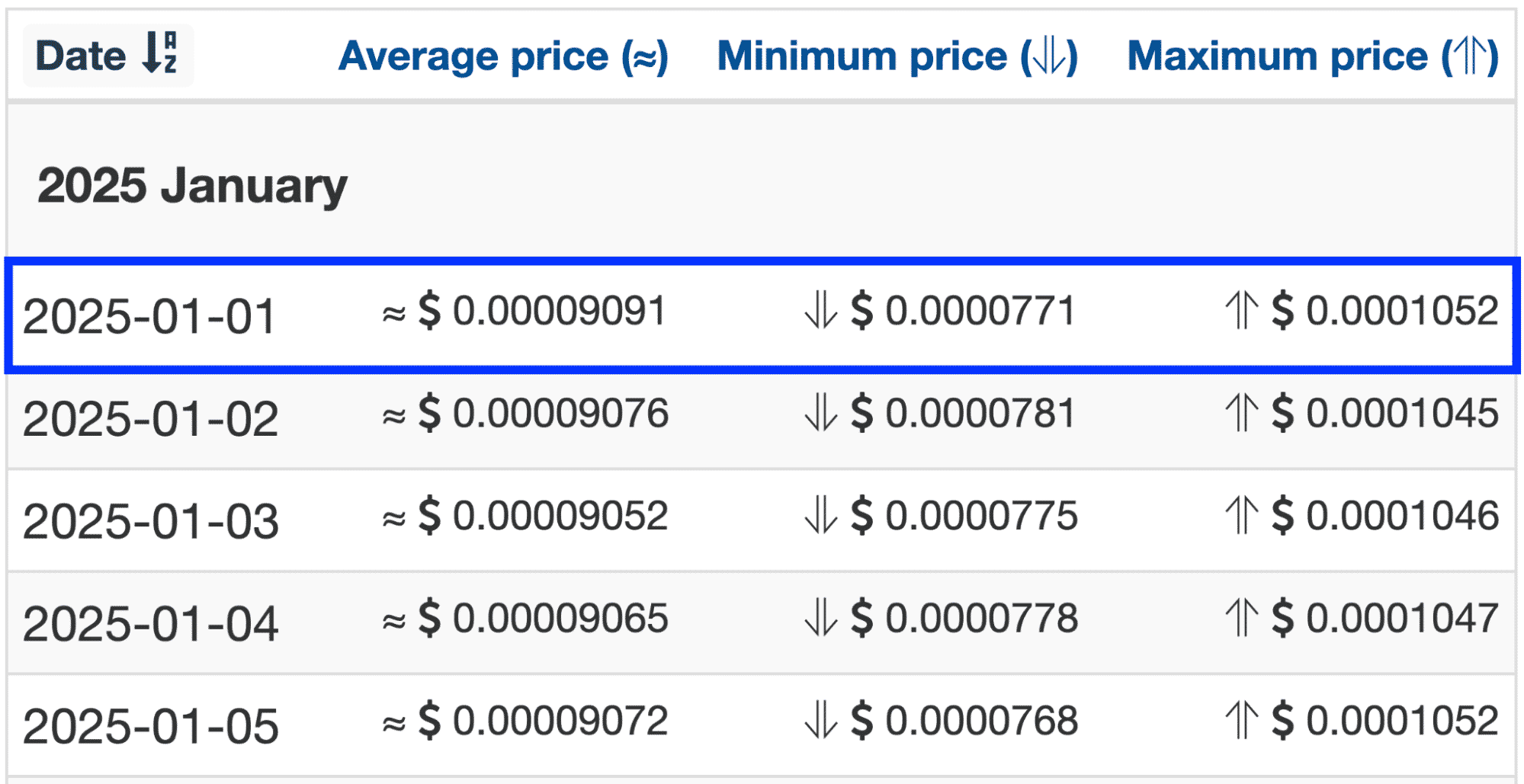 Shiba Inu (FAQ)
Is Shiba Inu real?
Indeed, it's the second-most popular meme coin and among the most well-known cryptocurrencies generally.
What is the SHIB price today?
$0.00002354, which is several fractions of a cent.
Will SHIB's price reach $0.01?
It would take a percentage increase well in the four-figure range. This is highly unlikely, at least in the next year. Although it is possible over time, it still needs to reach an incredible market value.
Should I buy SHIB?
Despite some promising developments for SHIB, experts still perceive it as a meme coin, which is even more speculative than 'serious' cryptocurrencies. Assuming you've performed thorough research, it's generally recommended to only include SHIB as a tiny part of your portfolio.
Where do I buy SHIB?
Coinbase, Gate.io, Binance, KuCoin, Kraken, Bitfinex, and FTX are just a few of the many exchanges to buy. Additionally, you can also purchase the token on Shiba's decentralized platform ShibaSwap.