The Comeback Kid EA is one of the latest FX robots in the market. The vendor states they created it to improve the traders' personal trading and ability. It can allegedly earn an average of 5% profits for users and allow them to spend less time staring at the charts.
Is the Comeback Kid EA worthwhile?
This robot was authored by Ryan Brown. He claims to have 16 years experience in FX trading and believes this puts him in a better position to create effective trading tools. He has 3 other products in his portfolio including Vigorous EA, Pinpoint EA and Ranger EA. We are hesitant to trust this vendor because he has not provided anything that we can use to verify his qualifications and experiences. He describes the features of his product as follows:
Can trade on many different pairs or assets
Has a built-in trade recovery
Trades for about 5-10 minutes daily
Integrates multi-order trading
Can run on the MT5 platform
The minimum deposit required is $3k
A leverage of 100:1 is recommended
Integrates money management
Settings are flexible
When it comes to the trading strategy, Ryan indicates that the system applies an averaging-in flex-grid system that targets key S/R resistant points to recover losses. It only takes grid positions when the likelihood of the price moving in the favor of the trader is high. The EA also uses trend trading that seeks to find an entry point for the user after the trend has a pullback.
How to start trading with Comeback Kid EA
The Comeback Kid EA is described as half EA and half trade manager. It can conduct trades for you automatically. At the same time, it allows you to regulate how and when you would like to augment profit on good trades and recover bad trades. You are advised to scan your charts 5-10 minutes per day for potential entries. The system will take over after you take a trade. It will eventually close the trades using your preferred settings.
The Comeback Kid EA costs $497, a price which is ridiculously high. There is no money-back guarantee available. The vendor only offers refunds to traders that have failed to install the software correctly.
Comeback Kid EA backtests
There are no backtest results for this EA. We wonder if the developer took time to test the effectiveness of the trading strategy. So, it is a bit risky to try the robot on the real market since we don't know its historical performance, and consequently, its profitability potential.
Trading results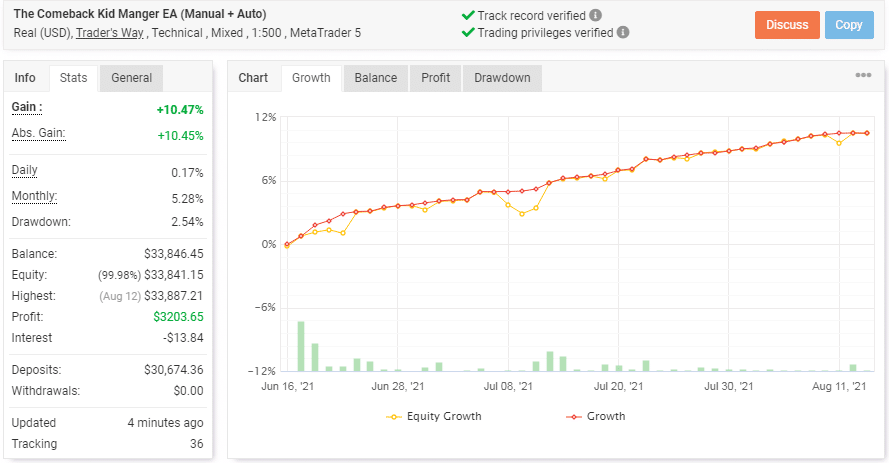 This real USD account was deployed just recently, on June 16, 2021 to be precise. The robot has managed to make a profit of $3,203.65 from a deposit of $30,674.36 which is akin to a gain of 10.47%. The balance has grown to $33,846.45 as a result. Daily and monthly profits rates are 0.17% and 5.28% respectively. The drawdown (2.54%) is small.

A total of 294 trades have been made. The winning rates for long trading positions are 61% for longs and 67% for short ones. These performances are not good and showcase the low profitability rate of the robot. The profit factor-1.81 is unremarkable.
The account has made 4484 pips. The average win is 86.57 pips while the average loss is -115.05 pips. The difference between these values is unsettling. This is because the EA is highly likely to make more losses than wins. The traded lots (57.17) are large and draw attention to the risky trading method used.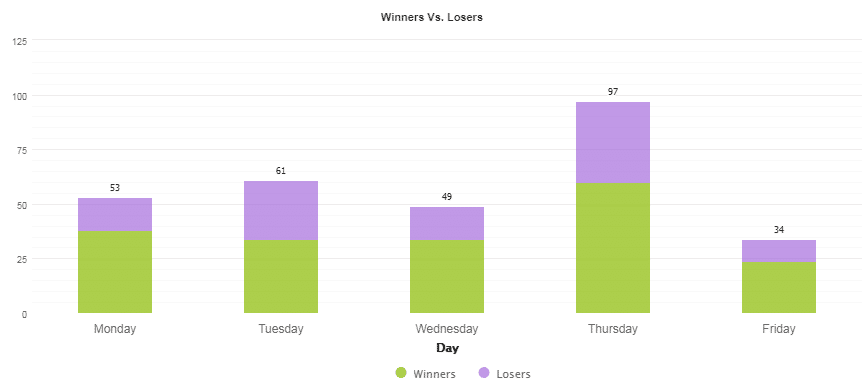 Thursday is the most traded day having executed 97 trades.
The account cannot be ruined easily.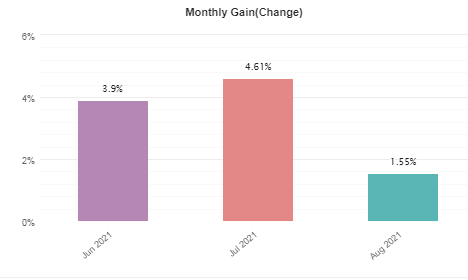 The month-to-month performance shows that the account made steady profits in June and July. However, it has made a profit of 1.55% in August till now.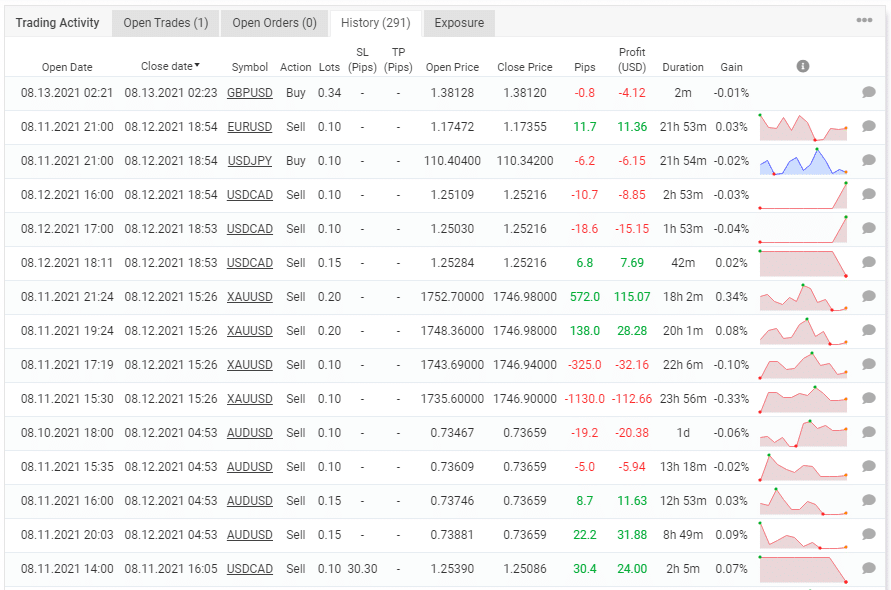 The robot used large lot sizes in trading. It is also clear that the profits made were very small and insignificant.
Other notes
This robot was built after it was discovered that there was a huge lack of trading tools that incorporated multi-order trading. It is hence believed that the EA can increase the trader's likelihood to profit while being in the wrong direction.
People feedback
There are no user reviews for the Comeback Kid EA on its official website or on other review sites like Trustpilot, Quora and Forex Peace Army. Nonetheless, we found 2 positive testimonials on the mql5 website. Regrettably, these are not sufficient to determine the overall experiences of buyers with this EA.
Summary
Advantages
Live trading results are available
Disadvantages
The account is too young
Very expensive
Backtest report is missing
Low profitable rate
The Comeback Kid EA is still new in the market and, therefore, you should not rush to buy it. We also feel that it is overpriced, and bad enough, you will likely not receive significant returns on your investment since its winning streak is low. In light of this, we advise you not to give this product a chance.