TradingView is a web-based social network for traders and for investors that includes charting and analysis tools and support stocks, bonds, cryptos, futures, and forex markets. It is available for free or in paid options. It is intuitive and powerful so both beginners and advanced traders can use it. It is a place where you can find and share trading ideas, custom indicators, and trading strategies.

The main strength of the web application is extremely powerful charting features that can be applied to a great number of different trading instruments. You can use many standard and custom technical indicators, chart pattern drawings, candle patterns, and proportional analysis tools to make a great technical analysis for every trading instrument. The tool offers not only time-based charts but also Renko, Kagi, Line-Break and Point & Figure charts. Fundamental data and economic news releases are also included in the charts. All your charts and trading ideas can be shared via community and via social networks. All charts are available with real-time data. Moreover, automatic technical analysis based on various technical criteria is provided, it will tell you whether a trading instrument is a buy or a sell.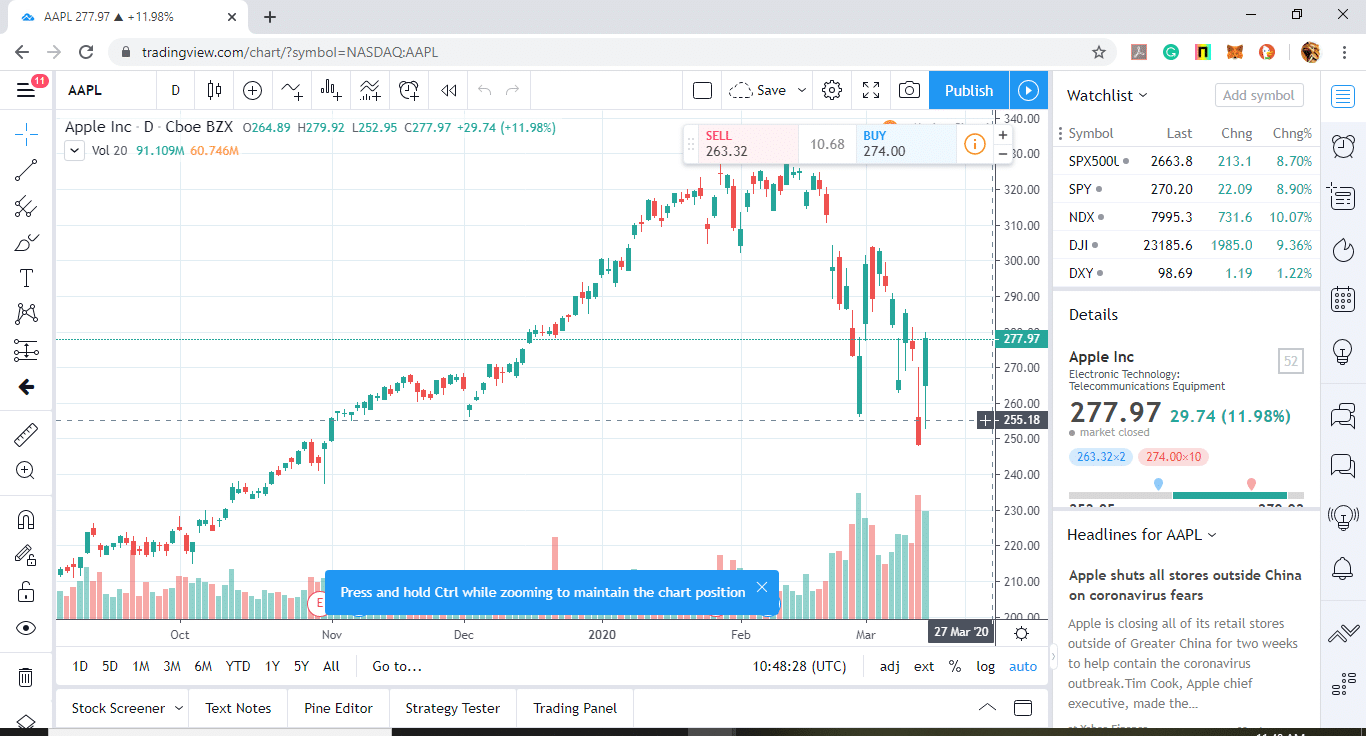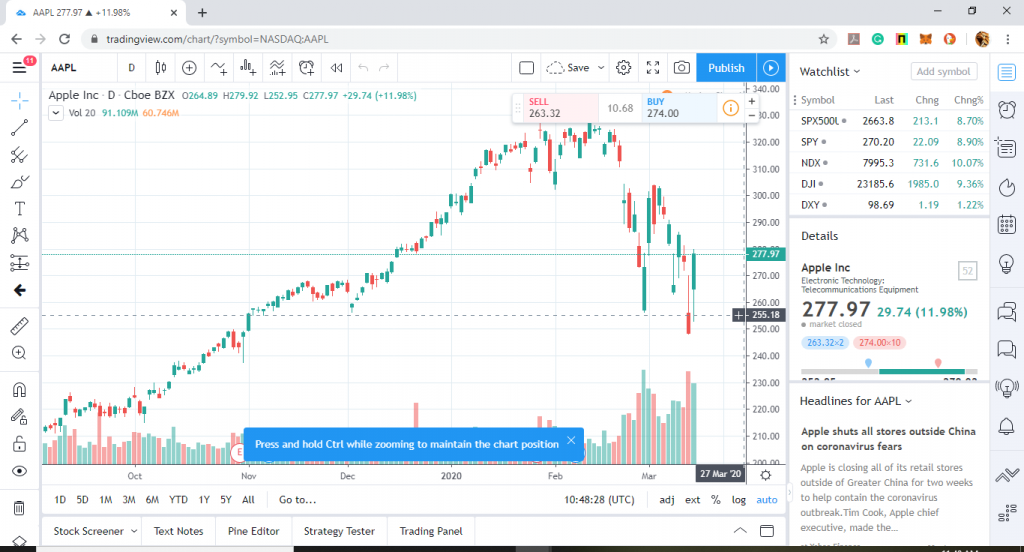 Market Scanner enables you to filter trading instruments on previously selected criteria. More than100 filtering options are available for all asset classes. Alerting tool is also very powerful, it has numerous filtering options, you can receive an alert not only on price levels but also on any indicator value and even for drawings. Alerts can be sent as a popup message, as push notification, via SMS or email. The user interface is extremely friendly, it is very easy to navigate, so first time user can find what he wants within a minute. The same stands for charting tools. Additionally, you may integrate the chart to your blog or website.
PineScript is TradingView's proprietary programming language for creating custom indicators and trading strategies. It is intuitive, so if you do not have any previous programming knowledge it will not be hard to learn it. The best resource to learn the language is an official user manual that has many good examples. Programming knowledge will allow you to back-test your trading strategy. I was impressed with the back-testing feature because you just need to select a strategy and a trading instrument and promptly the tool will calculate the performance and provide you with the complete list of trades. If you want you may share your custom indicators and strategies with other community members. When you share the programs you may protect the code from viewing and editing.
For every trading instrument, you can find trading ideas posted by other community members, you may like them or comment on them. You can also publish your trading ideas. It is possible to follow other members and to be followed. You can even start your video channel. Well, for every community action, especially for sharing ideas strategies, custom indicators and strategies you will receive the points. The more points you have your community reputation will be better.
If you are a beginner following other traders and their ideas may be a good way to start. Moreover, the community offers free and paid trading courses. Though some courses are very expensive up to $5000, they are very detailed and offered by star traders and financial educators. Simulated trading is another great feature for new traders, it is very similar to demo account trading on standard trading platforms.
Access to the community with the most advanced features is offered for free. Paid plans range from $9.95/monthly to $39.95/monthly, it can be billed annually, and offer more charts per layout, more indicators per chart, better alerting options, more watch-list instruments, access with multiple devices at the same time and include volume profile indicators. Additionally, the tool is also available as a mobile application.
Summing up
TradingView is a web-based social network trading community that offers great charting features. It is available for free or in paid options and it is suitable both for beginners and for more advanced traders. It uses proprietary, easy to learn programming language for creating custom indicators and strategies. The user interface is extremely friendly and a back-testing tool is very fast and effective.