Unbeatable EA is an automated Forex trading system designed to work on the MetaTrader platform. It is also capable of generating trading signals for the user. The developers assert that the robot is very easy to import and use. Furthermore, it updates itself on machine learning principles. Contrary to human beings, Unbeatable EA executes trades without emotions. According to the developers, this is what makes the robot profitable. However, is the EA as good as advertised? In our Unbeatable EA review, we will discuss all the important aspects around this trading tool to help readers make a wise and educated investment decision.
Is Unbeatable EA a good choice for traders?
Unbeatable EA is presented as a "Forex Robot and Expert Advisor" that is capable of giving the trader more. The developers also highlight the benefits of the EA, live trading results, features, backtest data, requirements, and pricing plans. The last part of the presentation incorporates a customer support section with a contact form, email address, and skype details.
Vendor transparency is absent. We were unable to find any useful information about the developers who created this EA. They have not provided background information about themselves or the company they operate under. This puts their trustworthiness into question.
Unbeatable EA has the following features:
Trades with AUDJPY, AUDUSD, CADJPY, EURJPY, EURUSD, GBPJPY, GBPUSD, and USDCAD currency pairs
Is adaptable to the market
Does not use martingale or hedging strategies
Offers quick support
Does not engage in long trades as it ensures trades are closed within 24 hours
Applies position sizing
It has visible SLs and TPs
It leaves a trade after creating an exit plan
It is associated with fast order execution
The developers indicate that the EA uses a simple formula to compute the amount of money a trader wants to make monthly and assists them to invest relatively. The formula is provided below:
Recommended Balance= (profit a trader wants to make in a month)/0.5
This strategy explanation is rather inadequate and disappointing. We do not know what informed this formula or the kind of Forex trading indicators it uses. Therefore, we were unable to determine its effectiveness.
How to start trading with Unbeatable EA
The system has 2 payment options. Unbeatable EA + robot for traders is $110/month. It comes with 1 demo and 1 real account, a free 7 day trial, and world class support. CopyFX Unbeatable EA for investors is offered at 30% of profit. It does not require monthly or advance payment. Available brokers for this plan include HotForex, IC Markets, RoboForex, and Forextime. Withdrawals can be made on a weekly or monthly basis. A 30-day money back guarantee is provided.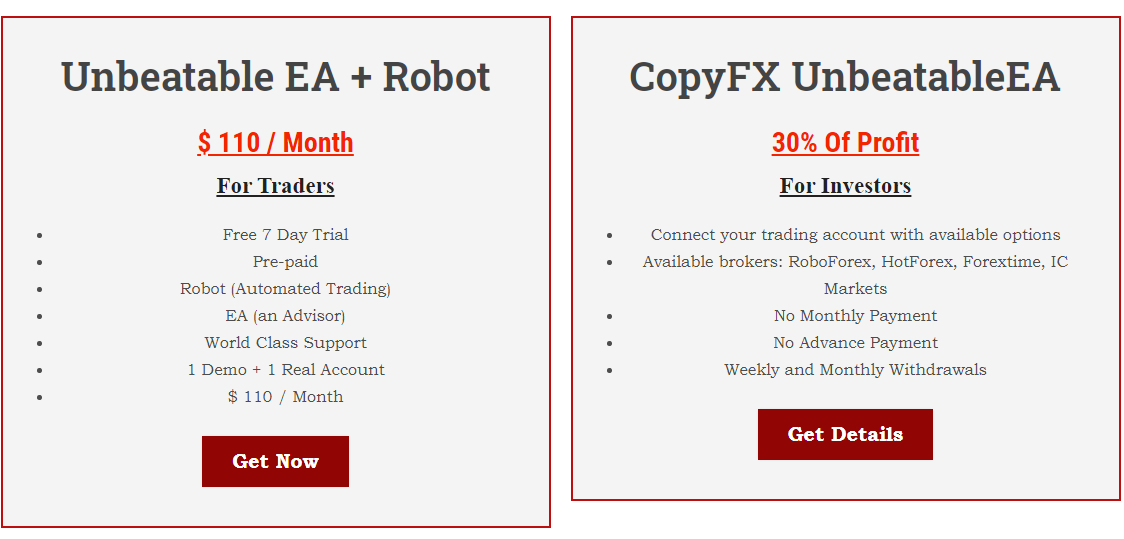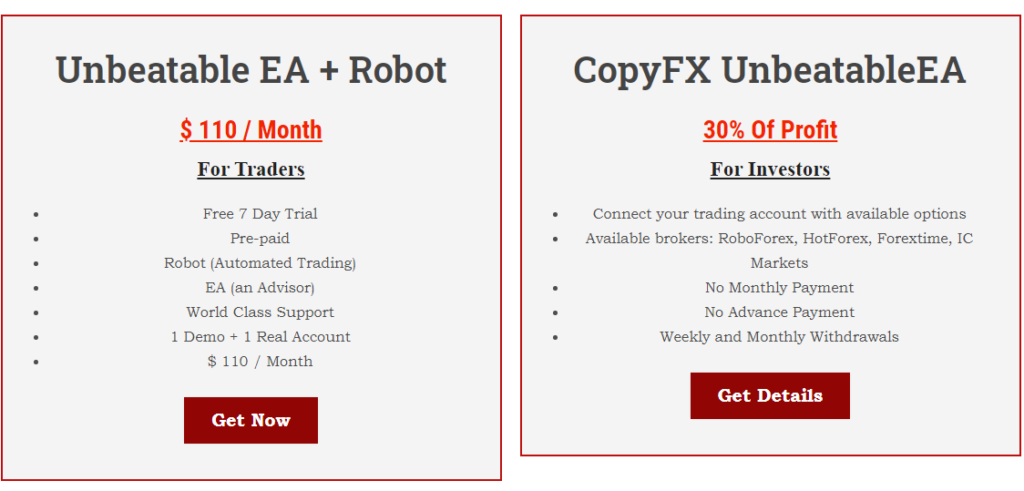 The minimum balance required to start operating an account run by this EA is $100 while the recommended broker is HotForex or FBS. The vendor advises traders to use ECN, ZeroSpread, and Standard accounts.
Unbeatable EA Backtests


The account traded with the USDCAD currency pair on the 15-minute time frame. The initial deposit was $100 and the net profit was $2,039.78.The drawdown was 13%. However, the backtest data provided is inadequate. Important information like the profit factor, win-rates, number of trades executed, and period of operation is not indicated.
Trading Results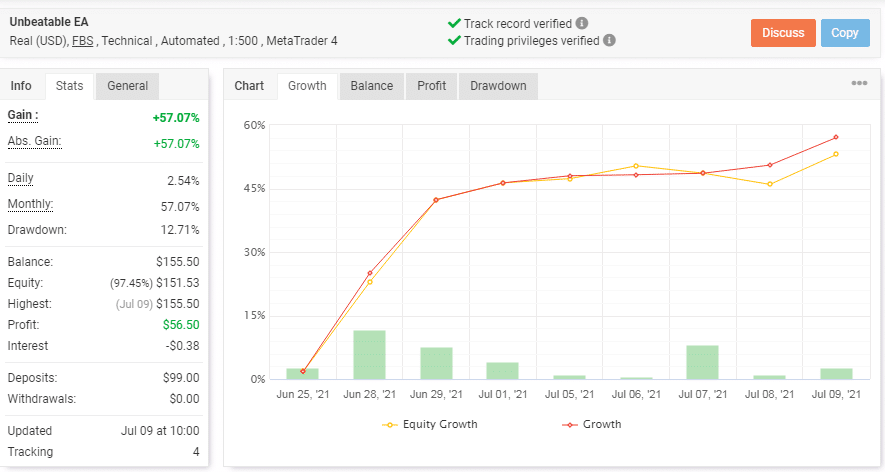 The EA has managed to increase a deposit of $99 to $155.50 in less than a month. It has made a profit of $56.50 which is equivalent to a gain of 57.07%. The daily profit is 2.54% while the monthly profit is 57.07%. The drawdown currently stands at 12.71%. 

So far, the EA has conducted 77 trades, and the win-rates for longs and shorts are 73% and 80% respectively. It has made 607.1 pips. The average win is 13.89 pips and the average loss is -13.31pips. The profit factor is 3.63 and the lots are 0.77.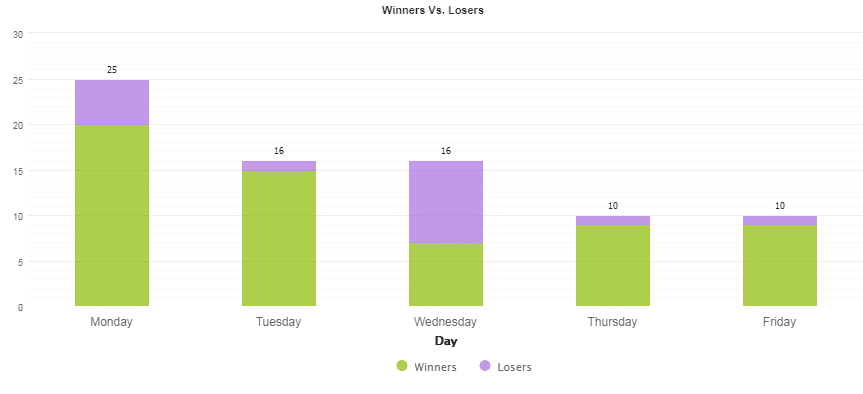 The EA conducts trades from Monday to Friday. It is evident that it executes most trades on Monday (25 deals). The least trades are made on Thursday and Friday (10 deals each).
The account's risk of ruin is relatively high. If it loses 12 deals in a row, it will lose 10% of the account.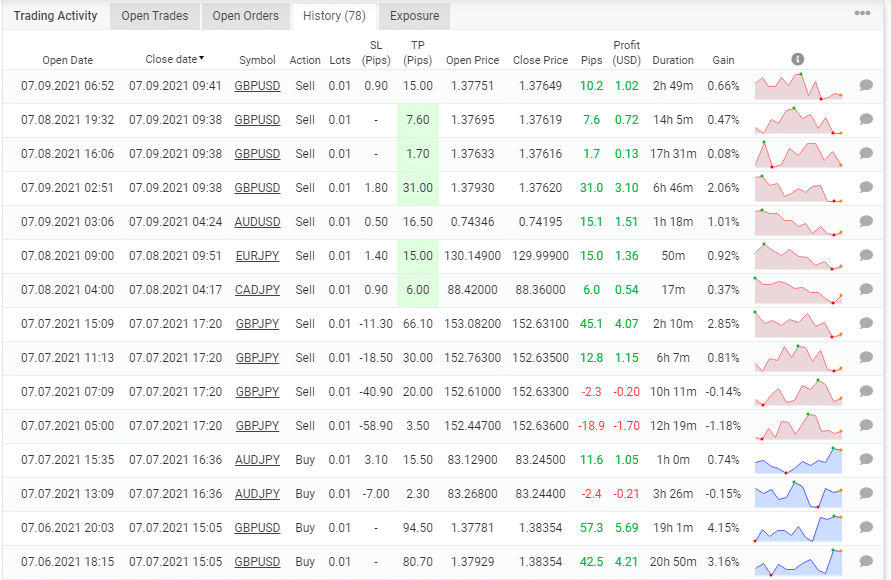 The trading history shows that the account operated with fixed lots of 0.01. It also applied stop losses and take profits. Notably, the SL and TP used were not fixed.
Other Notes
According to the vendor, Unbeatable EA can help traders attain work-life balance by managing Forex trading for them. The system can also decrease a user's trading and financial stress levels and offer them peace of mind.
People Feedback
There are no customer reviews for this robot. We were unable to find users' testimonials for this EA on third-party sites like Trustpilot, Forex Peace Army, and Myfxbook. Consequently, we could not determine how traders feel about this product.
Summary
Advantages
Offers customer support
30-day money back guarantee is provided
Disadvantages
Inadequate backtest data
Unclear strategy
Vendor transparency is lacking
We do not recommend this robot. Backtest data has some missing information which makes it difficult to ascertain the EA's profitability rate in the long-term. The strategy explanation fails to demonstrate how exactly the robot works to generate profits. Therefore, we cannot have confidence in it since we do not know if it is efficient or not. Lastly, since vendor transparency is wanting, the EA's developers cannot be trusted.