Vigorous EA is a trading solution that didn't receive a great presentation. Simply, we have almost nothing to discuss. The key statement is that "The Vigorous EA is one of our best EA's! It has been successfully backtested on 21 years of data. It scalps the EURUSD pair up to 100 times a week and makes a profit EVERY day! If you're looking for an EA that makes a consistent profit every day, this is it!"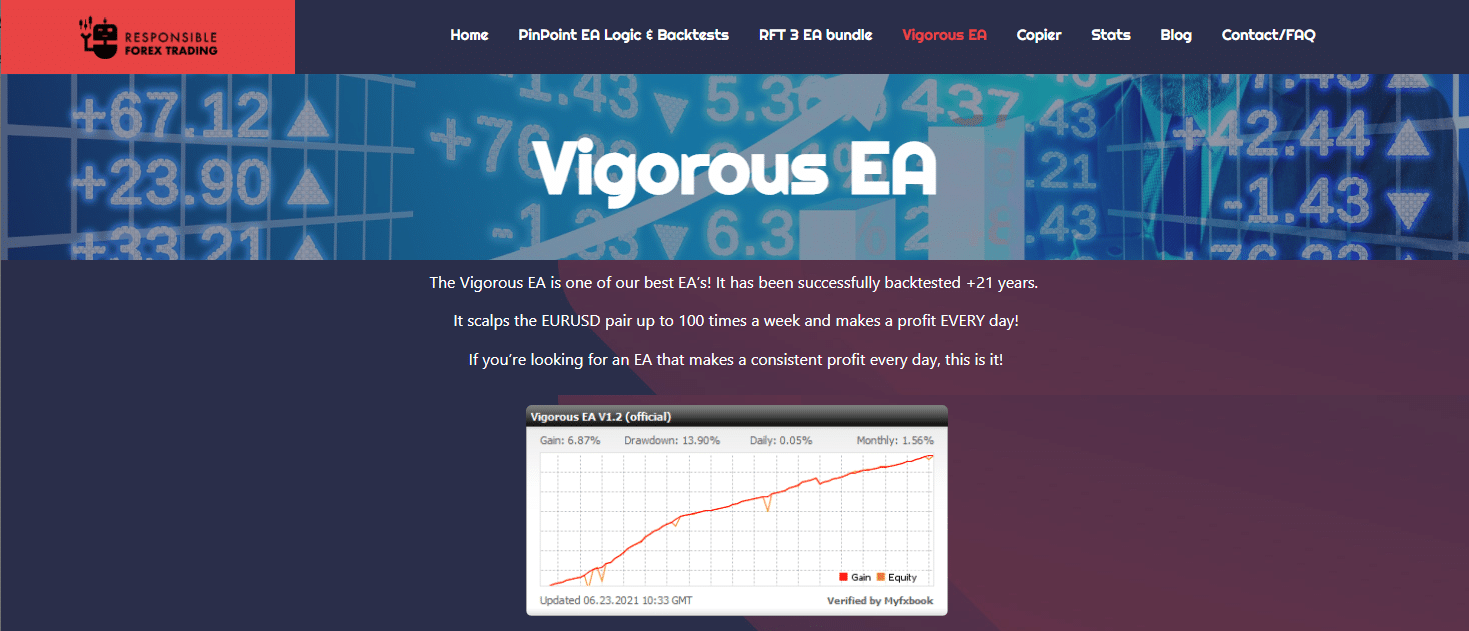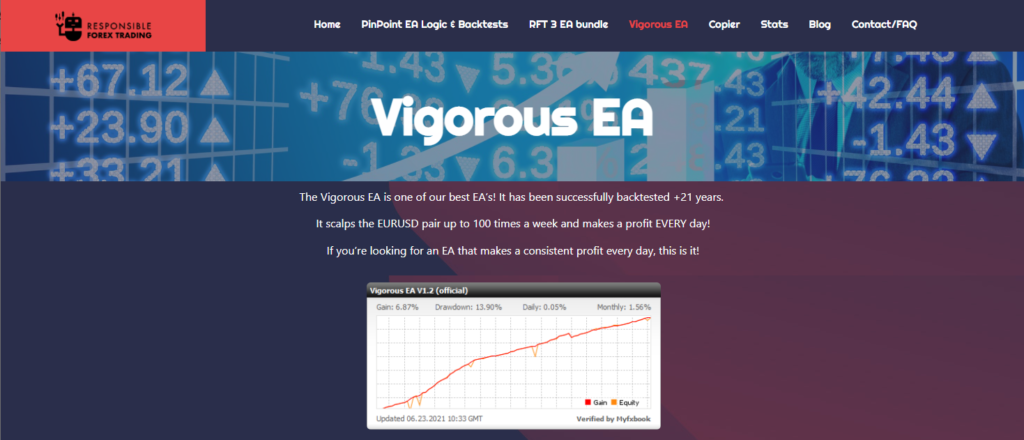 Is this robot a viable option?
We don't think so. The system is too risky to use on the real account. Martingale on a70% win rate account can be a one-way ticket.
How to start trading with Vigorous EA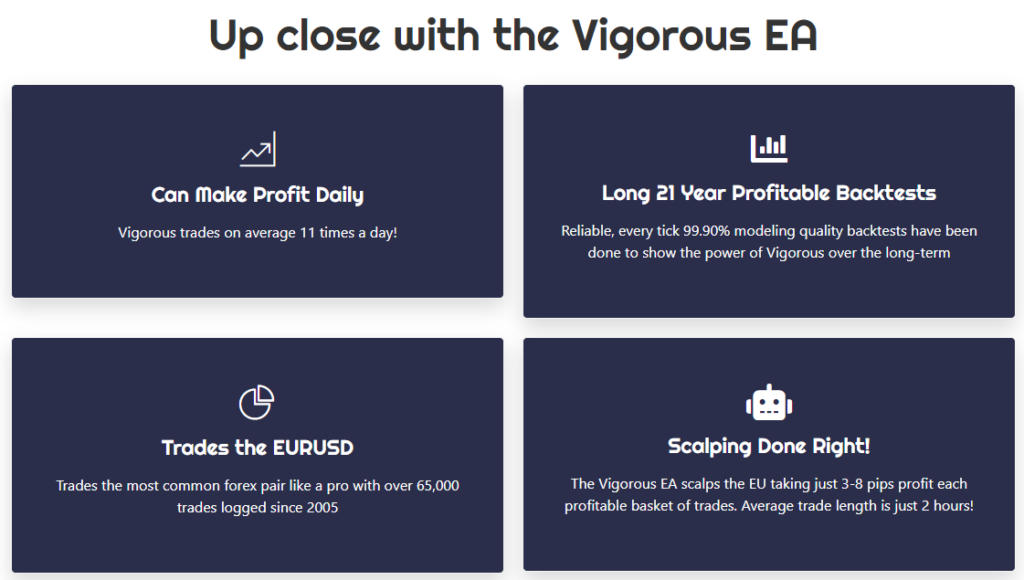 The robot has some features and details explained:
The advisor executes orders for us completely automatically.
The average trade frequency is eleven deals daily.
It works on high time frames.
The system can calculate the size of a Grid of orders.
The robot works with a EURUSD cross pair only.
We don't know details about time frames.
The system was backtested with 99.90% of quality on real tick data.
The robot uses a scalping strategy to make profits.
The average profits are 2-8 pips.
An average trade length high is several hours.


The robot trades with a three-month win streak.
There were 196 copies sold.
An average monthly profit is 1.66% with default settings.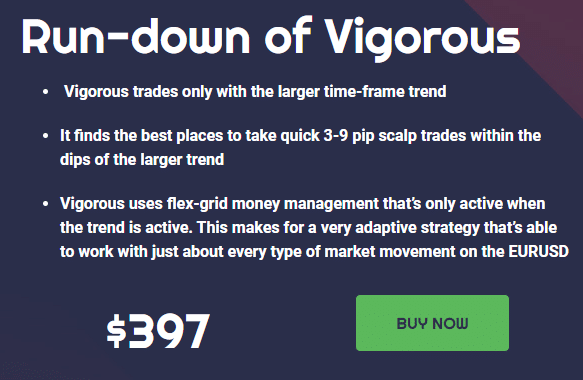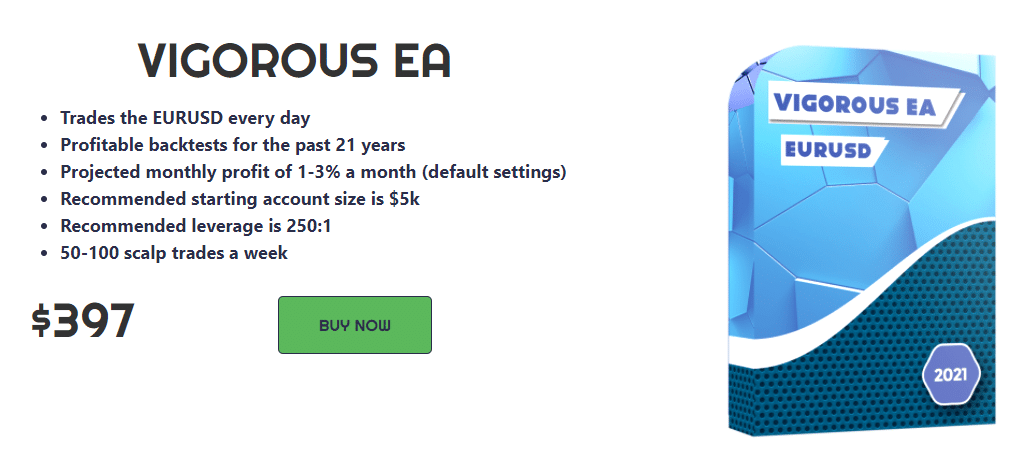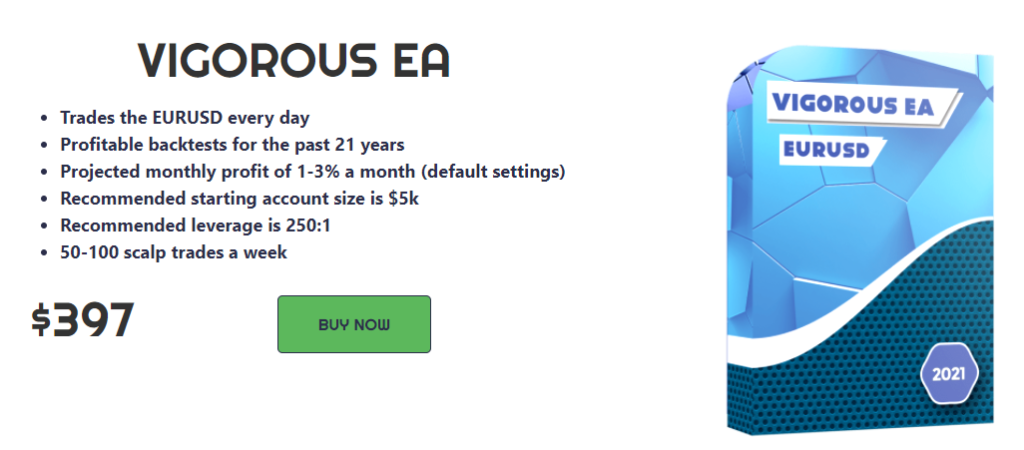 A lifetime copy of the robot is available for $397. It includes one real account and one demo account license.
It trades EURUSD every day.
Profitable backtests for the past 21 years.
An average monthly gain we can expect is 1-3%.
The recommended minimum deposit is $5000.
Recommended leverage is 1:200 or higher.
The trading frequency is from 50 to 100 orders weekly.
The system is sold without a refund policy to support us.
Vigorous EA Backtests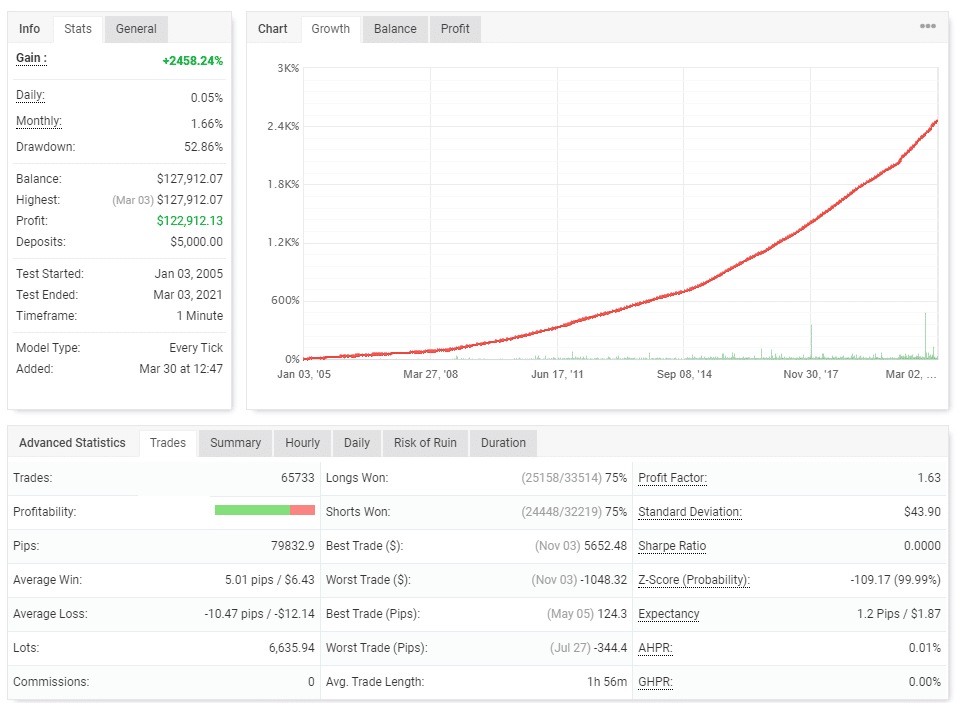 There are 16 instead of the mentioned 21 years of the EURUSD report. The absolute gain has amounted to 2,458.24%. An average monthly gain was 1.66%. The maximum drawdown was unfriendly high – 52.86%. The system has closed 65,733 orders with 69,832 pips. An average win was 5.01 pips when an average loss was twice bigger -10.47 pips. An average win rate was 75% for both Long and Short trading positions. The average trade length was almost 1 hour and 56 minutes. The profit factor was 1.63.


The robot worked with low risks.
Trading Results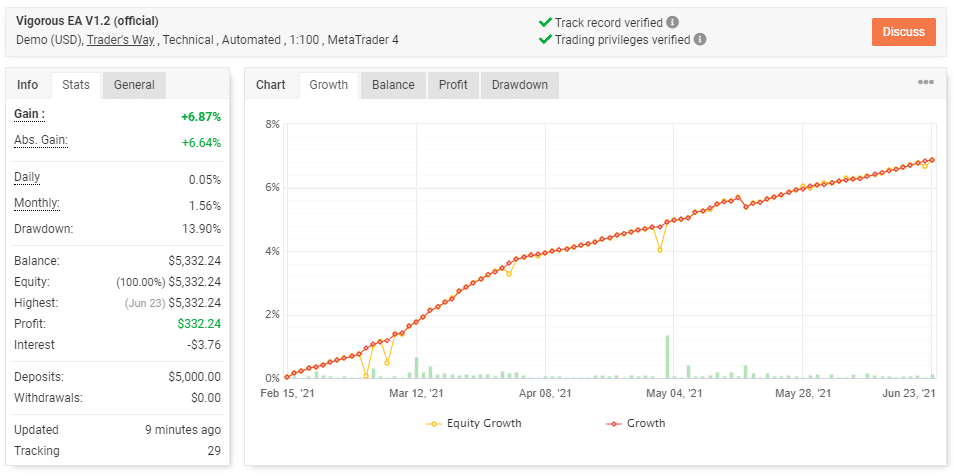 There are results from a demo USD account on Trader's way. The robot manages deals automatically. The leverage is 1:100. The account has both a verified track record and trading privileges. It was created on February 15, 2021, and deposited at $5,000. The absolute gain is 6.87%. An average monthly gain is 1.56%. The maximum drawdown is deep as well – 13.90%.

It has closed 1234 orders with -12.3 pips. The system survives only because of Martingale orders. An average win is 4.97 pips when an average loss is still twice deeper -11.59 pips. The accuracy rate is 70% for Longs and 68% for Shorts. It's almost the same we saw on the backtest. An average trade length is almost five hours. The profit factor is 1.45.

The system trades mostly EURUSD – 1210 orders with $309.74 of profit.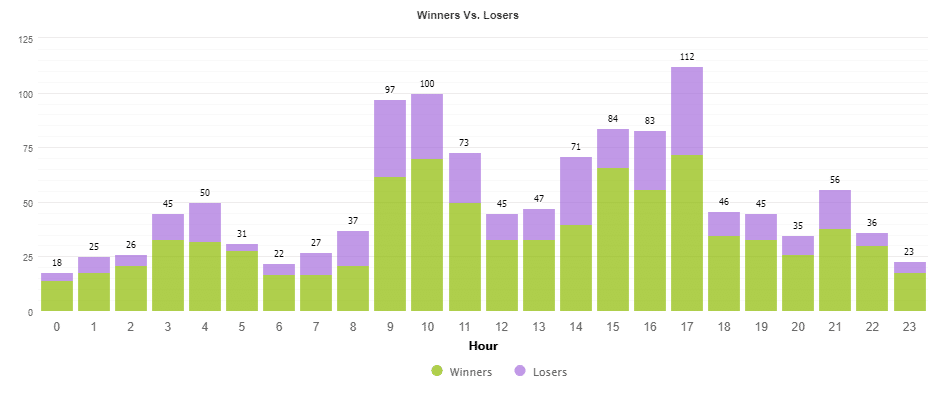 The European trading hours are the most actively traded.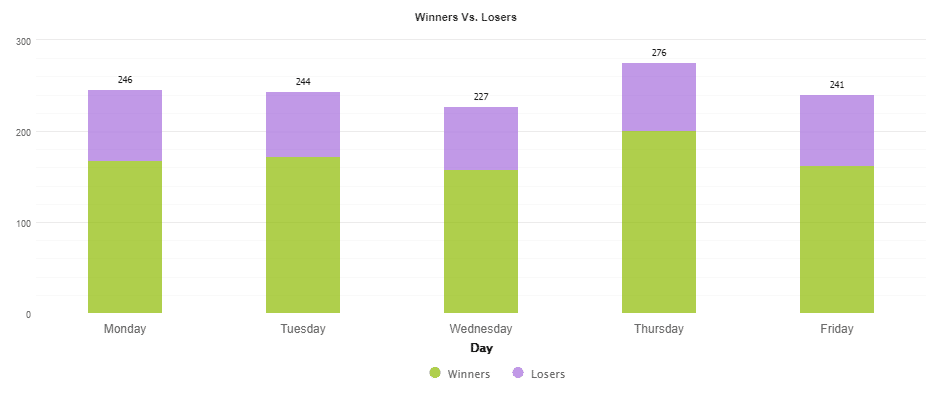 Wednesday is the less traded day.

The robot has to lose 270 deals in a row to lose 10% of the account balance.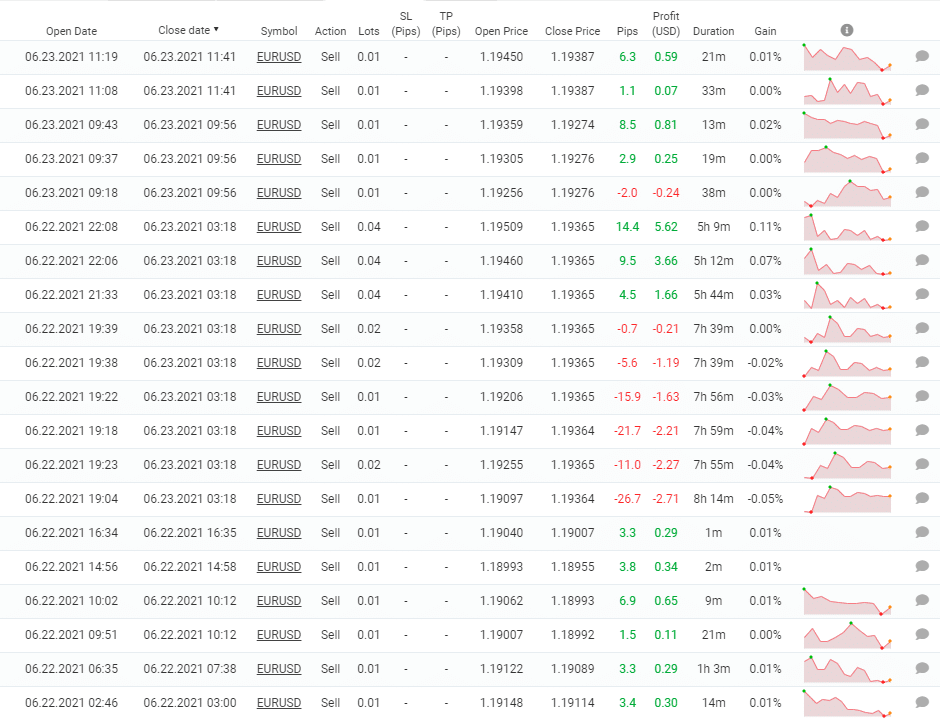 The system trades, using quite extensive Grids of orders. Martingale is also applied.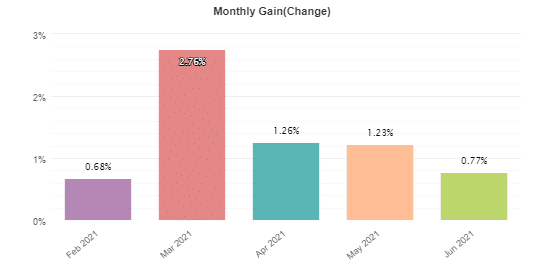 As we may note, the money profitability is low. For a Martingale-based advisor, it's nothing.
Other Notes
The developers completely hide their personalities. So, if something goes wrong, we probably don't even get refunds because there is no one to contact.
People Feedback
The system is a young trading solution, and the developers don't want to ask people to review it. So, we have no testimonials, and we don't know how the robot works on people's accounts and if everything is well.
Wrapping up
Advantages
Strategy explanations provided
Risk advice provided
Backtest report shared
Trading results published
Disadvantages
No team revealed
Grid with Martingale is on the board
The accuracy rate is low for using Martingale
Demo-account trading results
No refunds for clients provided
The presentation doesn't include people testimonials
Summary
Vigorous EA is a trading advisor that is profitable only because it uses a Grid strategy with quite aggressive Martingale. The developers mentioned a scalping strategy as well. The system is too risky to use on the real account. We have no money-back guarantee provided to cover us if the system starts losing.