Zeus EA is a Forex expert advisor that promised monthly returns of 5-15%. This system is supported by verified trading results and backtesting data. The vendor also claims that it can generate steady profits while keeping the drawdown low.
Is this the perfect Forex trading system?
On the official website, the vendor has made a detailed presentation, highlighting the main features of this robot. We have a chart displaying the winning vs losing trades. There is a link to a live trading account and some statistics related to the backtest. We also have the pricing details, broker recommendations, user reviews, and an FAQ section.
The parent company behind this EA is known as Elite CurrenSea. It was launched by Chris Svorcik and Nenad Kerkez in 2014. These two individuals act as the CEO and the head trader of the company. Mykyta Barabanov, the third member of the team, acts as the CMO. The headquarters of this company is located in Tallinn, Estonia.
This robot is only compatible with the EUR/USD pair. According to the developer, it is capable of conducting error-free, instant orders. You can install it on the MT4 trading platform. Unfortunately, the vendor has not shared the details of the trading strategy. We have no idea how the system identifies profitable trading opportunities in the Forex market.
How to start trading with Zeus EA
There are a total of four pricing plans for this EA. The first one is a rental plan where you need to pay €699 recurring yearly. For the lifetime plan, you need to pay a one-time fee of €999. The third one is a rental sponsored plan with quick onboarding and no capital limits. For this plan, you need to pay €399 recurring yearly.
The managed account has zero upfront fees, but there is a 20-30% profit share. There is no money-back guarantee offer, but for subscription renewals, you have a 48-hour window to apply for a refund.
It is recommended that you trade with the Key to Markets broker since it has a minimum deposit requirement of $100 and maximum leverage of 500:1. There is no minimum starting capital, but for optimum results, you should invest at least 2500 Euros. The EA only uses the M5 timeframe at the moment for conducting trades.
Zeus EA backtests

This backtest was conducted from January 3, 2016 to August 19, 2020. The EA conducted 14662 trades, winning 70% of them and generating a total profit of $9,356.32. While the win rate was satisfactory, the extremely high drawdown of 53.30% tells us that the robot was following a risky strategy. During the testing period, the EA had a profit factor of 1.52, and daily and monthly gains of 0.09% and 2.8%, respectively.
Trading results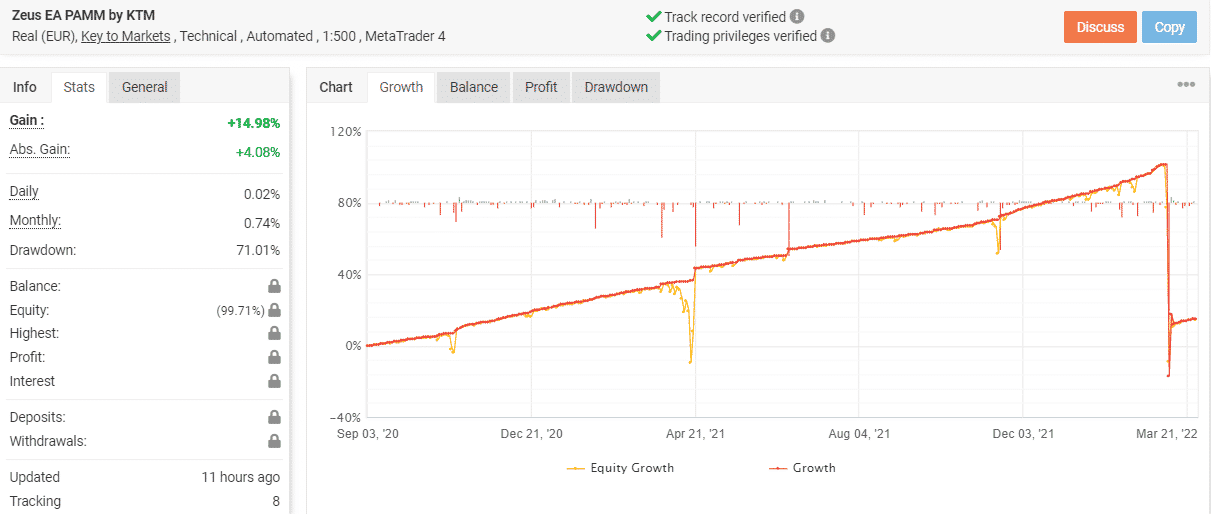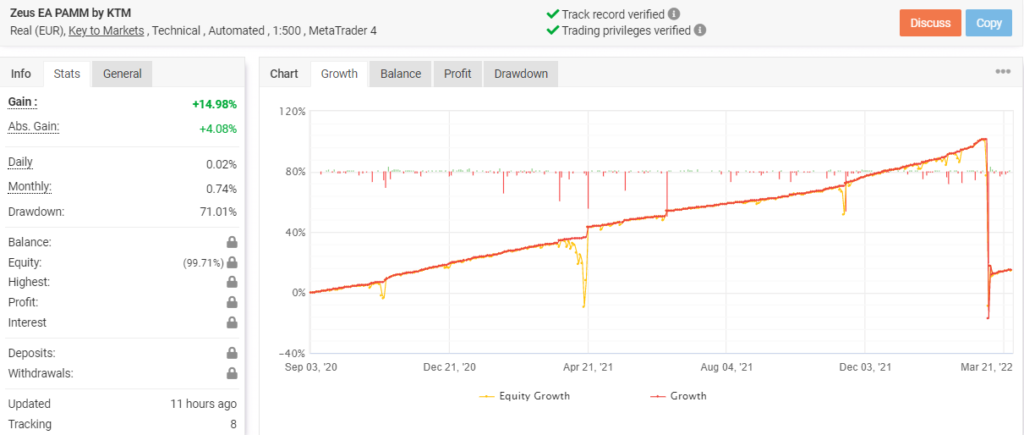 This live trading account on Myfxbook was launched on September 03, 2020. It has been around for a long time and to date, 71,292 trades have been placed through this account. The win rate currently stands at 69%, which is slightly less than what we saw in the backtest.
For the live results, the drawdown of 71.01% is even higher compared to the backtest. This indicates a high risk of ruin. The daily and monthly gains are quite decent at 0.02% and 0.74%, respectively. This account has a profit factor of 1.03, which can be considered decent.
One thing we must mention is that the owner has hidden some key parameters like balance equity, profit, interest, deposits, and withdrawals. Also, the time-weighted return is only 14.98%.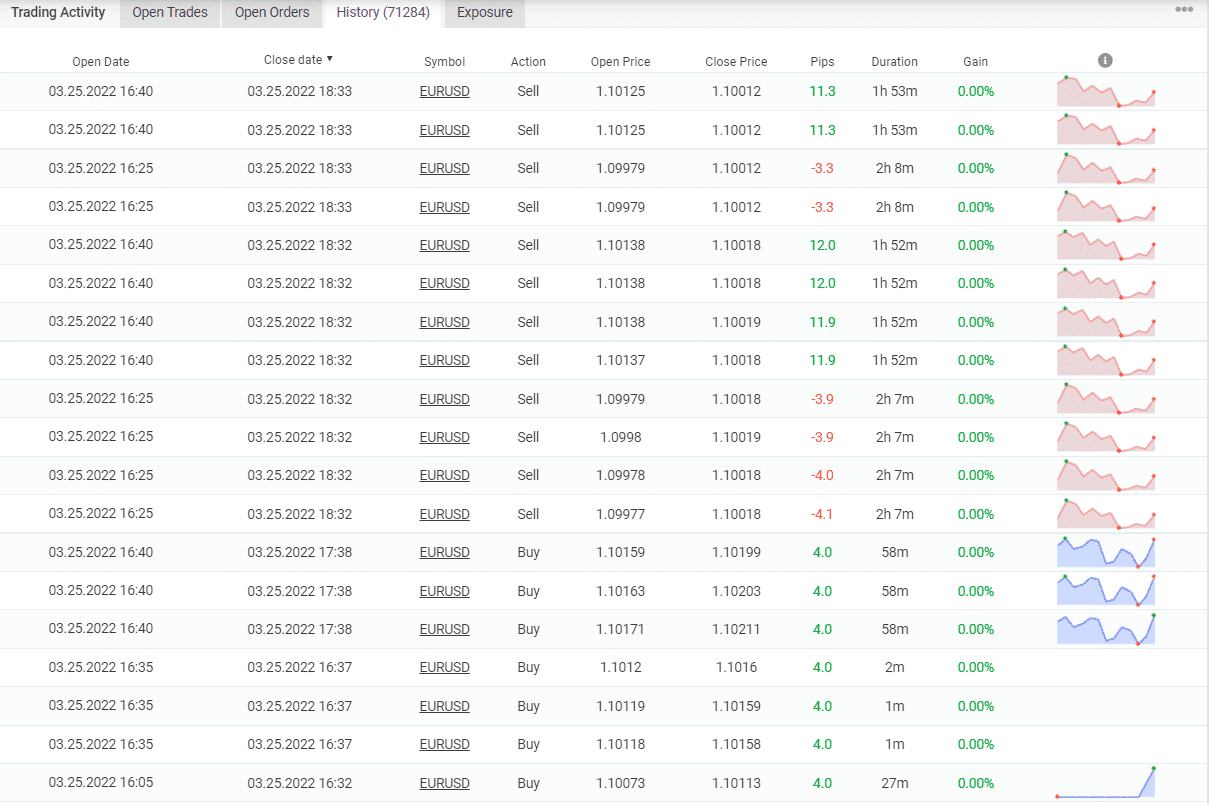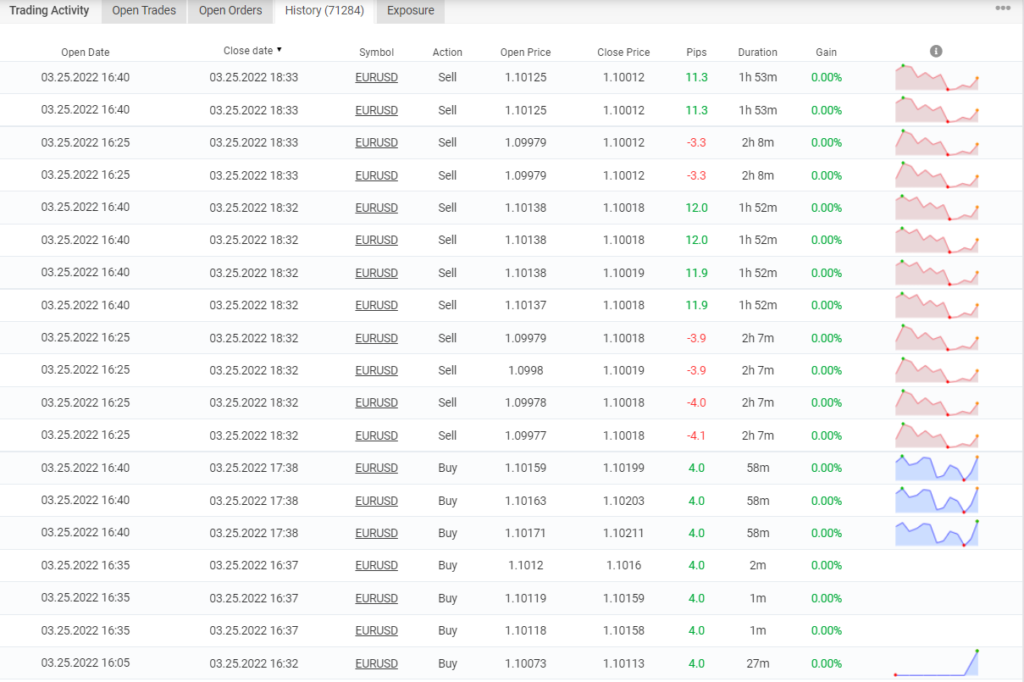 It is obvious from recent trading history that the EA has a high trading frequency. It tries to generate small profits from each trade, but as you can see, the latest trades haven't been so profitable.
Customer support
The website has a contact form through which you can send a message to the service team. Alternatively, you can use the official email address.
People feedback


On Forex Peace Army, there are a few reviews for Elite CurrenSea, the parent company. In one of them, the user has complained about the EA exhibiting high drawdown and making losses.
Summary
| | |
| --- | --- |
| Advantages | Disadvantages |
| Verified trading results | High drawdown |
| | Lack of strategy insight |
| | High pricing |
| | No money-back guarantee |
Zeus EA follows a risky strategy that leads to a high drawdown. It conducts a large number of trades on a daily basis, and only generates minor profits for each. The pricing plans are quite expensive and the vendor does not offer a money-back guarantee.