Advanced Scalper is a Forex EA that is said to be based on 3 years' worth of live trading results. It was launched on 24th August 2018, so evidently, it has had some time to establish a presence in the market. Whether it is a reliable system or not can be determined only after conducting a thorough assessment of its different aspects.
Is This The Forex EA You Need?
There is an offer on this Forex EA right now, so it is being sold for a discount of 60% of the final price. Additionally, when you purchase this robot, you get another Expert Advisor for free.
On the MQL5 page of Advanced scalper, the vendor has first highlighted the aforementioned offer, followed by a link containing the setup guide for the robot. Links are also provided for recommended brokers and VPS. Next, we have a brief explanation of how the robot functions, followed by a list of its main characteristics. Finally, there is an overview of the system parameters and a few screenshots depicting the backtesting results.
The developer of this robot is a Maltese trader by the name of Wim Schrynemakers who works for Profalgo Limited. Apart from Advanced Scalper, he has developed systems like Grid King, Gecko, Night Owl, Momentum EA, Swing Trade Pro, etc. We don't know anything else about this person and cannot verify whether he has any real trading experience.
The vendor recommends using this robot for trading in pairs like GBP/USD, USD/JPY, and EUR/USD. It has been mentioned that it uses high and low breakout systems for calculating the trade entries, but no further details have been provided about the strategy. We don't think this information is sufficient when most Forex traders look for some technical data related to the strategy.
How to Start Trading With Advanced Scalper
Advanced Scalper is available at a price of $390, but there are a few rent options available as well. These options are for 1 month, 3 months, 6 months, and 1 year and they cost $149, $199, $249, and $299, respectively. There is a free demo version of the software available if you wish to test run the robot prior to using it for live trading. Unfortunately, no money-back guarantee is provided by the vendor.
This EA has built-in settings to protect your account from spreads and slippage. Currently, there are 2 ways you can use this robot. The first one is automated trading, where the vendor recommends using the H1 and H4 timeframes.
You may also use it as a manual trading tool, selecting your own entry points. There is also the option of using it with another robot for selecting the entry points. Here, you can use the exit algorithm of Advanced Scalper.
Stop loss is used with every trade and managed efficiently. For running the full setup, the vendor recommends starting with a balance of $150. Moreover, an ECN broker with low spread and commission has been recommended.
Advanced Scalper Backtests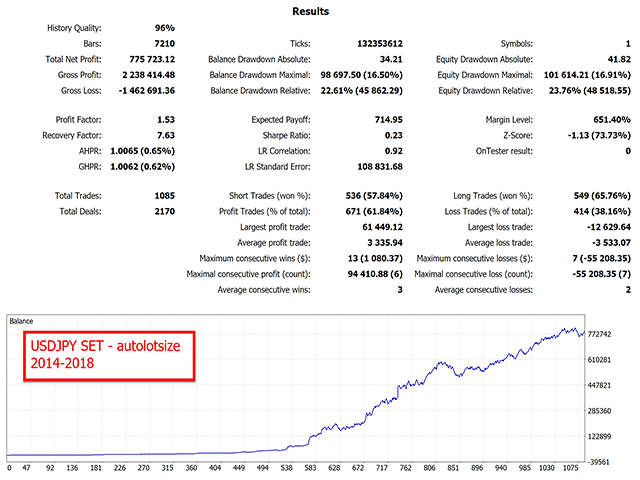 This backtest was conducted from 2014 to 2018 on the USD/JPY pair. During this time, a total net profit of $775723.12 was generated with a win rate of 61.84%. The profit factor was quite satisfactory at 1.53, while the relative equity drawdown was 23.76%. Advanced Scalper managed 13 maximum consecutive wins during this test, and suffered from 7 maximum consecutive losses.
Trading Results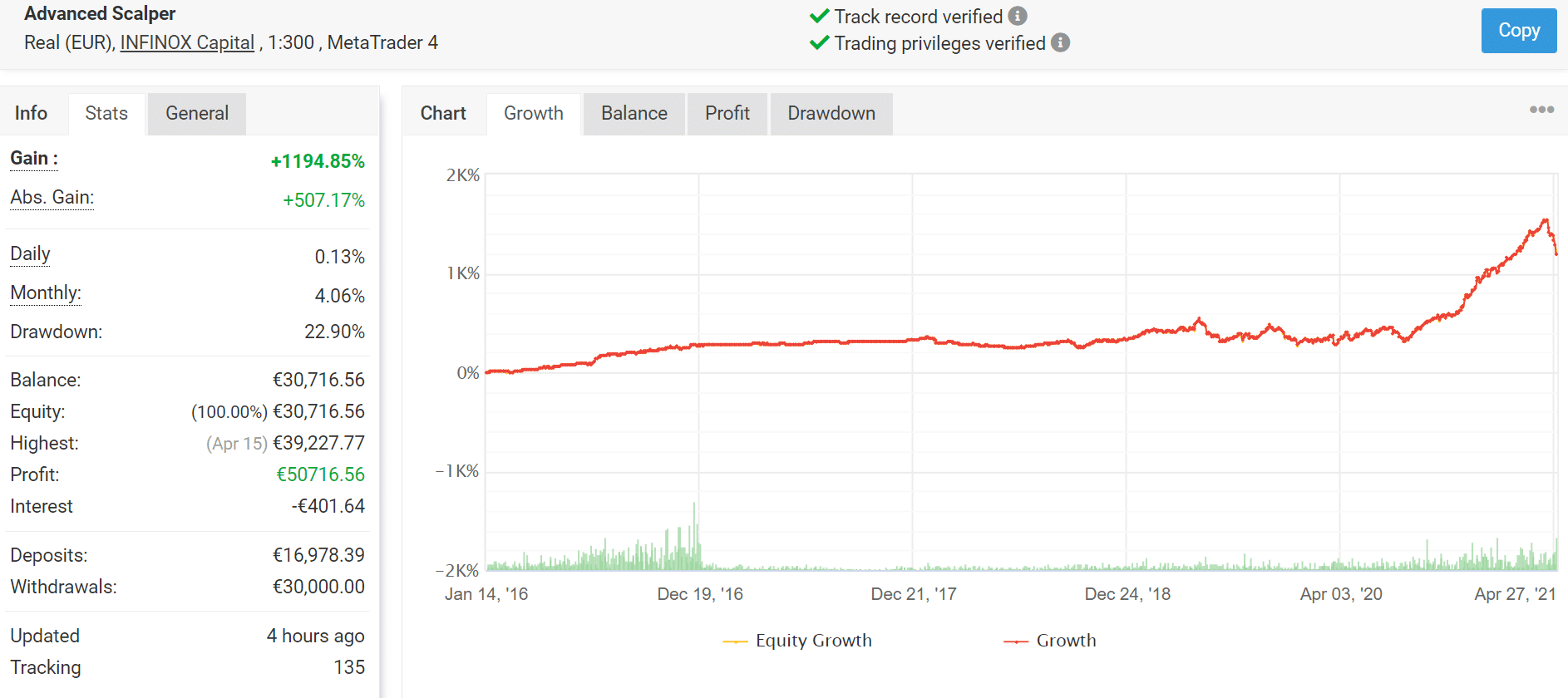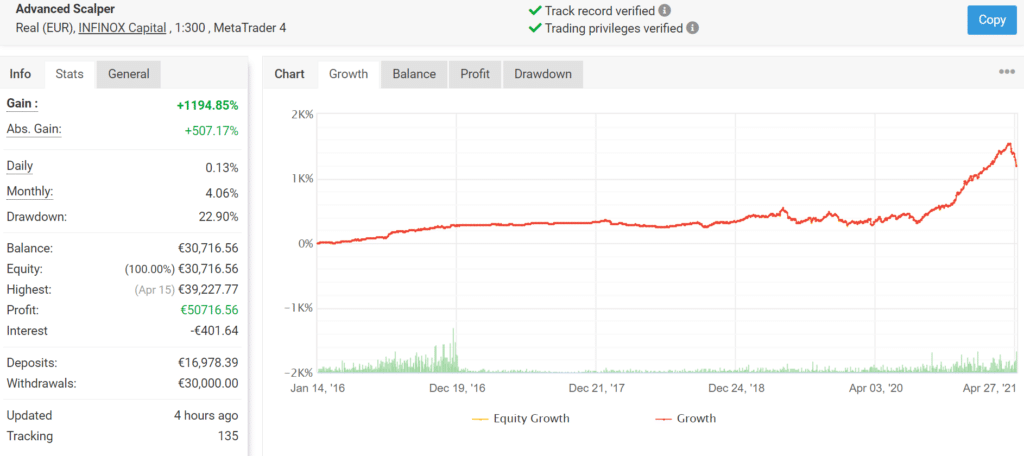 This live trading account for Advanced Scalper was launched on 14th January 2016. To date, it has accumulated a profit of 50716.56 Euros, while maintaining a win rate of 75%. The daily and monthly gains are nothing spectacular at 0.13% and 4.06% respectively. Most Forex EAs offer higher daily and monthly profits.
The drawdown and profit factor for this live trading account are 22.90% and 1.29 respectively. From what we can gather, the trading results are not too impressive, and we can see several sizable losses in the trading history.
Other Notes
There are several system parameters for Advanced Scalper, including spread and slippage filters, time filters, etc. In the trade entry management, you can set the parameters specifying the trade entries, while the manual trade settings let you select which trades are chosen for manual trading.
People Feedback


There are a few user reviews for Advanced Scalper on the MQL5 website. Here, the users talk about the long profits and low drawdown delivered by the robot. But we cannot really consider these authentic since they are not verified by a third-party website.
Conclusion
Advantages
Verified live trading results
Disadvantages
Lack of strategy insight
No verified user reviews
Low monthly profit
Summary
After conducting a detailed analysis of the various system aspects, we have reached the conclusion that Advanced Scalper is not a system that can rely on. The trading strategy is a grey area, since no information has been provided on it, and even the live trading results do not look too impressive.