Aeron (Scalper+Grid) is a Forex robot that claims to provide maximum and steady profits in Forex trading while keeping the risk to a bare minimum. The system combines two well-known strategies which can be customized by the user. As per the vendor, it is capable of generating profits from both volatile and stable markets.
Is This Forex Robot Still Good to Go?
On the official website of Aeron, we have been presented with three different live trading accounts that are all verified by FXBlue. Next, we have a description of what the robot is and what strategies it uses, presented in a question and answer format. The system parameters and installation procedure have been explained by the vendor and pricing details have been provided.
We have little or no information about the vendor on the official website. No company background is provided, and we don't know its year of foundation or where it is based. When a vendor shares details about the company, as well as the identities of the traders and developers, it makes us more confident about investing in the system. Aeron (Scalper+Grid) has certainly failed to maintain vendor transparency on the website.
Using this Forex EA, you can trade in pairs like AUD/CAD, CAD/JPY, USD/JPY, EUR/JPY, and EUR/USD. It uses the Scalping and Grid strategies, the first of which involves a trader buying a pair and holding it for a short while to make gains. Here, multiple trades are placed and small profits are earned from each. The Grid strategy, on the other hand, looks to make profits from both trending and flat markets by hedging and placing alternate buy and sell orders.
How to Start Trading With Aeron (Scalper+Grid)  
Aeron is currently available for $230, but the vendor mentions that this price is only valid till the first 50 copies are sold or 48 hours are over. Following this, the price will be increased to $349. This is a common marketing tactic many vendors use to draw in customers, and to us, it seems rather desperate. No money-back-guarantee is provided for this robot.
With every trading position taken by this robot, there is a stop loss and a take profit. It also has an equity risk management feature, so the user can decide what percentage of the equity they wish to risk. Since it is a fully automated system, the lot sizes are adjusted according to the equity and balance.
It works on the MT4 trading platform and trades during the 1-minute timeframe. Since the scalping strategy is extremely time-sensitive, users need to keep their internet and computer on 24 hours a day, 5 days a week. Having a slow system might result in you missing out on some lucrative trading opportunities.
Aeron (Scalper+Grid) Backtests
Backtesting data is not available for Aeron, which comes as a disappointment. Since backtesting is usually conducted over a long period of time spanning several years, it tests the system against difficult market conditions. So a potential buyer gets to know whether the robot can deal with these long drawdown periods.
It also reveals some key parameters, such as relative drawdown, profit factor, consecutive wins, etc. In the absence of backtesting data, we cannot evaluate the system's profitability with 100% accuracy.
Trading Results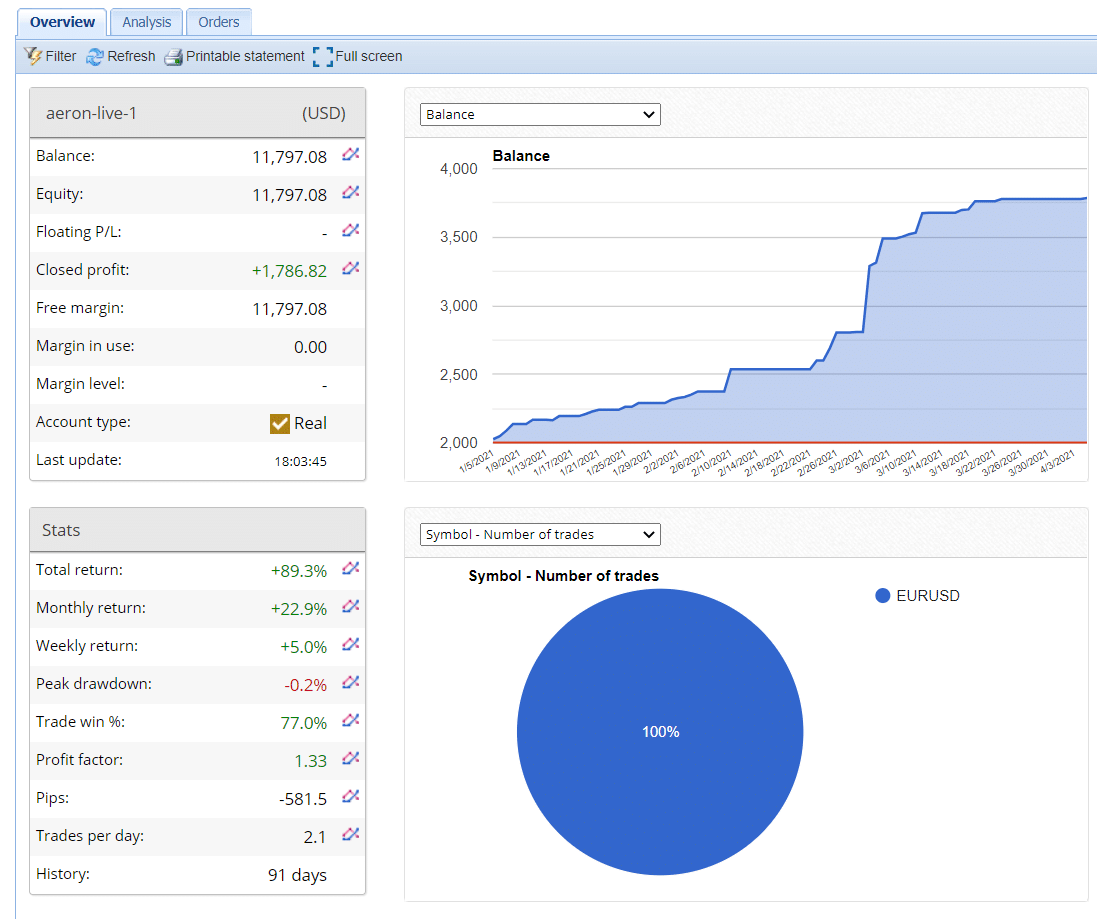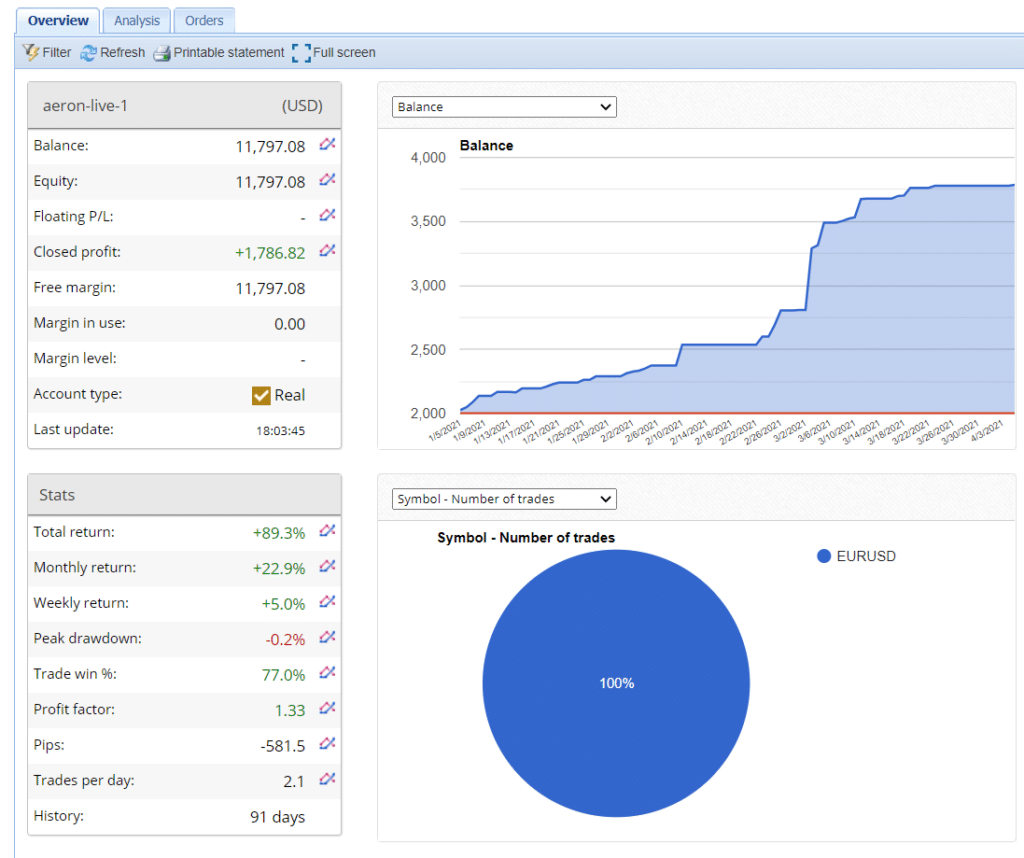 This live trading account for Aeron (Scalper+Grid) has 91 days of trading history, during which it has closed a profit of $1786.82. As we can see, it has a trade win percentage of 77% and a profit factor of 1.33, which is quite standard, as Forex EAs go. During these 91 days, the account has generated weekly and monthly returns of 5% and 22.9%, respectively, with the total return being 89.3%. Overall the results look quite satisfactory, although the trading history is rather short.
Installation Process
After completing your purchase, you need to login to the member's area and download the two EA files. Next, you need to add these files into the Experts folder of the MT4 platform, and then restart it. Next, you need to drag and drop the files on your charts to see the necessary information.
People Feedback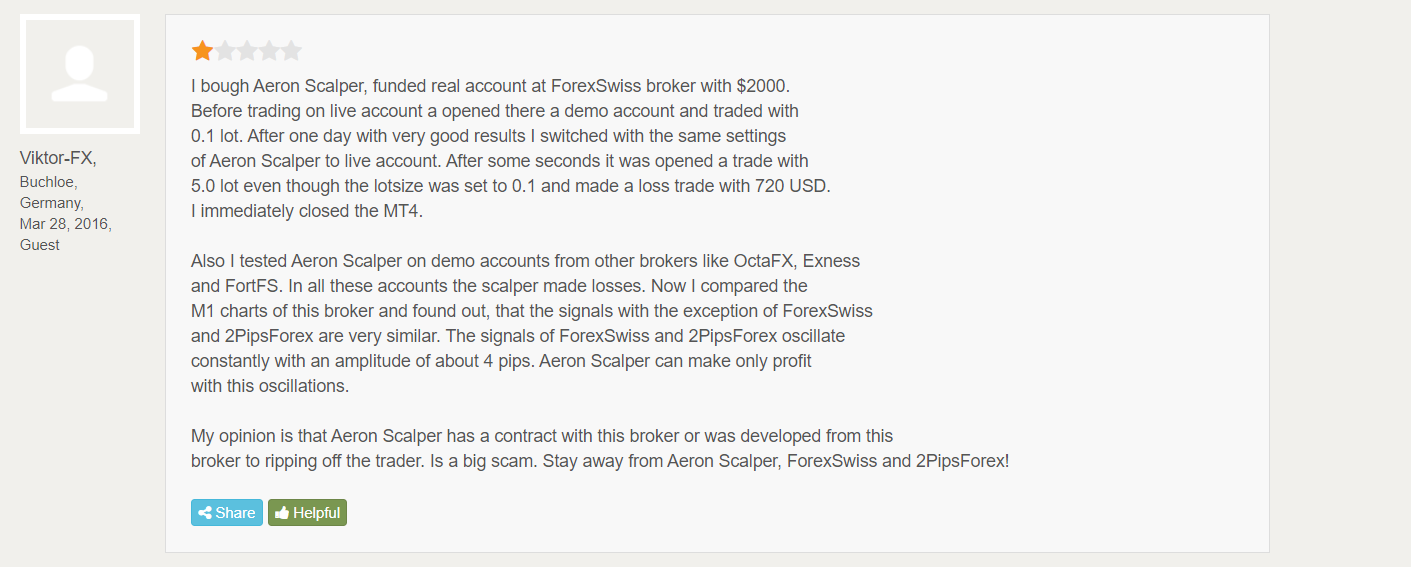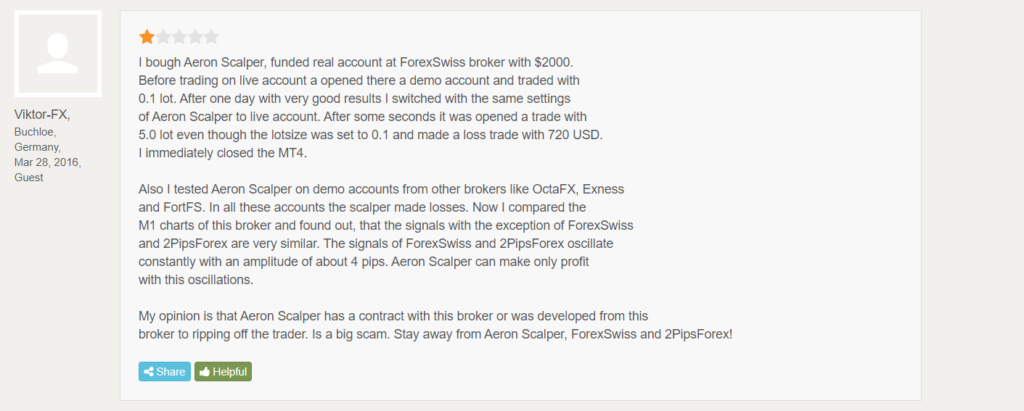 On the Forex Peace Army website, the majority of reviews for this Forex EA are negative. One user has claimed that the system opened trade with a larger lot size than what was specified and ended up with a loss. They go on to state that the system has been developed by a broker to rip off traders.
Wrapping Up
Advantages
Verified live trading results available
Strategy explanation
Disadvantages
Lack of vendor transparency
Short trading history
Negative customer reviews
Summary
After evaluating all the aspects of Aeron (Scalper+Grid), we have reached the conclusion that the robot cannot be trusted at this moment. First of all, it has a very short trading history, and secondly, there is no information available on the vendor. Finally, there are several customer reviews that claim this to be a scam.