Aspex EA is supposedly the complete Forex solution that promises to change the way you trade and earn you big profits consistently. The system is easy to use and allows you to trade with the currency pair of your choice.
Is Aspex EA good to go?
The features of the robot include:
It is 100% automated.
The system trades with all currency pairs, but GBPUSD and GBPJPY are the recommended pairs.
It works on any timeframe, but the recommended one is H4.
The robot sets lots according to the size of the account.
It is compatible with the MT4 trading platform.
Aspex EA is said to be a pure trend following strategy. This simply means that the system seeks to profit from the direction of market momentum. Unfortunately, the vendor doesn't specify or explain which type of trend the EA focuses on. Is it the uptrend, downtrend, or the sideways trends? It would be nice to know. Advanced risk and lot management systems are also part of the strategy, and their goal is to minimize losses.
The team behind this EA comprises professional software programmers who are passionate about trading. The devs began creating automated Forex trading software in 2017, and they say that their products are highly profitable. But we are disappointed by this brief introduction of the team. We would like to know their names, detailed professional backgrounds, place of origin, how they can be contacted, etc. More transparency on their part can go a long way in enhancing trust in their product.
How to start trading with Aspex EA
This Forex robot has two pricing options. For $499, you can get a lifetime license that will allow you to trade on 1 live account. The other pack costs $899, and with the license, you can trade on 2 real accounts. No money-back guarantee is included in any of the packages.
Aspex EA backtests
Backtest results are not shared. It could be that the devs didn't backtest this EA, so its historical performance is unknown.
Trading results
The vendor has provided us with a link to a personal account on MQL5, but our main concern is that the trading stats are not verified.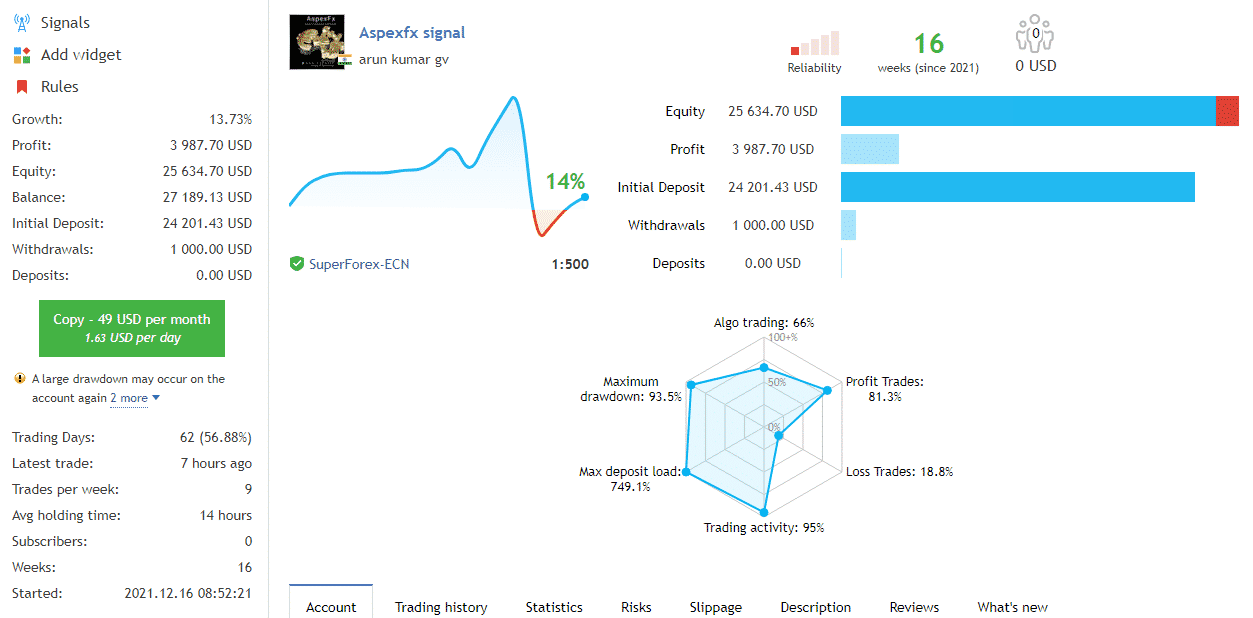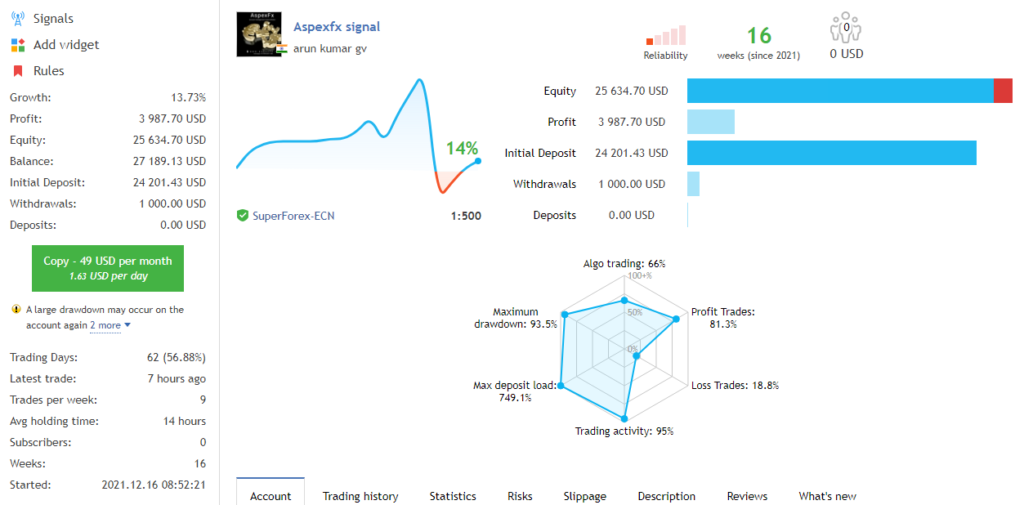 This account was activated in December 2021, and so far, it has traded for 62 days. Using an initial deposit of $24201.43, the EA has completed 432 orders. The resulting profitability rate, which is 81.25%, translates to a profit value of $3987.70. The drawdown rate (93.5%) is sky-high. This indicates that the strategy being used is very risky.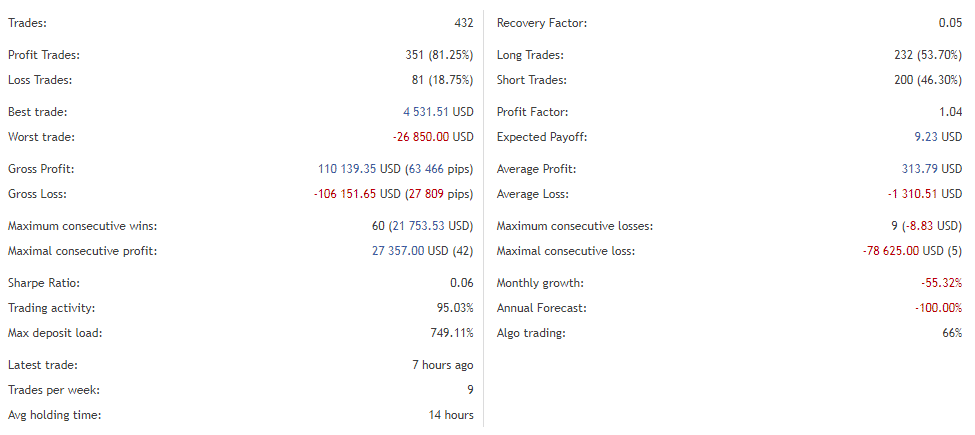 The profit factor is 1.04, and a sign that the system has an average return rate. From the average loss of -$1310.51 against an average win of $313.79, it is obvious that the EA has a high losing streak. The trading activity is 95.03%.
Other notes
Aspex EA has partnered with different brokers. These include FXChoice, FXTM, HotForex, and SF Super Forex.
People feedback
There is a single review for this system on Forex Peace Army. The client has given it a 1-star and accused it of burning his account in less than a month. But one review is not enough to help us understand how traders really feel about this trading algorithm.

Summary
Advantages
Fully automated
Easy to use
Disadvantages
Unverified trading stats are provided
No backtest report
Inadequate customer feedback
Pricey
This EA doesn't require you to have special skills to operate because it is easy to use. Although the live trading results available are not verified, the data indicates that the trading strategy might be dangerous. So far, it has decimated more than 90% of the deposit. We also have a customer that says the system blew up his account. But more reviews are needed to see if other traders have experienced the same.