Belkaglazer EA is a fully automated Forex EA that algorithmic traders can use to create effective strategies for the long-term. This system was launched on 6th April 2017 and is built on clear logic, which means it is a vital tool for new and experienced Forex traders. Now, with most Forex robots, the vendor often makes claims like these, but we need to verify them independently to judge whether this system is efficient or not.
Is This the Forex EA You Need?
On the official website of Belkaglazer EA, the vendor has clearly outlined the main features and the trading strategies employed by the robot, along with various trading models using which you can create effective strategies.
This Forex EA has several in-built filters, the details of which have been provided on the webpage. Finally, we have the link to the Forex trading profile of Belkaglazer EA on Myfxbook, where we can find several live trading accounts.
The creator of Belkaglazer EA is a Russian trader by the name of Dmitriy Shal who has an economics degree and some coding skills. He has been trading since 2006 and after spending more than a decade developing an algorithmic trading approach, he was able to build several trading strategies and models for different financial instruments.
This Forex EA does not use risky schemes like hedging, grid, or Martingale. The three main strategies used with this system are Breakout, Momentum, and Mean Reversion. Using the breakout strategy, you can make entries while the market is highly volatile, and in the momentum strategy, an order is placed in the direction of the momentum, following a large bullish or bearish price movement.
The Mean Reversion strategy is based on the principle that the price returns to the average value after a strong upward or downward swing. Here, the trader enters the market in the reverse direction once the price nears a support or resistance level.
How to Start Trading With Belkaglazer EA
Belkaglazer EA is available for $499, but it can also be rented for three months at $149. You may choose to use the free demo version instead if you wish to test the software before live trading. The system is based on PRNG, PriceAction, Pivot, and PriceChannel models and supports market/stop/limit orders, while automatically adjusting for 4-digit and 5-digit quotes.
It is recommended that you use a 5-digit brokerage having low spreads and a VPS. With this type of broker, you get five 24-hour day candles weekly. The vendor also advises you to change the default settings for the stop bar, stop loss, and take profit parameters to avoid slippage.
Belkaglazer EA Backtests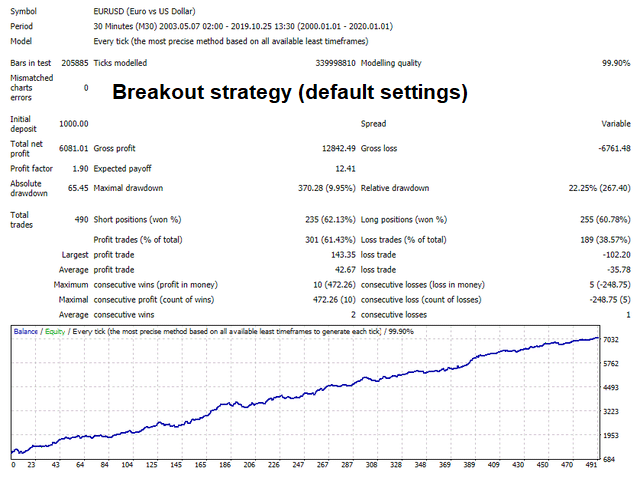 Here we can see the backtesting data for the Belkaglazer EA system using the breakout strategy with default settings for trading in the EUR/USD pair. The test was conducted from May 2003 to October 2019 with a modeling quality of 99.90%.
From an initial deposit of $1000, a total net profit of $6081.01 was generated through this backtest. 61.43% of the total number of trades was closed in profit, with the maximum consecutive wins and losses being 10 and 5, respectively. While the profit factor of 1.90 is quite decent, the absolute drawdown of 65.45 is a bit high.
Trading Results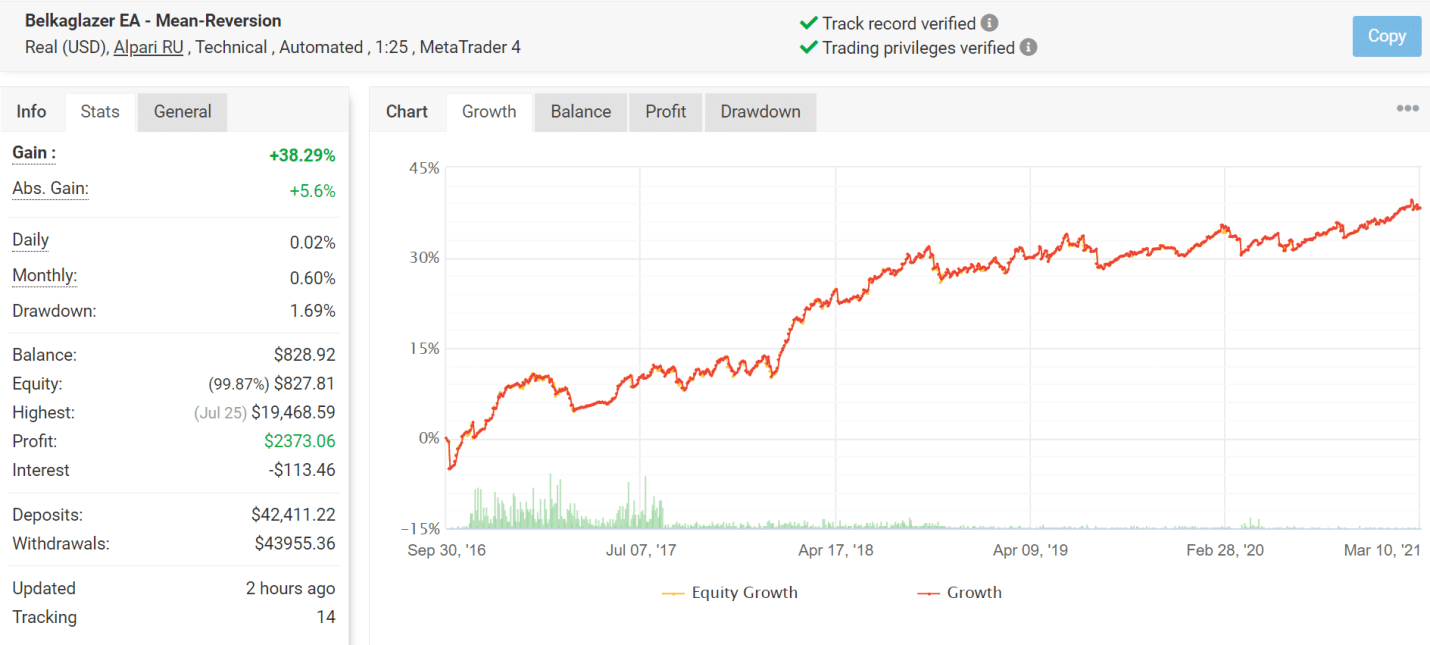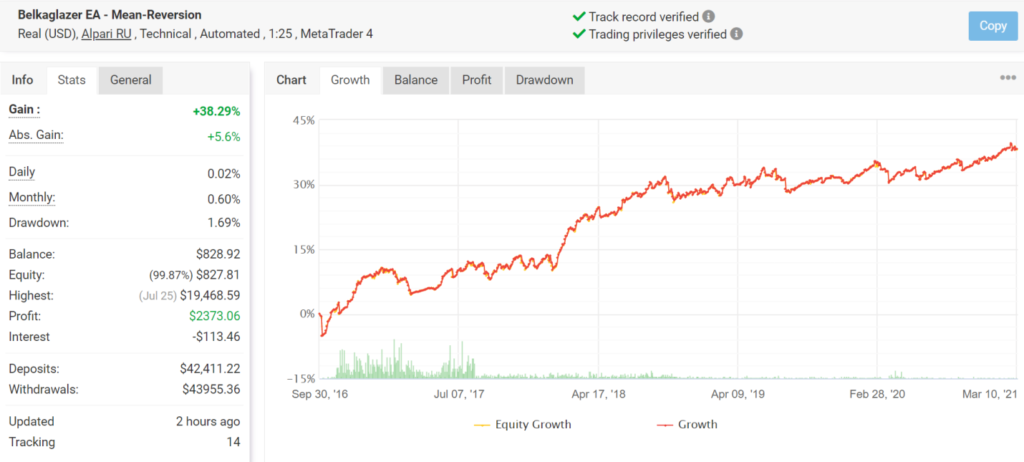 Although we have several live trading accounts on Myfxbook for Belkaglazer EA, here we shall talk about the one that uses the mean reversion strategy. Started on 30th September 2016, it has managed to generate a gain of $2373 from deposits of $42,411.22, and this represents an absolute gain of 5.6% and a time-weighted return of 38.29%.
Currently, the daily and monthly gains for this system are 0.02% and 0.60%, respectively, while the drawdown is exceptionally low at 1.69%. We can see that 68% of trades placed through this account have been closed in profit, so we can confidently say that Belkaglazer EA is a reliable and profitable system.
Other Notes
Belkaglazer EA uses many filters for increasing the profit factor and reducing the volume of trades. These include trend filters that filter out counter-trend trades that result in losses, volatility filters, time filters, news filter, CBOE VIX filter, and others. Buy and sell signals are generated based on an algorithm that takes into consideration the filters and trading models.
People Feedback
There are no real user reviews for this Forex EA on websites like Trustpilot and Forex Peace Army. Although there are several reviews on the MQL5 page of Belkaglazer EA, many of them are in Russian, and besides, they could easily have been manufactured by the vendor.
Wrapping Up
Advantages
Verified live trading results are available
Backtesting data is provided
Trading strategies are explained
Disadvantages
No money-back guarantee
Absence of customer reviews
High absolute drawdown in backtesting data
Summary
To summarize, Belkaglazer EA is a legitimate system providing real profits. But, it has some shortcomings, and taking a look at the live trading results, we can see that the losses are not too infrequent. Its reputation is also not that great, since there are no customer reviews for this product.