Despite the fact that we are accustomed to thinking of cryptocurrencies as virtual cash, the Internal Revenue Service (IRS) does not consider them to be regular cash. In the United States, cryptocurrency is taxed as property or as an investment if it's sold. If you're paid in cryptocurrency, on the other hand, that's taxable income, not property. Furthermore, any money you make as a result of your investments or as a result of your income payments will be included in your gross income. Each transaction should be reported and crypto tax paid on time; otherwise, you risk incurring penalties and interest. Crypto tax calculators make the process of calculating and filing crypto tax reports easier.
How does a tax calculator work?
It will compute the crypto gains and losses and either supply that information or automatically fill out the tax forms for filing tax returns. The first step is to choose a calculator. You can check the features of each offer and if it is compatible with your country's tax regulations. The IRS permits you to do precisely that on their website.
Register for the software. Most software work by allowing you to connect your crypto exchanges and wallets, from which you may extract transaction data and history. It does it automatically, and it even fills in some fields on tax forms.
Fill out the required fields on the software, including names, emails, last year's adjusted gross income, and your or your dependents' IRS electronic filing PIN (you can get one on the IRS website). It will need your social security number, W-2 paperwork from employers, and any 1099-INT forms from the previous year showing interest paid.
Some calculators even allow you to trade right from the app. For example, you can use the calculator's API to integrate exchanges and place transactions on them. For traders, these may have advanced charting.
Other documents include 1099-G forms, which show state and local tax refunds, credits, and offsets, as well as receipts from your business and/or extra income verification. It may also necessitate the completion of any applicable unemployment compensation and Social Security benefits forms.
You may also have access to professional tax assistance through the software, which you can use to ask questions about taxes. Furthermore, these calculators offer customer service by email, chat, phone, and other means. You can get a printout of your returns when you sign them online.
Best 5 crypto calculators
Accounting.com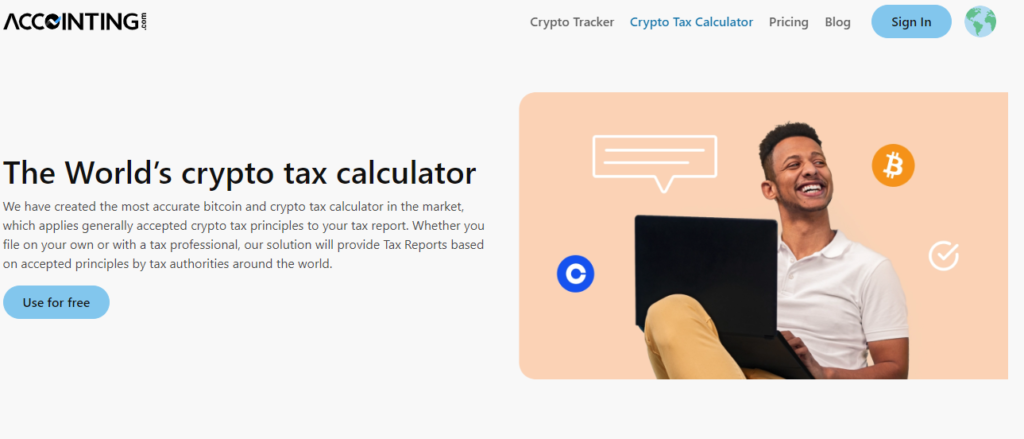 Accounting is a cryptocurrency tracking and tax reporting software that provides you with tools to follow the market, assess your portfolio, harvest tax losses, and generate tax reports so you can simply file your taxes. It's great for advanced crypto traders.
Its free tier allows you to calculate crypto taxes for up to 25 transactions. Investors can use this tool if their country supports FIFO, LIFO, and HIFO reporting methods. With API keys, Accounting allows you to integrate with a variety of exchanges and wallets. You also have the option of doing CSV uploads or manually entering each transaction. It also has a Trading Tax Optimizer, which will list deals in order to reduce your cryptocurrency taxes.
Taxbit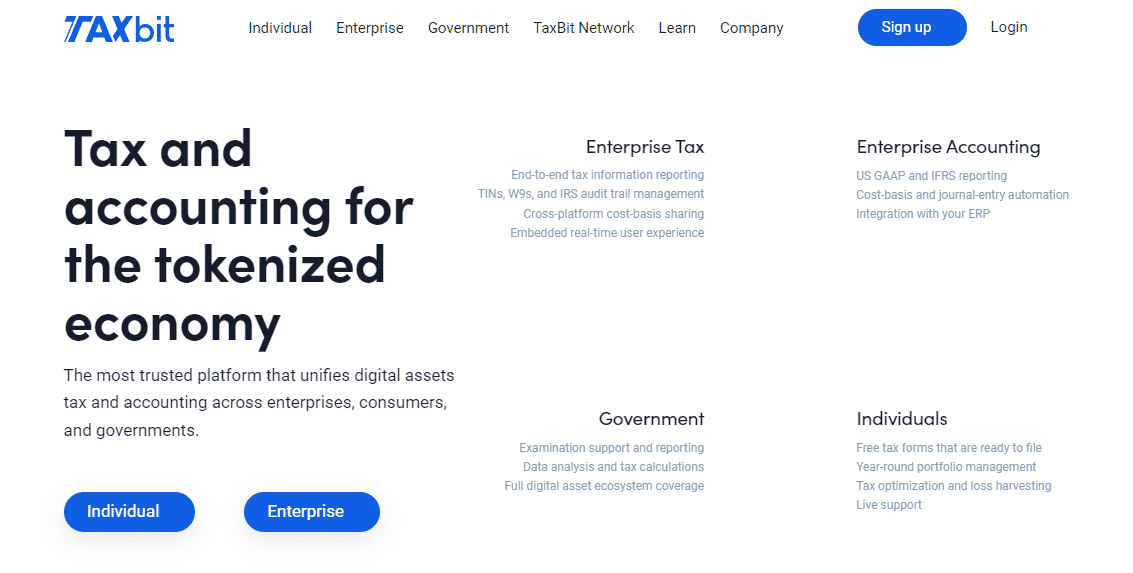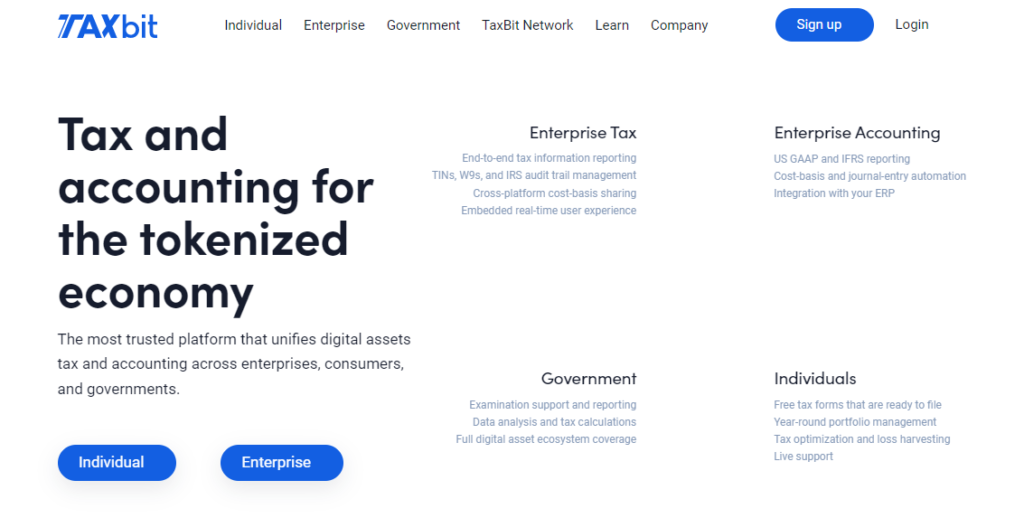 Taxbit provides you with automated technology that synchronizes your data and generates final tax returns without requiring you to do anything. TaxBit is compatible with more than 500 cryptocurrency exchanges, wallets, and DeFi platforms. Only US taxpayers have native support for this calculator. Anyone with similar tax regimes, however, can utilize the platform.
Individual clients can use TaxBit's free-forever service, which allows them to make limitless transactions. You can also combine a variety of relevant services so that everything is accessible from a single dashboard.
Capital gains and losses can be realized prior to any transaction using TaxBit's tax optimizer. Some capabilities, such as tax optimization, tax-loss harvesting, and IRS audit support, are only available at higher tiers.
Koinly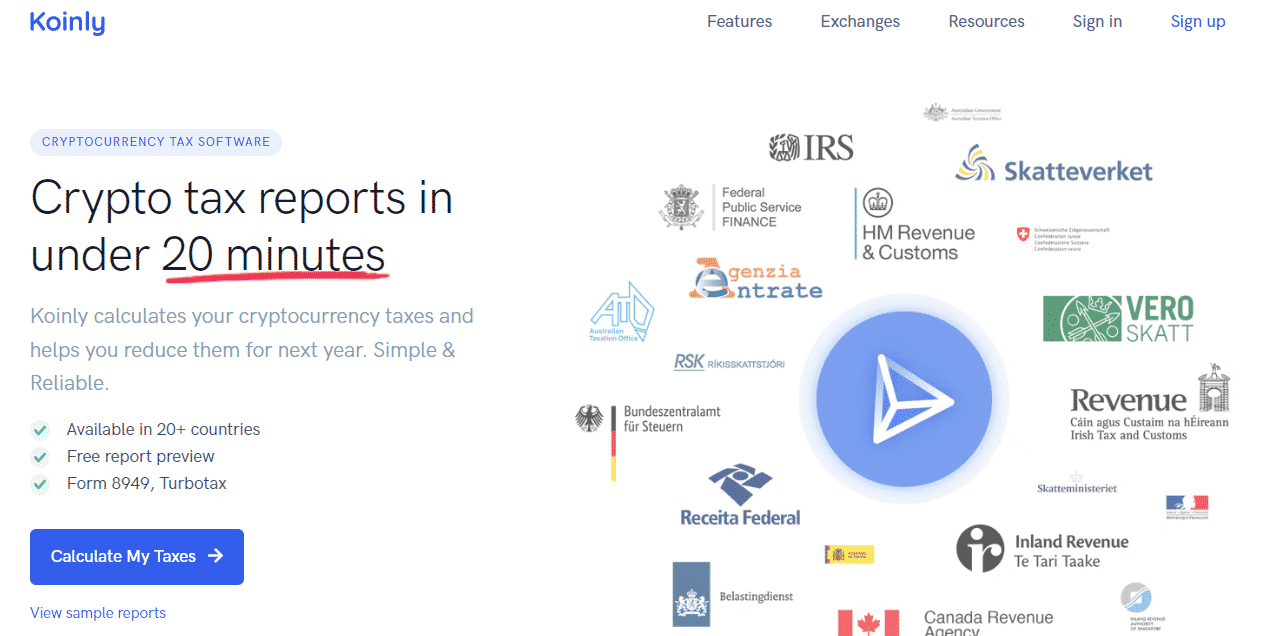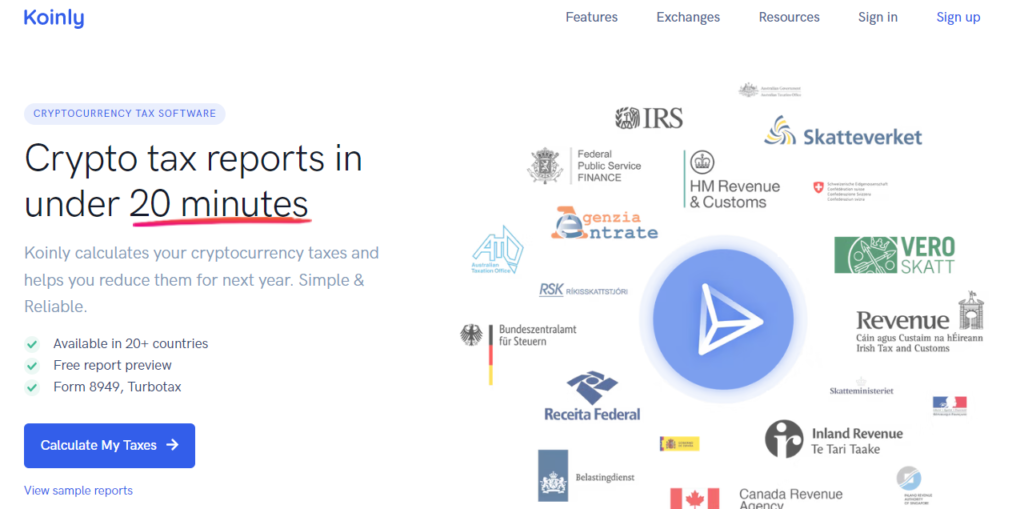 Koinly seamlessly integrates to all wallets, exchanges, blockchain addresses, and services to provide a clear image of the money invested across several platforms. It offers a free subscription that allows for up to 10,000 transactions and a slew of other benefits.
For tax accounting, it supports the standard FIFO, LIFO, average cost basis, and so on. It can import data from 350+ exchanges, 50+ wallets, and 15 blockchains (API and CSV). It has the ability to identify missing transactions and delete duplicate records. DeFi, Margin, and Futures trading are all supported by all Koinly plans, including the free one.
Crypto.com Tax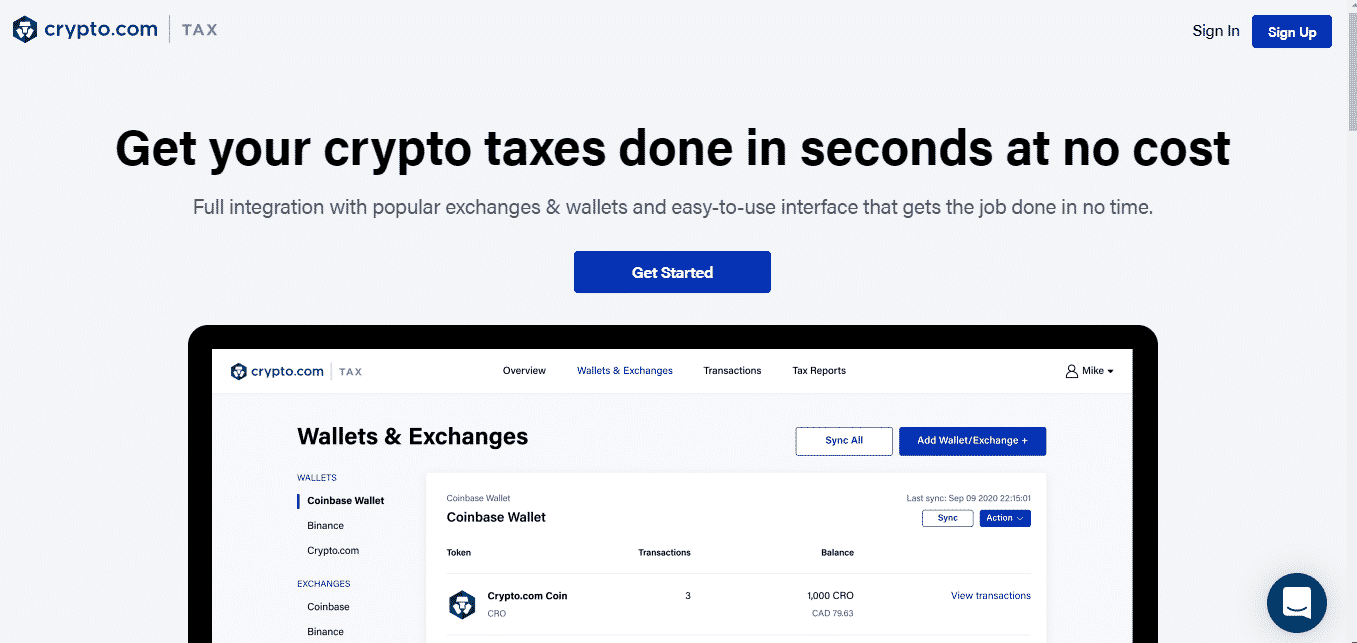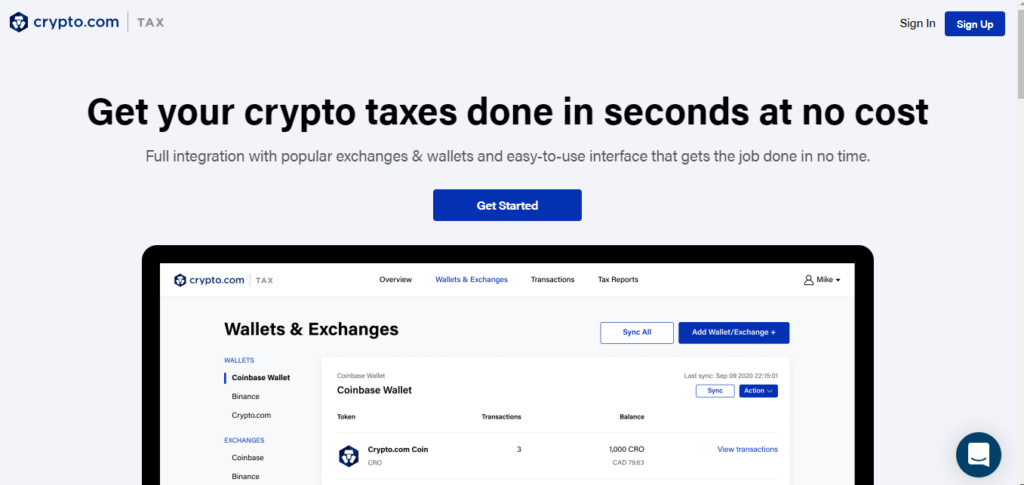 The Crypto.com interface is straightforward and accessible, with the goal of providing the greatest user experience possible when dealing with tax issues. Before your final results are generated, you can evaluate all of the outcomes.
It offers a straightforward, user-friendly interface that gets the job done swiftly at no cost. It is fully integrated with well-known exchanges and wallets. It works with the wallets from Binance, Coinbase, and Crypto.com.
It offers API (read-only access) and CSV import for popular exchanges/wallets. If you're utilizing different exchanges/wallets, you can still utilize their generic CSV format to get the tax computation results.
CryptoTax calculator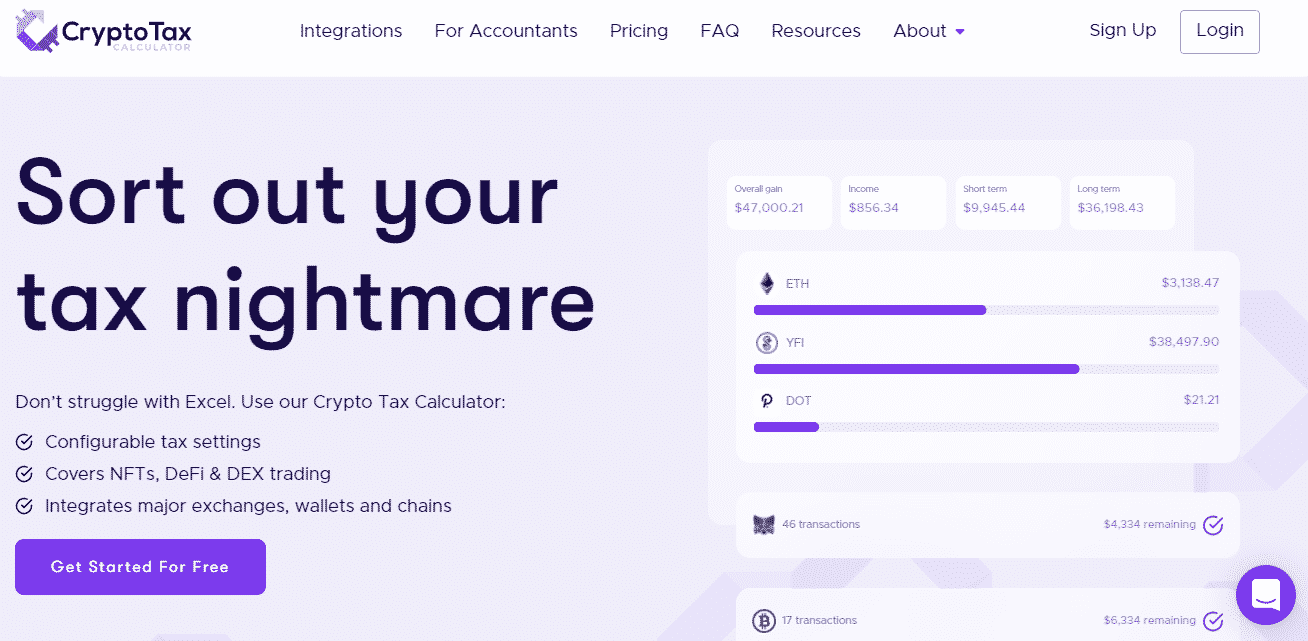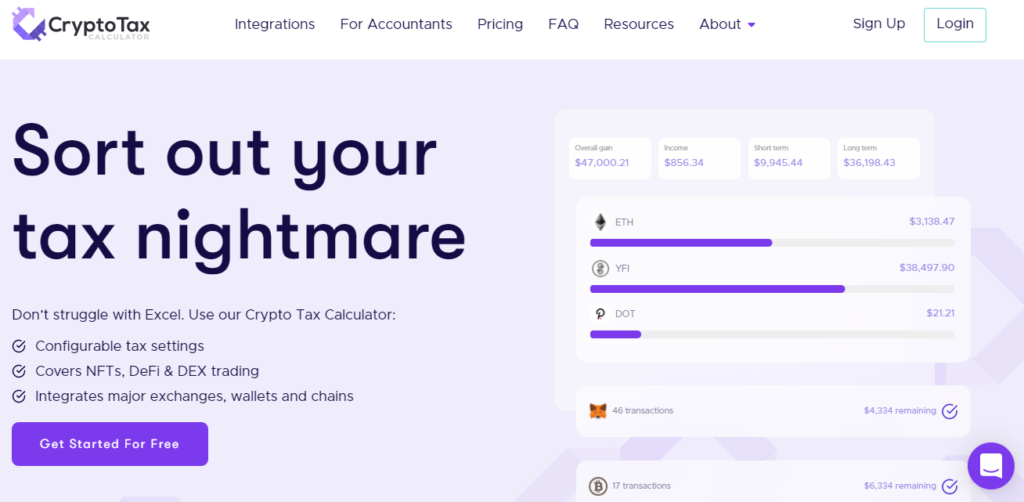 The CryptoTax calculator is very accurate when it comes to tax computations. Complex tax scenarios such as DeFi loans, DEX transactions, gas fees, leveraged trading, and staking incentives are all thoroughly considered.
It gives you a detailed explanation of each calculation so you can see how your taxes were calculated and what rules were used. It also allows you to customize the rules to fit your specific needs. Its software is compatible with a wide range of DeFi equipment. It includes support for the most widely used LP and staking protocols.
Summary
Calculating taxes on your cryptocurrency investments may be tedious, time-consuming, and prone to errors. Each trade must be calculated in detail and recorded individually, which is why you need a calculator. It works by calculating cryptocurrency gains and losses and either providing that information or automatically filling out tax forms for filing tax returns. In this article, we have discussed the best five calculators you can consider.