The vendor represents BF Scalper Pro as a 'professional version' of the BF Scalper EA. According to the developer , several new features have been added to this robot to improve its performance. This EA is backed by 18 –year backtest performance and verified live trading results. However, is this robot a good trading solution to invest? That is what we are going to discuss in our BF Scalper Pro review.
Is It a Good Forex EA?
On the official website, the vendor makes an extremely detailed presentation. We have a short introduction to the EA, followed by a list of features and vendor recommendations. Some of the advanced features of the system have been explained in detail, and several live trading accounts and backtesting results have been shared. We also have a long list of EA parameters that can be adjusted to suit different trading styles.
The FXautomater team consists of a team of Forex traders with more than 15 years of trading and 10 years of development experience. It has built some other robots like Omega Trend EA, Smart Scalper Pro, News Scope EA Pro, BF News Trader EA, etc . This team is made up of programmers, Forex traders, and investors, but the vendor has chosen not to reveal the identities of these individuals. We don't know where this company is located or whether it is licensed or not.
You can use the BF Scalper Pro robot for trading in pairs like USD/JPY, USD/CHF, USD/CAD, GBP/CAD, EUR/CAD, EUR/AUD, EUR/CHF, EUR/USD, and GBP/USD. It follows a trading logic based on the ATR Stop Loss calculating algorithm. As per vendor claims, this allows the system to adjust the stop-loss levels based on the market volatility, thus enhancing the profit factor and decreasing the drawdown.
It also has an optional Grid system that is disabled by default. Now, we think the vendor should have revealed more details about the trading strategy used by the EA. By studying the technical aspects of the strategy, seasoned traders can form an idea about the robot's profitability. Thus, the lack of strategy insight comes as a major disappointment.
How to Start Trading With BF Scalper Pro
BF Scalper is currently sold for the price of $137. After purchasing it, you get access to a single real account and 3 demo accounts. The vendor provides a 60-day money-back guarantee for this product.
This robot works on all brokers having 4 or 5 digit quotes. It has a money management functionality that lets you set the risk percent to have the robot calculate the lot size automatically.
Using the Recovery mode feature, you can recover the losses you've suffered recently. When this is active, the trader's account history is checked for any losses. In case no losses exist, the process starts from the first loss where the lot sizes of trades are increased gradually. This is continued until the losses are compensated. We think this is a potentially risky thing to do because if the EA is not able to win the trades, you end up with a bigger loss.
When Auto Money Management is on, you should start with a balance of $1000. The vendor recommends using this robot for the M15 timeframe.
BF Scalper Pro Backtests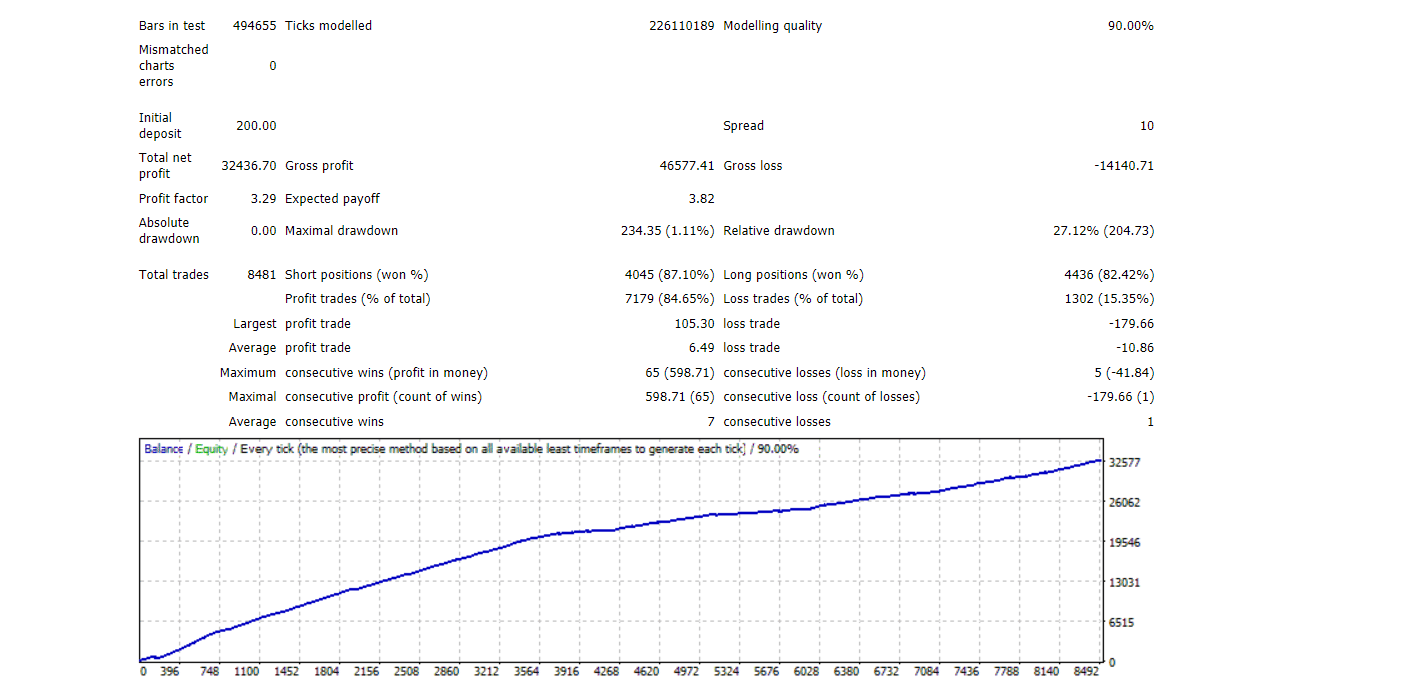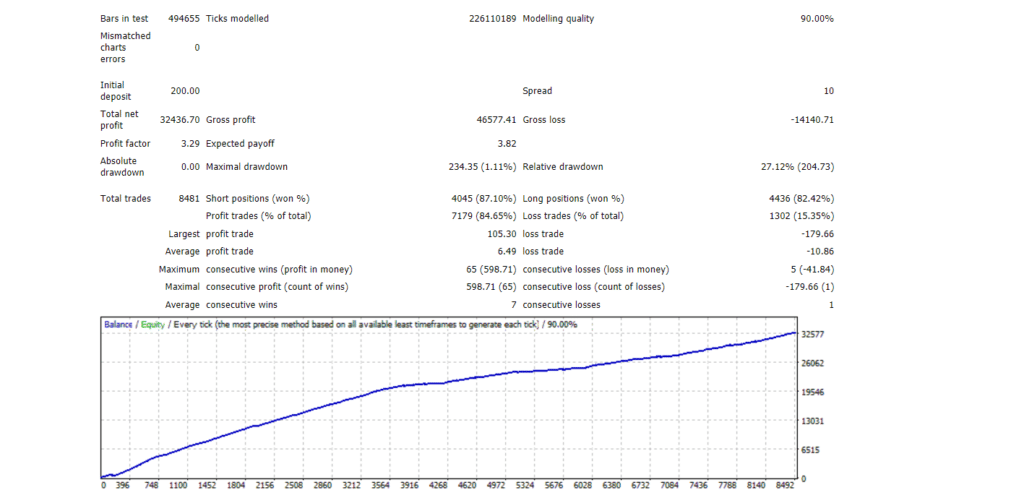 This is a backtest conducted on the GBP/USD pair with 90% modeling quality. As we can see, an initial deposit of $200 was made for this backtest, and the total net profit generated was $32436.70. The drawdown of 27.12% can be considered a bit too high.
Trading Results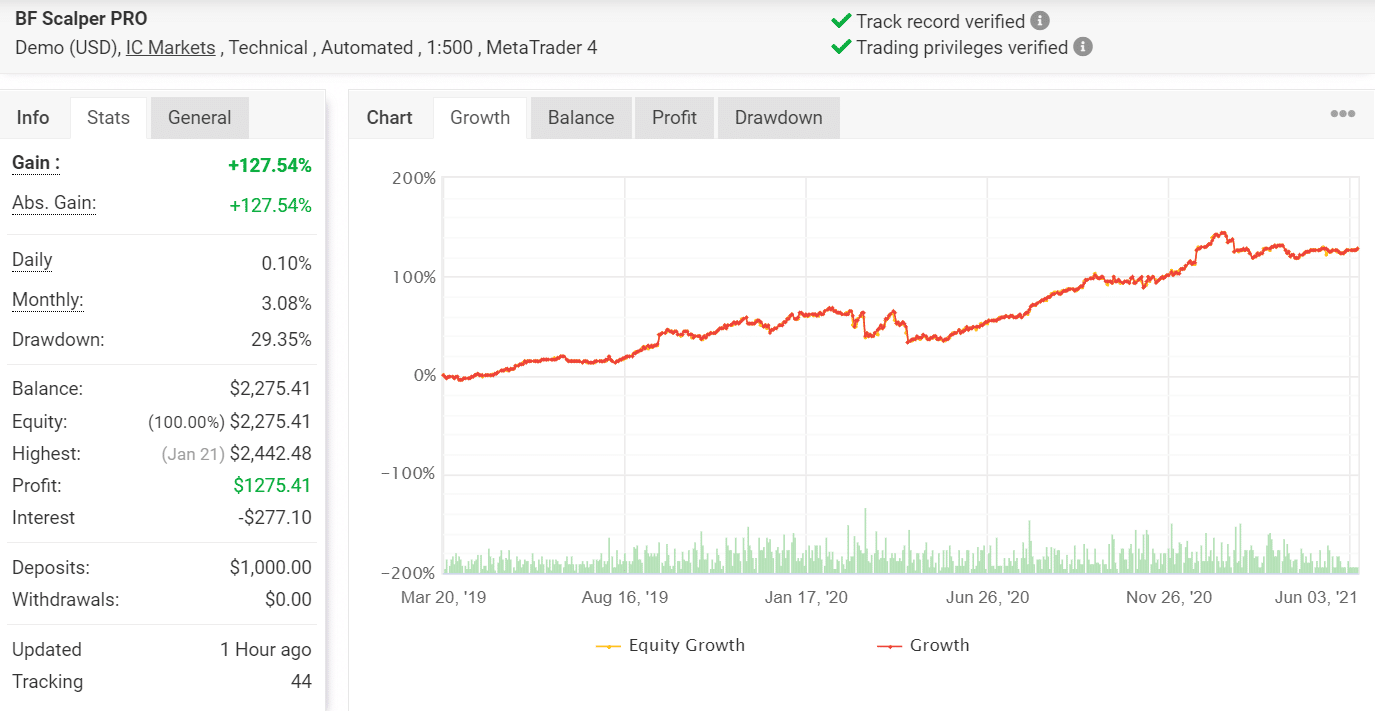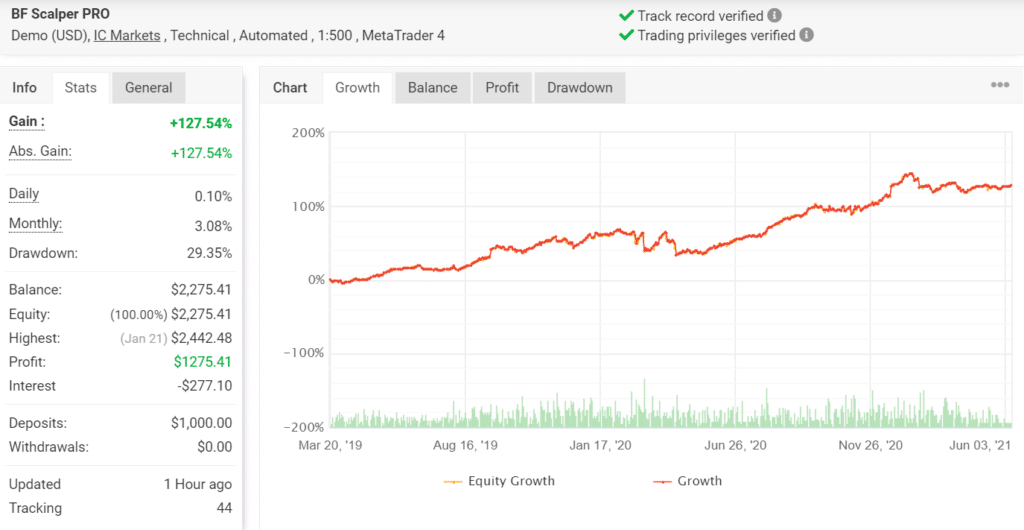 Here we have a trading account for BF Scalper Pro that has been active since March 20, 2019. A total of 2231 trades have been placed through this system to date, with the win rate being 69%. This is significantly lower compared to what we saw in the backtest. For this account, the drawdown is 29.35%, which is slightly higher than the one we see in their backtest report.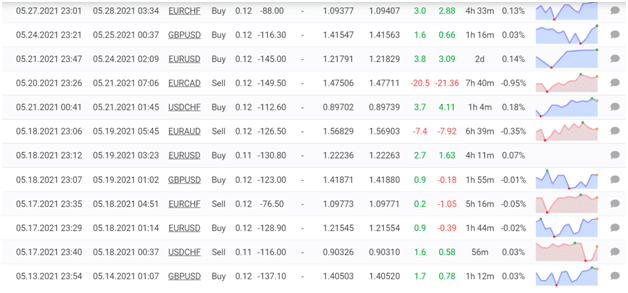 Here we can see some of the deals conducted by the robot in recent times. It seems to be following a scalping strategy where small profits are extracted from each trade. As is apparent, the EA has suffered some losses along the way.
Other Notes
The Grid System, according to the vendor, is more profitable and less broker-dependent. Enabling this system requires you to use the set files provided on the website. There are three different modes for the Grid System, namely normal grid, aggressive grid, and grid with martingale risk policy.
People Feedback
There are customer reviews to be found anywhere for BF Scalper Pro. This tells us that this robot does not have a decent reputation in the market.
Conclusion
Advantages
Verified live trading results
Money-back guarantee
Disadvantages
Lack of strategy insight
High drawdown
No customer reviews
Summary
After analyzing the system thoroughly, we have reached the conclusion that it cannot be trusted. There is not enough information on the trading strategy and the drawdown is high for the trading results. Furthermore, there are no user reviews for this robot, which raises questions about its reputation.