Turkey's agricultural PPI dropped 20.20% (year-on-year) in May 2021 from a high of 21.77% in April 2021.
The paid employment population in Turkey rose 17.1% (year-on-year), with house sales falling 38.28% MoM.
Prices of nonferrous (excluding iron/ steel) metals rose 6.9% as final demand goods (FDGs) surged 1.5%.
The USD/TRY pair traded at a +1.40% price change on June 15, 2021, from the previous day. It opened trading at 8.4641 after closing at 8.4587 and soared to a high of 8.5827. The lira lost after the Turkish budget balance dropped to -13.40 billion liras ($1.565 billion) from a previous reading of -16.90 billion liras ($1.974 billion). Investors are optimistic for the dollar after the core PPI data for May 2021 (year-on-year) maintained its 0.7% rating. Consensus estimates put the data at 4.8% from a previous reading of 4.1%. Industrial production for May 2021 (month-on-month) is also expected to rise 0.6% from a prior rating of 0.5%.
Food prices
Turkish food prices rose above 17% into June 2021, with up to a fifth of the mean household budget dedicated to food. Data released in 2020 indicates that about 30.7% of expenditure is allocated to food and beverages among low-income groups in Turkey. The annual consumer price index (CPI) as of May 2021 stood at 16.59, with the unemployment rate at 13.9%.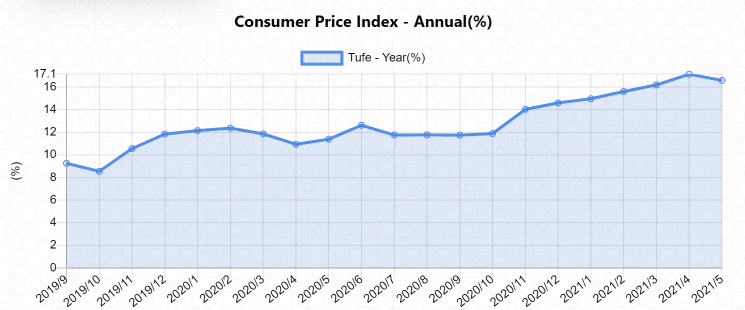 Turkey's CPI
Inflation was the highest in April and May 2021, with prices of key commodities such as cereals and processed foods soaring by 20%. Agricultural output such as vegetables and cereals is expected to drop 4.8% from 71.3 MT in 2020 to 67.9 MT in 2021. The decline is supported by a PPI drop of 20.20% (year-on-year) on agricultural products in May 2021 from a high of 21.77% in the previous month.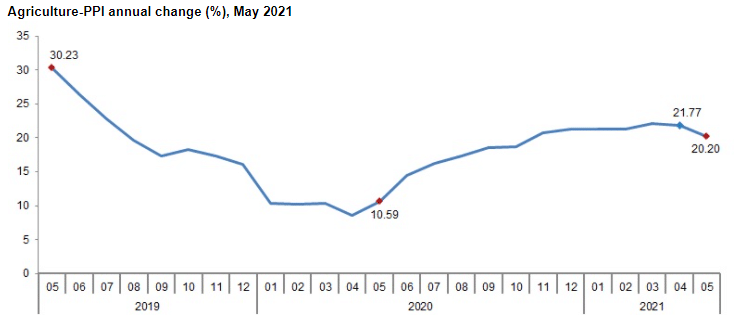 Turkey's Agricultural PPI 
The PPI has declined 10.03% in a 2-year analysis from 30.23% in May 2019. However, it has almost doubled from 2020, powered by perennial crops (25.07%) and forest products (22.84%). 
Mid-month official statistics 
Government statistics released on June 15, 2021, indicated that Turkey's paid employment population rose 17.1% (year-on-year). The sectors sampled included construction and the trade-services. The numbers rose from 11,482,562 in April 2020 to 13.443,707 in April 2021. 
May 2021 saw house sales gain 16.2% (year-on-year) from 50,936 in May 2020 to 59,166 in 2021. However, monthly analysis shows that the sale dropped 38.28%.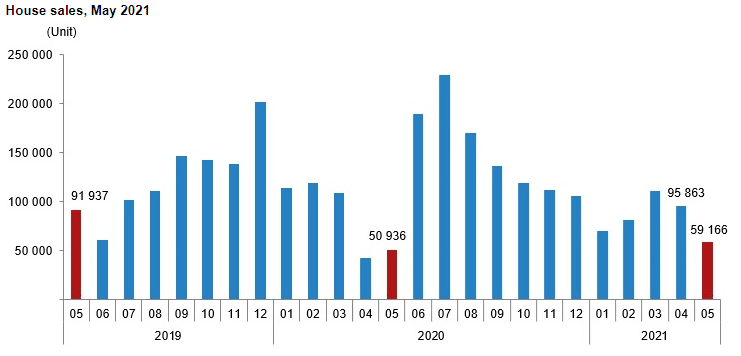 House Sales in Turkey in May 2021
The sale is still 35.65% shy of reaching pre-pandemic levels at 91,937 in May 2019.
Recent data released in the US shows that the core PPI (for May 2021) month-on-month stagnated at 0.7%. However, the number beat estimates at 0.5%. The PPI (year-on-year) rose to 6.6% from 6.2% (+0.4%), with monthly figures showing a gain of 0.8%. US retail sales dipped 28.15% in May 2021 (year-on-year) from a high of 53.40%, with monthly data at -1.3%. 
According to the Bureau of Labor Statistics (BLS), the 0.8% increase in the PPI in May 2021 was attributed to a 1.5% rise in final demand goods (FDGs). Among the FDGs, the nonferrous metal prices moved up 6.9%, while fresh fruits (& melons) fell 1.9%.  The final demand services (FDS) also gained 0.6%. Buoyed by a 27.3% jump in automobile retailing. Food retailing services declined 3.6% as truck transportation and retailing of building materials improved in May 2021.
Technical analysis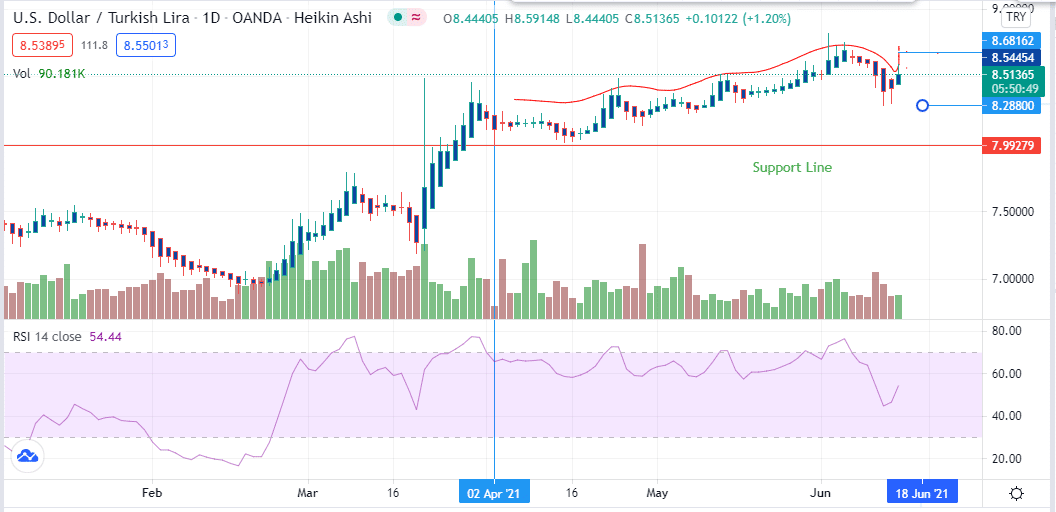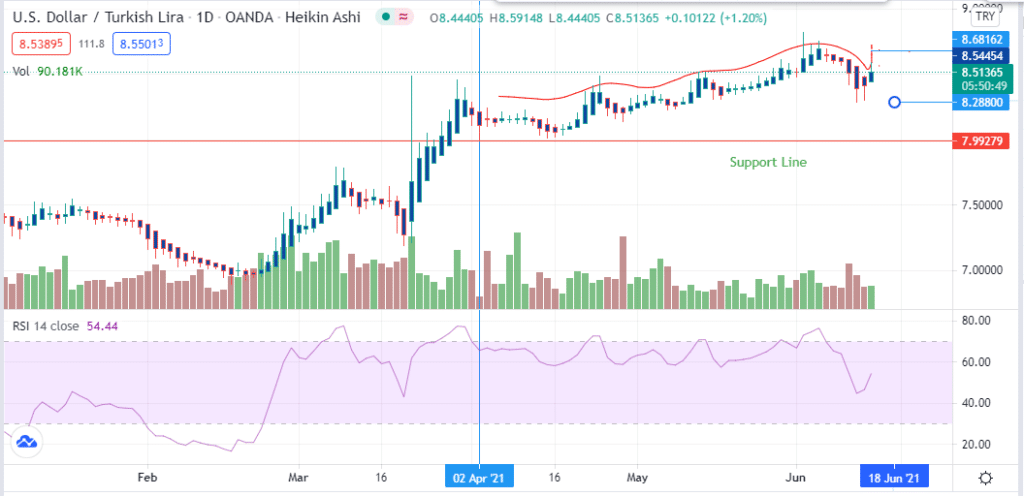 USD/TRY Trading Chart 
The USD/TRY chart shows the price moving towards 8.6816. It hit support at 7.9930 on April 2, 2021. The price is expected to range lower at 8.2880 with the publishing of key Turkish retail data. There is also increased buying activity indicated by the 14-day RSI at 54.44.