Today's Forex robot review will be about the recently launched EA called BigExpert. This trading tool was specially built for trading one currency pair – EUR/USD. The vendor claims that the robot does not use any risky approaches. We are also told that it has been tested for more than 11 years in the strategy tester.
What should you know about BigExpert EA?
The person that stands behind this EA is called Renate Gerlinde Engelsberger, who is a manager at a Software manufacturer, based in Germany. Renate claims that he has over 7 years of experience in making all kinds of experts and indicators. However, he points out that he does not guarantee profits. He has a high 3229 rating among the mql5 community. There are 4 products in his portfolio and 202 subscribers.

To get in touch with support, traders can message them via Telegram (@ Fx_programmer).
We have been monitoring this trading system since the date when it was published on the mql5 market (March 6, 2021). The presentation was renewed. The initial price for this EA was decreased by $100, as no trader was interested in investing in a trading system, providing no trading results. The presentation has gotten a better structure. However, there are only a few lines about the robot provided:
The robot is a 100% automated trading tool
It can trade only EURUSD currency pair
Trades in most time frames
The suggested time frames are: M15, M30, H1, H4
The minimum deposit is $200
Compatible with all brokers
The EA does not use Martingale, Grid, or Hedge
Traders can run the EA with 1:40 leverage
All deals are covered with SL and TP levels
Lot Size can be calculated from 1.5% or higher
The robot combines multiple various strategies to predict the EURUSD currency pair
It uses dozens of various personal indicators
It uses 'complex mathematical calculations to examine the Forex network'
Follows FIFO rules in trading
How to start trading with BigExpert
The EA is sold for $245. There's also a 1-month rental offered ($95). The vendor offers a free Demo account. A money-back guarantee is not included.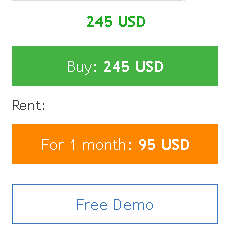 The vendor provides a list of settings with the default data: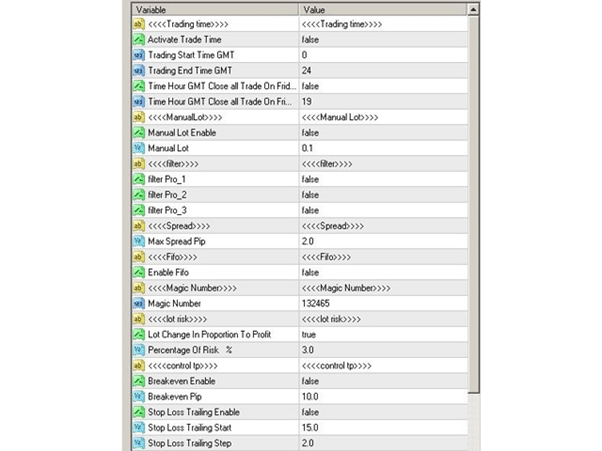 BigExpert Backtests
It is a EURUSD backtest report performed on the M30 timeframe with 96% of modeling quality. The robot generated a total net profit of $39,285,502. There were 138205 bars in the test. The profit factor was high – 2, 36. A total of 3705 trades were placed by the robot, and out of these 2615 were won. The win rate for Short trades was 71, 91%, and 69, 47% for Long trades.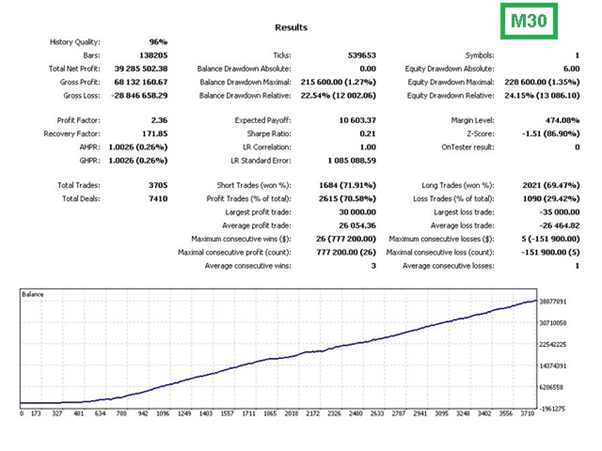 Trading Results
Unfortunately, the vendor failed to provide live trading results of the robot. It is truly disappointing. No trader is interested in investing in a suspicious product that does not share verified proof of its trading outcomes. Backtest report does not provide any guarantee of good live trading performance. We cannot compare the past trading results of this EA with the present ones. Lack of transparency is a red flag for this expert advisor. If the dev decided to sell a new trading tool but failed to start even a demo account, then, most likely BigExpert EA is a scam. We cannot trust the system.
Other notes
There are 4 products published by the vendor on the mql5 market. However, as you can see, most of them have mediocre rates.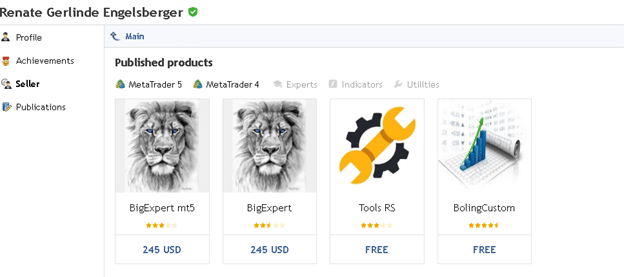 People Feedback
The system has a 3 out of 5-star rate based on 17 reviews. However, we cannot rely on these feedback, as they can easily be manipulated, paid, or concocted by the vendor.

Summary
Advantages
Backtest reports shared
Settings explanations provided
Disadvantages
No live trading results provided
Undisclosed trading strategy
No money-back-guarantee provided
No customer reviews on FPA, Quora or Trustpilot
We do not recommend this EA. Firstly, there is no demo or real account trading results shared. The dev didn't want to create a live trading account and deposit it at least $200. Why? If the system is so good, then why doesn't the developer trade with it? It looks suspicious and increases no trust neither to the developer nor to the product.