Super EZ Forex has a scam-like presentation that is several pages long. The developers avoided to tell about the system's features and what we will get using it. The presentation couldn't convince us that this service is good.


Is this service a viable option?
The service doesn't look trustworthy at all. It's a pity that even developers don't care about how people see it.
We don't know anything about the strategies the system uses to generate signals.
They mentioned Price Action in the package details.
It can be used on any time frame and any currency pair.
How to start trading with Super EZ Forex
The site has a few explanations of what's going on and what we have to expect from the service:
The system is a BUY/SELL Indicator that generates signals.
We are free to use it at any time frame with it. It's suspicious because usually they focus on one-two time frames, not more.
We can use it to trade various financial instruments: Forex, Stock, Indices, Metals, and Cryptocurrencies.
We can receive notifications via pop-up, mobile, and alerts.
We have "customizable smiley faces for noise-canceling trend filtering." This shows a real level of developers. We don't know what they mean.
There's "name personalization." It's another puzzle we don't know.
The system confirms BUY or SELL in the Hot Zones. Once again, there are no explanations or pictures.
We can use it on any PC if we finish a registration and purchase it.
The designed system fits all trading styles.
It runs the chart during all trading sessions well.
It can be applied to the MT4 platform.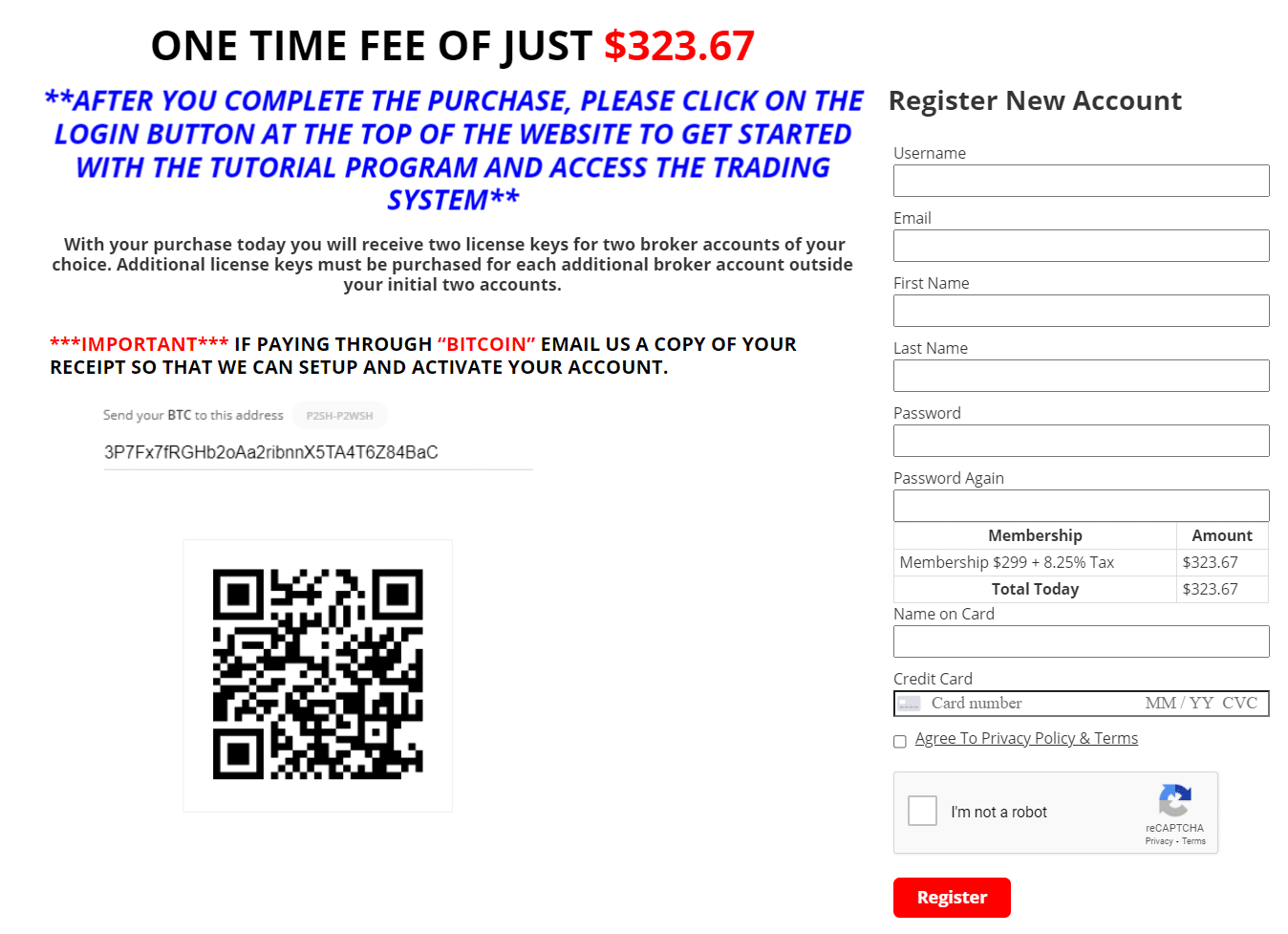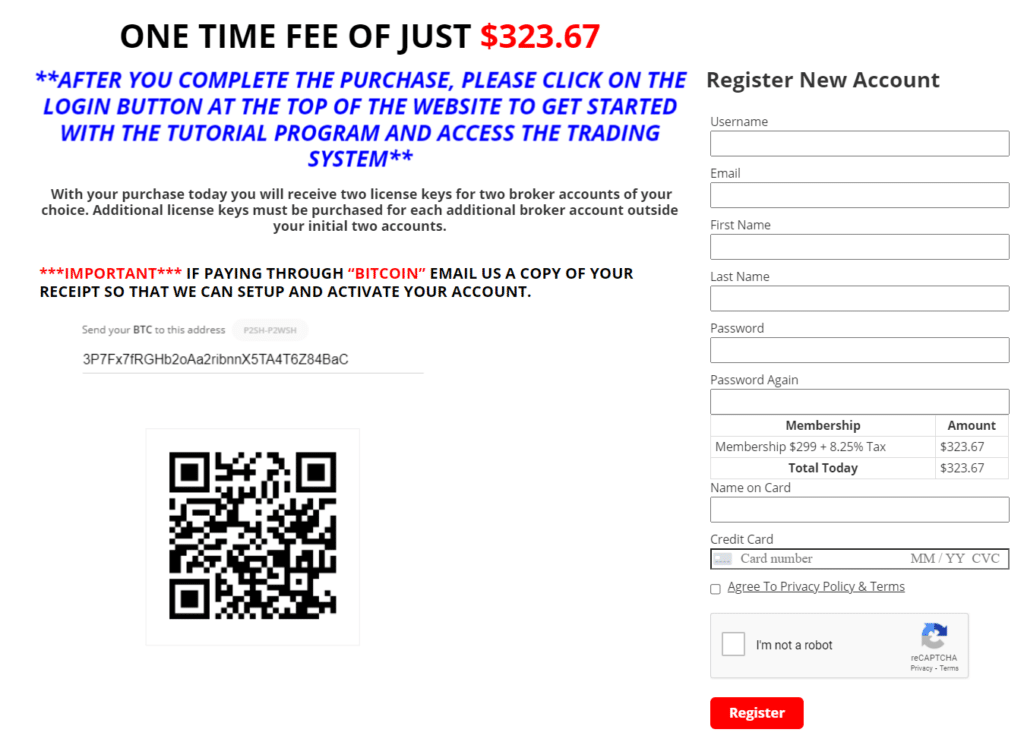 The page with the offer is awkward too. The system can be got for $323.67. The price is $299 + 8.25% Tax. It's a scam. We have to pay a tax we know nothing about. The package includes two license keys. Accounts can't be changed. We can pay via Bitcoin. To complete a registration, we have to provide the developers with all private information, including card details. We can't be sure they store the data well.
The developers mentioned that the pack is featured by the next:
The "Simplicity" trading system.
Access to a VIP member Telegram channel.
Step-by-step video user guide.
Access to Uncle-P's "LIVE CLASSES." We have no idea what it is.
Trade Tracking Journal. We haven't seen it anywhere.
High Impact News Event List.
Price Action Pattern Guide.
Chart Patterns Guide
Every additional key we want to buy costs $149.


It's a scam. The system has no backtest or trading results.
Super EZ Forex backtests
The developers decided to skip this stage of strategy design. Of course, they did backtests. It seems to us that they looked horrible, so they decided not to show it to us.
Trading results
The same we have about trading results. They decided not to use the system to make money and provide to us with results we would admire. It's a significant con because we can't check win-rate, symbols, profitability, drawdowns, an average monthly gain, profit factor, an average loss and win, an average trade length, and so on.
Other notes


There's a horrible-to-read partner program. We have no idea how they came up with writing on the red background, something that should force people to cooperate. We can get $100 for each copy sold of Simplicity and $25 for each copy sold of Dashboard Scanner.
People feedback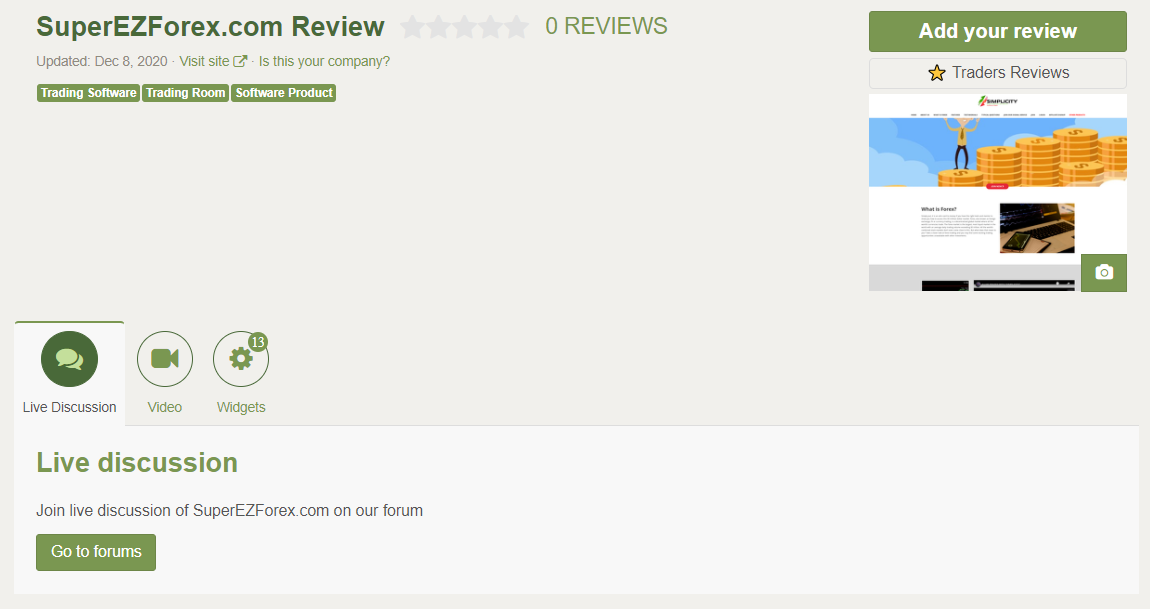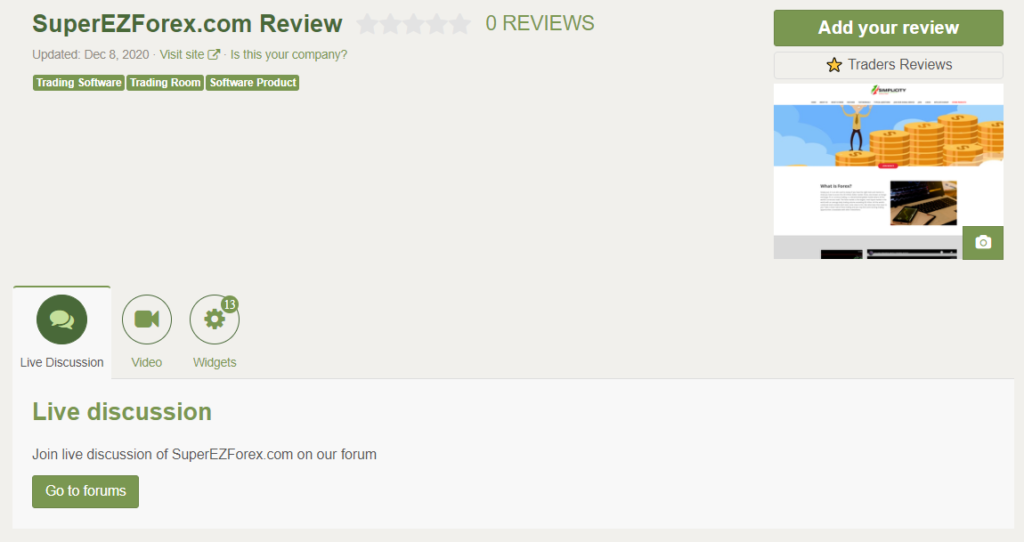 There's a profile of Super EZ Forex on Forex Peace Army. As we can see, no accounts were connected to this profile. There are also zero comments and no feedback.
Wrapping up
Super EZ Forex is a pure scam:
No team revealed
No strategy explanations provided
No indicators behind the system explanations provided
No money-management advice given
No risk advice given
No backtest reports provided
No trading results provided
Scam pricing
No money-back-guarantee provided
No people feedback provided
Empty Forex Peace Army page
So, you don't have even a single thought to give it a try.
Summary
Super EZ Forex is a scam service. We know almost nothing about it. The developers skipped all chapters we have to check: settings, strategies, money management, and risk, backtest reports, and trading results. There's no info to discuss.