Pipbreaker claims to be the best indicator for MT4 and the most efficient way to trade manually. As per vendor claims, the success rate of this indicator exceeds the failure rate by 93%. This is quite a bold claim, but we need to conduct a thorough analysis of the system before we can form an objective opinion about its reliability.
Is this a trustworthy forex indicator?
The presentation on the official website is too brief and we can't get a clear idea about the indicator functions. We have a short introduction to the system, followed by a list of features. There are some user testimonials and screenshots of trade setups. The vendor has shared a video showing how the indicator works in a real-time trading scenario, as well as the pricing details.
This indicator is a product from the Wetalktrade team which is based in Wilmington, DE, USA. The vendor has shared the official email address as well as the links to different social media handles. We know the company was founded in May 2009 and that this indicator was developed in 2017. There is no information available on the developers and traders working for this organization.
You can use Pipbreaker for generating signals on all currency pairs. When a new trading opportunity arises, the indicator sends you an alert so you can manually confirm it. It also notifies when a profit target is achieved and when there is a loss. This indicator uses take profit and stop losses with all trades and you can customize them as per your preferences.
One of the most disappointing aspects of this Pipbreaker is the lack of strategy insight. In the video, the vendor states that the indicator can be used with different strategies but fails to share any technical details. The lack of information about the trading strategy is a huge red flag and it will deter most traders from investing in this indicator.
How to start trading with Pipbreaker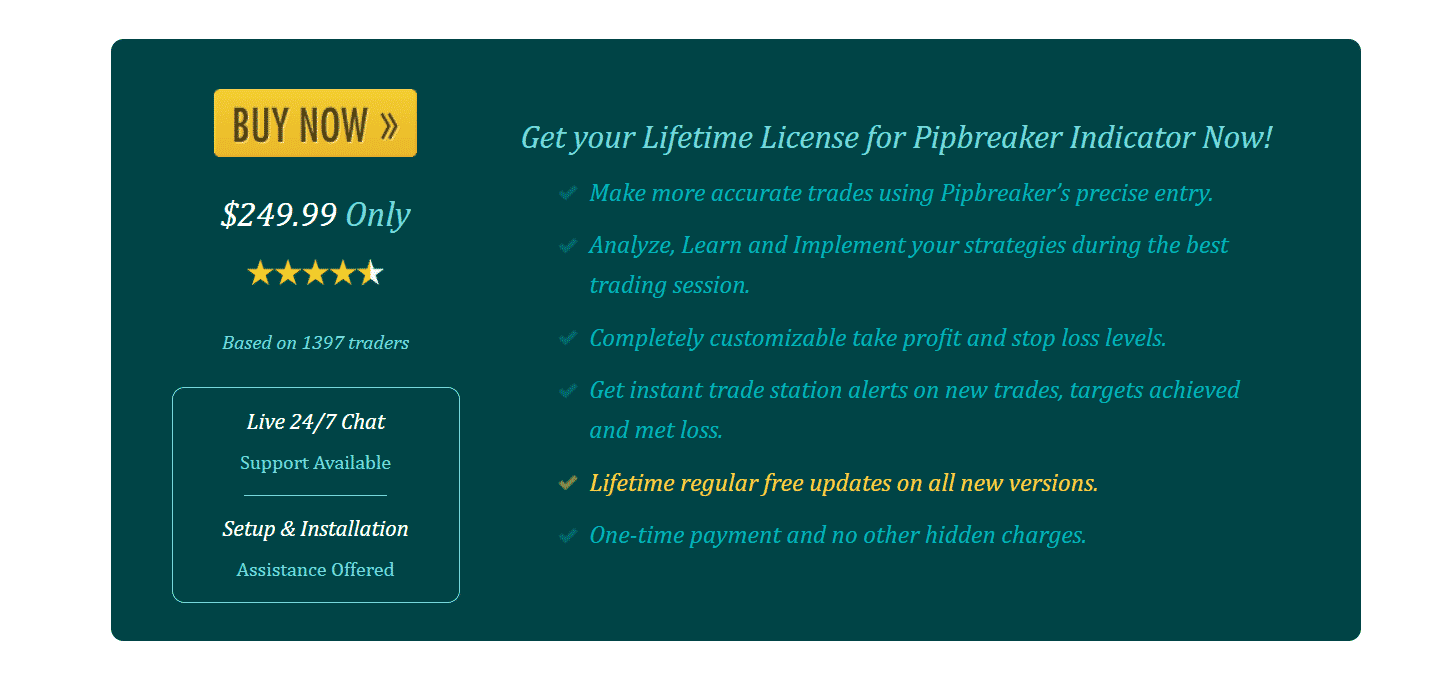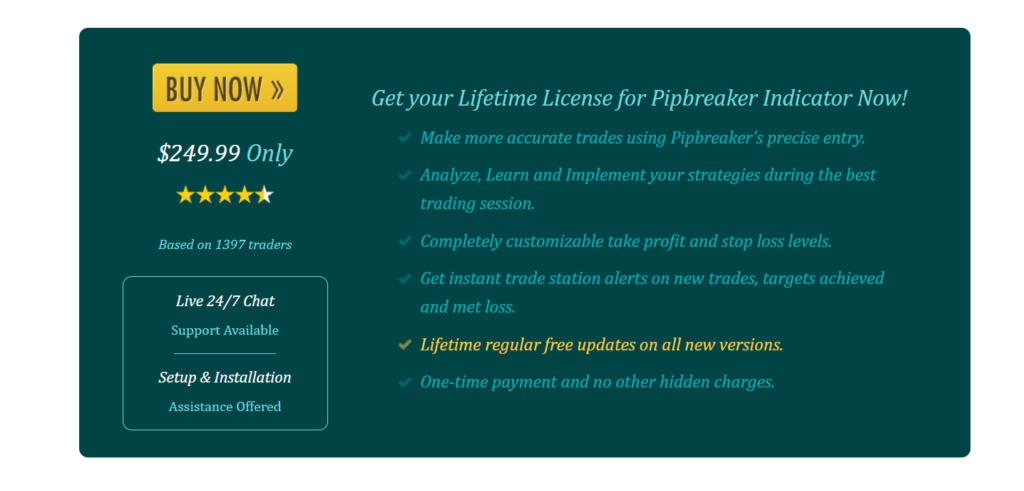 You can purchase Pipbreaker for the price of $249.99. We feel this is a hefty price tag for an indicator since there are reliable indicators available on the market that cost much less. The vendor offers assistance with installation and claims that customer support is available 24/7. However, they have also stated that the support team is available from Monday to Friday, so there seems to be a discrepancy here.
While lifetime updates are available for this indicator, there is no money-back guarantee, which means the vendor is not ready to stand behind their promises. Pipbreaker uses green and red arrows for indicating buy and sell signals, respectively. It lets you select different trading styles like long-term, short-term, and scalping.
Pipbreaker backtests
Backtests are historical-data-based tests carried out on automated trading systems. These tests show us how the system would have performed in the past, by exposing it to different market conditions. Since this is an indicator and not an automated system, the vendor hasn't shared the backtesting data.
Trading results
We don't have a verified live trading account for Pipbreaker, so we don't have any idea about its live performance. Due to this, we have no way of verifying whether the success rate of the indicator is as high as the vendor claims it to be. Without verified trading statistics, there is no way we can consider this system trustworthy.
Other notes
In the video, the vendor claims that the indicator can be used with other basic indicators like PSAR, Moving Average, or other momentum and volume-based indicators. In these cases, Pipbreaker serves the purpose of providing confirmation.
People feedback


We couldn't find any customer reviews for this Forex indicator on third-party websites like Trustpilot, Forexpeacearmy, Quora, and Myfxbook. There are several user testimonials on the official website, but it is highly likely that the vendor has manufactured them. The absence of genuine user reviews tells us that Pipbreaker cannot be trusted.
Wrapping up
Advantages
Compatible with multiple trading styles
Lifetime updates provided
Disadvantages
No verified trading statistics
Extremely expensive indicator
Lack of authentic customer reviews
No money-back guarantee
You cannot trust Pipbreaker to win you consistent profits in the live market. The vendor not sharing the trading statistics means the indicator has no recorded history of generating profits. As such, it would be unwise to spend so much money on it. The risk is compounded by the fact that the vendor does not offer a money-back guarantee for the product.