Bitsgap offers a fully automated platform for all crypto coins including Bitcoin. The platform offers several asset-management features in a single interface such as crypto bots, smart orders, demo trading, and portfolio trading. As per the vendor, the service gives you an advantage over fluctuating market conditions that ensure high profits and minimum risk. In this Bitsgap review, we will analyze the various aspects of this service to check its reliability and efficacy.
What is Bitsgap?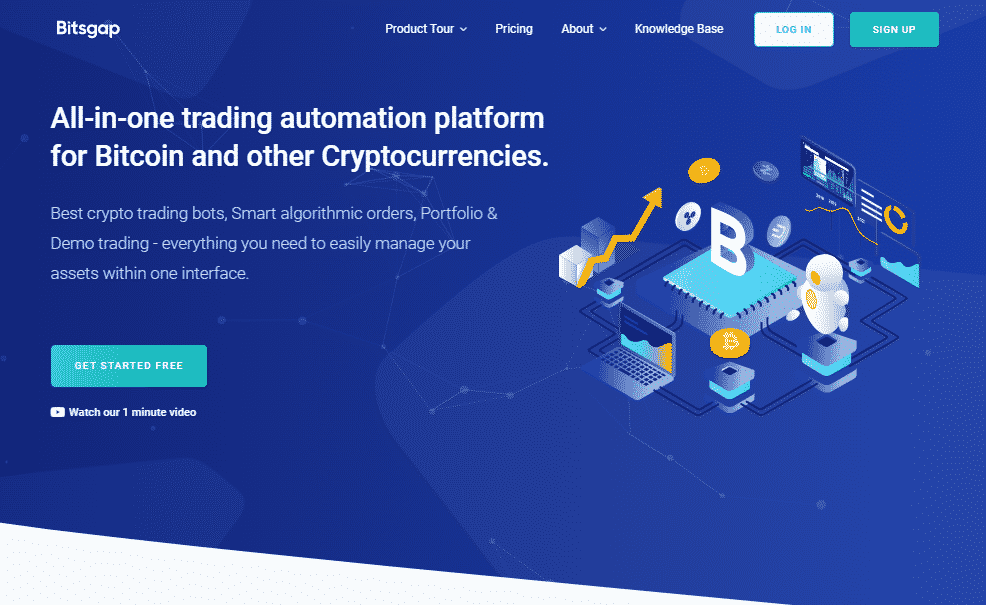 It is a comprehensive platform that allows you to access all your crypto exchange accounts from a single interface. The service has over 20 integrated exchanges allowing you to trade as per your requirements with effective tools like SL, smart trade, and shadow orders. With its automated bots and portfolio tracking feature, you can trade and track your earnings efficiently.
Quick summary
Some of the important features of this service that the vendor focuses on are listed below:
The trading terminal offers access to 12 customizable charts, over 50 smart drawing tools, and more than 100 popular indicators. Other features of the terminal include TradingView chart support, day and night modes, and the ability to cancel or change orders.
The automated bots help in various ways to ensure you generate maximum profit. You can backtest the strategies to know the profit/loss potential or choose from the premade strategies using the backtest results.
The portfolio manager imports and tracks all info present in the exchanges you use and enables you to access them from a unified dashboard. Accurate tracking, easy and quick access, real-time monitoring, and free use are the highlights of this feature.
Bitsgap: background
As per the info provided in the About Us section the company is based in Estonia. The team consists of traders, marketers, and security experts to provide a global platform for trading and managing crypto assets. The team members include Maxim Kalmykov, the CEO, Dmitri Laush, Sergei, Verbitski, Ervin Kougija, Anatoli Girenko, and Jevgeni Avdeev.
How does it work?
The platform works by allowing users to place orders, manage their portfolios, and monitor the results in a hassle-free manner. It provides the tools necessary for seamless operations.
How to sign up with Bitsgap?
Using the platform is easy and done in the following steps:
Visit the official site and use the signup button to register
Enter your email and password for starting an account
The account setup is complete
Once you have registered, you can connect to your exchange account and start trading.
Does Bitsgap offer a demo account?
The company offers a free demo account which you can use to trade on real-time data with demo funds. You can test your strategies and boost your trading prospect with the demo offer.
Profitability of Bitsgap
With efficient features, the platform offers a good opportunity to improve your trading, generate profits, track your assets, and manage them effectively. The beneficial features assure good profitability while using the platform.
Payments, deposits, and withdrawals
The platform does not have access to your funds and the assets are present on your exchange. Hence there is no deposit or withdrawal feature for the platform.
Exchanges supported
The following list shows the supported exchanges for this service:
Binance
Kucoin
Okex
Bybit
Kraken
FTX
Bitfinex
Huobi
Bittrex
Coinbase Pro
HitBTC
Poloniex
Liquid
Bithumb
Gate.io
Gemini
What about customer support?
For support, the vendor offers an email address, live chat, a Telegram channel link, and a location address.
Benefits of using Bitsgap
It offers a wide range of features
Hassle-free portfolio management
Numerous bots and supported exchanges
Free trial
Demo account
Drawbacks of using Bitsgap
No money-back-guarantee is present
Pricing review
Pricing plans include a basic package ($29 per month), an advanced package ($69/month), and a pro plan ($149/month). Grid bots and unlimited smart orders are common to all the packages. They differ in the number of active bots. The Advanced and Pro packages provide access to additional bots.
What are security measures?
Fully encrypted API keys, THE use of 2048-bit encryption for protecting user data, and two-factor authentication are the main security measures the service uses.
Is Bitsgap legit?
The company provides a location address with a registry code which helps to know it is a legitimate service.
Ease of use
Newbies and advanced traders will find using the service easy and efficient. The features, tools, and functionality ensure you have a hassle-free experience.
Is Bitsgap a good choice for automated trades?
With plentiful and efficient automation features, the platform is an ideal choice for automated trades.
What are the risks of using Bitsgap?
With diversified features, effective functionality, a free trial, and a demo account, the platform does not have any major risks. The risks normally associated with trading apply to using the service.
Review verdict: a one-stop crypto trading solution
Bitsgap is an effective automation service that meets all your crypto-asset investment needs. With diversified features, a simple interface, good support, and effective bots, the company gives you ample opportunity to grow your funds and manage them smartly.