Dark Gold is an expert advisor specifically created to trade Gold, Bitcoin, EURUSD, and GBPUSD currency pairs. The robot was launched on mql5 on September 23, 2021. The vendor invites you to post feedback once you purchase it. As a result, he will give you the Dark Support Resistance indicator (or another EA) free of charge.
Is Dark Gold a viable trading option?
This EA has a variety of features, which we have outlined below:
Prefers to use the ECN broker.
Works on the MT4 or MT5 platform (there are 2 versions for this EA).
Can work on M5, M15, and H1 timeframes.
The recommended leverage and deposit is dependent on the settings.
Money management is available.
Dark Gold was created by Marco Solito. He lives in Italy and is a director at Dark Trading Biz. His portfolio includes 30 products, 1 signal, and zero subscribers. We can also see that he has been trading in the market for 4 years. Marco says that he has been an mql4 and mql5 programmer for 10 years.

Dark Gold applies the scalping approach. This strategy is characterized by fairly short time periods between the opening and closing of trades. The developer further asserts that the EA is a trend follower. However, he doesn't specify the type of trend it focuses on. Is it the uptrend, downtrend, or sideways trend? We need to know. Anyway, traders who do not want to work with a trend follower can adjust the method to counter trend strategy.
How to start trading with Dark Gold
To start trading with Dark Gold, you need to acquire it first. Fortunately, it is being sold at a very cheap price of $49. After purchase, it can start trading automatically for you based on its in-built trading algorithms. Notably, the vendor reminds us that traders cannot be refunded after downloading the EA.
Dark Gold backtests
Sadly, we don't have any backtest results for this robot. It is usually good practice to test a strategy first to check if it is workable before selling it to people. This can give the developer confidence and assurance that the trading plan may yield positive outcomes in the future. Since this is not the case, then it is possible that Marco is unsure about the efficiency of his trading style. No wonder he reiterates that past performance doesn't guarantee future performance. Furthermore, as you will see in the next section, the system lacks a trading history on Myfxbook or other trusted verification sites.
Trading results
We have an unverified account that was deployed on September 21, 2021, and deposited at $100. Within 47 trading days, the robot has carried out 722 trades, making a profit of $999.45 in the process. So, the value of the account has grown by 110.64%. The win rates for long (47.78%) and short trades (52.22%) are very poor. There's an average profit of $3.58 against an average loss of -$3.87. The maximum drawdown of 40.6% is very high and an indication that the strategy applied is far from being safe.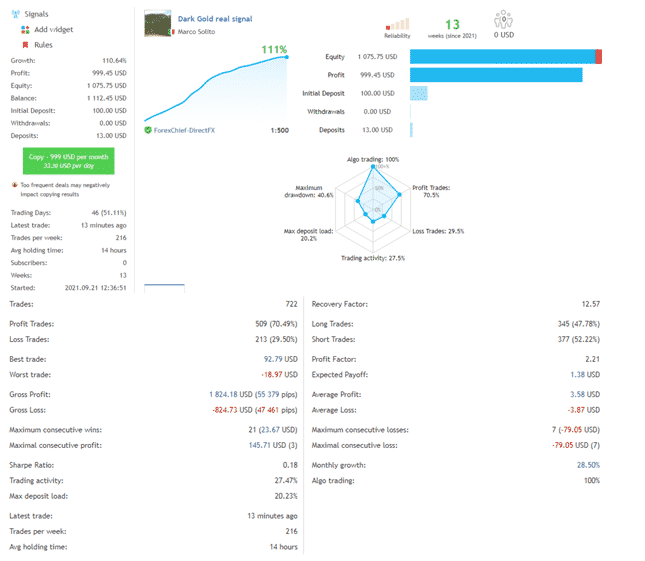 Other notes
Dark Gold has a free demo version. This enables you to test the workings of the EA prior to acquiring it. Importantly, the robot's settings are external. So, you can customize the settings to suit your trading preferences.
People feedback
Dark Gold has 9 mixed reviews on mql5. Many of the customers are saying that the EA is great. Nevertheless, we noted that a few traders are complaining that using the robot has led them to lose some significant amounts of money. One of them also notes that the system can generate huge drawdowns, something that we have also observed in the 'trading results' section. Here are the testimonials: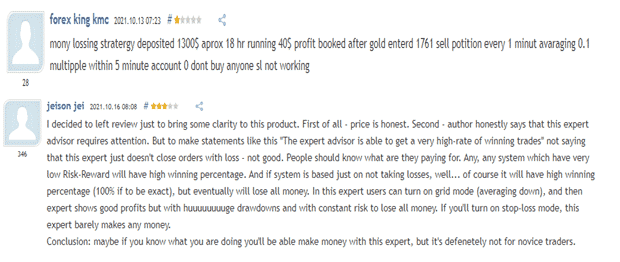 Summary
Advantages
Very cheap
Customizable settings
Disadvantages
No backtest results
High drawdown
Poor win rates
From the looks of it, Dark Gold may not be an effective trading system. As we all know, the scalping strategy is not that profitable, and this may explain the poor win-rates. Furthermore, it generates a high drawdown, which can put your account at risk of being wiped out. The lack of backtest results is not a good sign. The vendor might be hiding the inefficiency of the trading plan and the consequent poor performance of the EA.