Darwin Evolution is a Forex expert advisor that was launched on 9th September 2021. It is sold on the MQL5 marketplace and claims to optimize profits and limit the drawdown. It trades on 28 pairs simultaneously and uses several filters and indicators.
Is this the perfect automated trading system?
Since there is no official website for this robot, the MQL5 product page is the only source of information for it. Here, the vendor has briefly explained how the system functions. They have listed some of the benefits of the EA and shared their recommendations. We also have setup instructions and several screenshots showing trade setups and backtesting results.
Guillaume Duportal, the developer behind this EA, is a resident of the United Arab Emirates. We don't have any background information on this person, and we don't know since when they started building automated trading systems. Apart from Darwin Evolution, this person has no other products on MQL5.
You can use this robot to trade in pairs like EURAUD, EURCAD, EURCHF, EURGBP, EURJPY, EURNZD, EURUSD, GBPAUD, GBPCAD, GBPCHF, GBPJPY, GBPNZD, GBPUSD, NZDCAD, NZDCHF, NZDJPY, NZDUSD, USDCAD, USDCHF, USDJPY, AUDCAD, AUDCHF, AUDJPY, AUDUSD, and AUDNZD.
The environmental assessment of this EA is similar to manual trading. It uses a total of eight indicators and filters. You can use it with any broker regardless of the spread, execution speed, quotation, and fees.
How to start trading with Darwin Evolution?
Currently, Darwin Evolution is available for the price of $999. Compared to the market average, the price is quite high. Moreover, the vendor says this is a limited-time offer after which the price will be raised to $1490. You have the option to rent it for a year and this will cost you $690. Although a free demo version of the system is available, the vendor does not offer a money-back guarantee.
According to the vendor, the EA can take care of your account without taking too much risk. It does not conduct short-term trades like a scalper and has a long-term goal. It can remain on standby for several weeks, waiting for lucrative trades. To optimize profits and drawdown, it has held its positions for a long time.
Darwin Evolution has a risk capital management feature, but the vendor has not clearly explained it. It also has a special news filter for nocturnal news. A pre-optimized EA, it can trade both market corrections and impulses. The minimum required deposit is $200 and the minimum leverage is 1:30. To make the news filter work properly, you need to explicitly allow web requests and enter the URL.
We don't have a proper explanation of the trading strategies. The vendor mentions that there are two of them and that you should backtest them separately.
Darwin Evolution backtests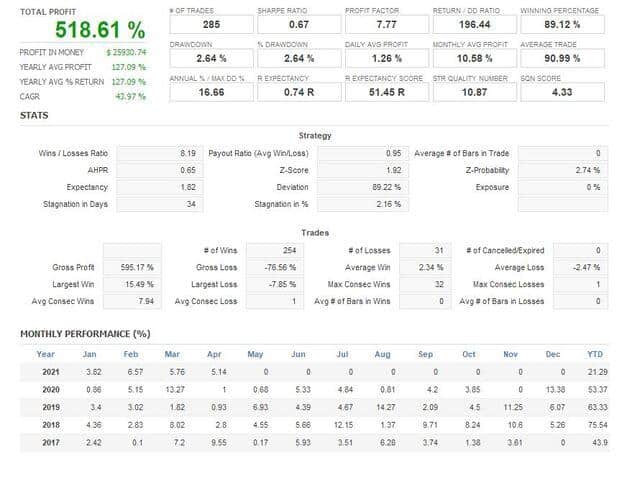 For this backtest, the EA conducted 285 trades. It had a high win rate of 89.12%, and this allowed it to win a profit of $25930.74. The drawdown was quite low at 2.64% and the daily and monthly average profits were 1.26% and 10.58%, respectively. There were 32 maximum consecutive wins and 1 maximum consecutive loss.
Trading results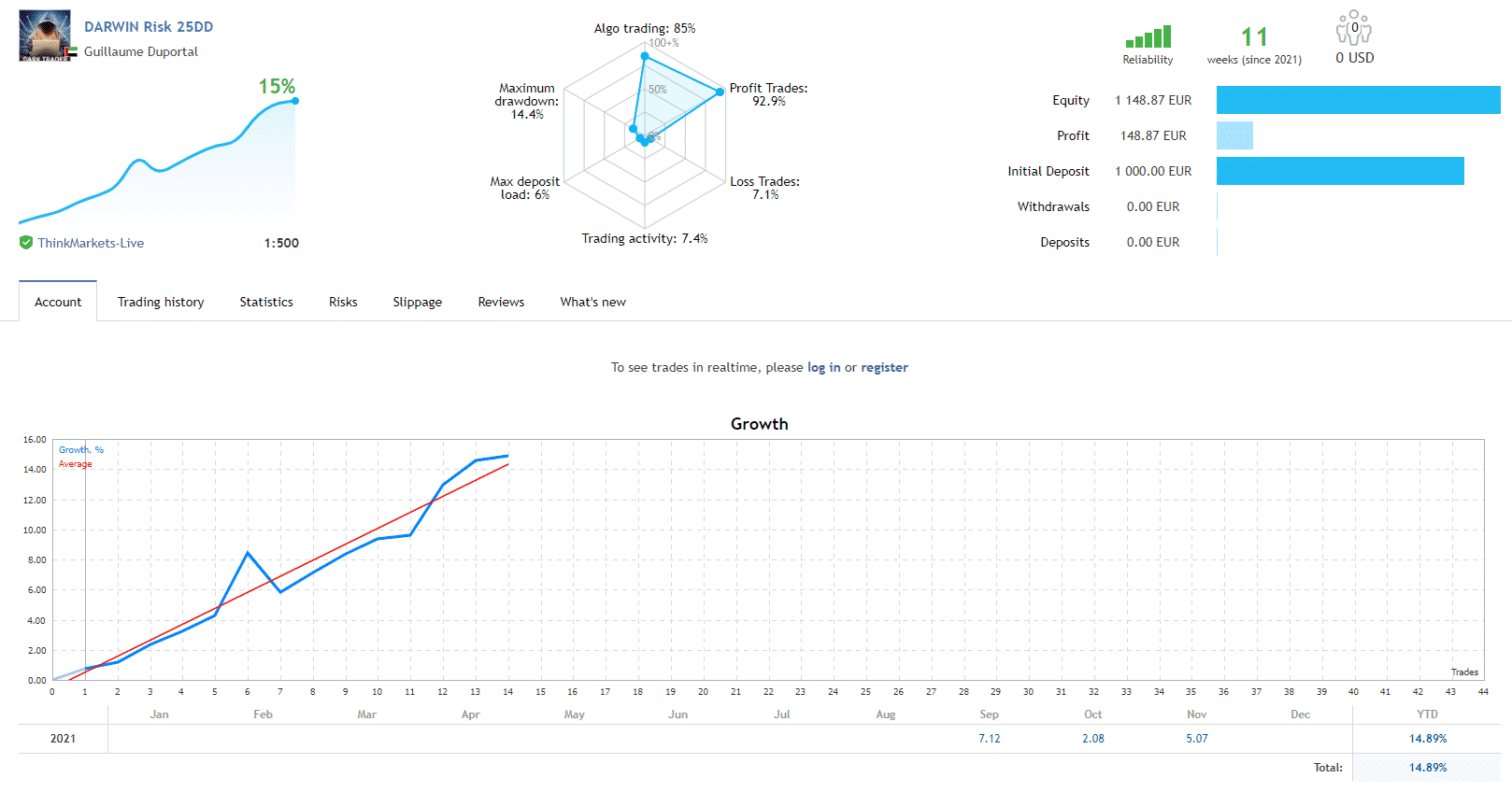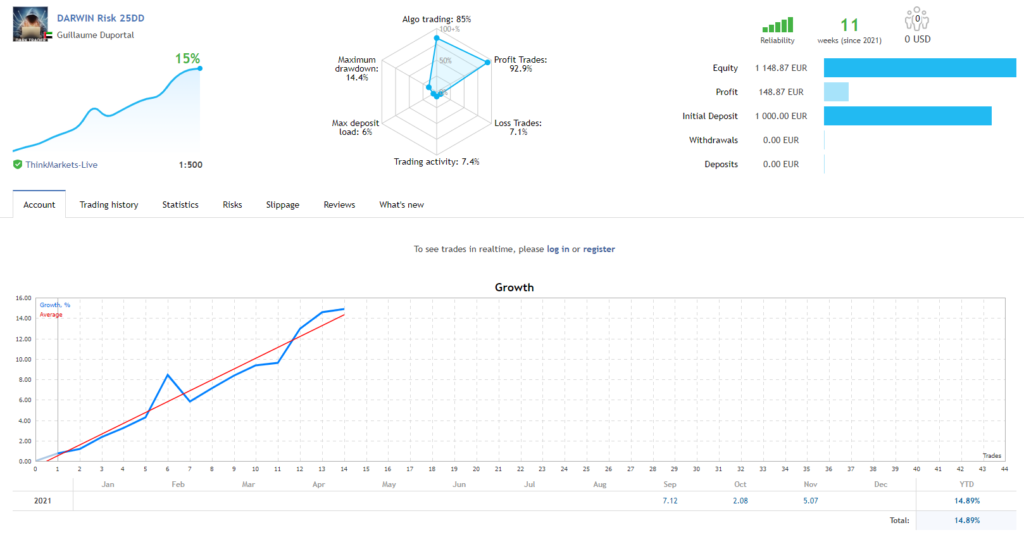 Unfortunately, there are no verified live trading accounts for this expert advisor on websites like Myfxbook, FXBlue, and FXStat. Although the vendor has shared the live results on MQL5, only 14 trades have been placed through this account. Due to the small sample size, it becomes difficult for us to analyze the profitability of the EA.
The win rate for this account currently stands at 92.85%, which is higher than the backtest. It has generated a total profit of 148.87. The profit factor is quite high at 5.31, while the maximum drawdown is 14.4%.
Customer support
Since there is no official contact information, you can only get in touch with the vendor by messaging them via MQL5.
People feedback

At this moment, there are no user reviews for this EA on third-party websites. Although there are some reviews on the MQL5 product page, there is no way to verify their authenticity.
Summary
Advantages
Supports 28 pairs
Low minimum deposit
Disadvantages
No verified trading statistics
Extremely high price
No money-back guarantee
No customer reviews on third-party sites
Darwin Evolution carries a hefty price tag and the vendor does not offer users the protection of a money-back guarantee. There are no verified trading statistics for the robot and we don't exactly know what strategy it follows. Also, there is a stark lack of vendor transparency.