Disclaimer: The information provided here does not constitute any form of financial advice. Readers are fully responsible for conducting their due diligence before making any investment decisions.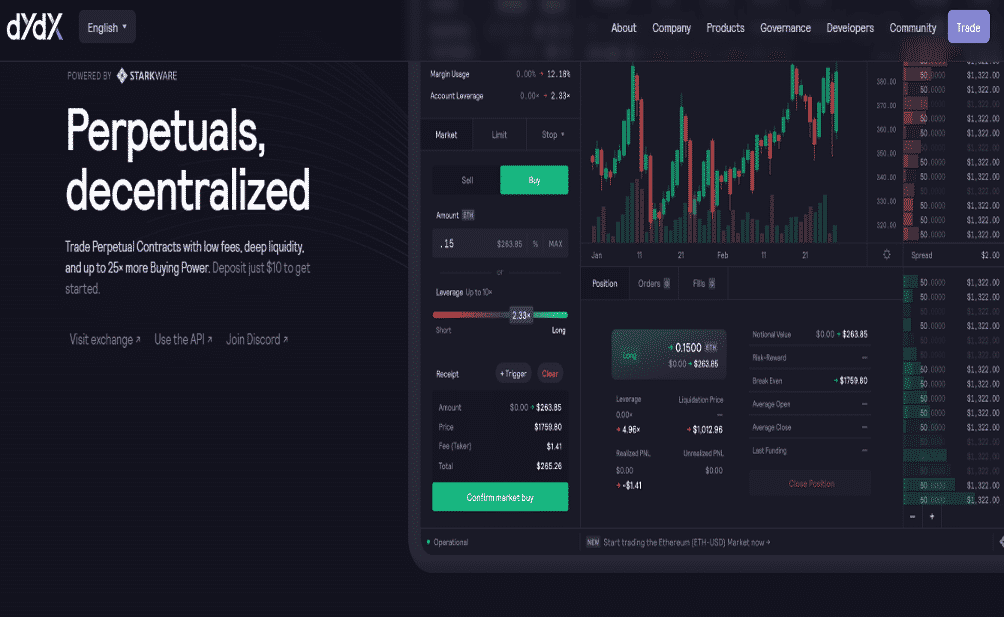 DYDX: Market Sentiment
The only market sentiment we could find for DYDX is the Crypto Fear & Greed Index (FGI) created by Alternative.me. While this index is built primarily for Bitcoin, it's a reliable tool for many of the popular tokens.
Moreover, most of the coins follow the performance of BTC. Presently, the FGI shows a reading of 21 as per the graph below.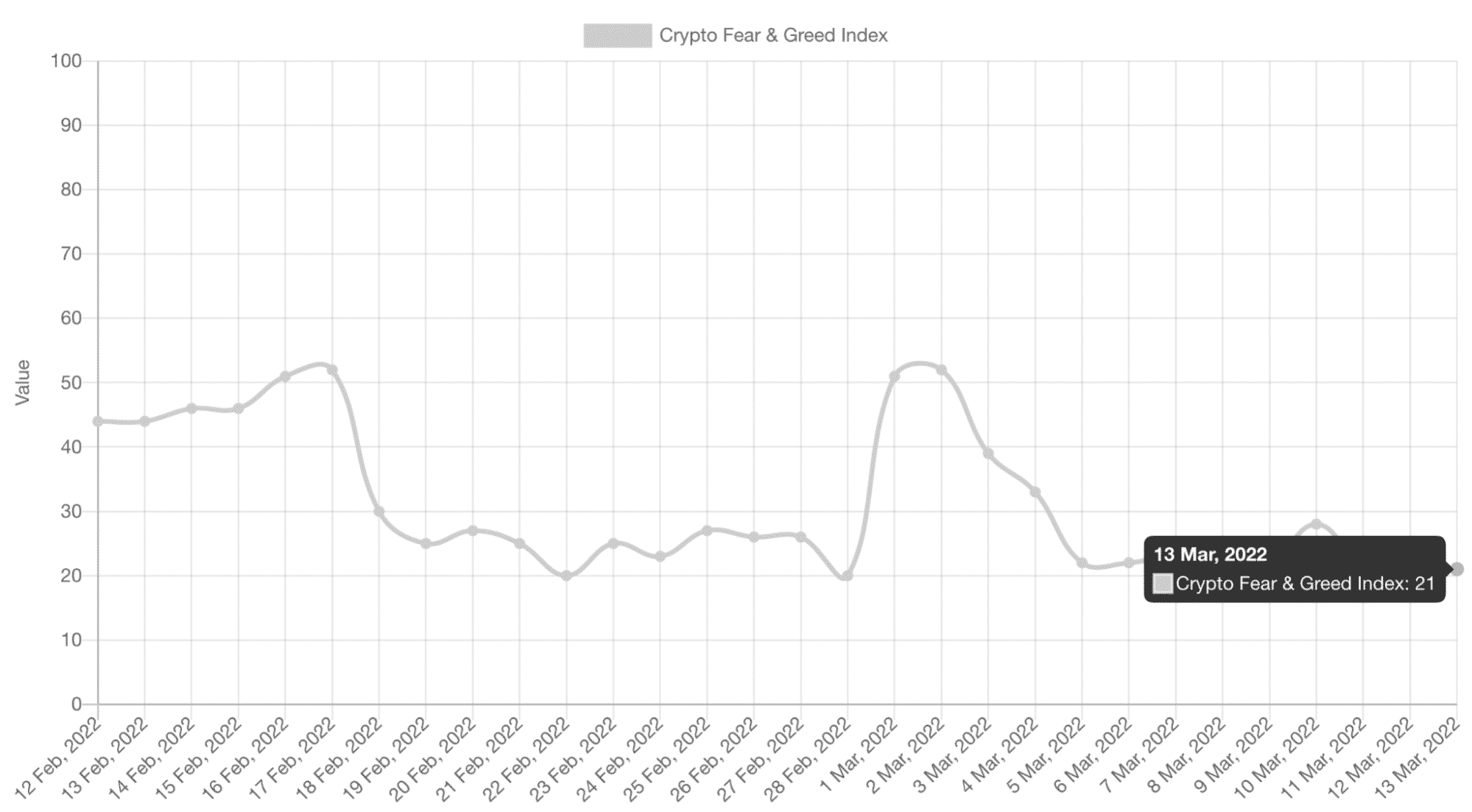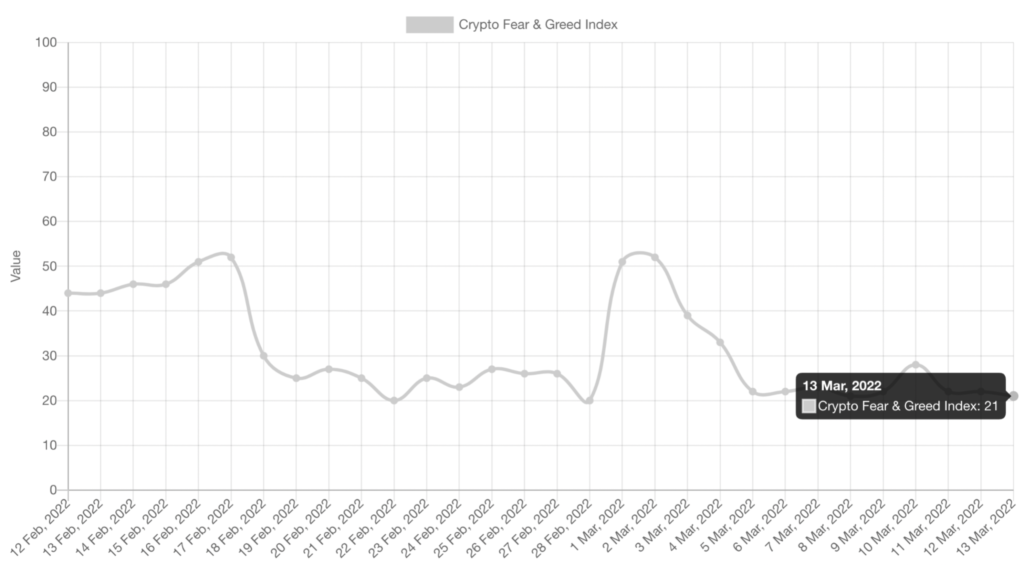 21 represents 'extreme fear' (numbers between 0-25), suggesting buying opportunities may appear in the markets. We can see on the chart that the index has been below 50 (fear readings are between 0-50) over the past week.
Therefore, this finding could signify that higher prices to the crypto markets are coming.
Technical analysis
Our technical analysis suggests bearishness for DYDX. On the chart below , we've applied the 50-day (orange) and 200-day (blue) moving averages.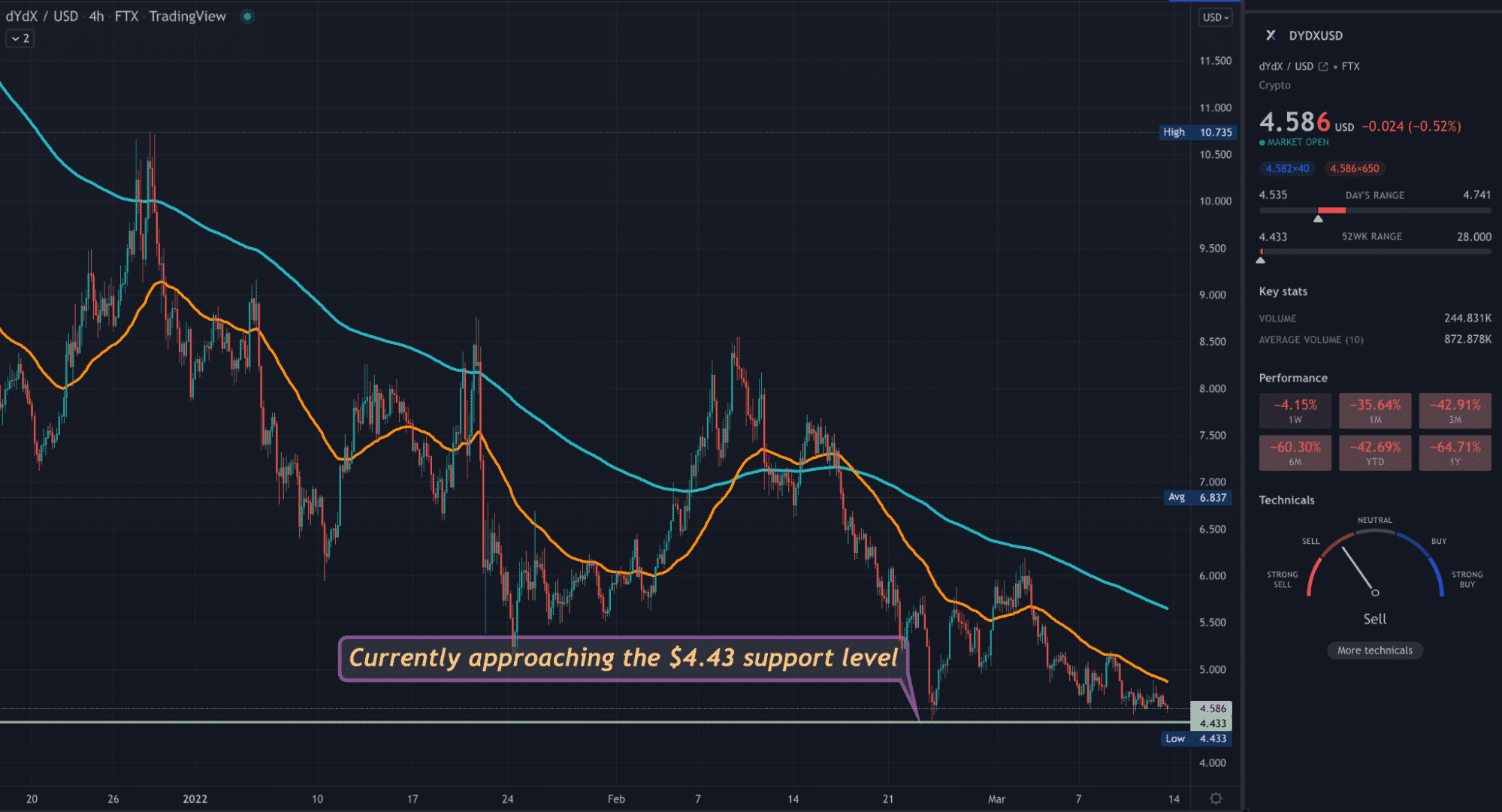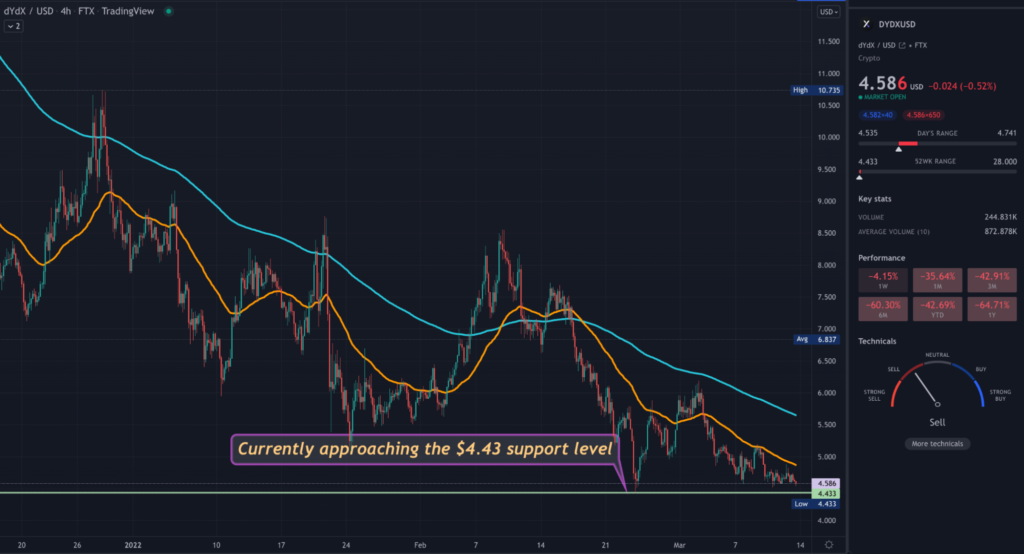 It's evident that the price is below the moving averages, and the 50 hasn't crossed above the 200. Moreover, the slope is quite characteristic of a down-trending market.
However, an area of interest is, of course, the support level at $4.43. It will be intriguing to see whether the market breaks this area to continue the downtrend or instead shows a reversal sign.
Therefore, while the market is clearly in a bear phase, this might change soon. Traders will hope a buying opportunity will eventually rise to align with the bullish sentiment presented earlier.
Fundamental analysis
We haven't observed any negative news lately for this project. Fundamentally, dYdX still remains quite strong. A beta version of the exchange's iOS mobile app was recently released to 10,000 users meeting certain criteria.
This would be a positive step in growing dYdX's clientele due to the convenience of mobile trading. Structurally, dYdX also provides the following advantages, making it a potentially attractive investment:
According to CoinMarketCap, dYdX is the decentralized exchange (DEX) processing the most trading volume in the markets and has done for some time.
This is significantly higher than the likes of Uniswap and PancakeSwap. dYdX has a TVL or total value locked of $986 million (based on the latest Defi Llama stats).
Analysts expect more and more users to switch towards decentralized exchanges because of the numerous privacy benefits. Therefore, it's an industry forecasted to grow.
DYDX has a finite supply of 1 billion tokens, of which about 6.5% or 65 million are presently in circulation. Investors tend to favor coins with intentionally scarce distribution to reduce inflation and increase value over time.
While DYDX is still a relatively new token with a higher risk factor, such altcoins can experience much higher growth than established coins for these very reasons.
dYdX (DYDX) Price Prediction: 2023-2025
Let's look at some observed DYDX price forecasts for 2023 and 2025.
2023 forecasts
The average price we derived from looking at numerous prediction sites was around $7. This would represent gains in the 50% range, which are pretty cautious. Tech News leader presented minimum and average values of $5.92 and $6.55, respectively.
Digitalcoinprice pegs $6.08 for the lowest and $6.77 for the average in 2023. One of the more optimistic forecasts is from PricePrediction, which approximates a minimum of $9.47, with an average of $9.80.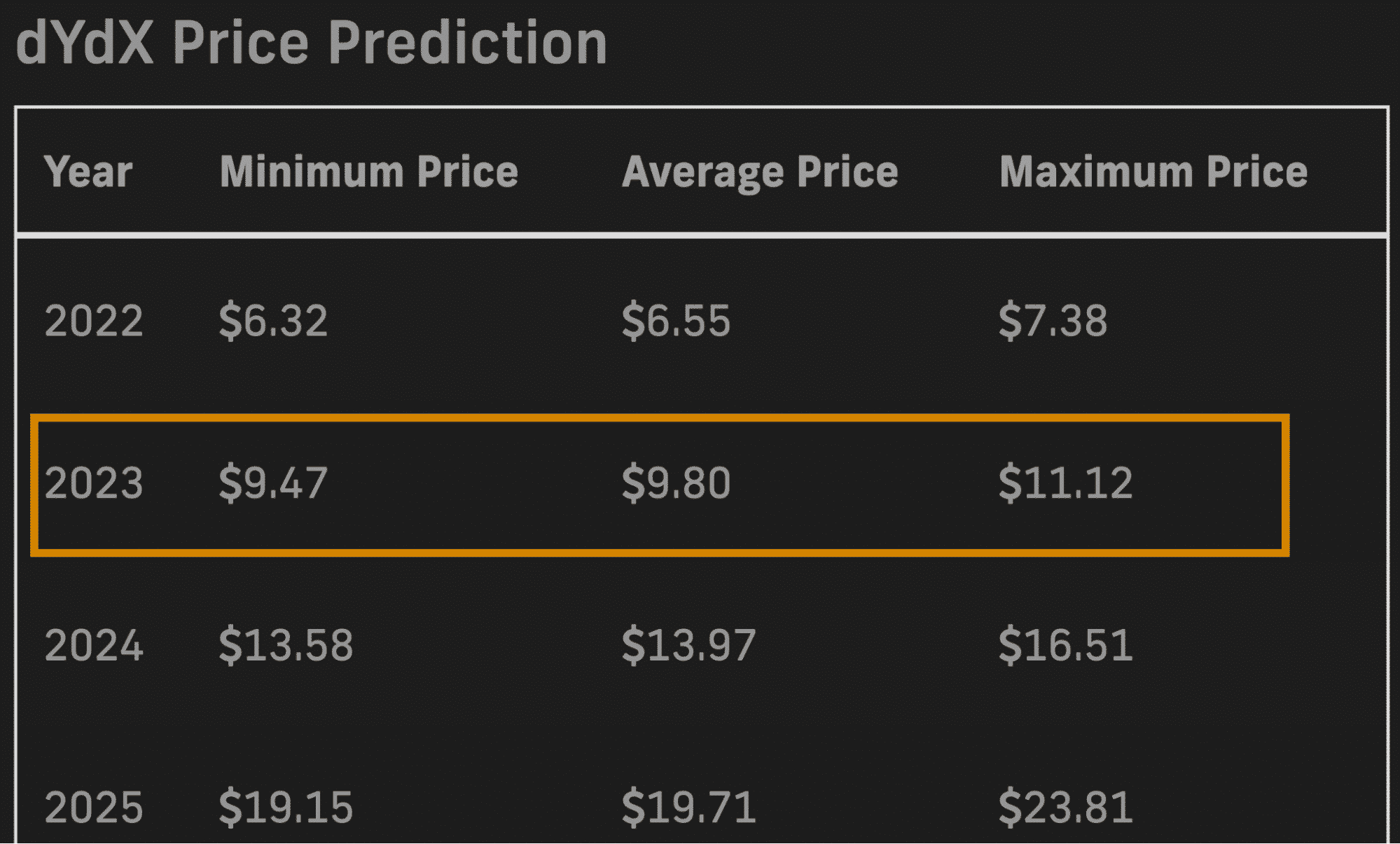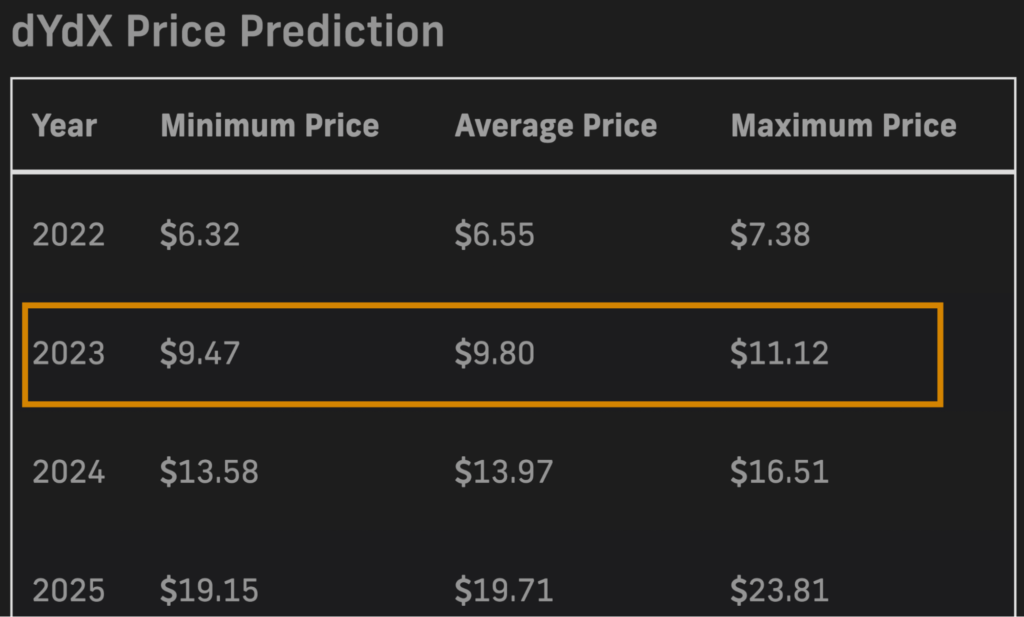 2025 forecasts
For 2025, the average result we deduced was $13.72. Thus, conservatively speaking, it's fair to assume DYDX may rise by about 2X or 3X. On the low end, Digitalcoinprice approximates at least $7.92 and an average of $9.24; Tech News Leader pegs the lowest value of $12.50, with an average of $13.82.
Again, PricePrediction.net presents one of the most favorable forecasts with a minimum of $19.15 and an average of $19.71.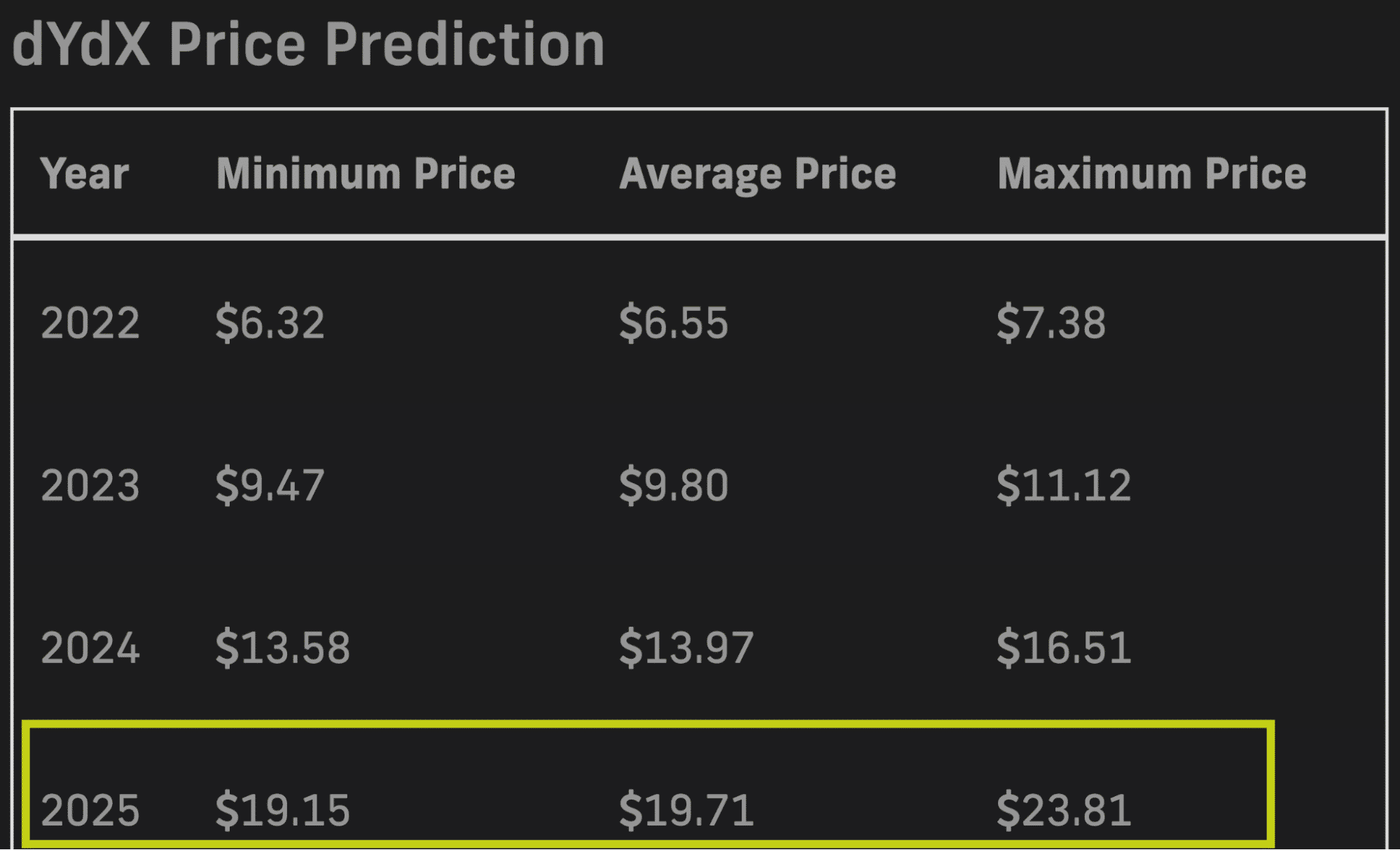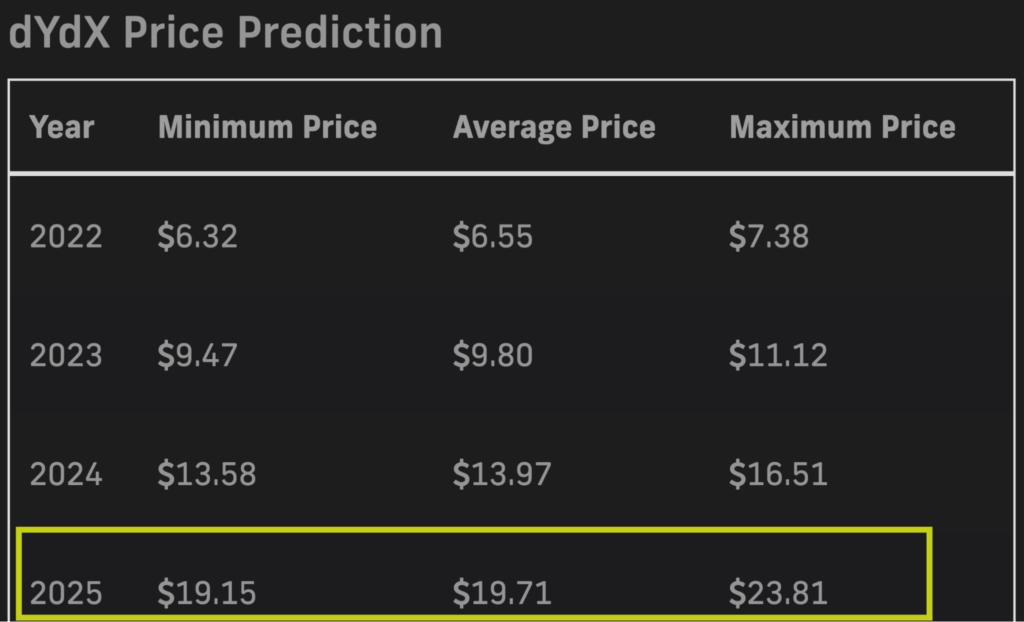 Ultimately, these speculations remain 50-50, and their probability depends on dYdX's performance and the crypto market overall.
DYDX Frequently Asked Questions (FAQs)
Is dYdX real?
Yes, dYdX has been around since 2019 and is currently the most prominent decentralized exchange by trading volume.
What is the DYDX price today?
$4.65.
Will DYDX's price reach $100?
With a consistently growing user base and adoption, $100 is not impossible over time (albeit a far stretch).
Should I buy DYDX?
As with any investment, you should always accept all of the risks involved. While DYDX presents a good bullish case in the long run, it remains a speculative bet.
Where do I buy DYDX?
You can buy this token from numerous well-established exchanges such as Huobi, Binance, FTX, Kraken, Bybit, Bitstamp, Poloniex, and many others.