Dynamic EA is a recently launched FX market MT4 tool that promises to automatically copy trades without any human involvement. Identifying the market trend, this EA decides when to buy and sell, ensuring 'consistent return on investment' for both seasoned traders and newbies. Although it sounds good, we cannot invest in this trading system without conducting an unbiased analysis. So, that is what we are going to do.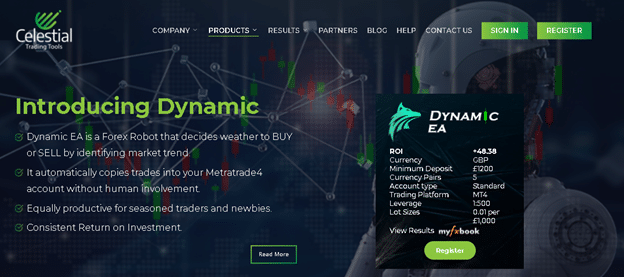 Is Dynamic EA a reliable trading system?
The creator of the trading system is the Celestial Trading Tools (CCT) company. They tell us a lot and simultaneously nothing important about themselves. We do not know their names, trading history, or location address for their head office.
The Dynamic EA website shows a well-designed layout. The product presentation consists of specific sections, including the robot's description, its features, trading results, pricing, recommendations, a short video about the product, contact details, and more.
The main features of this EA are:
It is a fully automated trading tool, which decides when is the best time for entries and exits, identifying the market trend
It runs on the MT4 terminal
The robot promises consistent returns on investment
The system was tested 12 months in a row. We cannot trust this claim, the dev failed to provide a backtest report
It suits any kind of trader, thus no prior experience needed
The devs claim that the ROI of their EA is over 220% since September 2019
They convince us that they are 100% transparent because they provide live trading results verified by myfxbook. For us, it is not enough to trust the vendor
The robot trades 5 currency pairs (EUR/JPY, EUR/USD, GBP/USD, NZD/USD, and USD/CHF)
It trades breakout trends
The EA operates all day and night, 24/5
It has an in-built money management feature, which cares about auto SL, trailing SL, and TP
Traders are free to customize the risk for each trade
It comes with optimized default settings
The dev convinces us that the robot should be profitable without any additional customizations
It's easy to set up and operate



How to start trading with Dynamic EA
The cost of Dynamic EA is £15 PCM, which is a monthly subscription charge. Oddly, but the system requires a 1000 GBP margin to trade with a 0.01 Lot. The minimum deposit requirement is £1,200. The vendor promises an ROI of over 244.75%.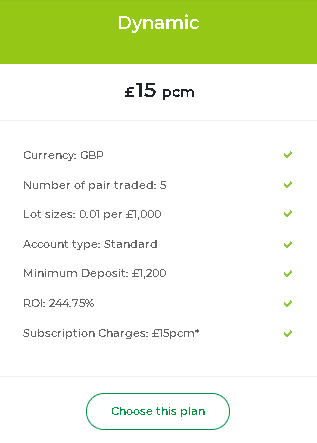 A money-back guarantee is missed. It raises a red flag.
Dynamic EA Backtests
All that matters when it comes to any trading system is past performance. In the case with Dynamic EA, the dev failed to share this important info, although it has claimed that the 'system has been in the testing phase for 12 months'. It looks suspicious and seems that the EA was not properly tested before release.
Trading Results
If the EA is viable, then the developer should be able to prove that with an active myfxbook, fxblue, or fxstat trading account. The Dynamic EA meets this expectation.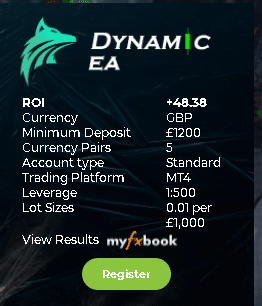 This is a Real (GBP) account running on the MT4 platform. It trades under the IC Markets brokerage with 1:500 leverage. The account was created on August 25, 2020, and since that time, it has achieved a gain of 64, 15% with an absolute gain of 43, 69%. From the trading stats, we see a monthly gain of 5, 57% and a daily gain of 0,18%. The drawdown value is 9, 28%. The robot uses technical indicators and is tracked by 2 people.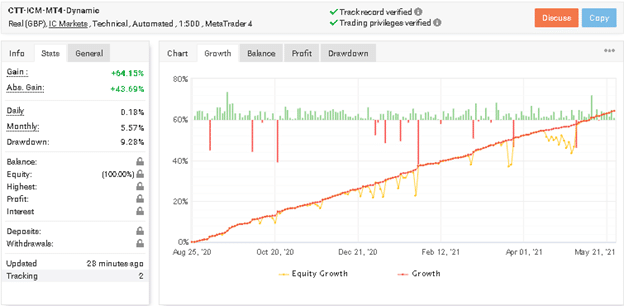 We are disappointed that the trading activity data is hidden. It makes it impossible to analyze the balance, withdrawal, and profit details achieved by this EA.
The robot has traded 978 trades and 2980.3 pips with a win rate of 62% from August 25, 2020, to May 26, 2021. The average loss in pips (-16. 64) is higher than the average win (15. 29 pips). The robot trades with an average trade frequency of 19 hours and a half. The profit factor is high and equals 2. 03.

The less traded currency pair (GBPUSD) is the most profitable one (823.8 pips). Because of the trading activities values hidden our experts could not arrive at a proper conclusion regarding the trading performance of this account.

People Feedback
Celestial Trading Tools has a page on Trustpilot. It has a low 2,2 out of 5-star rate based on 140 reviews from customers. Over 50% of all reviews are negative ones.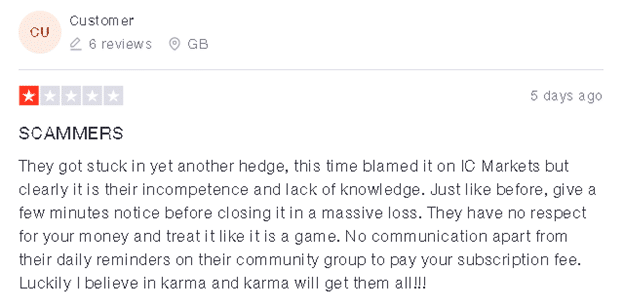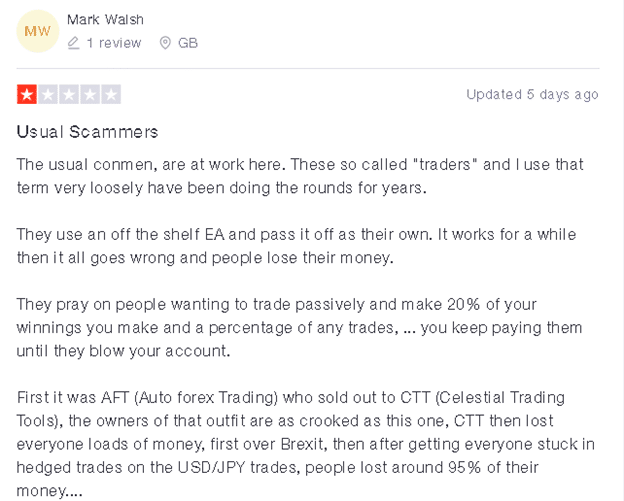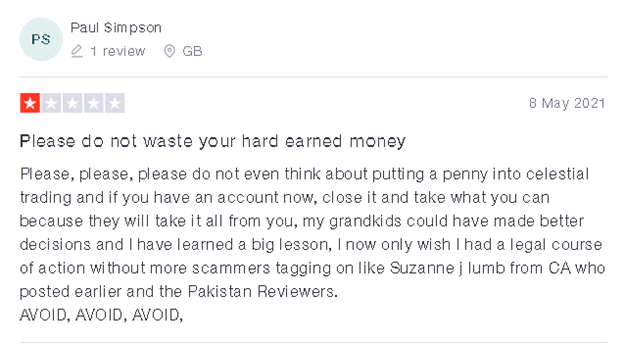 Customers warn us not to invest in the products offered by Celestial Trading Tools, claiming that they are total scams 'having no respect for your money' and treating it like 'it is a game'.
Summary
Advantages
Live trading results provided
Disadvantages
No backtest reports shared
Hidden trading activity data
Most of the trading strategy is undisclosed
Negative customer reviews
Lack of money-back guarantee
We do not trust Celestial Trading Tools and there are many reasons why we'd not recommend this EA to the public: no money-back guarantee provided, lack of vendor transparency, hidden trading activity data, and plenty of negative reviews from their customers. The company has a reputation for scammers thus, it's better to stay away from all the trading systems offered by the CCT.