Happy Trend is an expert advisor that was released many years ago, it was stopped, updated, and published again. Is this iteration good to use in 2021 or not?
Is this robot a viable option?
Looking at the trading results from the fxstat-verified account, we're sure that the system doesn't become better.
How to start trading with Happy Trend
The presentation doesn't include many features to discuss. Happy Forex pages have the same format and don't want to inform us about all aspects of the system's functionality.
Happy Trend executes orders automatically for us.
The advisor is based on the Trend strategy.
It executes orders on five cross pairs.
We have to work on the H1 time frame only.
The advisor allows us not to trade High Impact News periods.
The system is focused on getting in the correct trend move.
It can place right Stop Loss and Take Profit levels for every open trade.
We can use it without a previous extended experience.
The account size doesn't matter for working with it.
The system can draw some information on the chart.
The advisor can close deals using UseTrailingStop, TrailingStop features.
The advisor can be installed on Windows 7, 8, 10, Mac OS, and Linux.
It supports trading on Micro, Mini, or Standard types of the account.
The minimal deposit requirements are $100.

The developers promote Fort Financial Services.
We should use the system on ECN accounts.
There are 4 or 5 digits auto-quotes detection.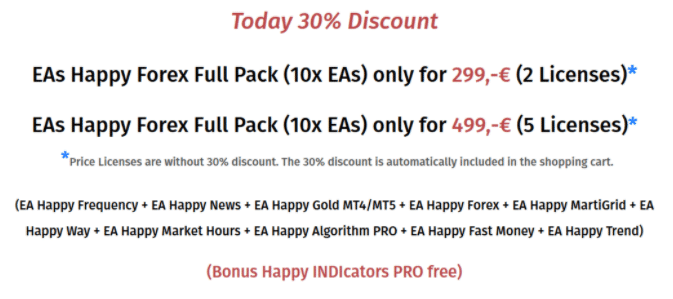 The offer is common for all Happy Forex presentations. We have a package of 10 useless systems. No one sells bulk products because everyone has value. The price is 299 EUR for two licenses for real accounts. Five licenses cost 499 EUR. Even if we want to use all 10 advisors, we simply don't have enough real licenses. See, it's a scam. The offer is supported by a 30-day refund policy.
Happy Trend Backtests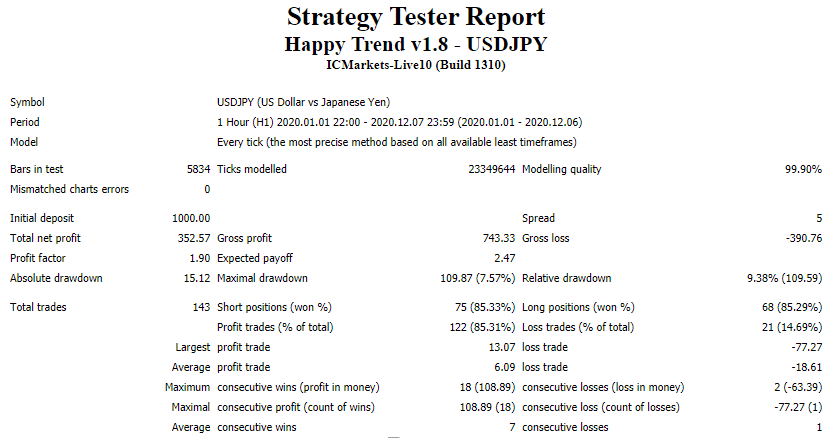 We have a USD/JPY report on the H1 time frame. The modeling quality was 99.90% with 5 pips spreads. The period of data was chosen for twelve months of 2020. The initial deposit was $1000. The total net profit was $352.57. The profit factor was 1.90. The maximal drawdown was $109.87 (7.57%). The system has closed 143 deals with 85% of the win rate.
Trading Results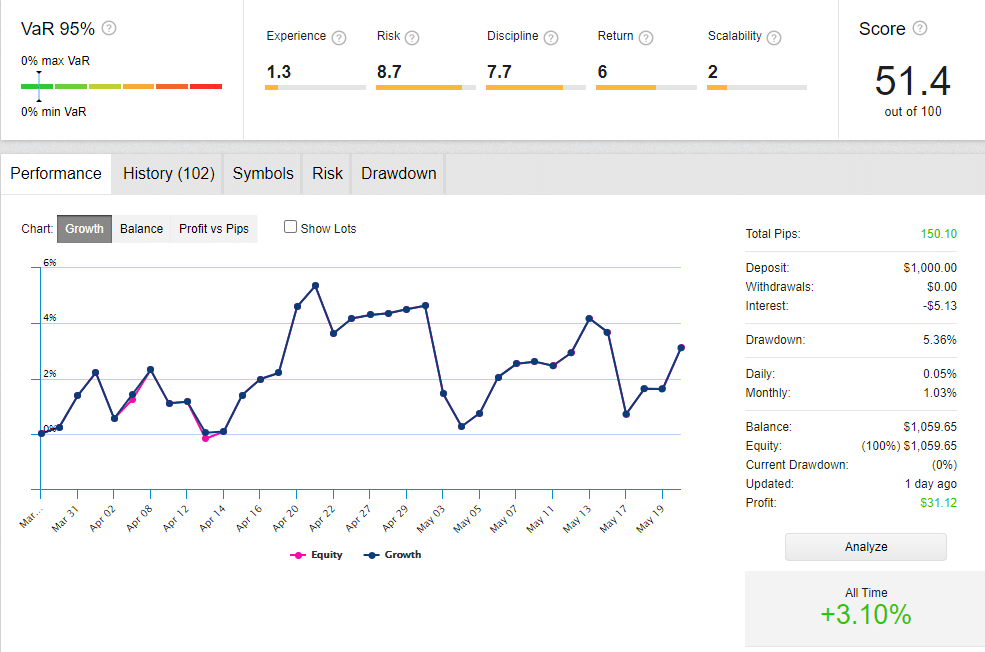 The developers decided to verify an account via fxstat. The chart shows that the robot still can't be a stable and profitable solution. The system has a 51,4 score out of 100 possible. It was created at the end of March 2021 and deposited at $1000. There were 150.10 pips only gained. The profit is $31.12. The maximum drawdown is 5.36%.

The robot trades five currency pairs. The most traded and the most profitable currency pair is EUR/USD – 32 deals. AUD/USD has the best net profit – $42.97.

May 2021 has brought -1.45% of losses. We don't know if the system can recover.

The advisor has closed 101 deals. The win rate is 79.21% (80 deals). The long direction trades more often than the short direction. The best trade was $15.42 when the worst trade was -$36.90. An average trade length is six hours and twenty-five minutes. The Profit Factor is 1.18. An average profit is 5.33 pips ($2.59) when an average loss is -13.47 pips (-$8.39).

EUR/USD is the most popular currency pair to trade – 31.68% of all deals.
Other Notes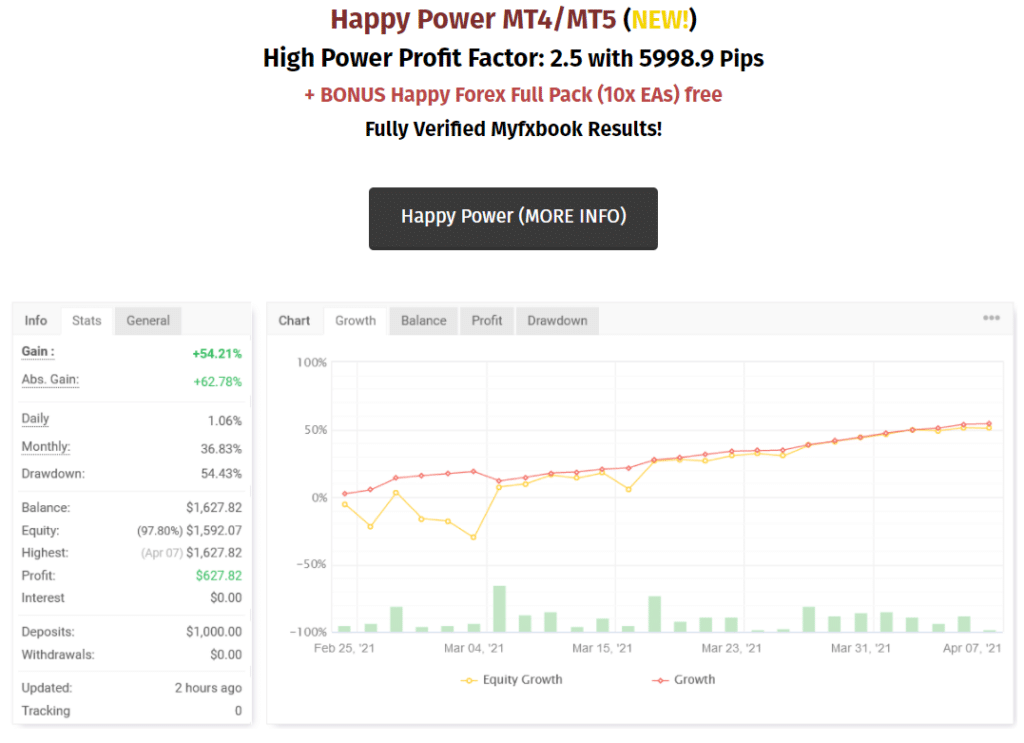 The developers didn't set Happy Trend after updating in the first place on the main site. There's Happy Power. So, it means they don't rely much on it.
People Feedback
We don't have a Happy Trend page on Forex Peace Army. There's only a Happy Forex profile with a 3.5 rate based on five reviews.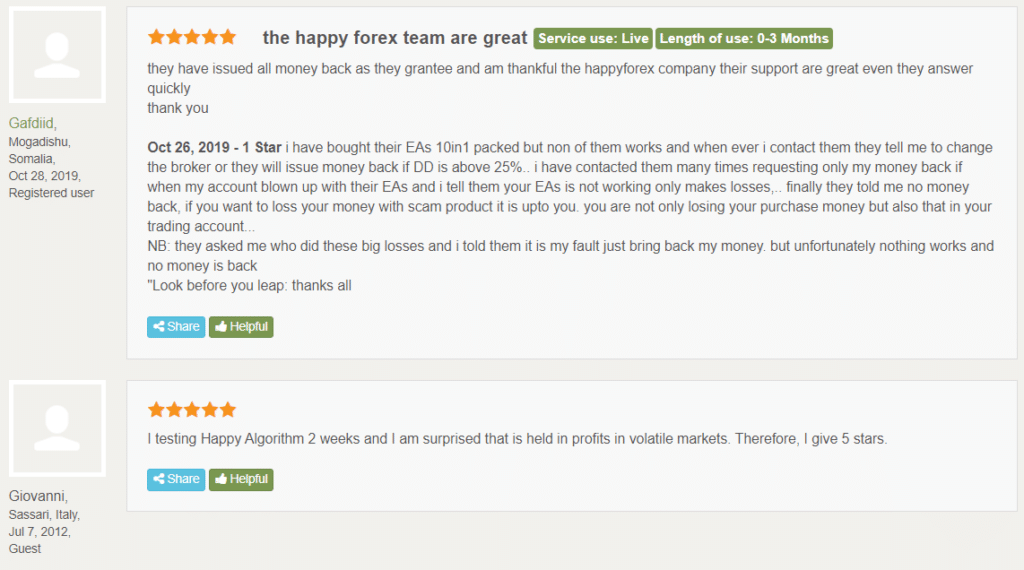 We have some old feedback that didn't mention Happy Trend in any way.
Wrapping up
Advantages
Happy Forex is a well-known design company
Backtest reports provided 
Verified trading results provided
Money-back guarantee provided
Disadvantages
No developer team revealed
No settings explanations provided
No money-management or risk advice given
Mediocre and unpredictable trading results
The pack is featured by scam robots which no one needs
Summary
Happy Trend works on the account where we can see how it tries not to burn a $1000 real account. In the first two months it provided truly low monthly profits. May 2021 is under fire, and we don't know how it will be closed.
The Best Forex Robots Report Is Already Here!
Check out 30+ best expert advisors with daily updated live results and statistics.