EA Super 8 is a newly-launched Forex EA that is up for sale on the MQL5 website. It was published on 18th August 2021, which means it hasn't spent too much time in the live market. According to the vendor, the system is capable of generating a profit at the end of each day. We need to determine the veracity of this claim by conducting a thorough analysis of the various performance factors.
Is this the perfect Forex expert advisor?
On the MQL5 product page, the vendor has made a very brief presentation. We have some of the basic features of the robot, along with the pricing details, and the vendor recommendations. Also, there is a screenshot showing the results of a backtest performed on the EA. The vendor has not made the effort to share the maximum amount of information and this is not a sign of a reliable system.
Vitali Vasilenka, the developer behind EA Super 8, is a resident of Belarus. They work with a company called EA Quantum Lab. However, there is virtually no available information on this person and the organization. According to their MQL5 profile, they have around 1 year of experience. Other expert advisors sold by this person include EA Surfer, EA Smoke, EA Golden Moon, EA Golden Elephant, EA Quantum Lab, EA Flower, and EA Mad Max.
EA Super 8 is compatible with pairs like NZD/USD, AUD/USD, and EUR/USD. It is a system that trades aggressively and uses in-built methods for determining the trend's direction. The vendor does not specify what these methods are, so we don't know how effective it really is. We don't have the details of the trading strategy used by this robot, and this is a major red flag that will deter many traders from investing.
How to start trading with EA Super 8
EA Super 8 is available at the price of $249, which is more or less the same as the market average for Forex EAs. The vendor offers a free demo version if you wish to test the system prior to live deployment. There is no refund policy in place for this robot, and this makes it a risky investment.
To get started with EA Super 8, you need a minimum balance of $100. The vendor recommends dividing the capital into 10 parts and keeping your reserve funds in your personal account. You can use the EA on M1 charts.
EA Super 8 backtests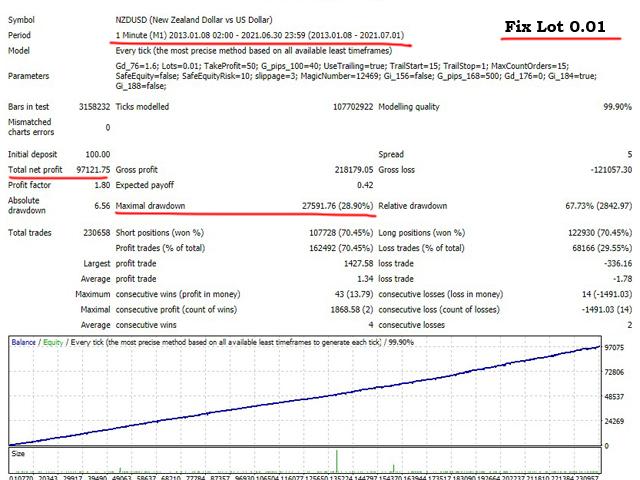 This backtest was conducted between 2013 and 2021 using an every tick model. EA Super 8 started off with an initial deposit of $100 and made a total net profit of $97121.75 after conducting 230658 trades. It had a win rate of 70.45% for this backtest, and a profit factor of 1.80.
There were 43 maximum consecutive wins and 14 maximum consecutive losses during the testing period. The relative drawdown was extremely high at 67.73%. This tells us that the EA follows a strategy that carries a high risk of ruin.
Trading results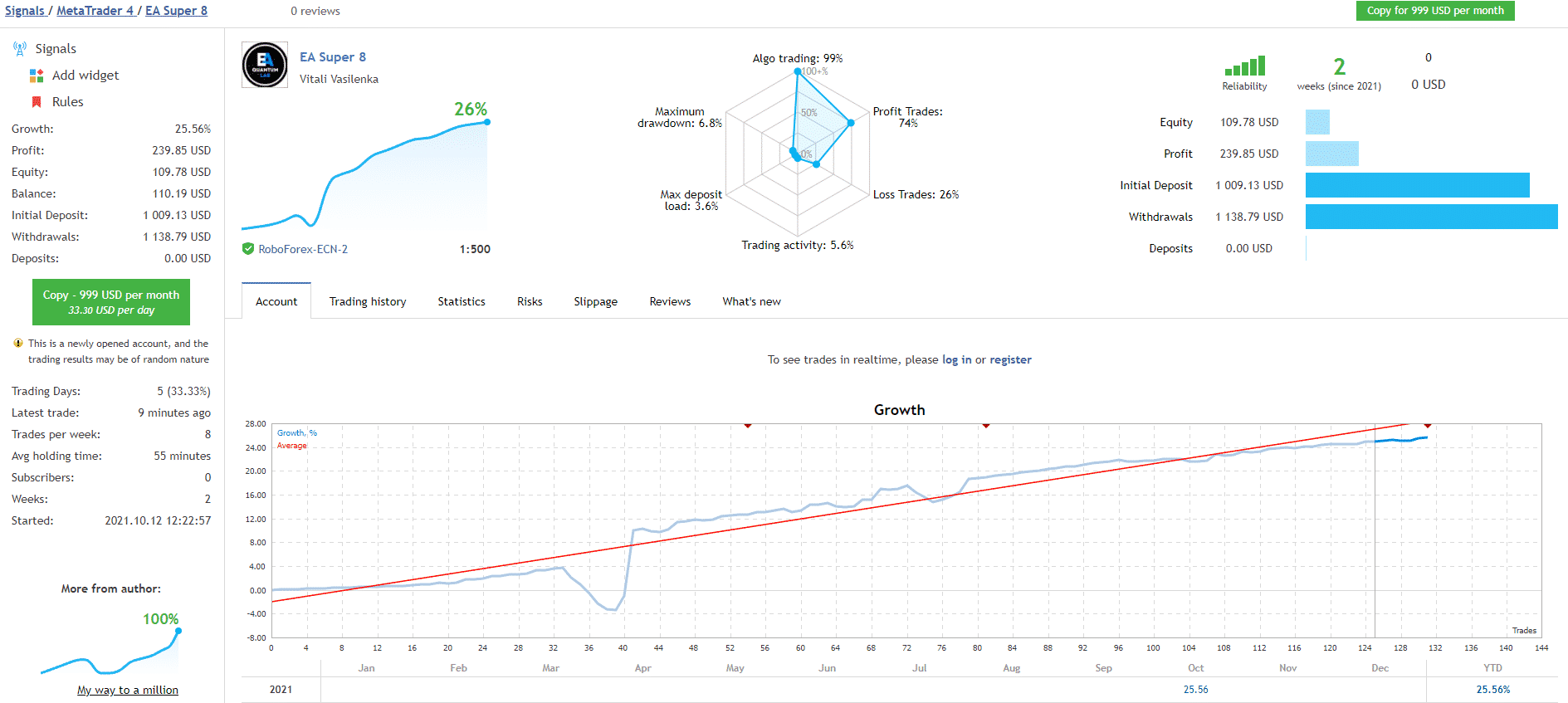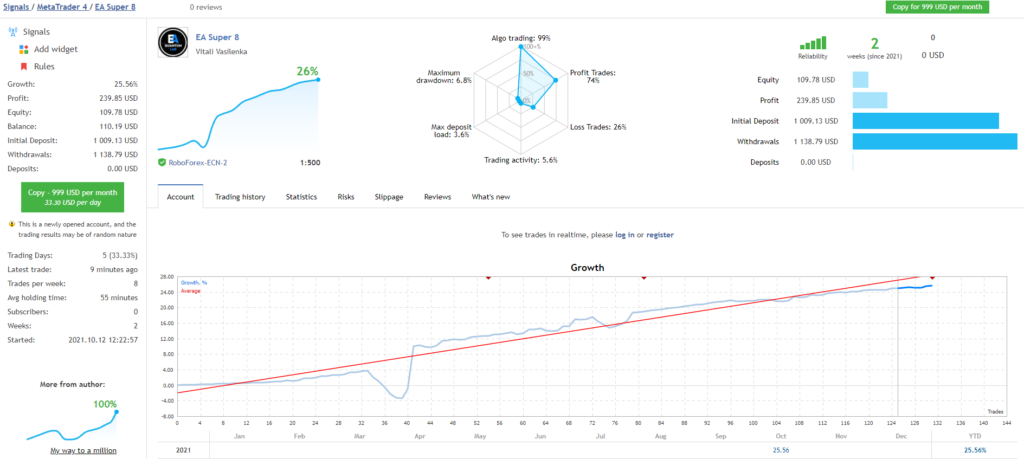 The vendor has not shared the verified trading results for EA Super 8. This makes it impossible for us to objectively assess the system's profitability. Here we have the live results presented on the MQL5 website. The account has only been up for 5 days, so it has a very short trading history. EA Super 8 seems to follow a high-frequency strategy, as it has placed 131 trades already, winning 97 out of them. This means it has a win rate of 74.04%.
Other notes
The vendor recommends trading with the Exness broker while using this EA. You should use a zero spread or a raw spread account. Since it has a high-frequency trading approach, you need a VPS server as well. You can subscribe to the official Telegram channel, to stay updated with all the news.
People feedback


At this moment, there are no reviews for this EA on websites like Trustpilot, Forexpeacearmy, Quora, and Myfxbook. It is clear that not many people are using the robot right now, and this makes it even more difficult for us to trust it.
Wrapping up
Advantages
Works with multiple pairs
Disadvantages
No verified trading results
Money-back guarantee is not available
Lack of strategy insight
EA Super 8 is a scam robot that you should stay away from. There is no verified track record of this system making profits in the live market. Furthermore, the vendor does not offer a money-back guarantee, which means they don't have enough confidence in the EA.