Sodobe Scalper is a scalping solution, which is said to be both profitable and low risk. The developer assures us that it is not a scam and has never crashed any trading account. We will analyze the robot to ascertain if these claims are true or just a marketing gimmick.
Is Sodobe Scalper worthwhile?
The developer of this EA is called Nguyen Van Cho, from Vietnam. He is a manager of the technological company Sodobe. Unfortunately, this is everything we know about the dev.
Sodobe Scalper EA uses the scalping strategy. This is a short-term trading approach that aims at generating profits out of tiny price movements within the market. Therefore, the system will buy and sell the XAUUSD currency pair and only hold the position for a few seconds or minutes.
How to start trading with Sodobe Scalper
Sodobe Scalper is essentially a Forex trading system that automates trading decisions. Therefore, purchasing it means that you are handing over your trading to it. The tool will automatically follow its in-built instructions to trade. You also have to be aware that it comes with the following features:
Mainly trades the XAUUSD currency pair.
Trades on the M1 timeframe.
Applies take-profits and stop-losses.
Conducts 12 trades per month.
The average holding time is 45 minutes/trade.
The recommended leverage is 1:100, whereas the recommended minimum deposit is $100.
The suggested brokers include Exness, IC Markets, and LiteForex.
Sodobe Scalper is quite pricey as it is currently being sold at $490. If you are not willing to spend this kind of money, then you can opt to rent it. For $90, you will hire it for 3 months. Alternatively, you can pay $270 and enjoy its services for a full year.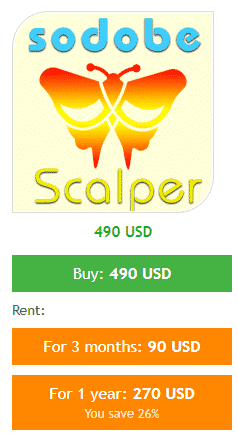 Sodobe Scalper backtests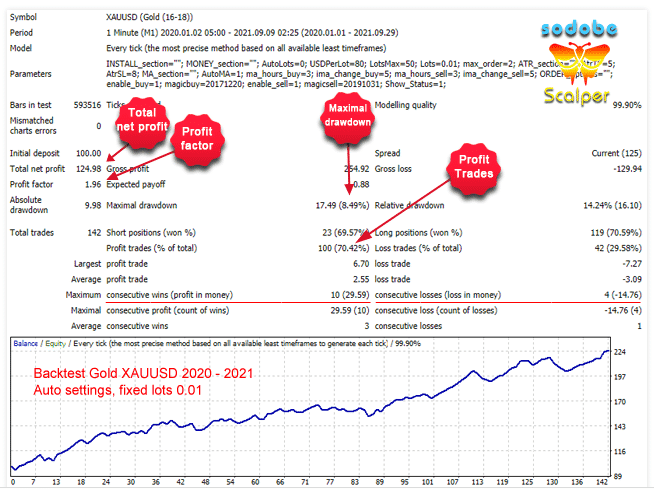 We have the backtest data for the XAUUSD pair. As per the report, the robot managed to carry out 142 trades from January 2020 to September 2021 within the 1 minute timeframe. It won 70.42% of the trade and generated $124.98 of the total net profit. Obviously, this profit amount was small considering that the trading activities went on for more than a year. The success rates of 69.57% for short positions and 70.59% for long positions further illustrated the sad state of the EA's performance.
Trading results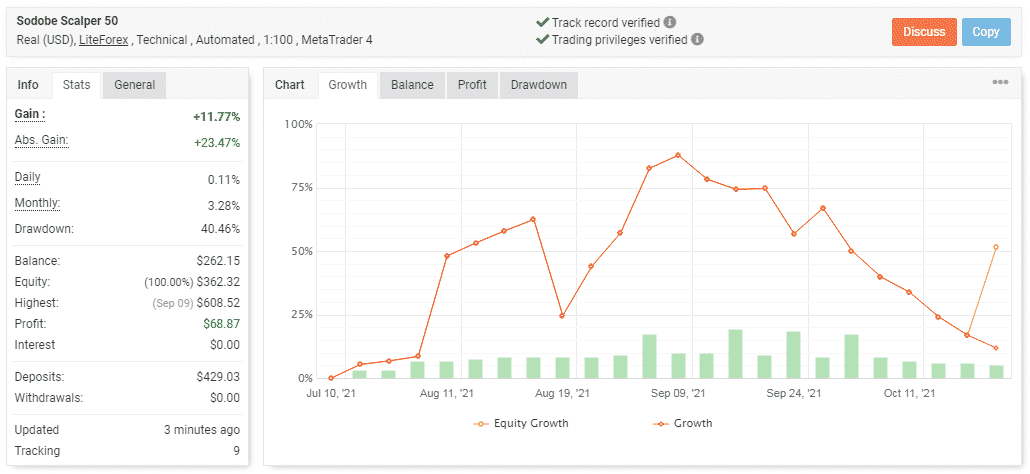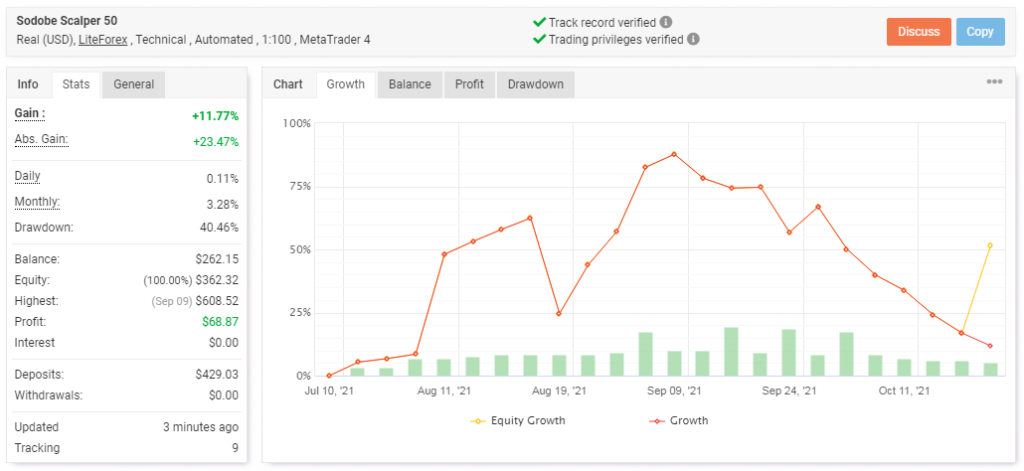 Sodobe Scalper is currently running a real USD account on Myfxbook.com. The EA has increased the account by 11.77% since its activation on July 10, 2021. Using a deposit of $429.03, the system generates a monthly profit of 3.28%, which is conspicuously small. Even worse, the drawdown rate has accumulated to 40.46% in a span of 3 months. This is a sign that the strategy used is prone to losses.


We can see that the software doesn't trade daily because it has only placed 35 orders so far. Even these trades aren't that successful. A majority of the short positions end up in losses. So, we only have win rates of 33%. At least the long positions (68%) bring in some significant gains. The average loss of -258.54 pips is way higher than the average win of 190.95 pips and also highlights the system's high loss rate.

This account is about to be wiped out. It will take a miracle to save it.


The long positions recorded a profit of $125.94. However, none of the short positions were profitable.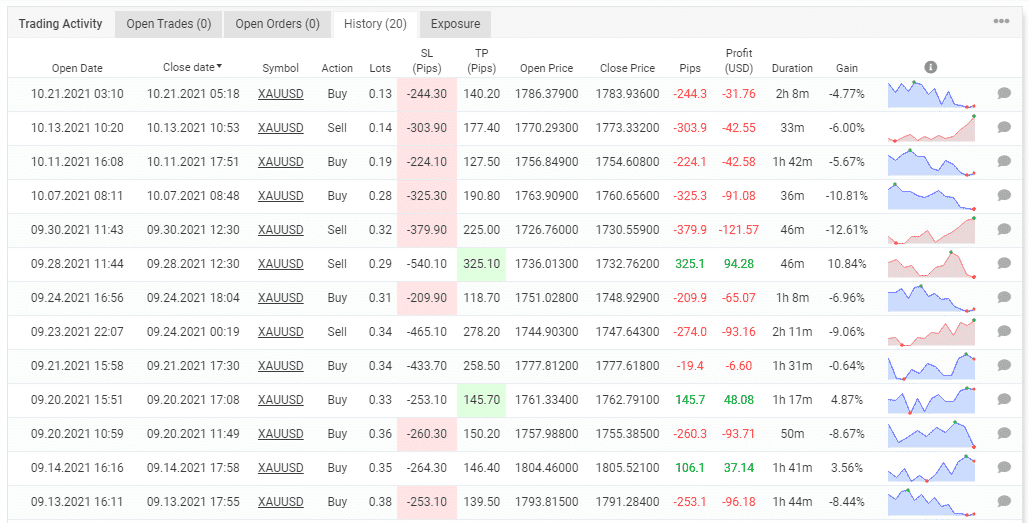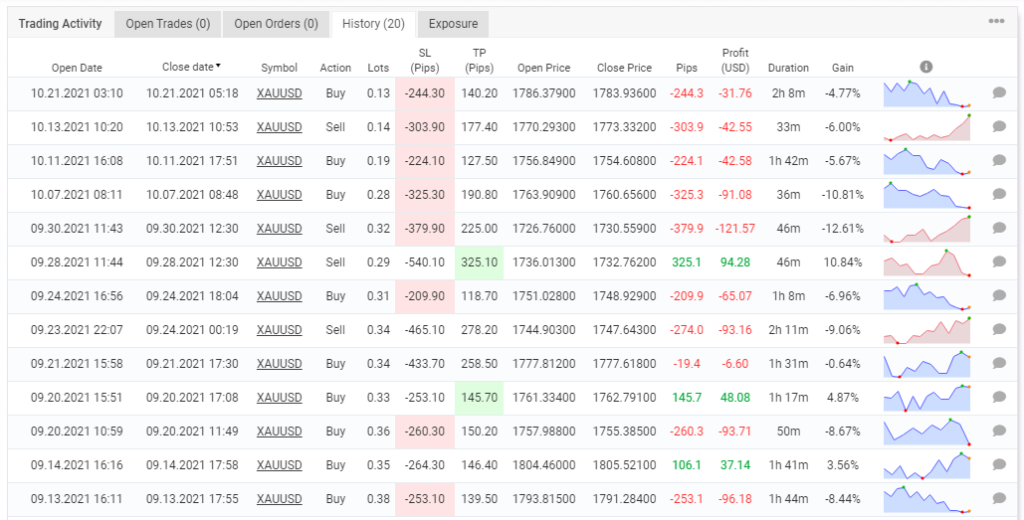 The robot's high losing streak was conspicuous. The SL and TP levels were large.
Other notes
Sodobe Scalper has been updated about 10 times since its publication on mql5 on August 4, 2021. Its initial version was 1.1, while the latest one was 3.1.
People feedback
The presentation includes a handful of customer reviews. From the testimonials, we can tell that these traders are satisfied with the product. One says that the EA is good, while the other asserts that it generates stable profits and a low drawdown. If what we have seen in the trading results is anything to go by, then these clients could be lying. They might even have been paid to give positive feedback.

Wrapping up
Advantages 
The vendor features the backtest report
There is a live account on Myfxbook
Disadvantages
The drawdown rate is high
Low rate of returns
High risk of ruin
There is no doubt that Sodobe Scalper will wipe out your account in a flash. The strategy in use is very dangerous. Within 3 months, it has managed to eat away almost 50% of the capital. Therefore, we have a very weak account with a low survivability rate. The profits obtained are so small and cannot even salvage the account.