Automated trading systems in Forex aim at making the task of traders easy, quick, and efficient. Among the various systems available now, EFC Indicator from Trading Strategy Guides claims to provide an easy reversal trade identification.
Working on any timeframe, this system assures accurate entries and stop-loss features resulting in appreciable profits. Is this indicator system a reliable one? Read this EFC Indicator review to know about this trading tool and our recommendation.
Is EFC Indicator Perfect For Trading?
Compatible with the MT4, Ninja Trader 7, and Ninja Trader 8 platforms, EFC Indicator is capable of providing revenue of more than $1,000 per week. Set up to work for experienced as well as beginner traders, the system operates at a risk to reward ratio of 1:3.
This will result in profitable trades even if you win just 33% of them. Important features include specific analysis based on the time frame, automatic filtering of bad trades, use of appropriate stop-loss, exit and entries, and 50 candle arrangement for any specific time frame.
The system has a scanner that can search EFC trade setups for 30 currency pairs. We could not find any information on the developer except that it is part of the Trading Strategy Guides website. This website has several trading products and guides for helping traders.
There is no separate customer support mail for this system other than the general Trading Strategy Guides mail contact. The lack of vendor transparency makes it difficult to assess the system's reliability and efficacy. And, as far as the strategy used here, the system works on multiple pairs and any time frame, which is not how Forex robot systems work.
The specificity of the automated Forex trading systems helps to eliminate the unwanted time frames and ineffective pairs. However, with this strategy, you need to have your research ready on the appropriate pairs and time frames you need to use.
How to Start Trading With EFC Indicator
Priced at $99, the product also comes with additional rewards, such as free support and a special EFC access pass to the strategy used. However, support should be part of the system as is the case with most Forex robots. The fact that this is given as a bonus is just a marketing gimmick used by the vendor. Furthermore, the vendor provides a money-back guarantee of 30 days from the date of purchase.
EFC Indicator is ideal for scalpers, day traders, and swing traders with its simplified set-ups, and easy to understand and read charts. The working method is based on capitalizing on reversal trades with the indicator helping to identify the trades quickly. A sum of nearly 210 possible setups on reversal trades can be done on a single dashboard.
EFC Indicator Backtests
Although the official website indicates the presence of backtest and proven success rate indicator, we could not find any backtests on the site. Other than a few screenshots revealing how the system works, there is no other information to corroborate the vendor's claim. This lack of information is a red flag denoting the vendor is not transparent about the performance of the system.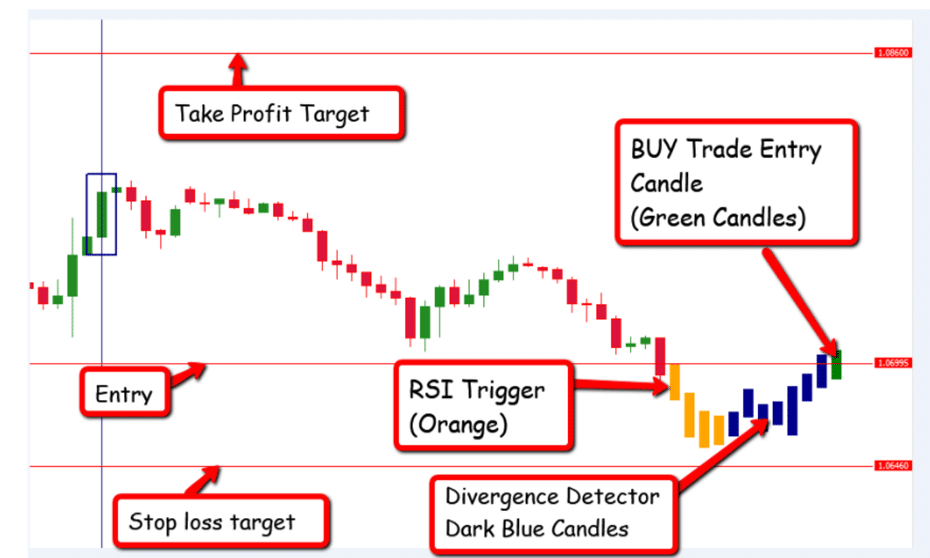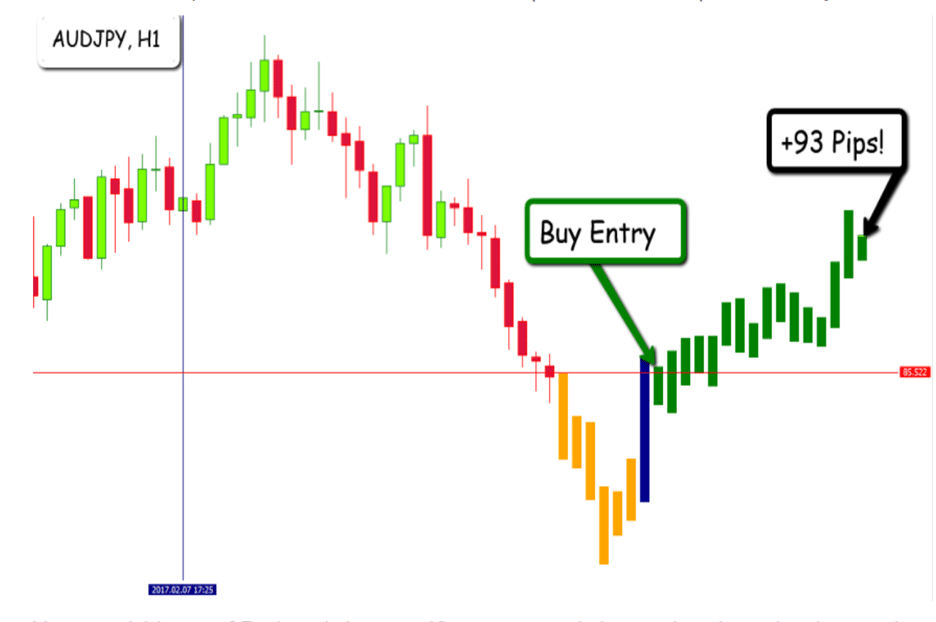 Trading Results
Verified results of the trading done using this system will help in understanding the strategy used and its effectiveness. Unfortunately, we could not find any trading results for this system. This is another red flag that makes us doubt the efficacy and authenticity of the system.
EFC Indicator Scanner and Dashboard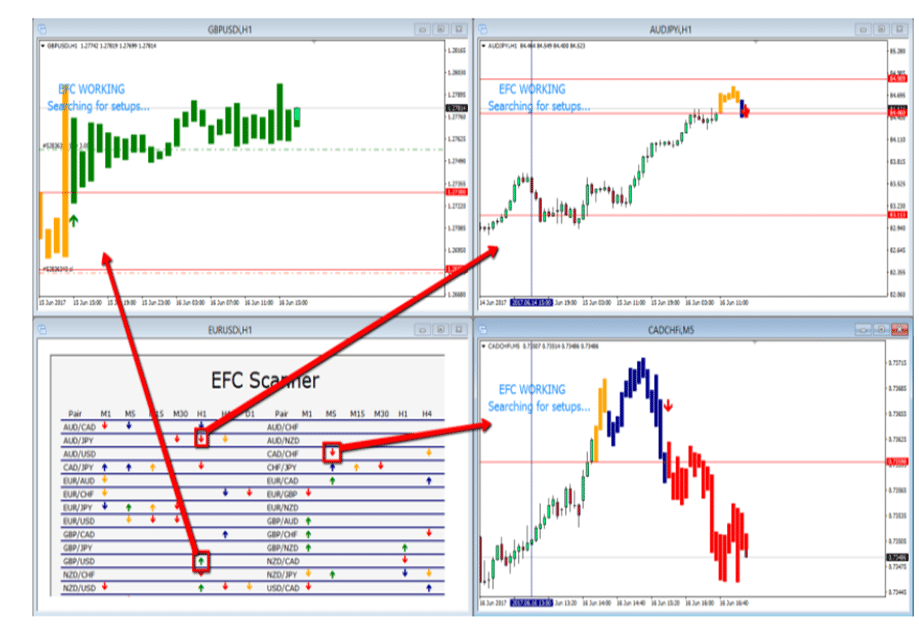 The scanner tool along with the dashboard feature is offered free with the EFC Indicator. While the scanner provides push notifications and alerts with a quick set up feature, the dashboard allows over 210 active trades under a single window.
A total of 30 currency pairs using 7 different types of time frames can be scanned by the scanner. According to the developer, the scanner can analyze all the pairs instantly compared to doing them manually. Since there are no results available for testing this system, we could not assess how effective these features are in real-time.
People Feedback
We were unable to access customer feedback on this indicator system. However, we found a few on the Trustpilot site for Trading Strategy Guides, which apply to this trading tool too. As you can see from the screenshots below, the customer support is bad.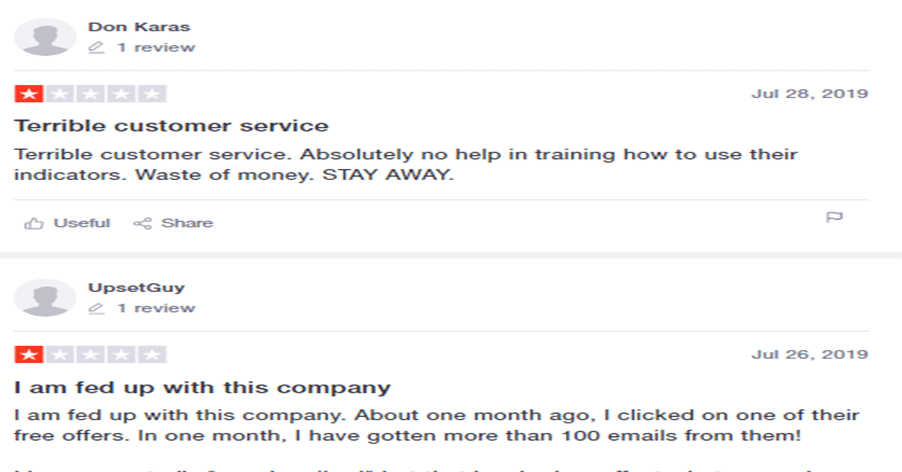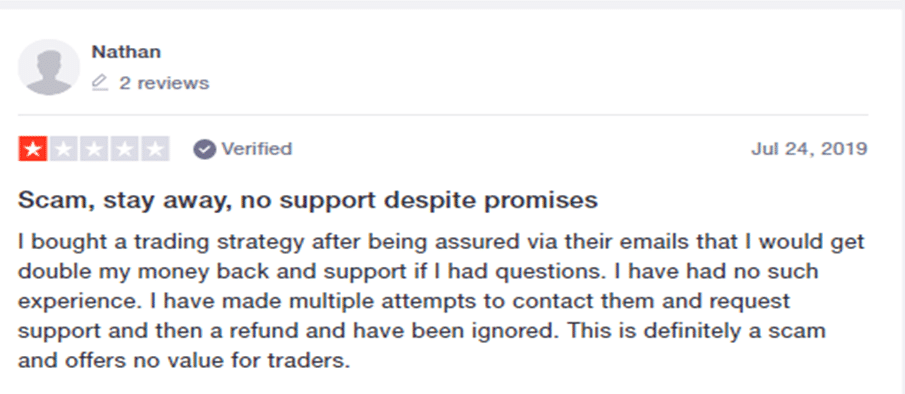 Conclusion
Advantages
Price is affordable
60-day money-back guarantee
Disadvantages
The vendor does not provide verified trading results
Strategy used is not explained clearly
Poor support
Summary
Wrapping up our EFC Indicator review, it is clear that the trading tool has several downsides. Some of the major weaknesses include the absence of verified results including backtests and live trading results. Furthermore, we could not find information on the vendor and the support provided.
Inadequate strategy explanation is another major shortcoming to note with this system. Even if there are several screenshots on the official site explaining the entries and exits used, they are not sufficient to evaluate the effectiveness of this indicator. With so many drawbacks, we do not recommend this indicator.