Luring traders with the assurance of high profits and low drawdown, Swing VIP EA is another automatic trading system promising steady profits. Claiming to be the first Forex robot using price action for its strategy, Swing VIP EA guarantees a monthly return of 16% to 30%. Is this automated Forex trading system the right one for you? Read our review to know about the expert advisor in detail and our recommendation.
Is Swing VIP EA The Ideal Fit For Traders?
Swing VIP EA is developed and launched in March 2020 by Sinry Advice, a registered company in Malaysia. The SSM certified company is made up of a team of 18 members including a developer and marketing team based in India and London respectively.
As an MT4 compatible Forex robot, this system claims to use advanced analysis of the market situation in a fraction of a second with its proprietary indicators that help in a successful financial market foray.
Some of the feature highlights of this automated trading system include trading five currency pairs simultaneously, three years of testing, easy default settings, a single payment, and automatic trading. According to the developer, this Forex robot does not use the Martingale strategy. Instead, it analyses market information from all aspects.
As far as strategy use is concerned this EA uses price action and trend methods for trading using a 5-minute time frame. We could not find more information about how the system uses the two methods other than the definition of the two methods on their website.
How to Start Trading With Swing VIP EA
Priced at $98 which is a discounted rate from the original price of $250, the Swing VIP EA package includes two separate license keys for the demo and the real account. The price is inclusive of free lifetime updates. A 14-day refund is offered in case users are dissatisfied with the results.
For the trading, five pairs are recommended using a 5-minute time frame. A balance of $500 is recommended with a lot size of 0.01 and continuous internet connectivity is necessary for proper performance.
Swing VIP EA Backtests
We couldn't find any backtests on the official site. While backtests are just an indicator of historical performance that do not serve to predict future performance, they help in providing insight into the trading strategy used. With the lack of backtests, it is clear that the developers are not true about the performance they predict.
Trading Results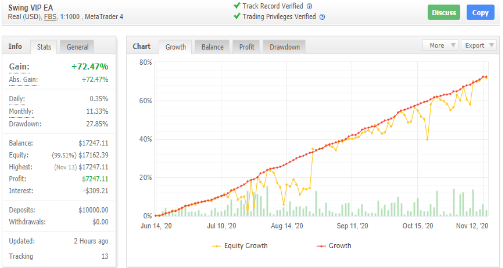 From the live real account on the Myfxbook site provided by the developer, we could see an overall gain of 72.47% and a drawdown of 27.85%. A daily gain of 0.35% and a monthly gain of 11.35% are shown with a trading history starting from June 2020 up until the present.
Plus, a total of 587 trades have been done with the average win coming at 26.98 pips and average loss at 22.06 pips. From the trading history, we could identify the large-sized lots and long duration trades, which did not give appreciable gains that the developer promises on the website.
On a closer perusal, we could identify the high-risk trades done over a short span of a few months from the high drawdown percentage.
Risky Strategy
According to the developer, Swing VIP EA can bring a profit percentage of 16 to 30% with an accuracy of 76% and assurance of 83% more profits. From the trading results, it is clear that the claims of the developer are false.
People Feedback
We could not find any user feedback for the Swing VIP EA on trusted sites, such as Trustpilot, Forexpeacearmy, etc. The only user feedbacks are from the official website, which we think is manipulated.
Summary
Advantages
A verified real account on the Myfxbook site
Price is affordable
Disadvantages
Trading results are only for a short duration and size
Trading strategy is not explained clearly
Performance does not match developer guarantee
Wrapping up our review of Swing VIP EA, the lack of backtests and trading performance not matching the profits assured by the developer are two major downsides that will make traders hesitate when considering this automated system. Other notable downsides we spotted include lack of clear trading method, absence of user feedback, and risky trading methods. For beginners, professionals as well as those in between, the offerings of this Forex robot do not pass muster. Hence, we would not recommend this automated trading system.