With the attractive offer of automated Forex trading in a single click, Elite Forex Scalper ensures traders with quick, easy, and profitable trading. Claiming to be a team of entrepreneurs and Forex traders experienced in Forex, this expert advisor offers automatic trading solutions.
With preset trade settings exclusively coded for the Metatrader 4 platform, this Forex robot assures risk protection even in the worst market situation. Are the claims of Elite Forex Scalper true? Is it the right system to invest your hard-earned money? Find out what our Forex experts have to say about this expert advisor in this Elite Forex Scalper review.
Is Elite Forex Scalper a Good Trading System You Can Rely On?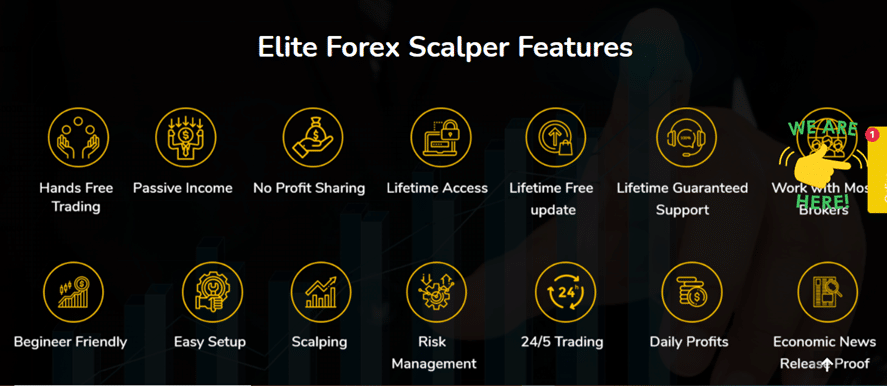 Based on the vendor information provided on the official site, this expert advisor executes trades using preset settings and a strategy that is a blend of grid, conservative Martingale, hedging, and scalping methods. Risk protection is part of this software and it helps safeguard users from big drawdowns.
The developers behind this automated Forex trading system claim to have 6 years of experience in Forex trading. Other than this information, we could not find the names, location, and other pertinent details that would be useful to verify their reliability. While the vendor does not disclose the time frame details, the currency pairs focused on by this system include EURUSD, USDCHF, GBPUSD, USDCAD, and NZDUSD pairs.
How to Start Trading With Elite Forex Scalper
Free access to the support channel and fully automated trading system for one live account is made available for interested traders. This free offer does not come with lifetime access, dedicated support, use of any broker, free setup help, and minimum balance. A paid package that costs $249.99 with a lifetime license is also offered. This includes one live and two demo accounts and all the bells and whistles that are not included in the free package.
Settings recommendation include Forex broker with 1:500 leverage. An initial capital of $300 to $500 is recommended while the recommended balance is $1,000 to $3,000. Cent accounts are recommended for deposits under $10,000.
Elite Forex Scalper Backtests
Although the developers claim to have over 6 years of experience and have a proven track record via the results verified on the myfxbook and the fxstat sites, they do not provide backtesting results on the official page. Strategy tests help us analyze the trading method and its efficacy. The absence makes us suspicious of what the developer is not revealing.
Trading Results
Several live accounts verified on the myfxbook and the fxstat sites are made available by the vendor on the official page. We analyzed one of the real live accounts verified on the Myfxbook site. From the screenshot of the live results below, you can see a gain of 53.47% and an absolute gain of 61.09%.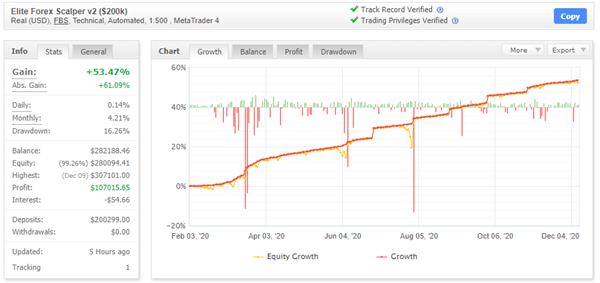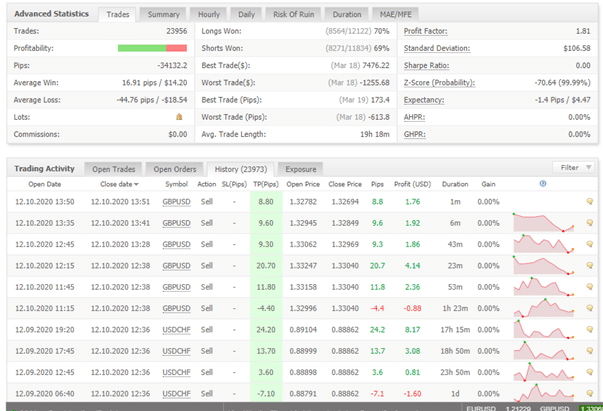 While the discrepancy between the two values is minimal, there should not be a difference, which makes us suspicious of the veracity of the result. The drawdown percentage of 16.26 seems moderate for the high number of traders executed.
However, the vendor has hidden the lot size detail, which raises a red flag regarding the strategy used and the gains shown. And, for a system that has commenced from February 2020, the number of trades (23956) seems too high. What we suspect is a very high-risk strategy is used, which is not what most traders are comfortable with.
Performance Claims
According to the vendor, the average monthly return you can expect with this system at the low-risk setting is 3% to 7%. The percentage increases with the mid-risk (7% to 15%) and high-risk (15% to 30%) settings.
However, the vendor is also quick to denounce guaranteed profits claiming that past performance is not a guarantee for future returns. And, from the drawdown percentage seen in the results, we could see that a high drawdown results in more gains, but with a very high-risk strategy, which is a bad thing.
People Feedback
We could not find user feedback for this automated Forex trading system on reliable third-party sites like Forexpeacearmy, Trustpilot, etc. While the vendor does provide a few testimonials on the official page, these cannot be trusted as there is always the danger of manipulation. We would like genuine user reviews as they help to evaluate the system more effectively.
Summary
From our comprehensive assessment of the Elite Forex Scalper system, we could find more shortcomings than advantages. Here are the main advantages and drawbacks of this Forex robot:
Advantages 
Fully automated trading system
Verified trading results
Disadvantages 
Combination strategy that includes Martingale is a high-risk strategy
Vendor transparency is not present
No money-back guarantee offers
Summary
Wrapping up our Elite Forex Scalper review, the system has several downsides that detract us from the few advantages present. We find the lack of vendor transparency and absence of user feedback as tell-tale signs that this system is not to be trusted.
Furthermore, the vendor does not provide backtests and the trading results, although verified, look too risky for an average trader to attempt even the free offer. The use of Martingale strategy, even a conservative one, is something that we would not recommend and with this Forex robot having several other shortcomings, we do not recommend it.