Ethereum: Market Sentiment
Analyzing sentiment can often explain price moves that technical and fundamental analysis cannot. In the realm of cryptocurrencies, the primary sentiment indicator is the Crypto Fear & Greed Index (FGI), which essentially tells us how the overall crypto market is feeling.
The index considers several data points relating to volume, primarily volatility, social media, Google searches, and market cap. It will then have a reading ranging from 0 to 100 representing varying degrees of fear and greed.
Generally, 0-50 is considered 'fearful,' while 50-100 is regarded as 'greedy.' More specifically, any reading between 0-25 or 75-100 is seen on the extreme end of fear or greed, respectively.
The index can be best interpreted with a legendary Warren Buffett quote: "Be fearful when others are greedy and greedy when others are fearful."
In simpler terms, the 'Oracle of Omaha' proposed being greedy or 'buying' when investors are worried or fearful, and vice versa. Presently, the FGI sits at 20, suggesting extreme fear and potential buying opportunities.
Interestingly, the reading has stayed around the 20-30 range over the past month. (figure 1).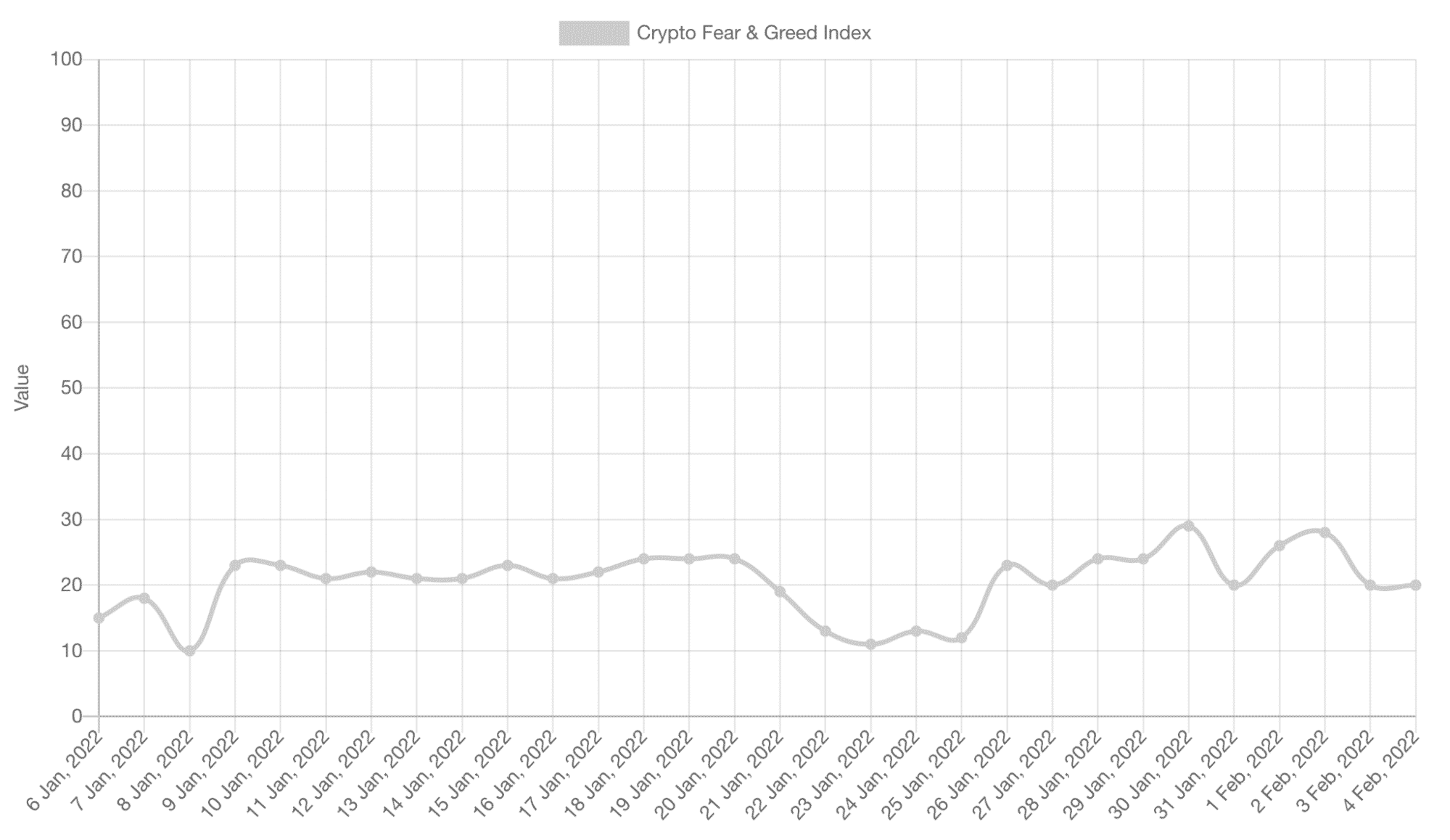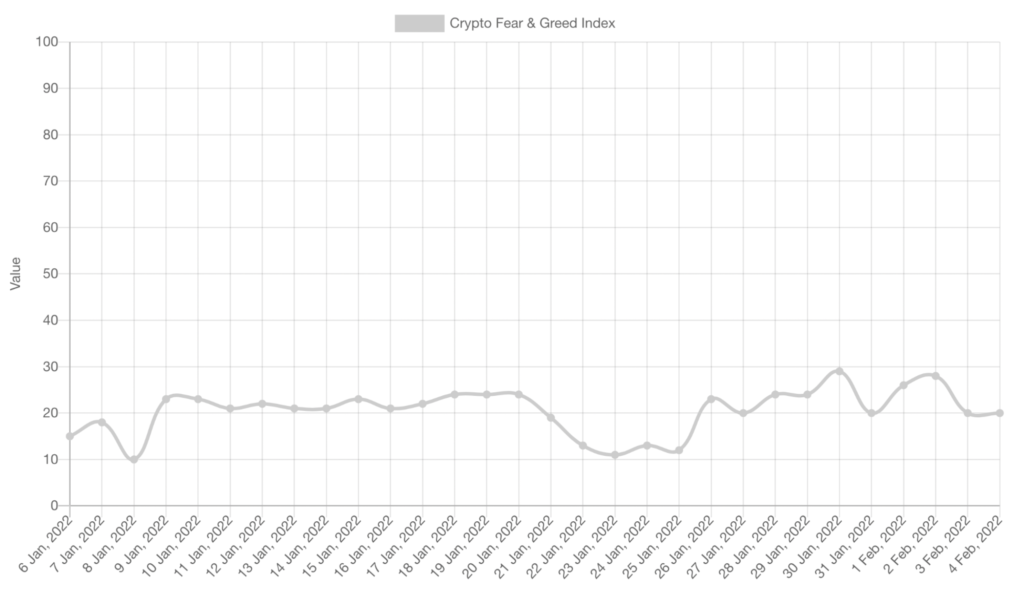 Needless to say, no prudent investor acts on sentiment alone and finds correlations with technical and fundamental analysis as well.
Technical analysis
On the daily chart below, we're presenting a classic moving average crossover system using the 50-day (orange) and 200-day (blue) periods (figure 2).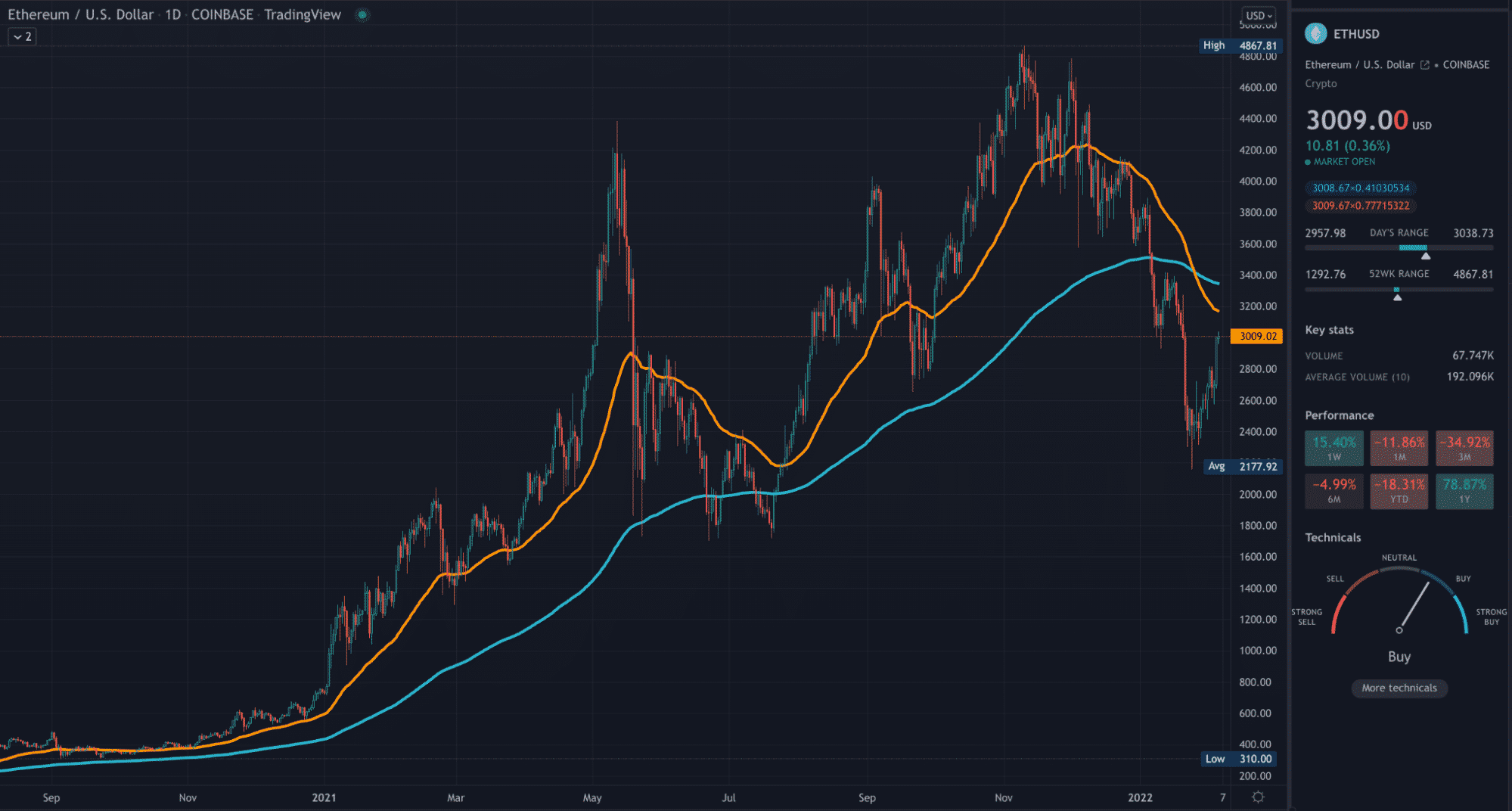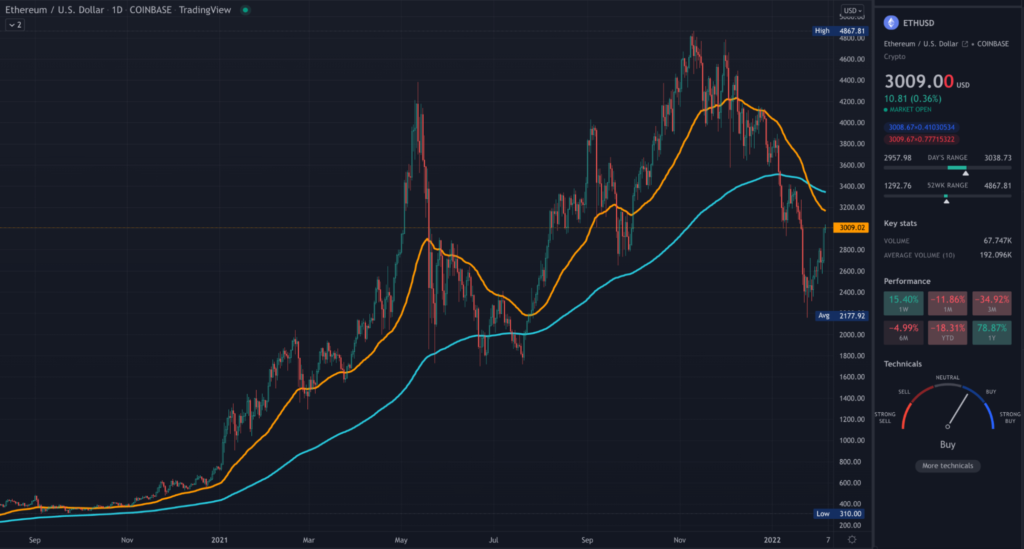 Here, traders look for the 50 to cross on top of the 200. At the same time, the market should be trading above both moving averages. As is evident on the chart, ETH's price is well below, and the cross hasn't occurred yet.
This conservatively suggests a temporary downtrend, characteristic of most cryptocurrencies presently. Despite this, Ethereum price forecasts for the near future are still optimistic.
Fundamental analysis
Let's explore two of the key fundamental factors for a bullish Ethereum price forecast in the long term. Shaan Puri, a known crypto investor, put up an interesting Twitter thread outlining several reasons why he believed ETH was undervalued.
One of these was that Puri saw ETH as being somewhat deflationary (despite having an unlimited supply) due to the EIP-1559 or 'London hard fork' implemented in August 2021.
Here, the gas fees are supposed to be more stable. Additionally, a certain amount of ETH within these fees is 'burnt,' meaning less ETH circulates the markets. According to Watch The Burn, a site specifically tracking how much ETH has been 'burned' since EIP-1559, over 1.2 million ETH has been removed.
Of course, with fewer coins usually comes more demand, and more demand might indicate a pricier ETH.
Lastly, Eth2 is still the most anticipated significant upgrade to Ethereum that aims to make the network far more scalable with the introduction of proof-of-stake and sharding.
There hasn't been a definite date for this, with estimates ranging from June 2022 to sometime in 2023. Nonetheless, if Ethereum 2.0 does happen, it will be the final piece of the puzzle in making Ethereum more widely adopted than ever before.
Ethereum (ETH) Price Prediction: 2023-2025
Along with Bitcoin, analysts have been making all kinds of Ethereum price predictions for the near future. The anticipated 'magic number' for ETH is $10,000, with many hoping the price will reach this point by 2023 or earlier.
2023 forecasts
Most of the forecasting sites we observed put Ethereum around $5,000-$5,500 by 2023. Interestingly, if you bought ETH this time last year without selling, your investment would have increased by 78%.
A gain of the same proportion would make Ethereum worth $5,396, not far off from the forecasts. PricePrediction.net estimates a minimum of $5,143. On the more ambitious side, Wallet Investor sees ETH valued at a maximum of $5,556 when 2023 begins (figure 3).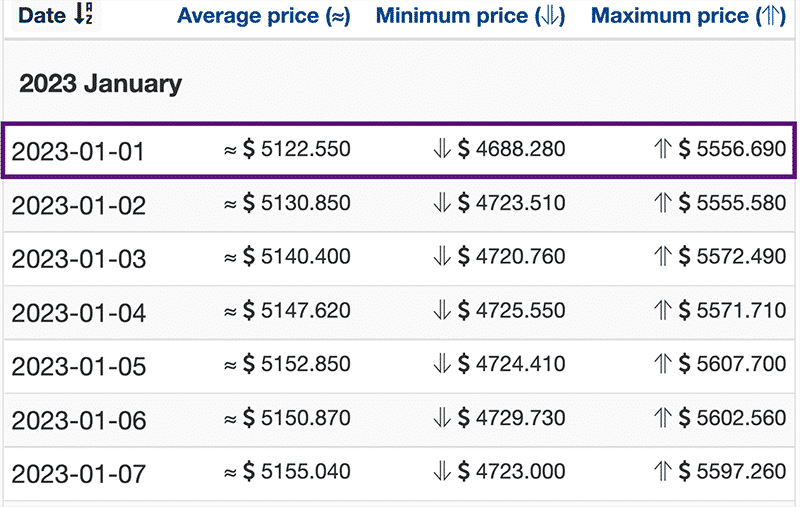 2025 forecasts
Plenty of the forecasting sites we detected show 2025 could be the year where ETH passes the elusive $10,000 mark. For starters, a poll surveying its users on CoinPricePredict provided an average price prediction of $11,404. 
$12,091 is the minimum 2025 forecast from PricePrediction.net. On the other hand, Wallet Investor sees ETH as worth anywhere from $9,326 to $12,062.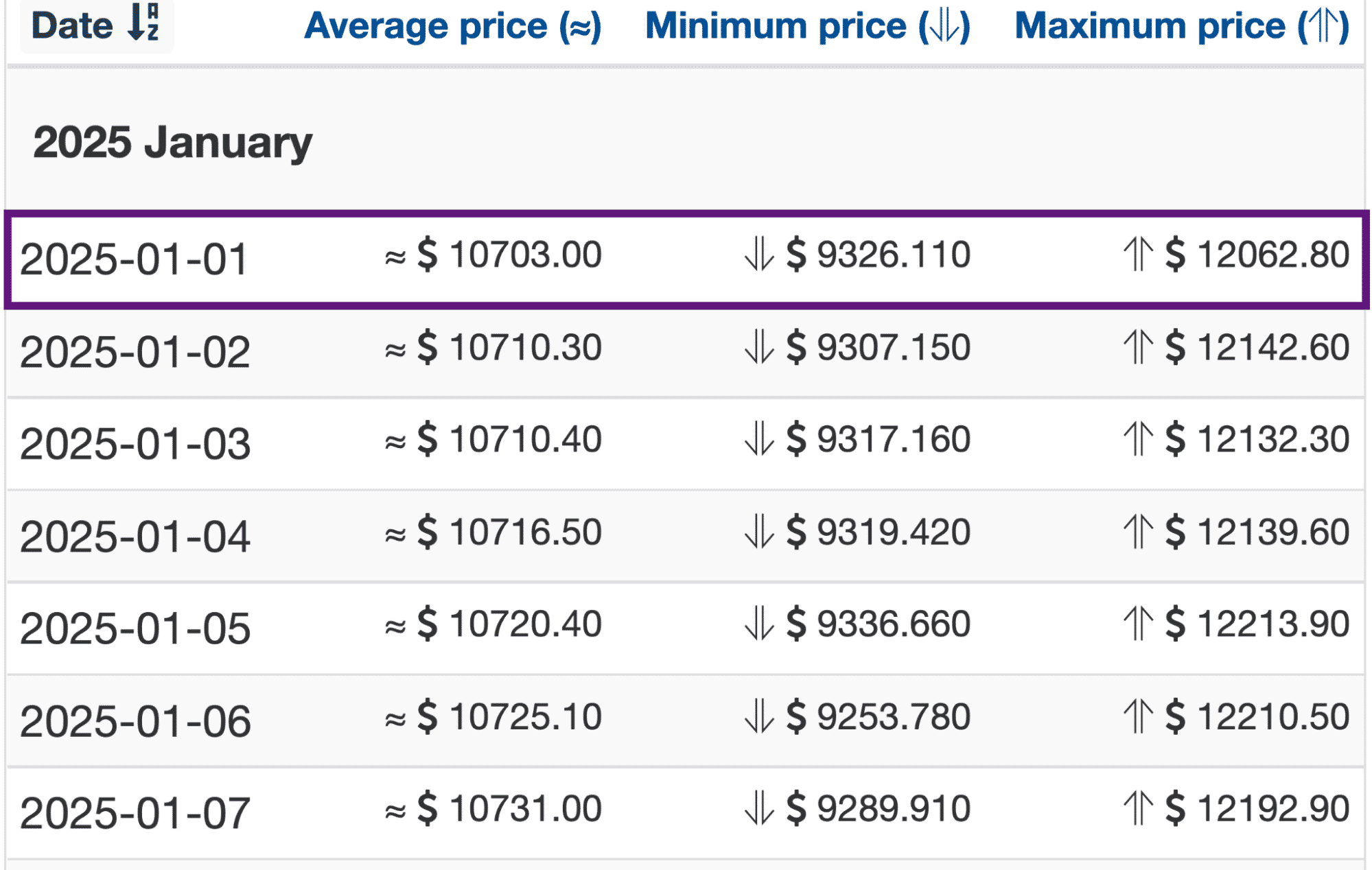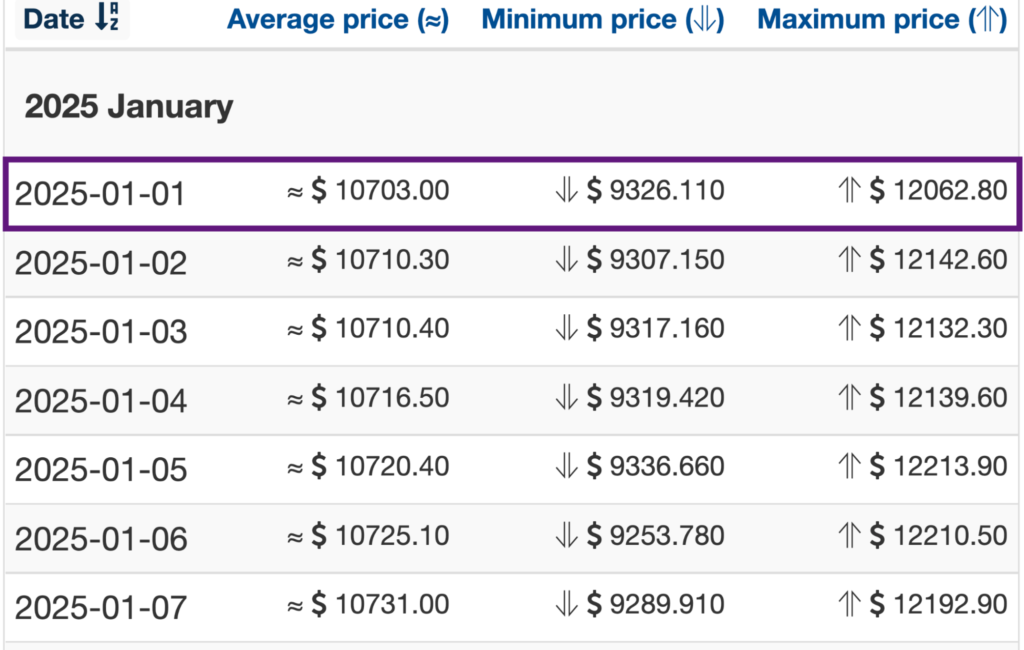 Realistically, if the crypto market does perform well again, these predictions may prove rather conservative.
Ethereum Frequently Asked Questions (FAQs)
Is Ethereum real?
Yes, it is a highly reputable project with well-known founders and adoption from millions of users and developers.
What is the Ethereum price today?
At the moment, ETH is worth $3,022.
Will Ethereum's price reach $10,000?
If the overall crypto market goes into bullish territory, $10,000 is possible.
Should I buy Ethereum?
It is one of the safest bets for altcoins as Ethereum is the second-most valuable blockchain after Bitcoin.
Where do I buy Ethereum?
ETH is available for purchase at countless cryptocurrency exchanges like Coinbase, Kraken, FTX, Binance, Bitstamp, etc.