Falcor Forex Robot is said to be a lean, mean trading machine. It can allegedly help you to take charge of your charts in real time. So, new traders with little to no experience with Forex trading are encouraged to purchase the EA. Let's see if these claims are true in this review.
Is this EA a reliable trading system?
We have summarized below the features of the robot:
It can work on micro, mini, and full size lots.
No experience is needed to use it.
The system can work concurrently with other systems.
It is self-reliant.
It watches the markets day and night continuously.
The robot can trade with several currency pairs.
It runs inside the MT4 trading platform.
It is easy to install.
Forex Robot Trader (FTR) is the vendor of this robot. The company has produced several trading systems, which are notoriously unreliable. Some of them include Odin, Vader, and Ganon. The location, contact details, and physical address of the firm have not been revealed.
Falcor is specifically designed to utilize price action to find trades as they happen. Unlike other systems that rely on the past data to find trading signals, this robot focuses on the present. For it, the only thing that matters is what the price is doing currently. This makes its trades fresh, with no lag or delay.
Sad to say, this strategy description is ambiguous and unacceptable. The vendor doesn't specify what positions the EA takes when the price falls or rises. It is also not clear what type of price action trading is involved. The team should do itself a favor and explain the trading strategy meticulously. Otherwise, seasoned traders will not give their product a chance.
How to start trading with Falcor Forex Robot
The current retail price of Falcor is $79. This is 60% off the regular price. A money-back guarantee is not mentioned. So, it is basically not offered.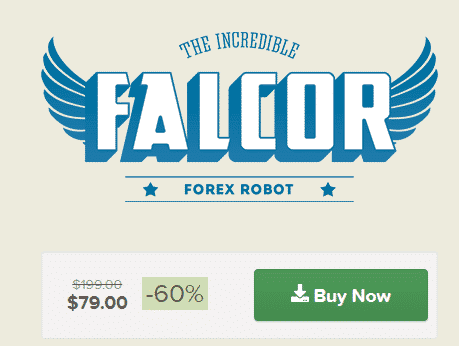 All you need to do for Falcor to start trading for you is to activate it once attached on the MT4 chart. The EA will begin looking for trades based on the strategy we described earlier.
Falcor Forex Robot backtests
Backtest results are missing. Chances are that the team didn't take the time to test the system on historical data. Consequently, we don't know what kind of results it can produce over a long period. This makes it a dangerous tool because it may be having theoretical or technical flaws, which have not been rectified yet.
Trading results
The devs do not provide verified trading results. Rather, they showcase several trading statements that indicate how the EA performed since July 2021. When you look at the screenshot below, the vendor depicts Falcor as a very lucrative tool. The most profitable month had $122,000 profits, while the least one brought in $81,364. However, these figures are unrealistic and definitely fake. We would like the vendor to open a live account on Myfxbook if they are confident the same results can be reflected there. Otherwise, the available results should just be brushed off.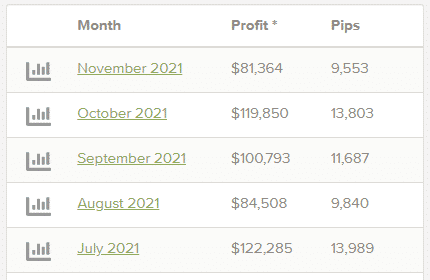 Other notes
The company has a new online software manager. You can use this platform to download copies of your purchased software, license new Forex account numbers, and many more using it.
People feedback
Another method of ascertaining if a product is effective in what it does is to listen to what users are saying about it. In this case, there are several testimonials on the official website, which are praising the EA. However, they have not been verified and are likely fake. Though we could not find reliable feedback on this tool on FPA, we came across numerous comments about FRT. The company has received a low rating of 2.2 out of 5 stars. Many users admit that the company's products perform poorly. The same can be said about Falcor.
Summary
Advantages
Disadvantages 
Vendor has a bad reputation
No verified live results
No backtesting data
Vague strategy description
You should not buy this robot. The devs want us to believe that it can produce high returns but are not ready to showcase credible live results or backtest data. This is highly suspicious. It seems that they don't want us to know how incompetent this system is. Furthermore, the vendor has a bad reputation among customers and hence cannot be trusted.