Disclaimer: The information provided here does not constitute any form of financial advice. Readers are fully responsible for conducting their due diligence before making any investment decisions.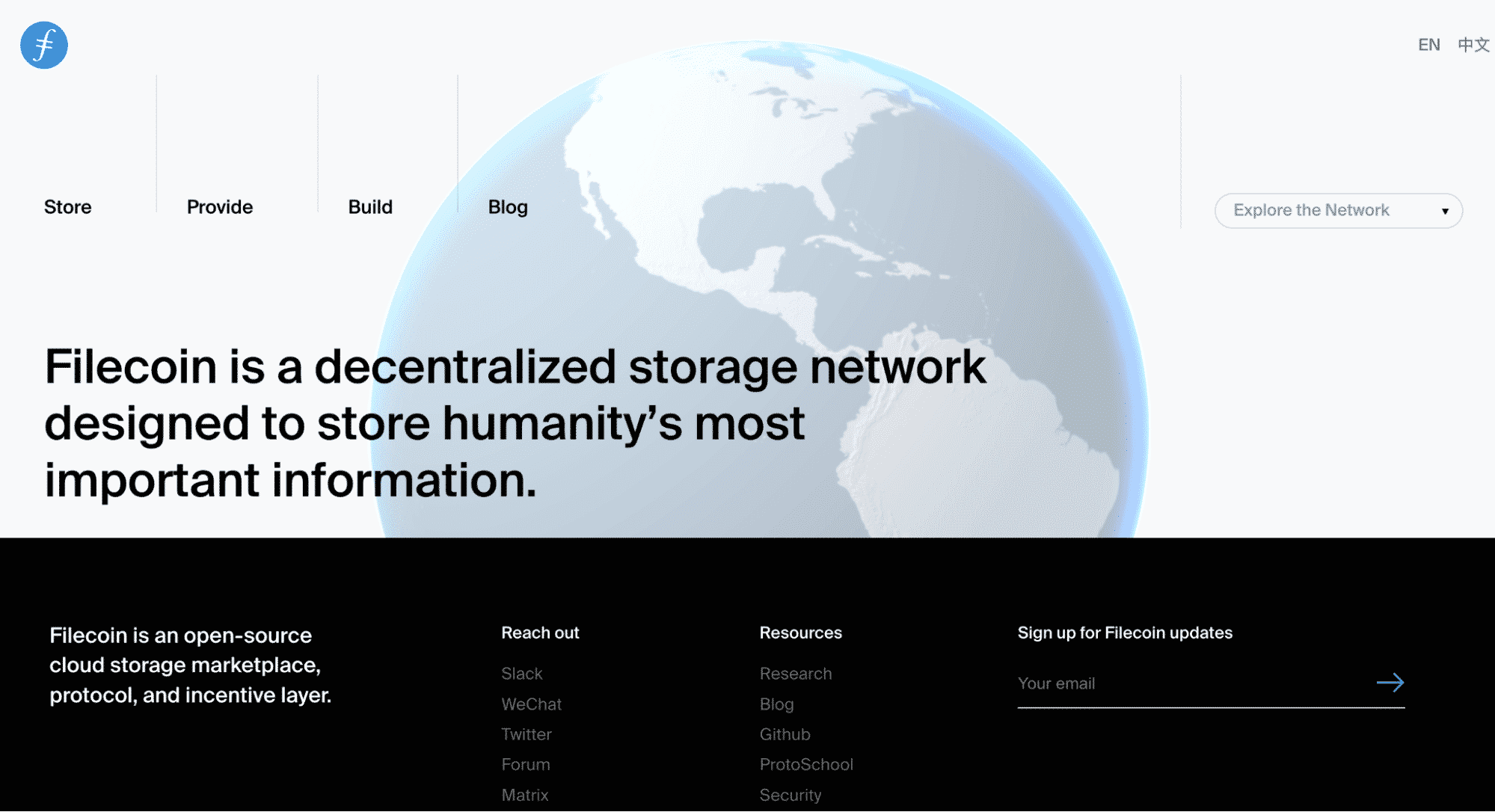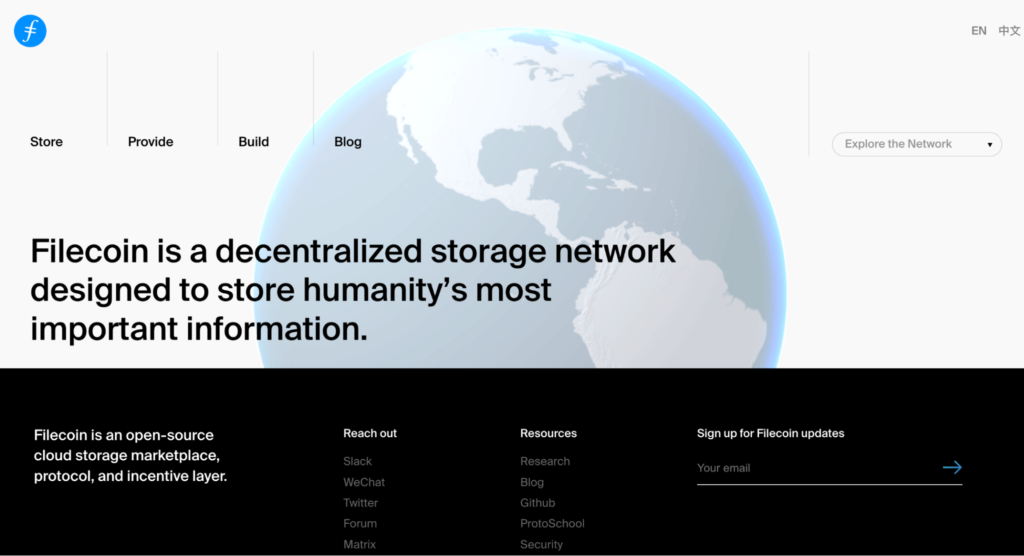 Filecoin: Market sentiment
Here, we'll look at the social media volume for Filecoin (from Bitts Analytics) and the Crypto Fear & Greed Index (from Alternative.me), the latter of which encompasses the crypto market at large.
Bitts Analytics shows the hourly volume (in terms of social media mentions) for FIL over the past 12 days.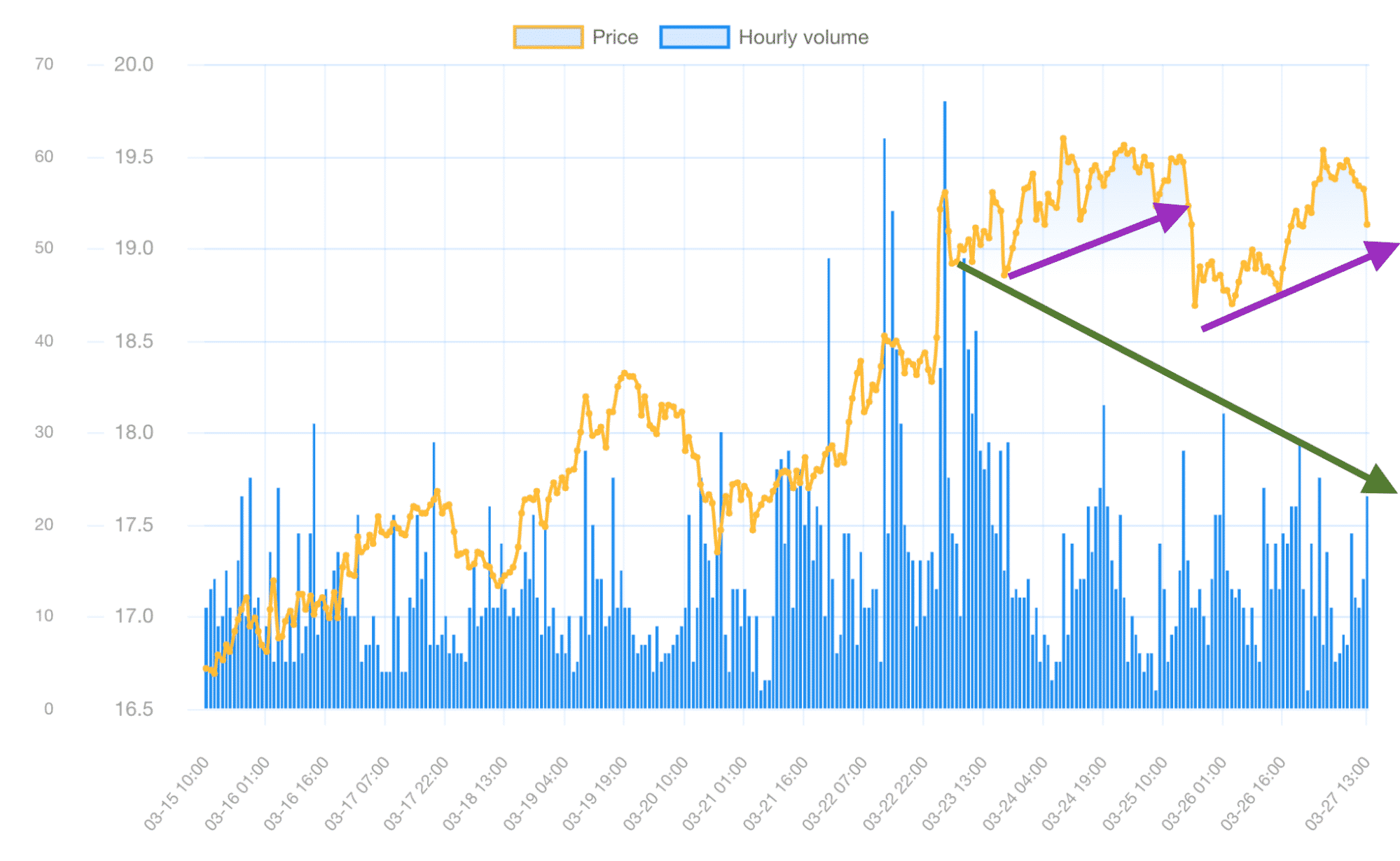 Generally, this correlates positively to price. In other words, more social media engagement tends to come with higher coin values and vice versa.
For most of the chart, increasing volume followed suit with price. However, as we've illustrated with arrows, there has been some divergence from this relationship. On the other hand, the Fear & Greed Index (FGI) shows a score of 49, which is represented as neutral.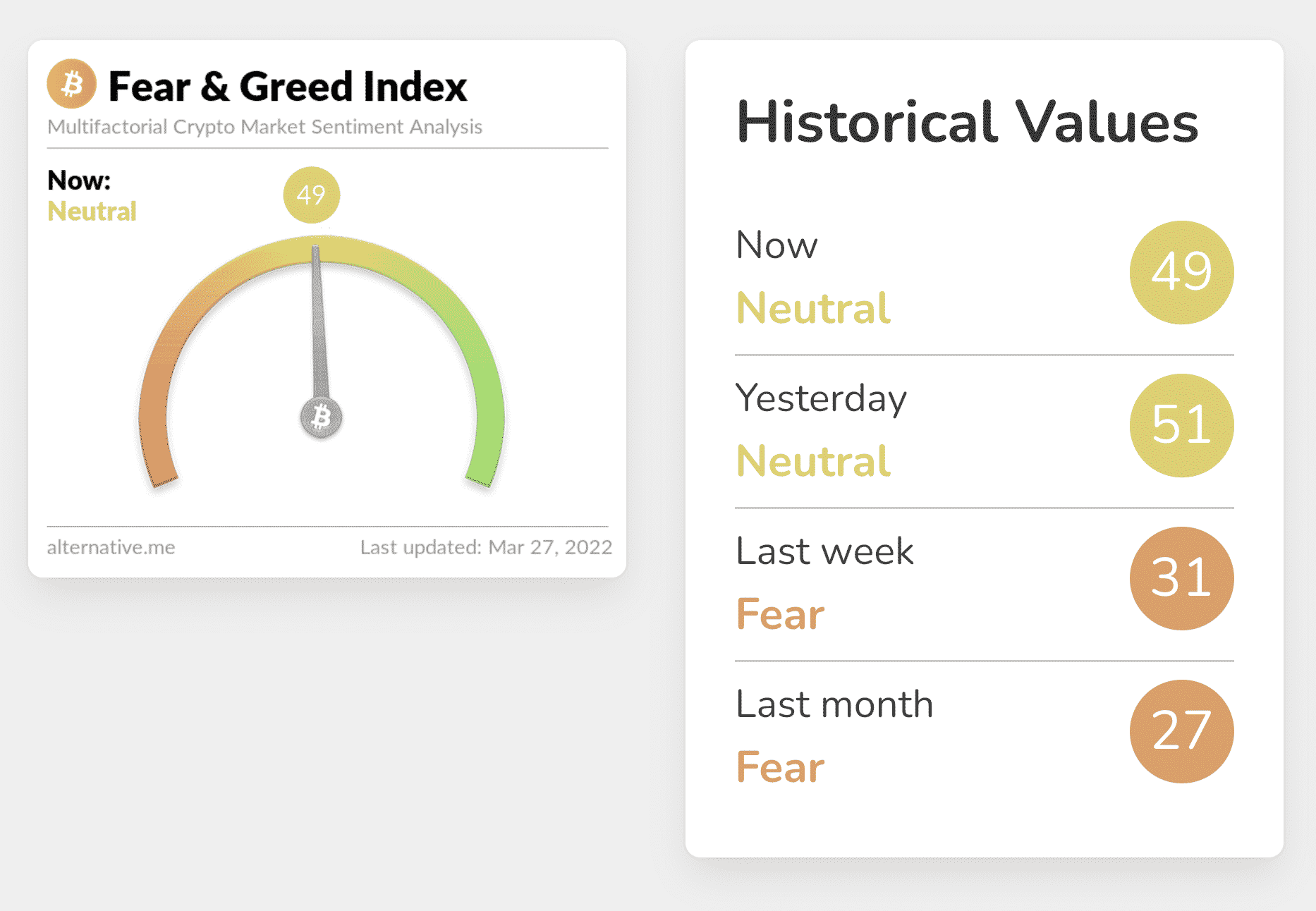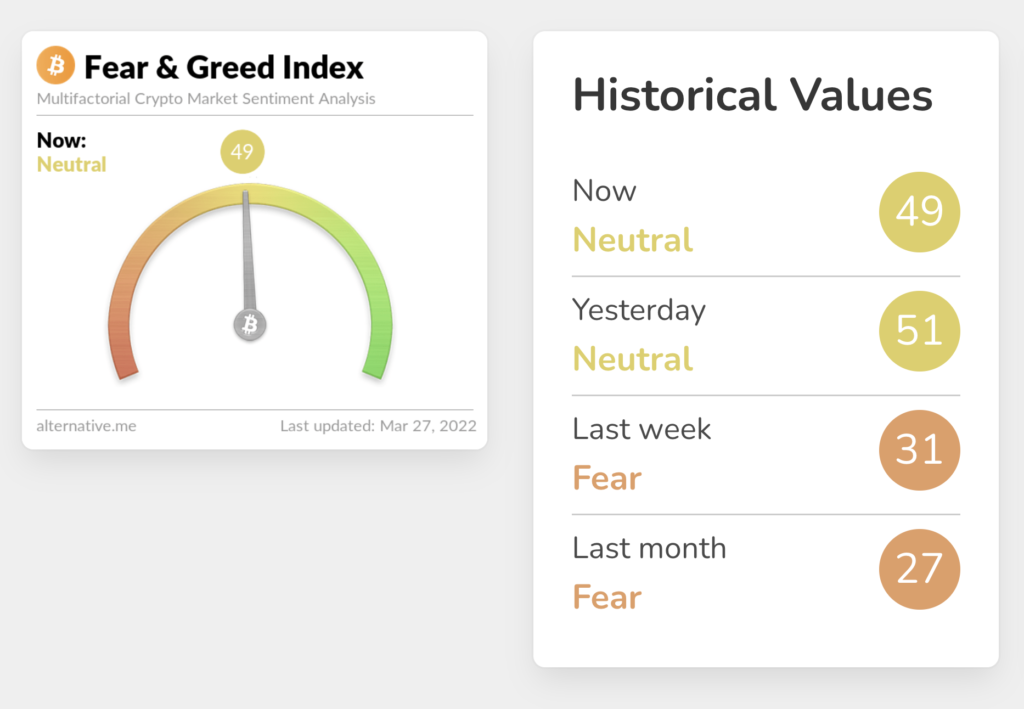 The chart below shows us an interesting trend in the past three months where the index hasn't gone above 54.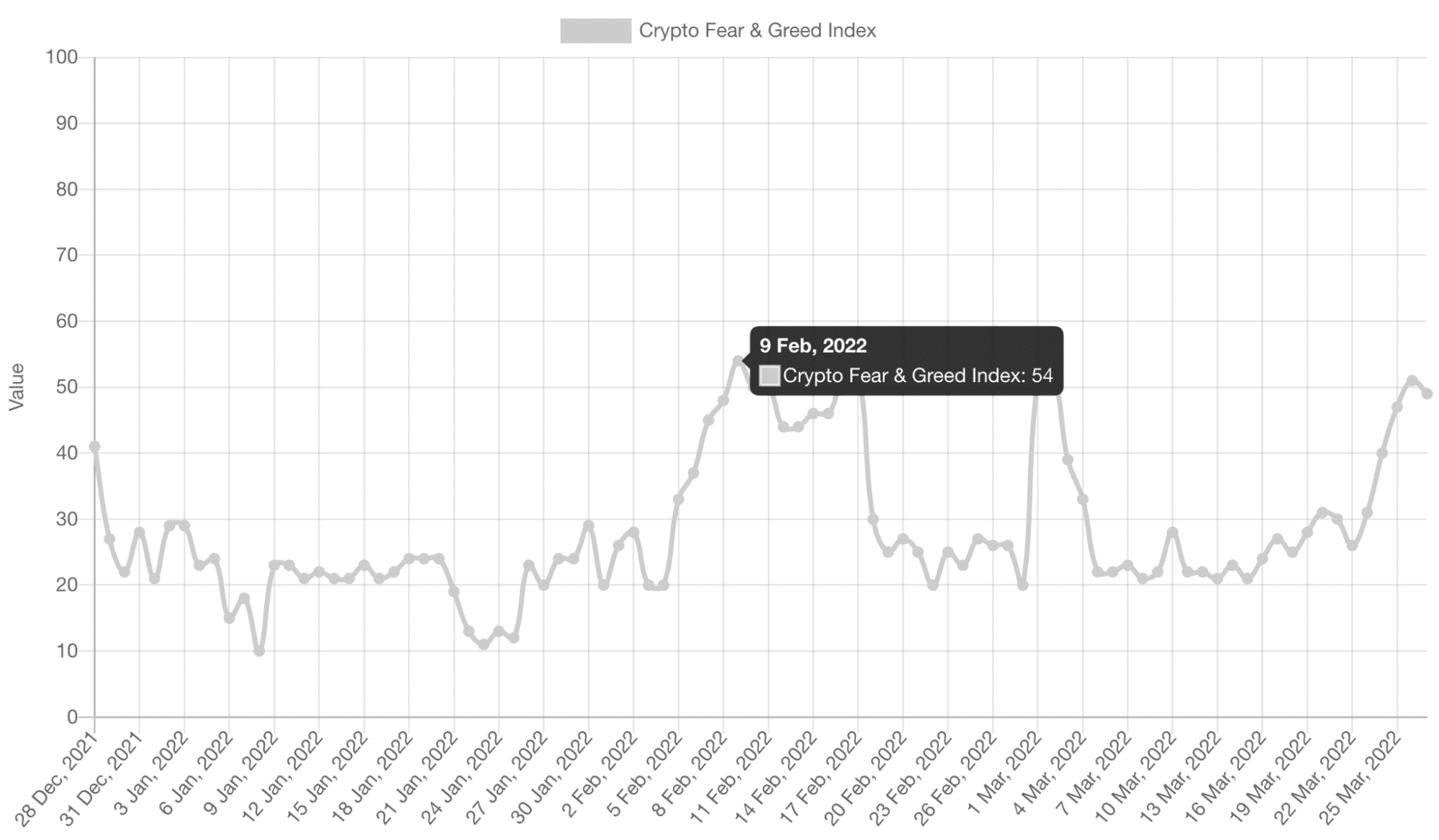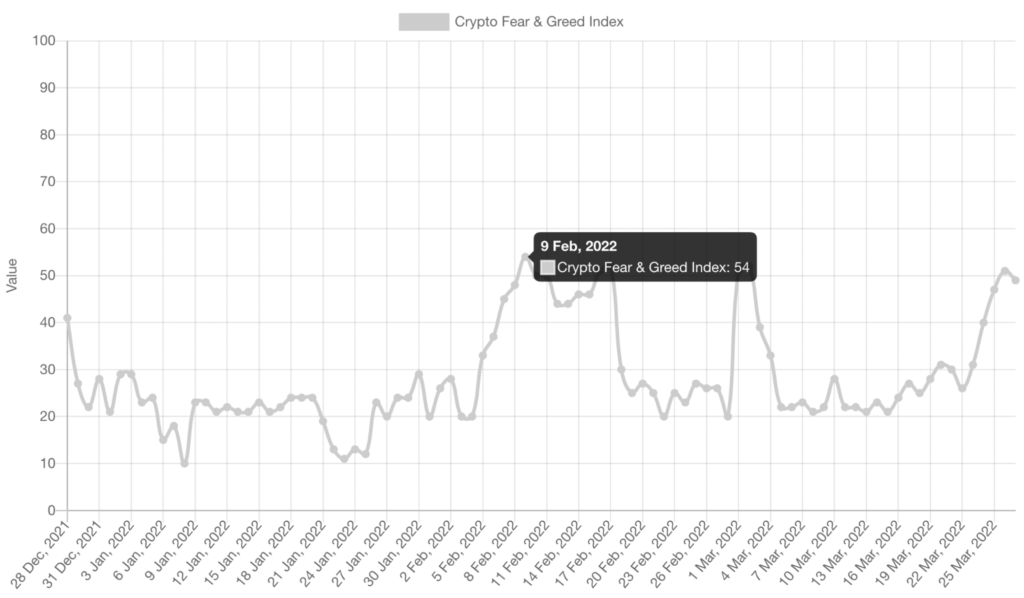 If the FGI started dipping below its current score, it would mean more fear, resulting in potential bullishness.
Technical analysis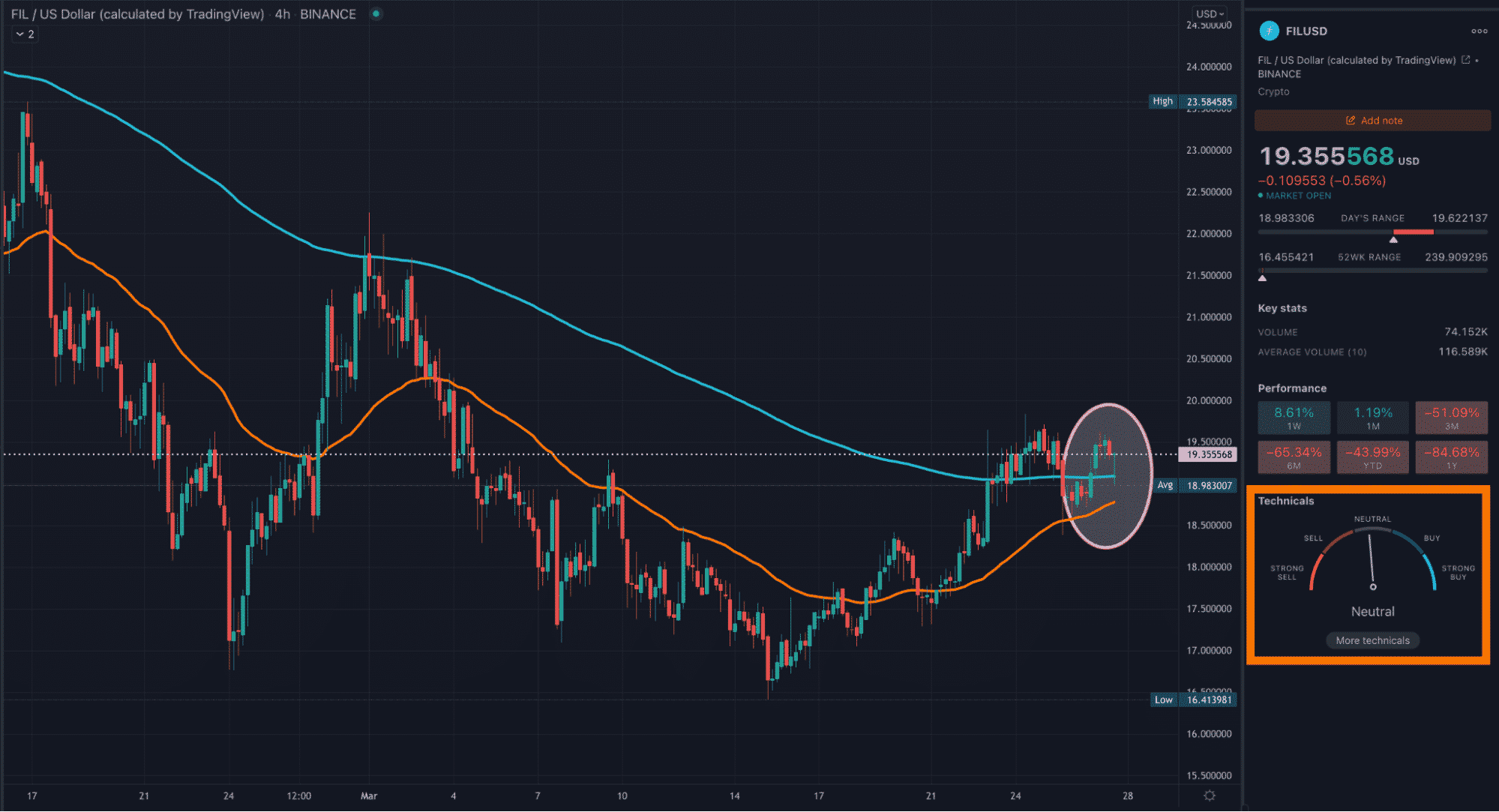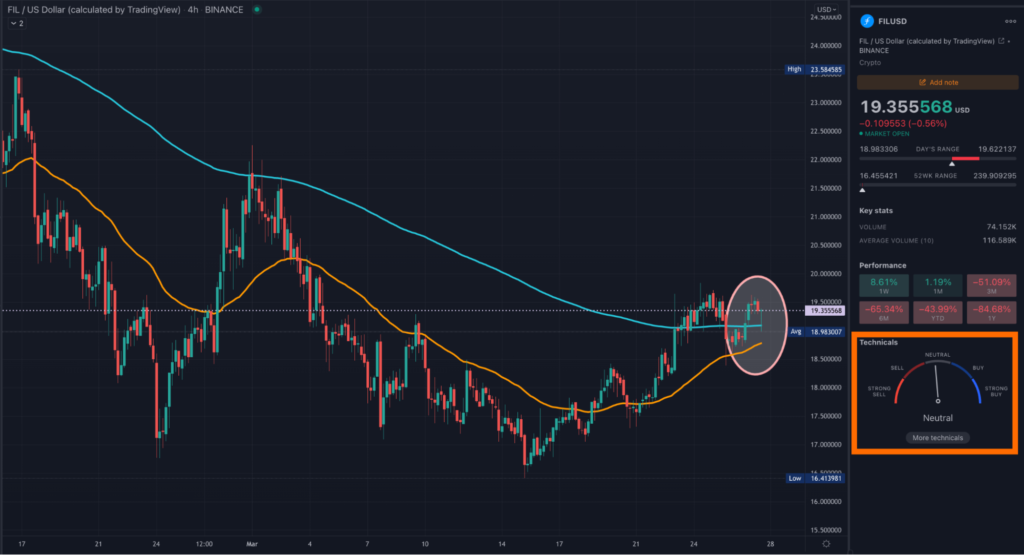 Our bias for FIL remains neutral while leaning slightly towards bullish. Firstly, TradingView's technical analysis (bottom right corner of the chart) shows 'Neutral,' in line with our sentiment.
However, our technical analysis shows some potential bullishness. We've added the 50-day (orange) and 200-day (blue) moving averages on the chart. The price is above these two lines, which is typically a good sign that prices may start trending higher.
However, we'd need to see the 50 crossing above the 200 to confirm a bullish phase. If FIL went above $20, this scenario would have probably transpired by that time.
Fundamental analysis
We haven't seen any positive or negative developments in Filecoin. This means we can concentrate on observing the underlying fundamental value of this project and its long-term potential.
Filecoin has been the dominating blockchain for decentralized cloud storage for a few years now. We could even say Filecoin has a first-mover advantage in this particular cryptocurrency sector, meaning it's miles away from the competition.
According to Filecoin, the project has a market cap of about $3.5 billion, with FIL ranking #42 for most traded coins in the market.
Filecoin is essentially the 'Airbnb' of cloud storage and breaks the barriers with traditional file storage offered by the likes of Google, Amazon, and Microsoft.
Some of the challenges it eradicates are censorship, data control, costs, and relying on a single point of failure.
Unlike the known cloud storage corporations, Filecoin incentivizes anyone with unused hard drive space to earn rewards in FIL, providing an extra income source.
At the heart of Filecoin is the InterPlanetary File System, one of the most popularly used distributed file systems.
Filecoin doesn't rely on proof-of-work or mining, making it more scalable and cheaper in transactions.
Filecoin (FIL) price prediction: 2023-2025
Let's explore 2023 and 2025 forecasts for the price of FIL.
2023 forecasts
Most forecasting sites see FIL increasing close to 50% more by the start of 2023, with an average prediction of about $30.73. For instance, Tech News Leader sees minimum and maximum values of $22.48 and $25.29, respectively; $28.40 is the lowest, and $34.24 is the highest estimate from Digitalcoinprice.
PricePrediction.net offered slightly better valuations, pegging FIL to be valued at $34.00, which could reach just shy of $40 for 2023.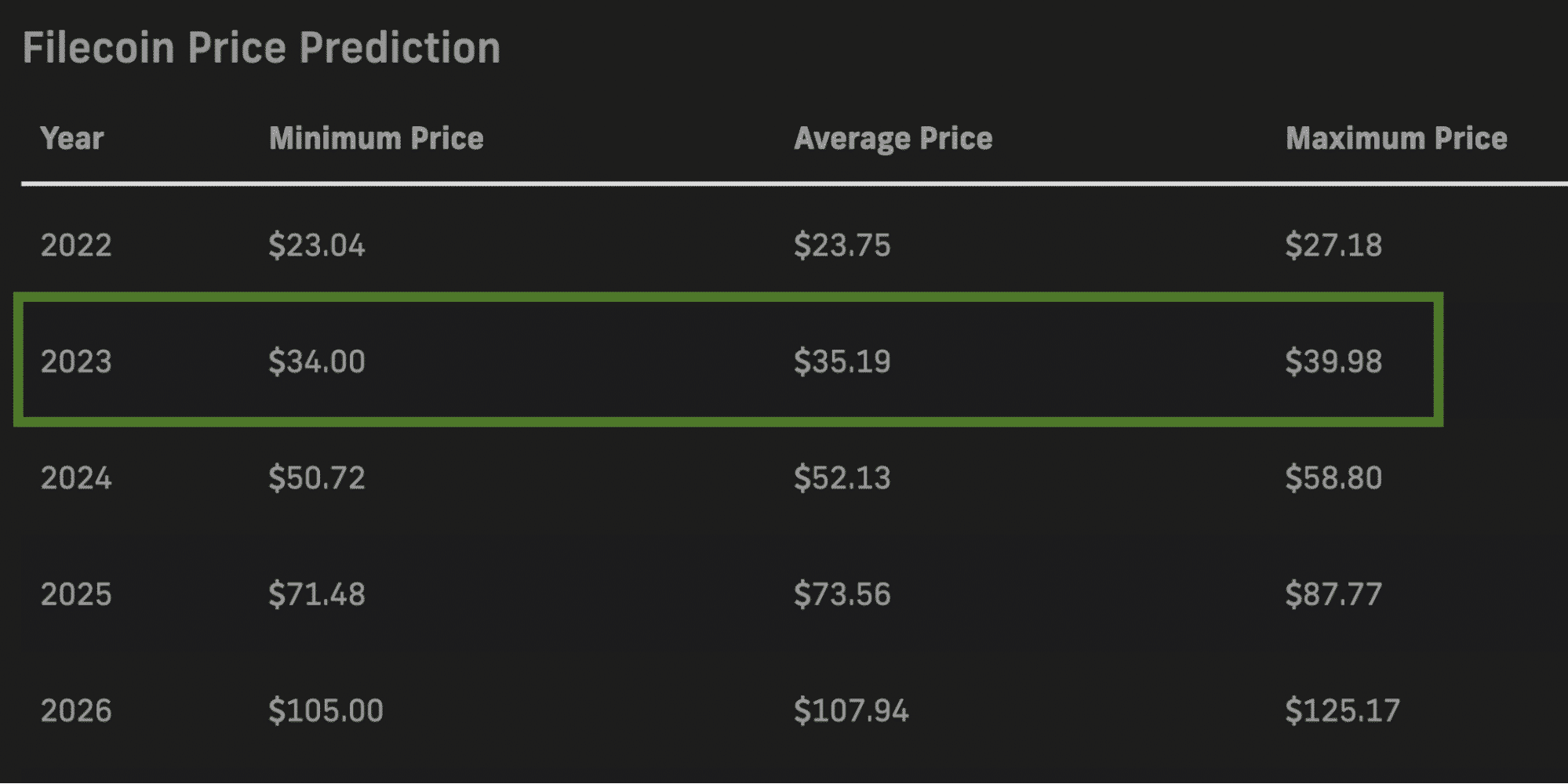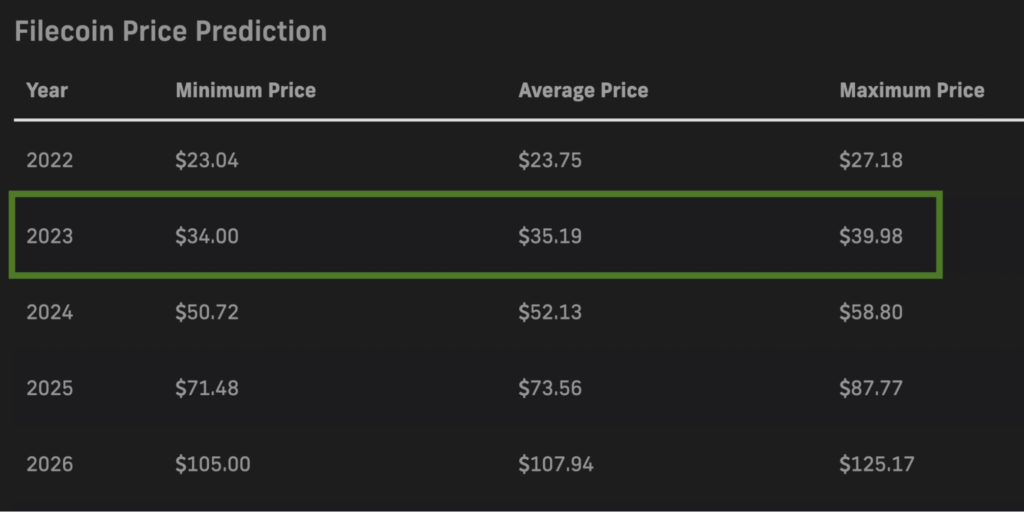 These estimates are relatively conservative, given that altcoins can increase significantly in a few months based on historical performance.
2025 forecasts
For 2025, the average we derived looking at numerous prediction sites was $57, with one of the lowest prices presented by Digitalcoinprice at $37.26. PricePrediction.net was more optimistic for 2025, with minimum and maximum prices of $71.47 and $87.77, respectively.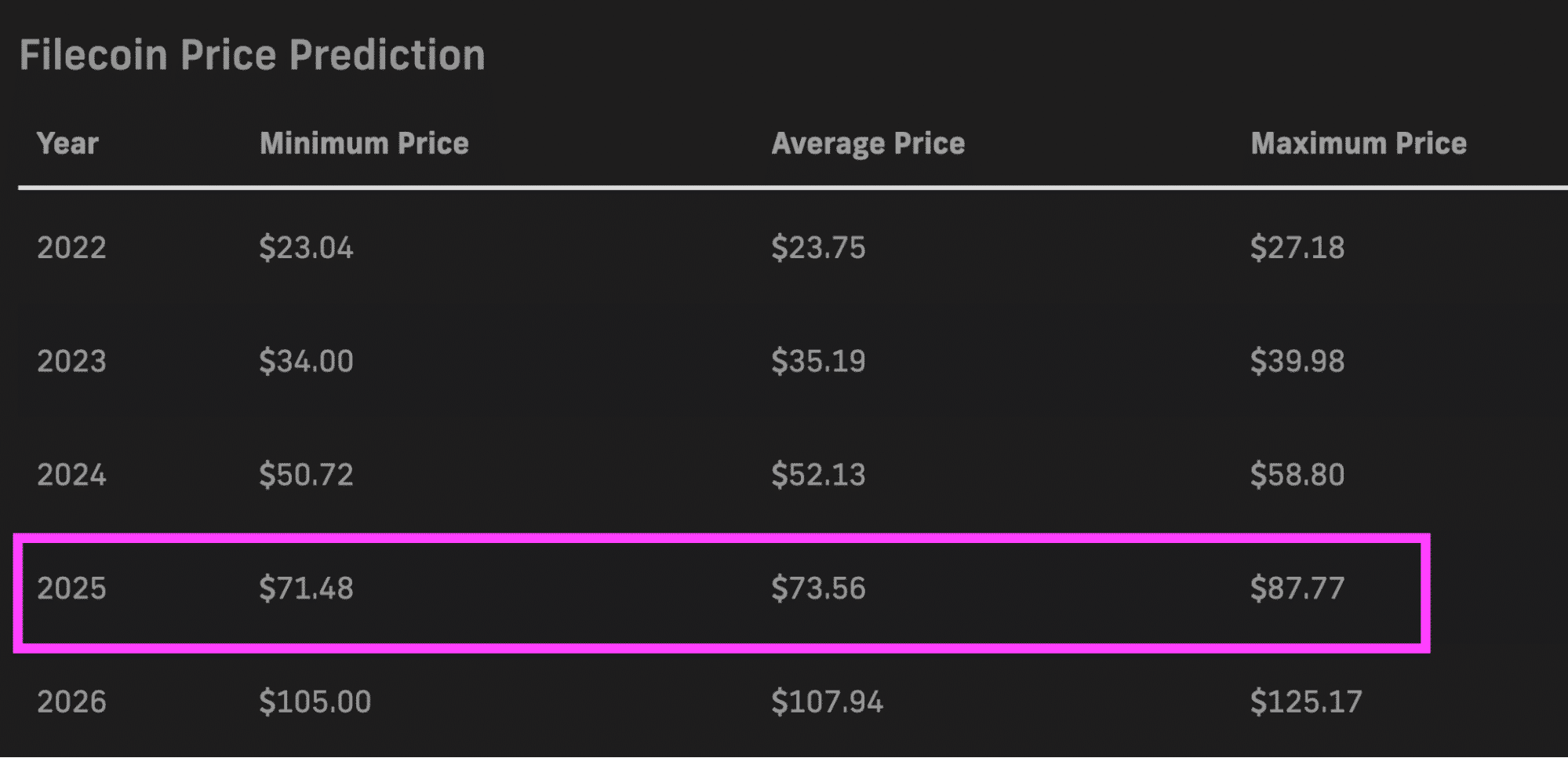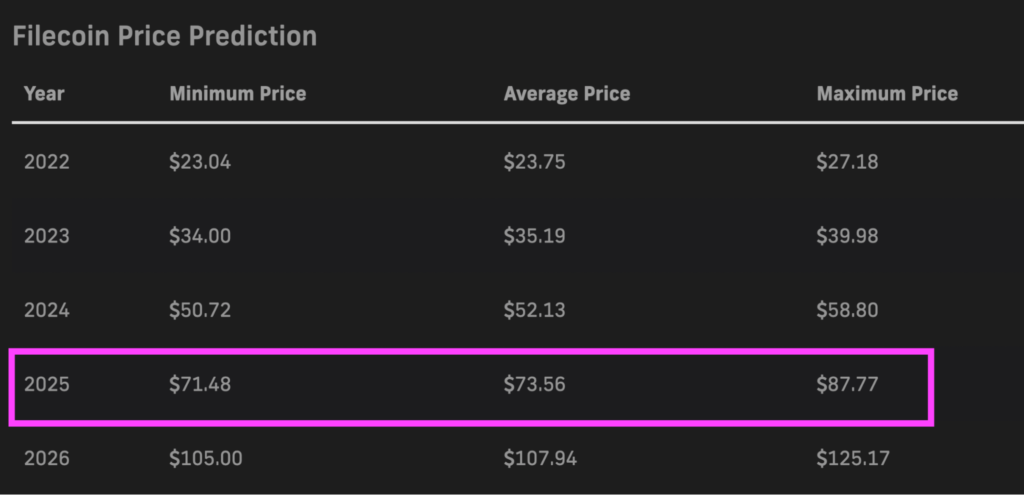 It's worth noting that while the forecasts still remain cautious, these would be far less reliable given how far this year is in the future.
Filecoin frequently asked questions (FAQs)
Is Filecoin real?
Yes, this project was established in 2017 and remains the leading blockchain in the cryptocurrency-related file storage market.
What is the Filecoin price today?
$19.20.
Will Filecoin's price reach $100?
With growing adoption and a bullish crypto market overall, Filecoin can realistically reach $100 within five years or less.
Should I buy Filecoin?
Regardless of the cryptocurrency, the risk of losing money is relatively high. However, Filecoin dominates the distributed cloud storage sector in digital currencies, making it a bet worth taking.
Where do I buy FIL?
Binance, Huobi, Bybit, Coinbase, Gate.io, FTX, Bitfinex and Kraken are some of the many exchanges to buy FIL.