Forex Auto Millions is an expert advisor that works on the Metatrader 4 trading platform. It avoids using risky trading strategies and is supported by a 20-year backtest in the MT4 strategy tester. This robot is capable of trading the Forex market on autopilot on a 24/7 basis.
Is this the perfect Forex trading system?
The presentation on the official website is not very detailed. While the vendor has highlighted the backtesting results, they haven't clearly outlined or explained the main features of the robot. We have the link to a live trading account, pricing details, and a long list of user testimonials. Additional information about the EA can be found in the FAQ section.
There is virtually no information available on the developer company. The vendor has not shared the official address or any kind of contact information. We don't know the identities of the team members, so it is not possible to determine whether they have the required experience to build a trading system. Also, it is unclear whether this company has built other expert advisors in the past.
This EA trades exclusively in the EUR/USD pair. The vendor recommends running it on M5 charts. When you purchase this robot, you get a single license that allows you to run it on a live Metatrader 4 account. You can purchase more live accounts if you wish. With all packages, you get an unlimited number of demo account licenses. If you wish, you can change your license to another account.
It is not clear what strategy Forex Auto Millions follows. Nowhere on the official website has the vendor explained the details of the trading strategy. As such, we don't know what indicators this system uses or whether it trades with the trend or against it.
How to start trading with Forex Auto Millions
You can purchase this EA for the price of $99, which is significantly lower than the market average. The vendor offers a 60-day money-back guarantee, so if the robot fails to make profits, you can get a full refund within the first 60 days after purchase.
Forex Auto Millions can run with any leverage. It is possible to use any MT4 Forex broker, but the broker recommends using one with swift execution speed as well as low spreads and commissions. They have also recommended practicing with a demo account first to get an idea about the working principle of the EA. For some brokers, you can get started with a small initial balance of $50.
Forex Auto Millions backtests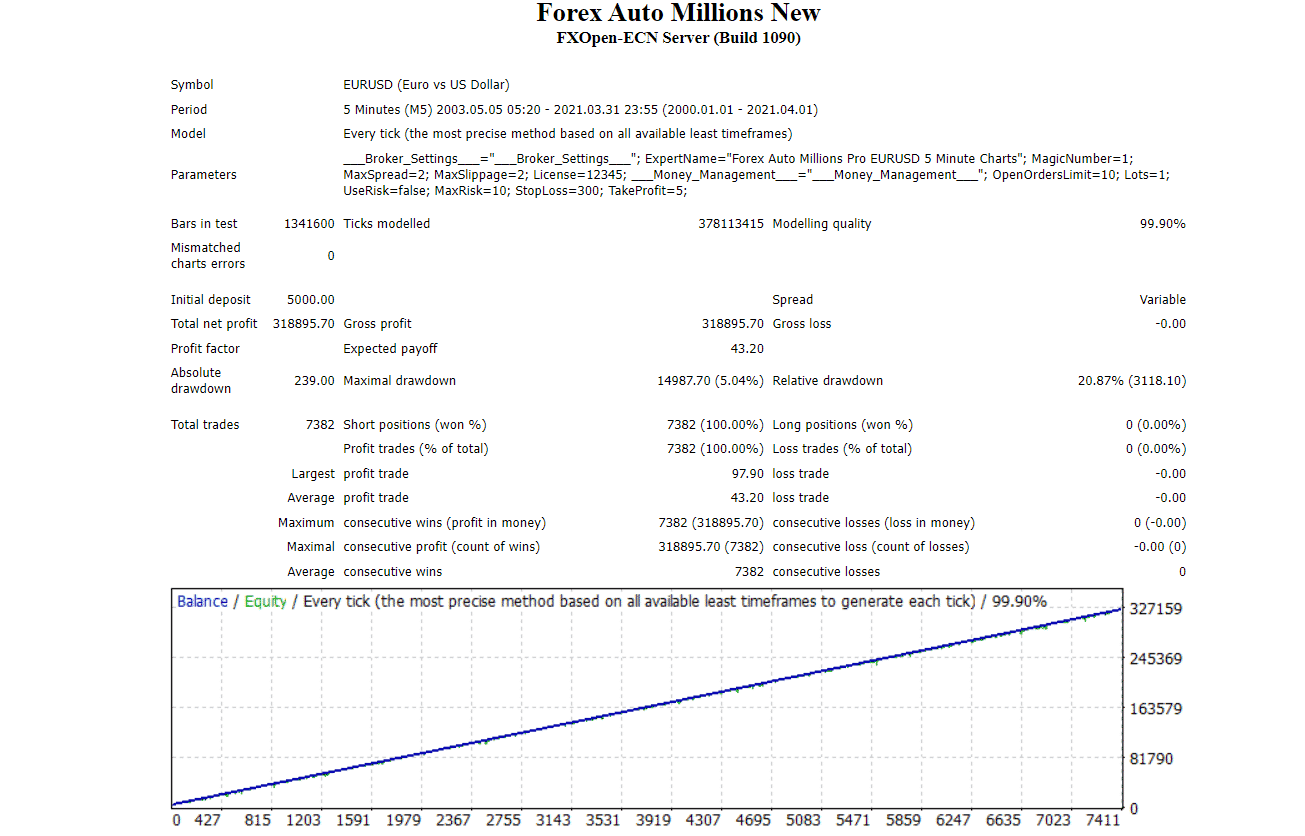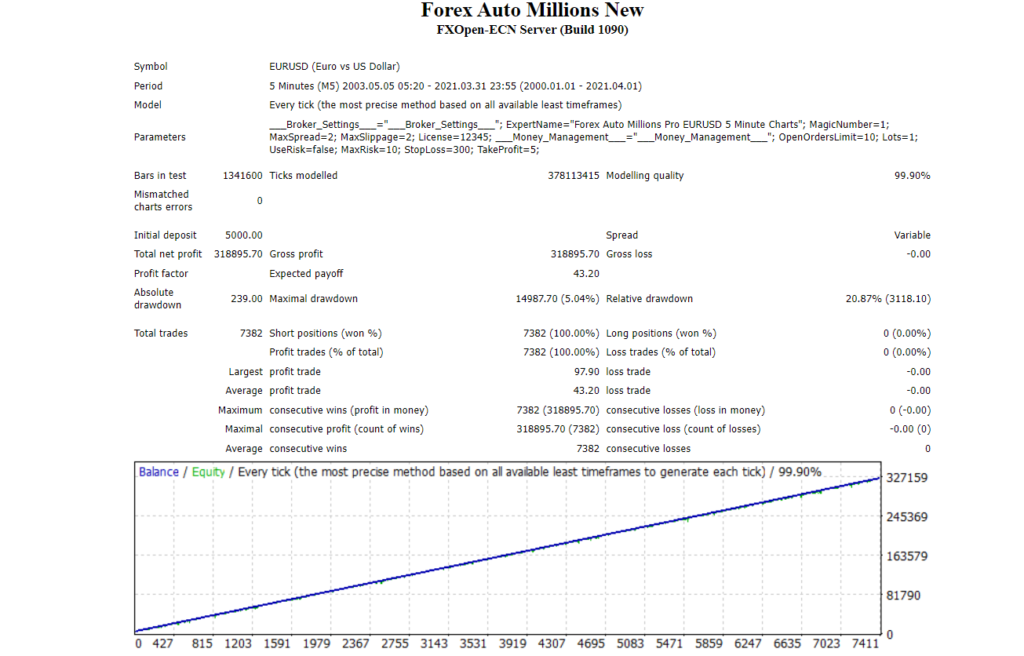 This backtest was conducted from 2003 to 2021 for the M5 timeframe. The EA conducted a total of 7382 trades using an initial deposit of $5000 during the testing period. It won all of them and generated a total profit of $318895.70. The relative drawdown for this backtest was 20.87% which is slightly high. This tells us that the EA trades with a significant amount of risk.
Trading results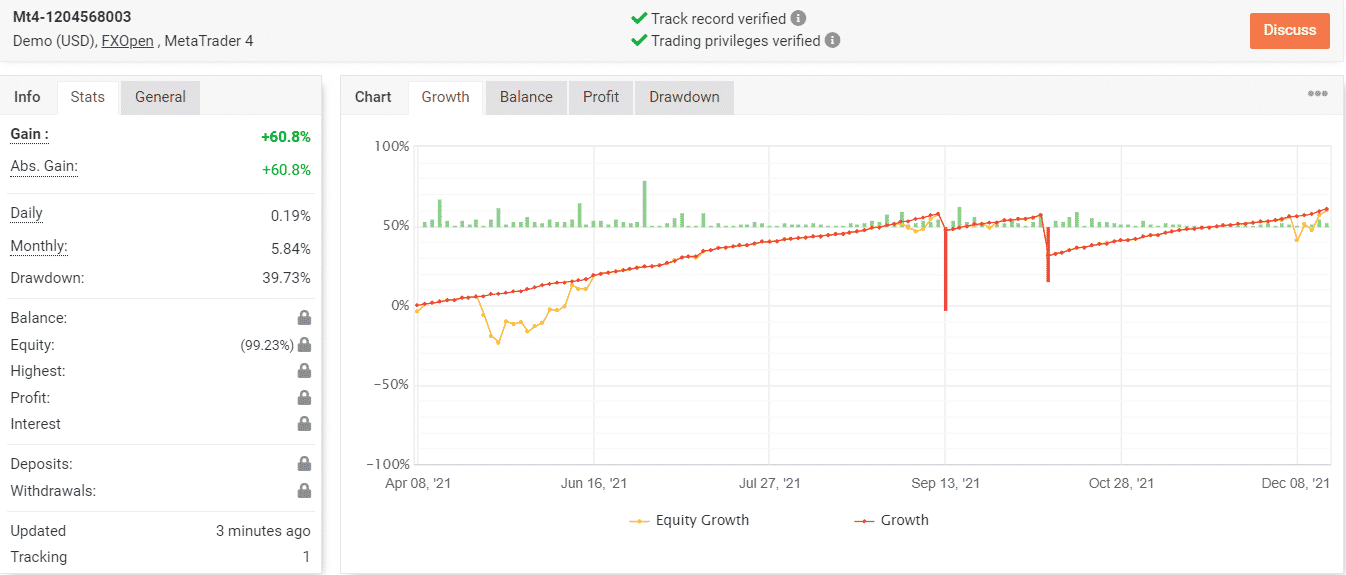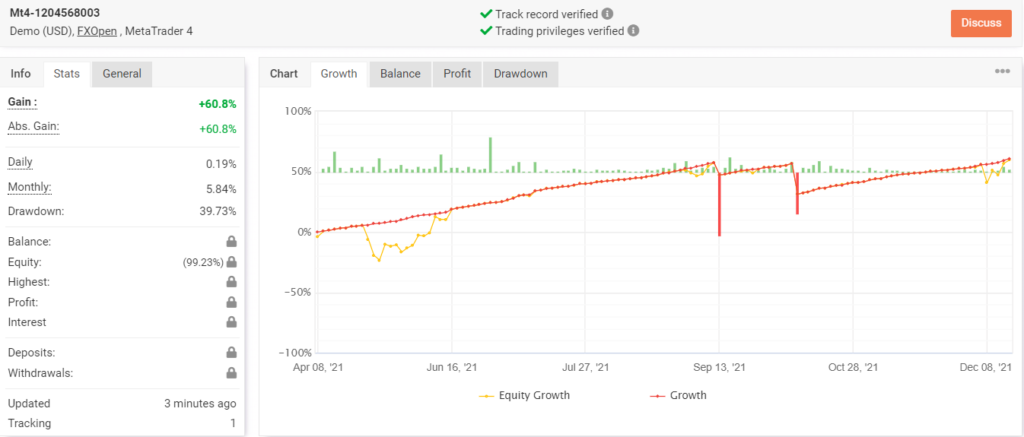 This live trading account on Myfxbook was launched on April 08, 2021. To date, the robot has placed 589 trades through this account and has maintained a win rate of 98%. While the daily and monthly gain percentages are 0.19% and 5.84% respectively, the drawdown is 39.73%, which is higher in comparison to the backtest. 
Here, we must mention that the account owner has chosen not to reveal some of the most vital parameters like balance, equity, profit, interest, deposits, and withdrawals. Since the trading history is also hidden, we have no way to analyze the trading style of this EA.
Customer support
The vendor offers customer support via email. Customers may need to wait for a maximum of 24 hours to receive a response, excluding public holidays and weekends.
People feedback


There is only one review for this expert advisor on Forexpeacearmy, and none on Trustpilot. Thus, it is clear that not many people are currently using this system for conducting live trades.
Wrapping up
Advantages
Verified trading results
60-day money-back guarantee
Disadvantages
High drawdown
Lack of vendor transparency
Undisclosed trading approach
Forex Auto Millions uses an unknown strategy for trading the Forex market. It exhibits a high drawdown, which means there is a significant chance of losing your investments with this EA. The developer has zero reputation and they have hidden the trading history of the EA on the verified live trading account.