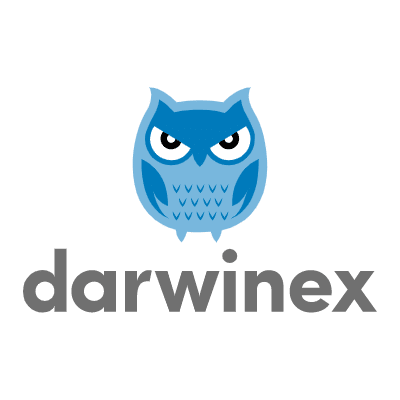 visit broker
Regulated by
Platforms
Founded
Business Model
Headquarters
Min. Deposit
Leverage
Typical Spread
FCA
2012
Spreads as low as 0 pips
Web Trader, MT4, MT5, TWS, FIX, Ninja Trader, MultiCharts, Zorro IB Bridge, IB Gateway
Set at $500 for a standard account, $10,000 for joint accounts
For retail clients ranges from 10:1 (20:1 for professionals)
0.2 to 0.3 pips
UK
We Like:
Social and copy trading
Low trading costs
Strict FCA regulation
Free historical data
We Don't Like:
Limited research and educational tools
The min. deposit is relatively high, from $500
20% performance fee on profits from copy-trade
The Verdict:
The broker is a renowned social-copy trader exchange with powerful trading platforms for a fulfilling trading experience. Traders can share ideas, copy and participate in trading content and challenges to win real prizes.
On the downside, min. deposits are relatively high and may not be too friendly for small traders who want to invest little and grow their portfolio from there. It also has few research tools, which limits a client's productivity.
Company details
The broker was established in March 2012 as Tradeslide Trading Tech Ltd., with an ambitious vision to help traders develop their skills and become successful. Having penetrated over 80 countries globally, Darwinex has experienced triple revenue growth over the years as more investors sign up to the broker.
It has worked strictly under FCA authorization and supervision since 2014. These regulations dictate client fund segregation and account balance protection in company insolvency.
The broker offers over 300 financial assets and an innovative web platform for efficient social-copy trading. It also supports different trading techniques like algo-trading and scalping, with spreads as low as 0 pips and £3 per trade commissions.
---
Regulations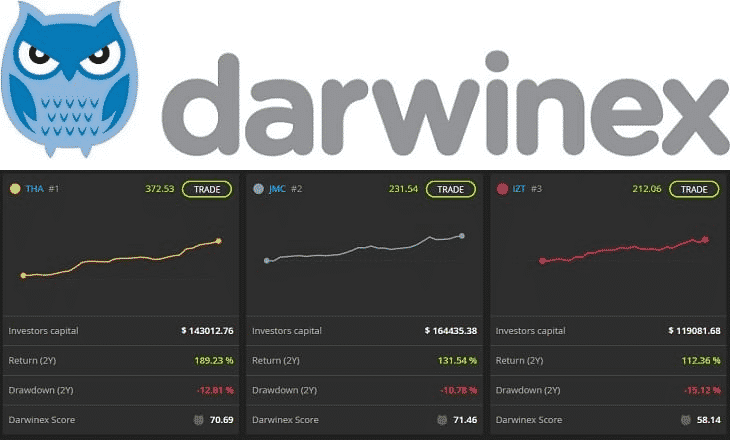 The Darwinex brokerage brand was first registered in 2014 and is owned by Tradeslide Trading Tech Limited, a UK company regulated by the Financial Conduct Authority (FCA), licensed 586466.
Darwinex is a straight-through transaction processing (STP) broker with no-broker direct access to the interbank market (NDD), fully compliant with the new EU regulations from 2018. The broker has offices in London and Madrid.
How are you protected?
Darwinex provides free supplemental insurance that covers FSCS clients totaling up to £1,000,000, up from the standard £85,000 coverage.
---
Trading platforms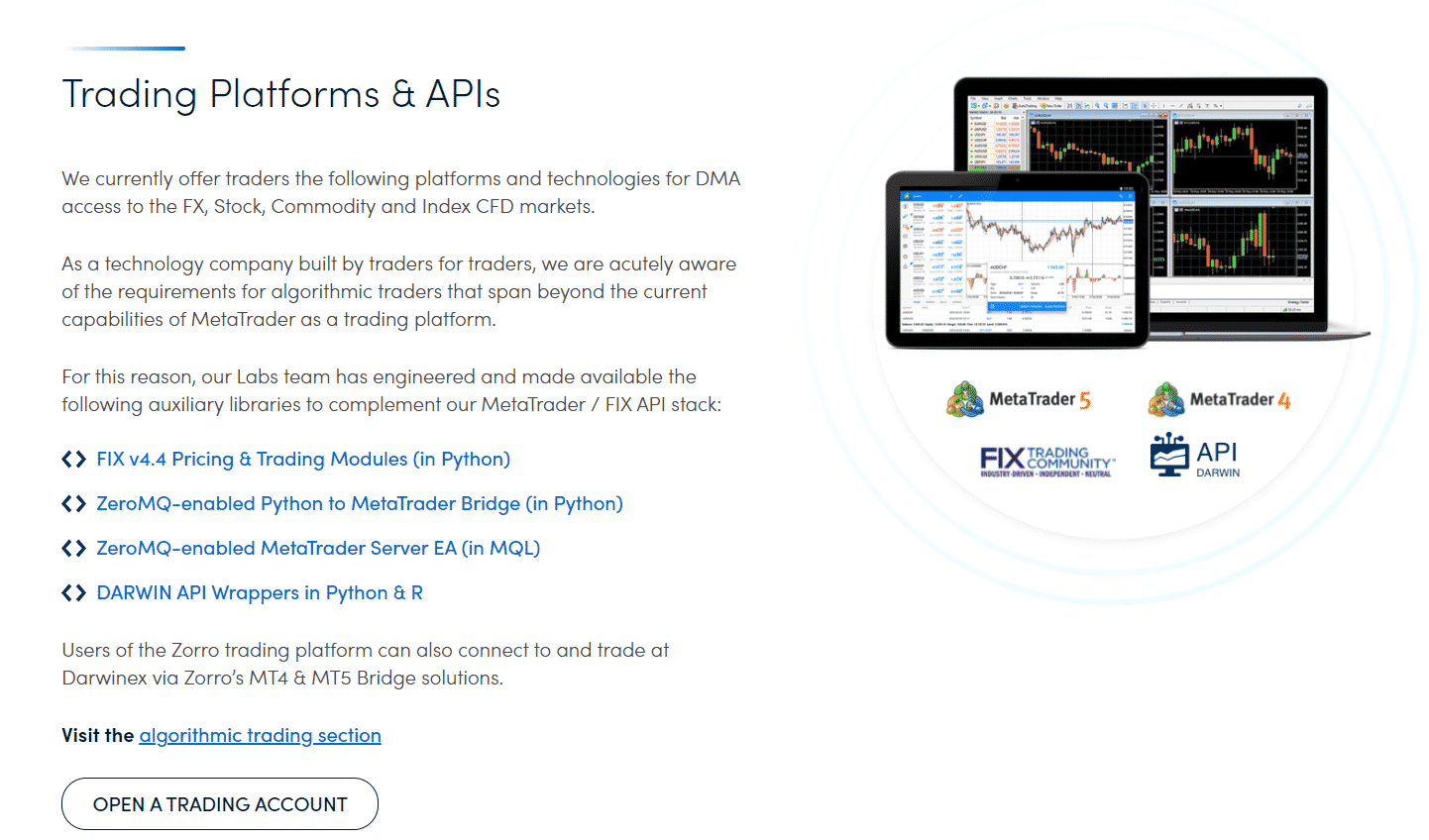 You can trade all stocks, CFDs, FX, 60+ futures, and DARWIN assets with this broker. It offers multiple trading platforms for cost-effective trading.
Web Trader
MT4
MT5
Trader WorkStation
FIX
Ninja Trader
MultiCharts
Zorro IB Bridge
IB Gateway
The Web Trader is Darwinex's proprietary trading platform.
It's accessible on the web, with an intuitive and
user-friendly interface.
It's an ideal platform for first-timers on the site
and traders who want to test out trading robots and new strategies. 
The powerful MetaTrader 4&5 has superior features,
including indicators,
market depth with over 20-time frames,
pending orders, and customizability for top-grade functionality and profitable trading. 

The platforms are accessible:

Web

Desktop

Mobile versions 
They are available in the stocks and futures accounts. 

They have features like:

A customizable workspace

One-click order execution

Market scanning tools

Portfolio analysis

Live quoting

State-of-the-art charting
---
Range of markets

Trade 40+ major and minor currency pairs with the tightest spreads.
There are ten popular Indices on Darwinex, including the SPX500 and UK100.
Darwinex offers four commodities in its market; gold, silver, natural gas, and US crude oil. These four are paired with the USD.
All the NYSE and NASDAQ registered stocks.
Traders can build a DARWINs portfolio using over 2,000 alpha strategies on the platform.
---
Main features
Darwinex has several unique features, which help traders meet their trading goals:
It showcases the highest-earning traders through the DARWIN assets. The earnings are in terms of performance fees.
It provides traders with ideas and product news, especially on DARWIN assets.
It's a social trading section where investors can interact and share ideas. It's a major feature as Darwinex is a social trading platform.
Successful traders lead the way and allow amateur traders to copy from them and profit from highly volatile markets.
The detailed economic calendar keeps track of all the global events affecting the market conditions. Keeping track of the economic calendar lets you know when it's best to trade and amass huge profits.
---
Types of trading accounts
The broker offers three account types:
Standard account
Stock & futures account
Professional account
It also has a free demo account and a live account simulation for experimental trading. You can opt to open a demo account first and use it to know the broker and test the platforms.
The Standard account
The account can either be an individual, a joint, or a corporate. Most broker's clients hold a standard account because of its reasonably low min. deposit amount compared to other account types. Corporate accounts are opened and run by companies, and their min. deposit is $10,000.
Standard accounts have the following features.
Trading platforms – MT4, MT5, FXI API
Market products available – 300+ assets
Min. spread – 0 pips
Max. leverage – 200:1
Min. deposit – $500
Social-copy trading – yes
Base currencies – EUR, GBP, USD
Stock & futures accounts
The broker offers special accounts for traders focused on trading stocks and futures:
A Classic account
Stocks Darwin account
Futures Darwin account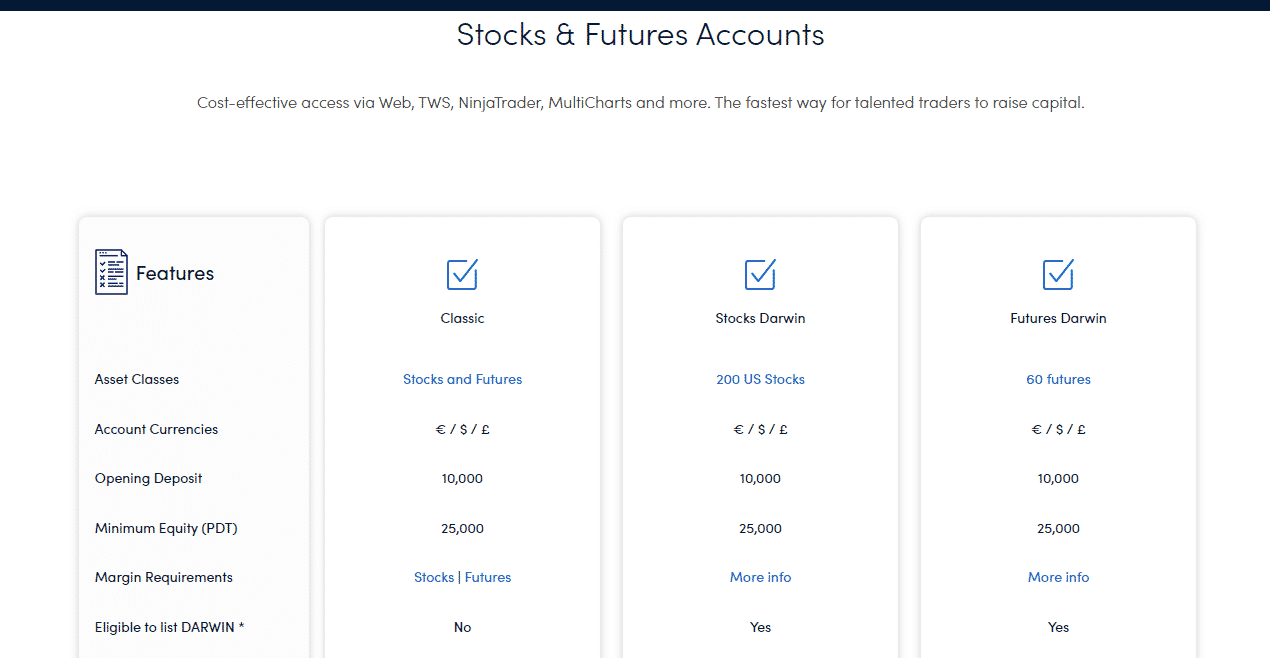 The min. deposit for any stock and futures account is $10,000, which is a good amount for talented traders to make huge profits in a short period. These accounts are supported on Web, Desktop, Mobile, Ninja Trader, Zorro IB Bridge, MultiCharts, and API trading platforms.
Traders experience state-of-the-art charting, real-time news streaming, and live quoting, with 100+ order types and Algos.
Professional account
Professional clients enjoy advantages like having a stalwart account manager and generous monthly rebates based on the traded volume.

To become a professional client on Darwinex:
The client must have traded with a considerable amount in a related market, at an average of 10/quarter over four quarters traded previously.
The client's financial portfolio (cash, shares, options, investments, etc.) must exceed £500,000.
The client has to work in an economic sector, holding a professional position that requires him to make investment decisions for over a year.
---
Opening an account at Darwinex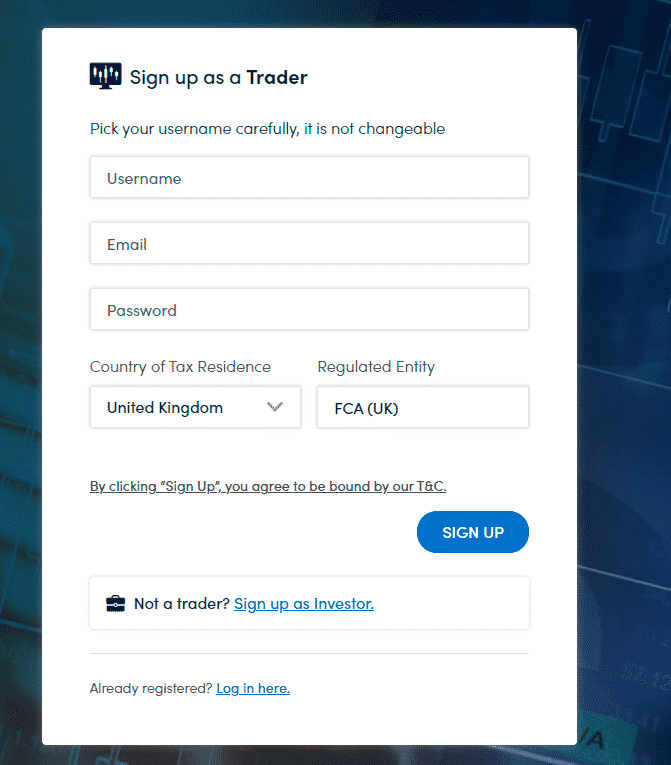 Step 1. Choose the account type.
Step 2. If you want to open a joint account, select Individual on the account type and then enter all the account holders' details in the name sections.
Step 3. Require you to fill in two questionnaires with your data and financial status.
Step 4. Upload the specified documents and wait for the approval.
Step 5. If you want to open a stock and futures account, you'll be required to complete a W8-BEN form and fund your account with $10,000 (or a similar amount in your account's base current).
---
Commissions and spreads
Executive commission
FX and commodities incur a gross commission of 0.005% of the amount traded in the account's base currency. Other financial assets like indices and stocks incur charges that vary depending on the asset sold.
Roll-over fees
It's charged on all positions running overnight. Darwinex does not offer swap-free accounts for Muslims.
Re-quotes
This happens when the market is highly volatile, and the broker cannot execute the order at the quoted price. In this case, a broker requires the price to be the nearest price available. Darwinex does not offer re-quotes.
Other fees:
Deposit – 0.5% commission fee on e-wallets
Withdrawal – 1% on the withdrawn amount
Inactivity – none
Spread
The broker charges very tight spreads, as low as 0 pips on a financial asset.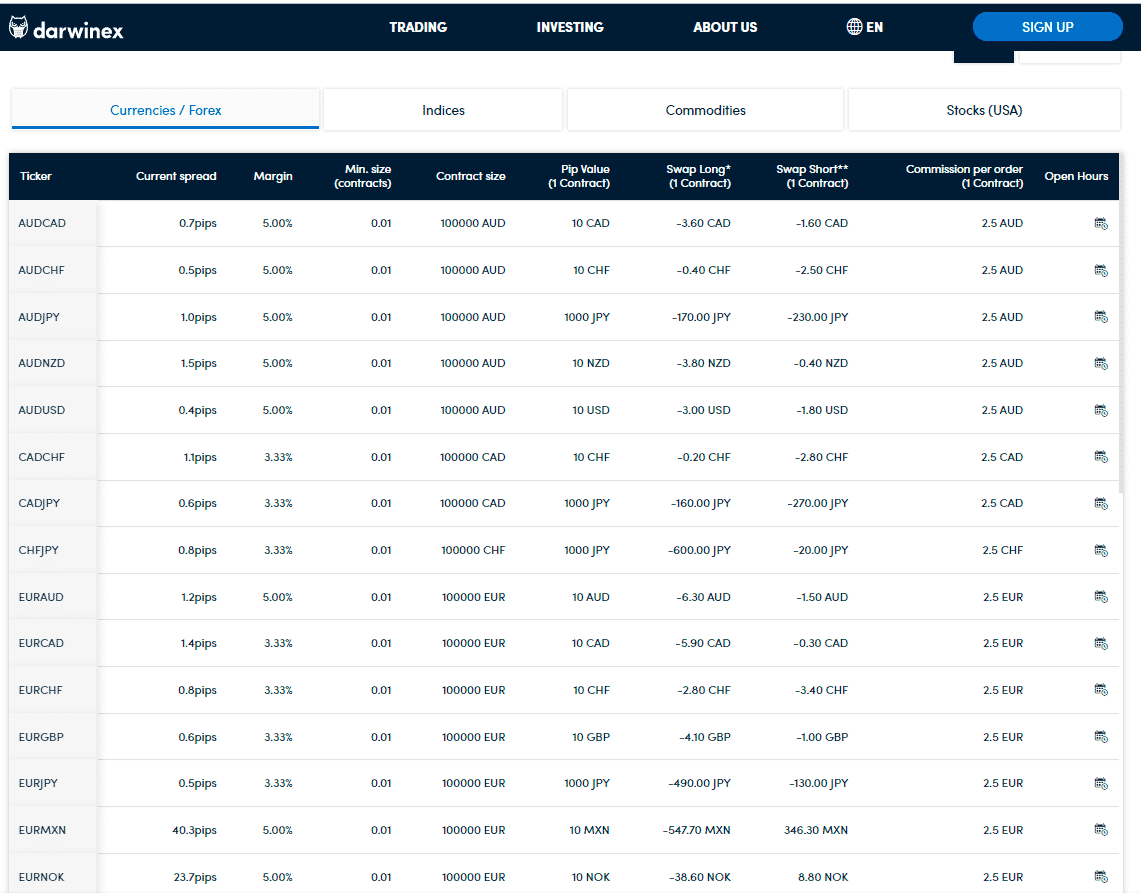 ---
Customer service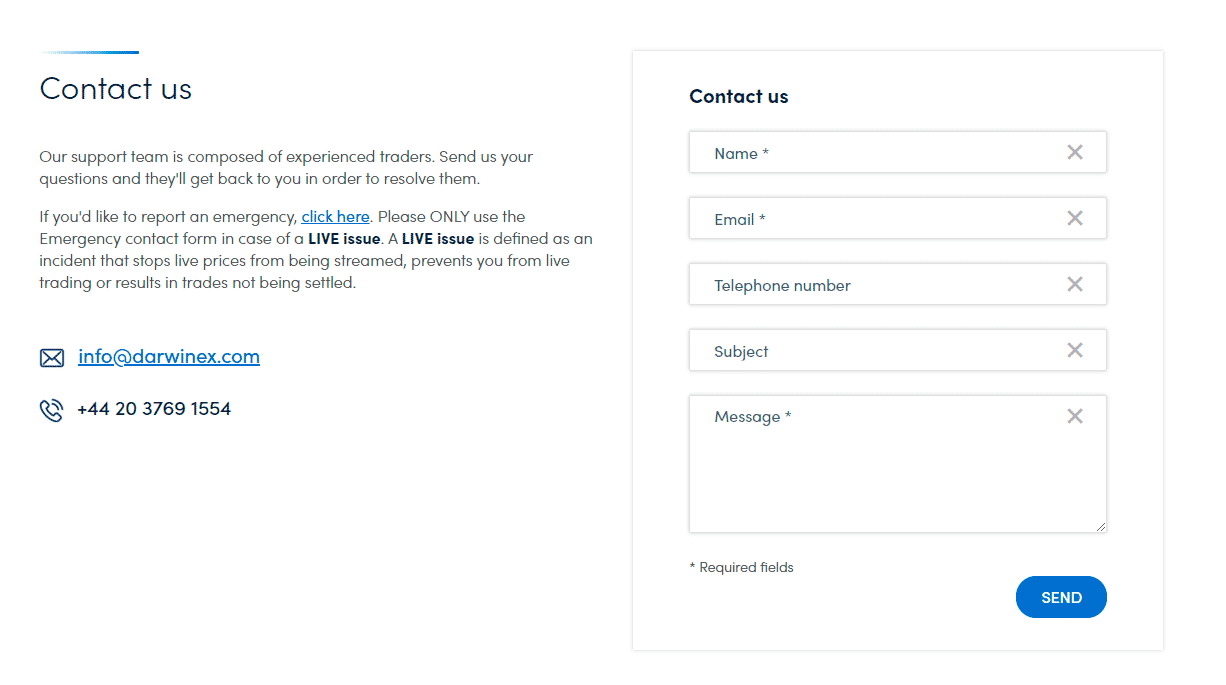 You can access the support team via email or phone. Darwinex has no provision for a live chat, so you can send in your issue through an emergency form provided on the website if you have an emergency.
The phone service may get connected, though, in a few minutes, and you'll get answers to your questions. If you decide to send an email, you may wait for at least a day or two to get a reply.
The extensive FAQ section might have an answer to your queries. If you don't find a relevant answer, you can contact the support team and help you need.
---
Darwinex Review
What we liked
Maximum transparency of trade transactions
Regular reporting by the broker on financial transactions
High level of quality of the site, the service is focused on providing exceptionally high-quality services
Variety of opportunities for clients
Many financial instruments
Clients can count on insurance and reliable preservation of their deposits
The assistance of consultants in making important decisions
What we disliked
The platform is intended only for professionals
Lack of official documents and licenses for financial and investment activities
Poor-quality technical support, it is difficult to obtain the necessary information to solve a specific problem
The bottom line
Darwinex is a renowned social-copy trader exchange with powerful trading platforms for a fulfilling trading experience. Traders can share ideas, copy and participate in trading content and challenges to win real prizes.
On the downside, min. deposits are relatively high and may not be too friendly for small traders who want to invest little and grow their portfolio from there. It also has few research tools, which limits a client's productivity.