We've decided to come back with a brand-new review of FXAutomater's product.


Forex Diamond is on the plate. The developer suggests to us brilliant and diamond-like profitability and success.
The EA was designed to work on the MetaTrader 4 and 5 platforms.
Is Forex Diamond a good system to rely on?
Let's try to find an answer to this question. First, we've systemized the robot's features:
As it was mentioned before, Forex Diamond can be run on MT4 and MT5 platforms.
It has over 40 recovery factors.




The robot united three trading systems in one single EA.
There's a dynamic trading logic with a self-updating algorithm.
The EA trades quite frequently.
Money-management calculates Stop Loss and Take Profit based on account size.
We don't need to optimize anything if we're not a professional trader.
The robot received common features like broker protection (high slippage, high spreads).
There's a Profit Protection System as well.
The robot is a high-frequency trading solution.
It received a self-updating feature.
The robot supports trading four symbols.
It includes an advanced News Filter.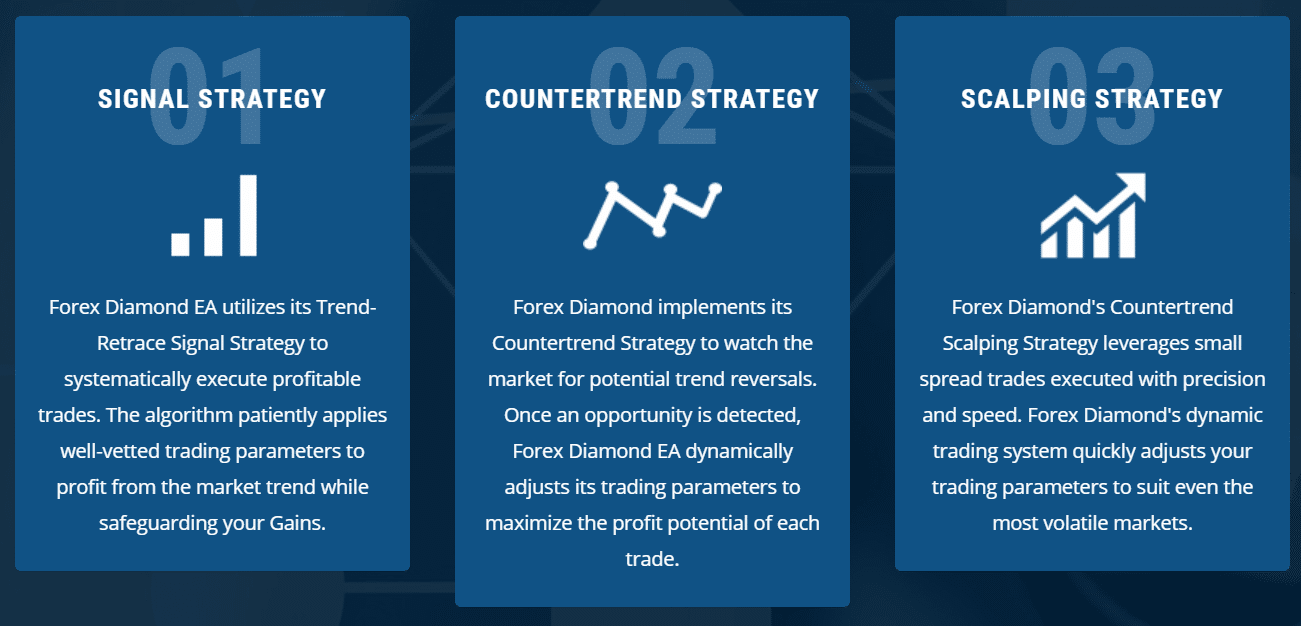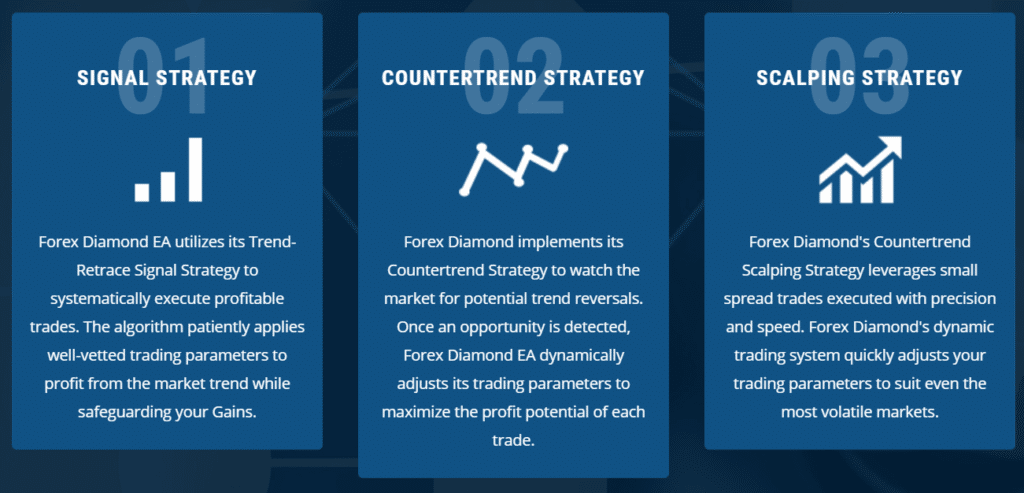 There are details of three strategies:
The Signal strategy allows utilizing the Trend-Retrace signal to make profitable trades.
The Counter-Trend strategy looks when a trend goes weak to set a reversal trade.
The Scalping strategy allows scalping little several pips profits in short and mid-term trends.
How to start trading with Forex Diamond

Starting trading with Forex Diamond is not a big deal. It's smart, easy to use, and quick to execute.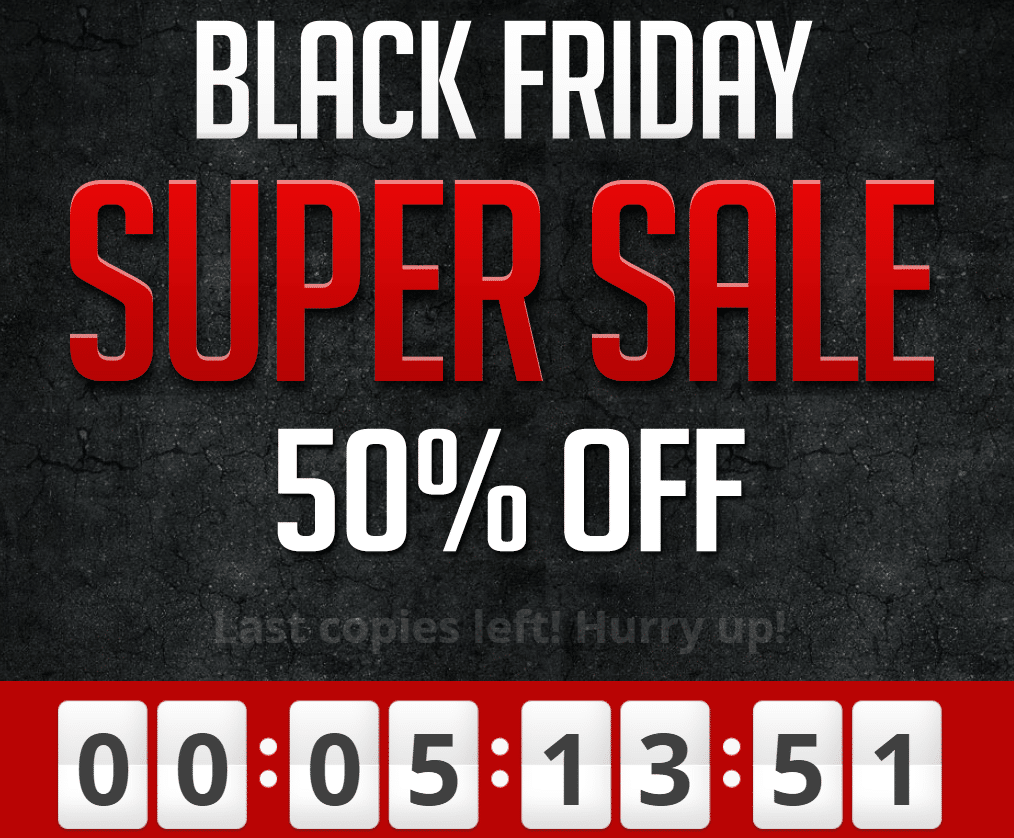 We can see a Balck Friday 50% OFF sale.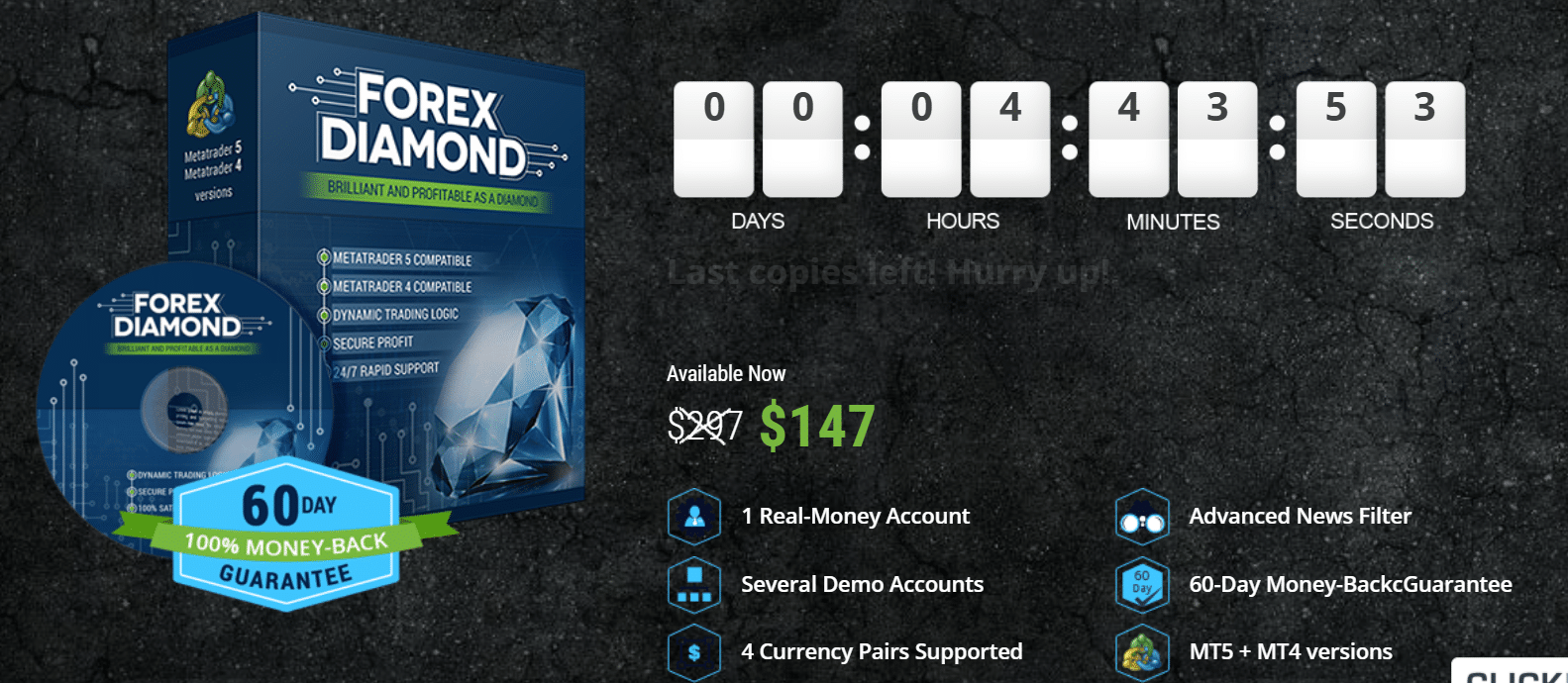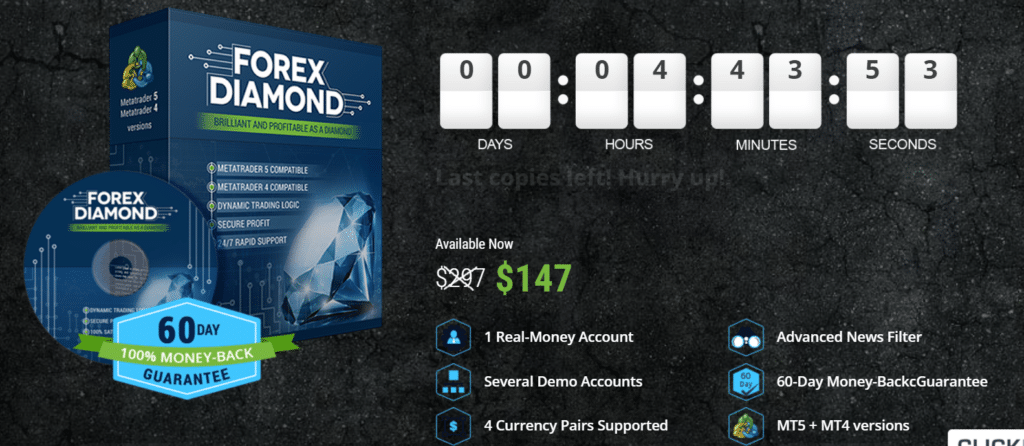 There's a single package that costs $147, including $150 OFF. It allows us to trade on one real account and many demo accounts.


The vendor provides a 60-day money-back guarantee.


As we can see, we can get started very quickly. There are two simple steps: downloading the EA and attaching the robot to the charts.


In addition, we'll receive access to the Members area, 24/7 welcome support, and user manual.


The robot will receive lifetime auto-updates.
Forex Diamond backtests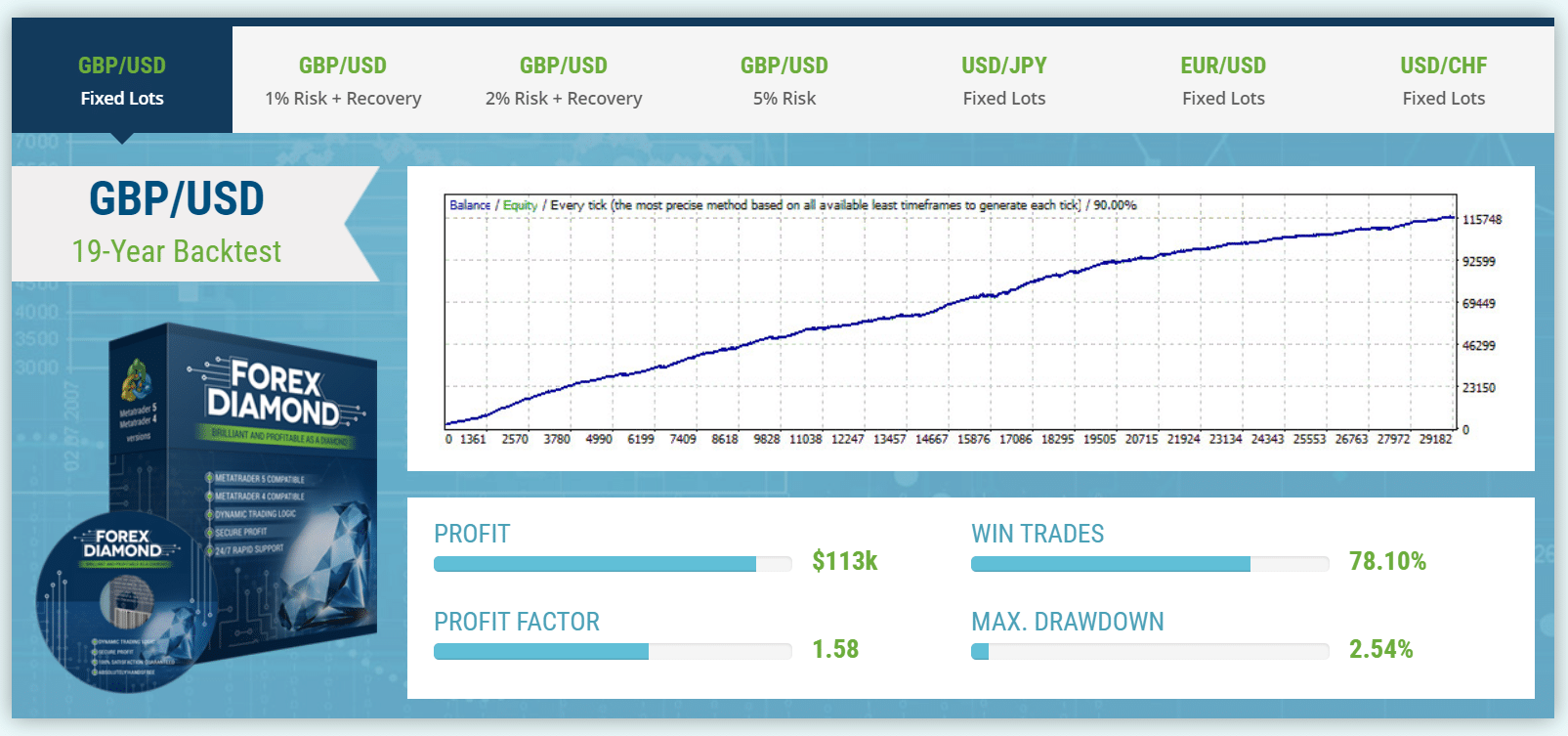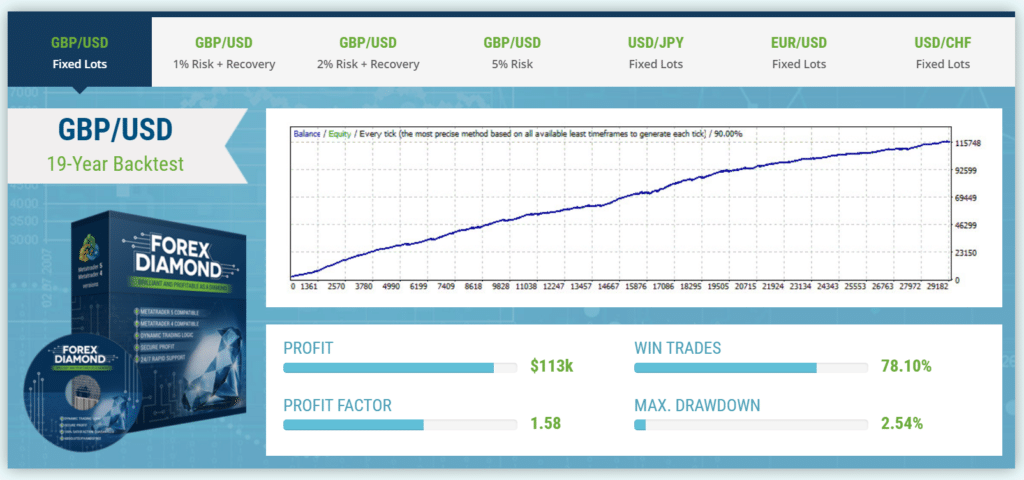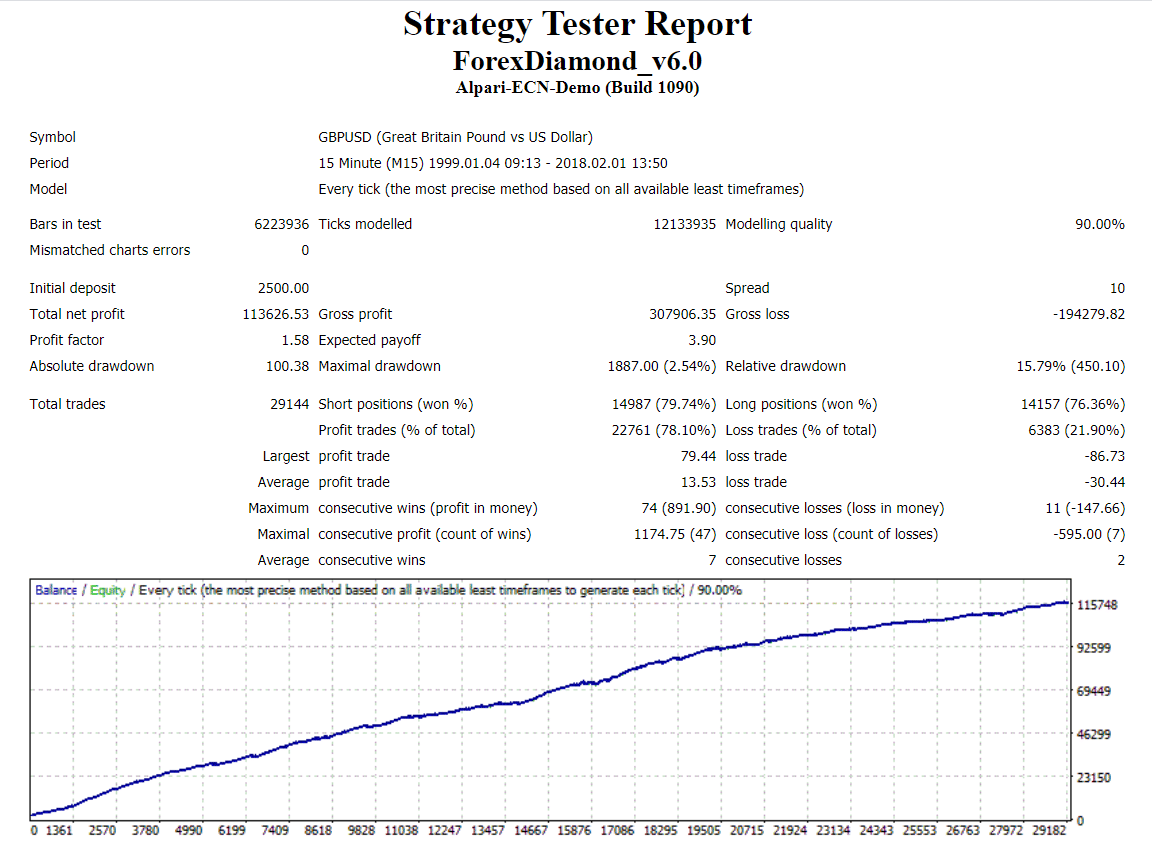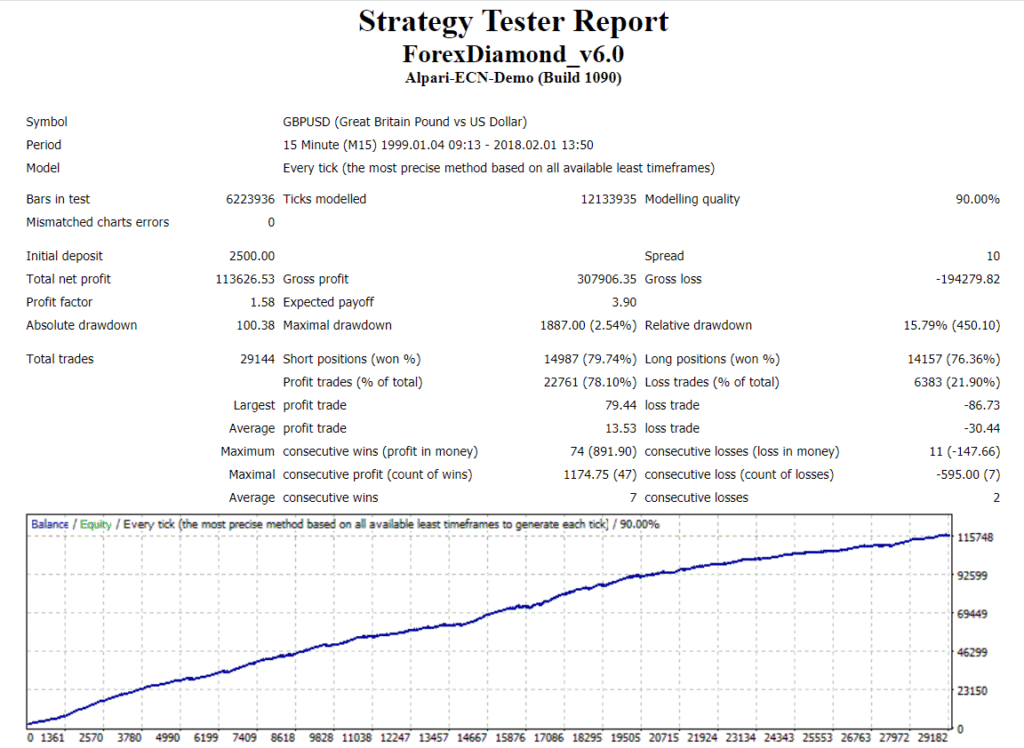 There are several backtests for every currency. This one was for a GBP/USD on the M15 time frame from 1999 until 2018. The modeling quality was 90.00%, and spreads were 10. An initial deposit was $2500. The total net profit became $113,6. The maximum drawdown was very low (2.54%). The Profit Factor was mediocre (1.58). There were performed 29144 trades with 75%-79% win-rates. An average win streak is seven deals.
Trading results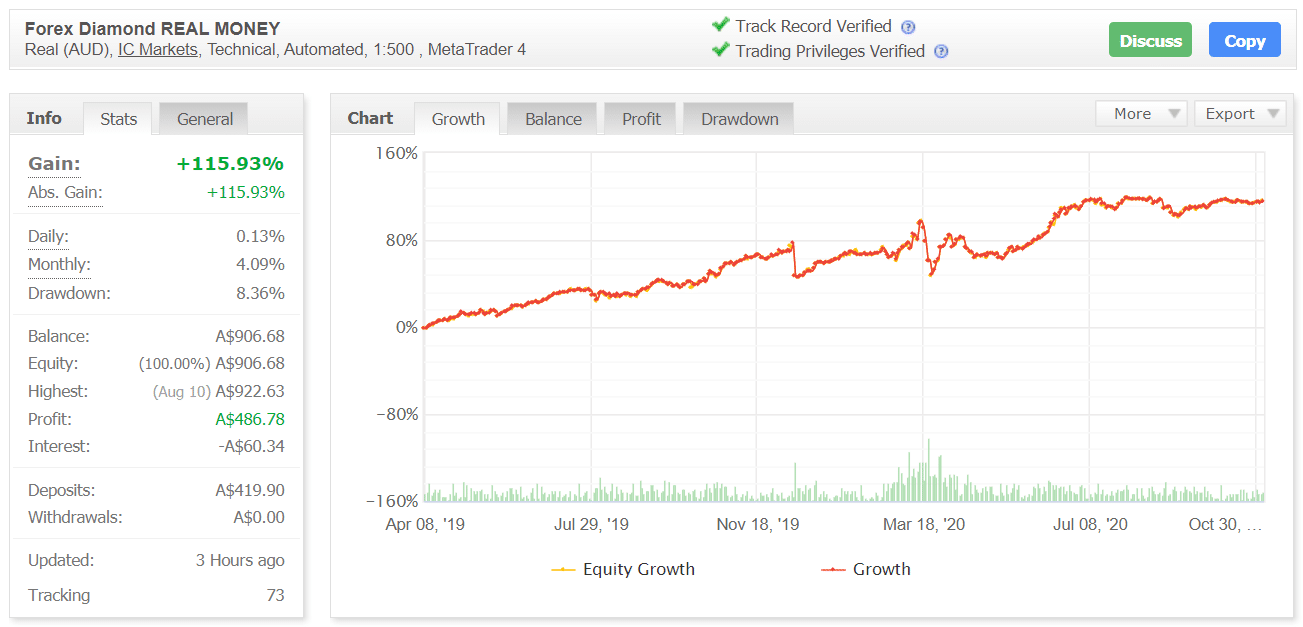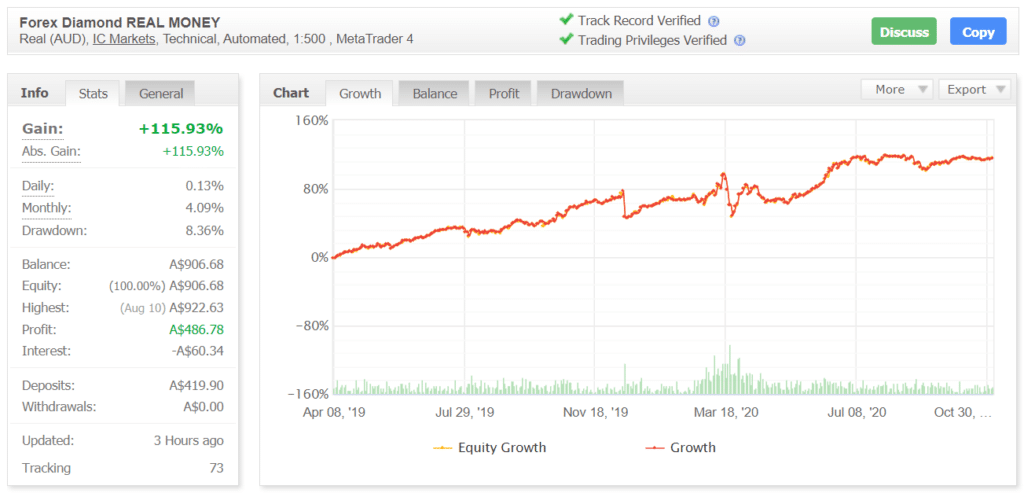 The backtests looked cool, but the reality is a bit different. It's a real AUD account on IC Markets. The robot trades using Technical Indicators with 1:500 leverage on MT4. Track Record is Verified. The account is tracked by 73 people. It was created on April 08, 2020, and deposited only at A$419. The total gain is +115.93% for over a year.


The EA closed 2950 deals with 487- pips. An average win (11.11 pips) is twice less than an average loss (-22.27 pips). The win-rate for Longs is 69%, for Shorts is 73%. An average trade length is over five hours. The Profit Factor is low as for a scalper (1.17).


It trades only two symbols from four available. The most trades (2489) was performed on GBP/USD, comparing to USD/JPY (461).


We can see how the activity rises during scalping hours.


It trades every day equally.


It works with up to 5% risks to the account balance.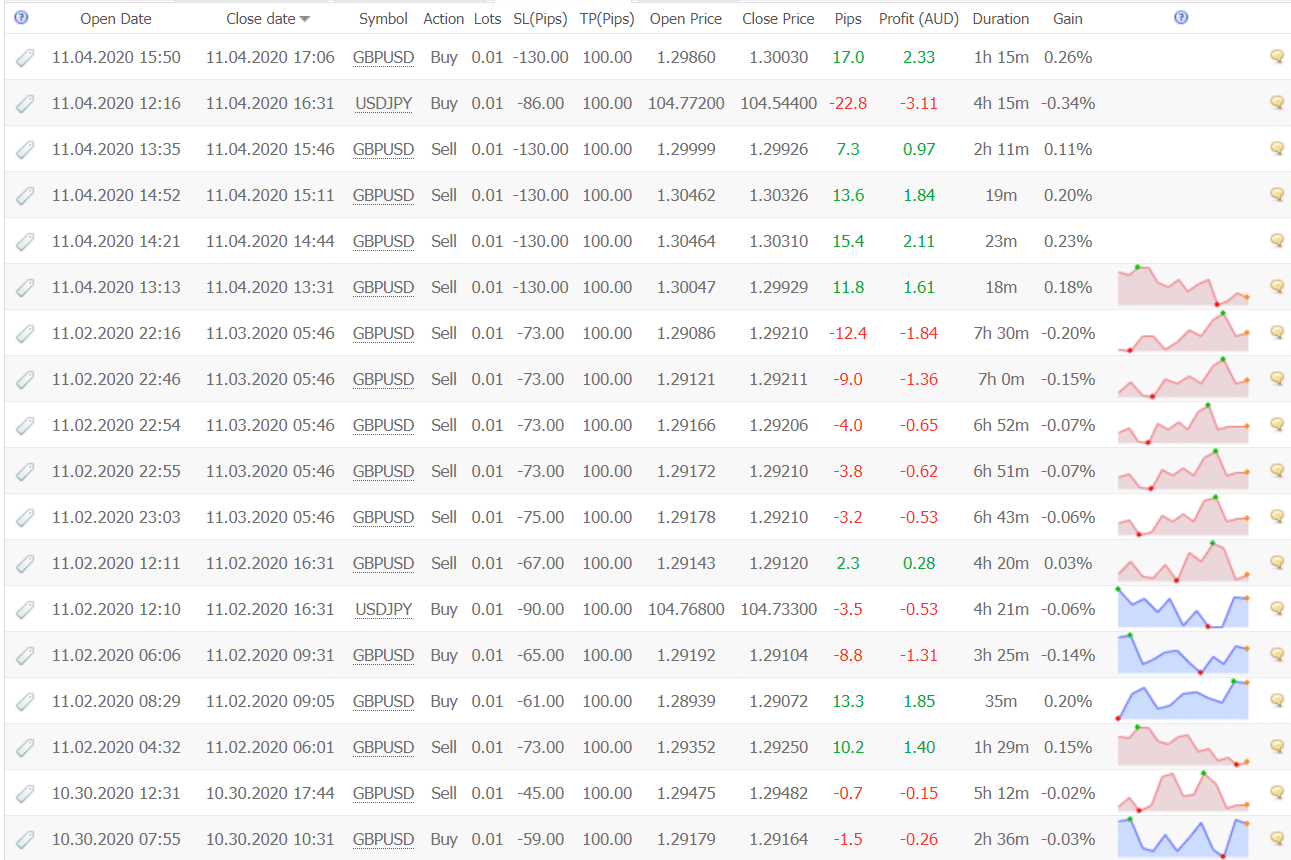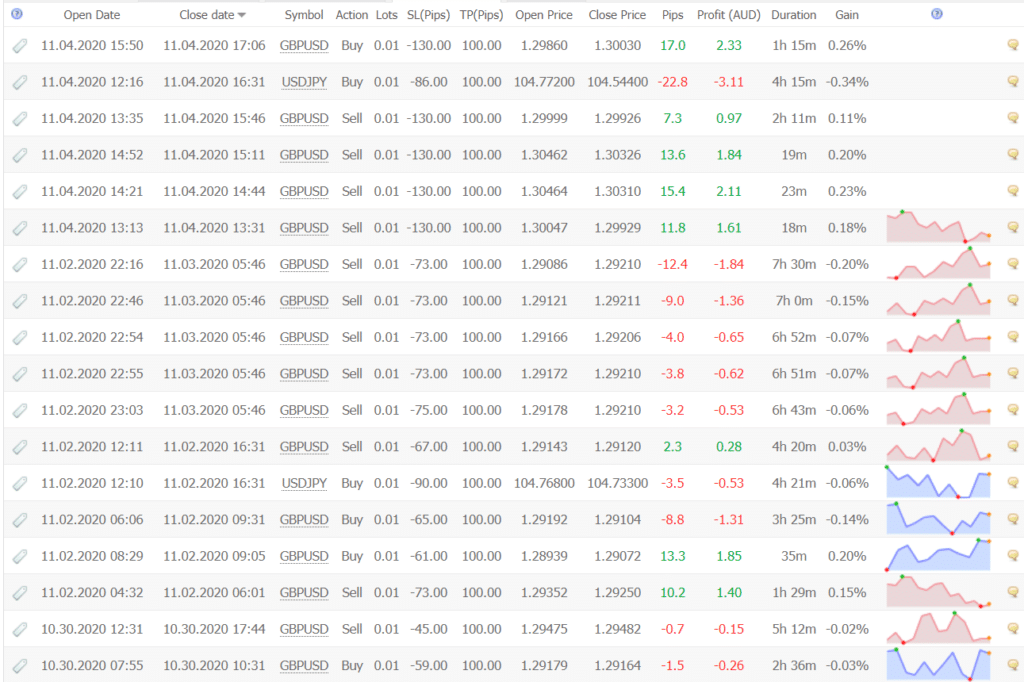 As we can see, SL varies depending on market conditions.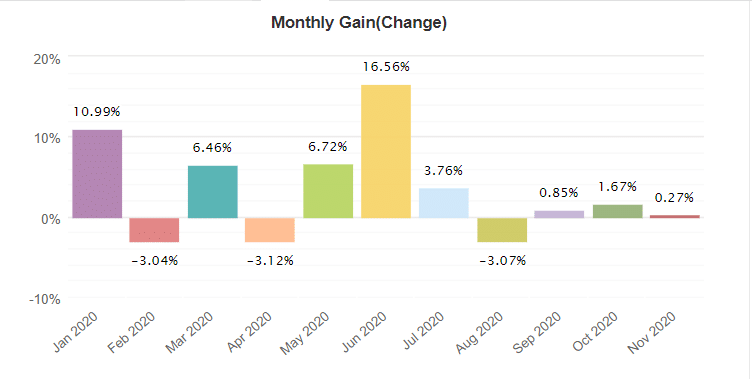 Monthly gains are little, comparing to the risk the EA works with.
Affiliate Program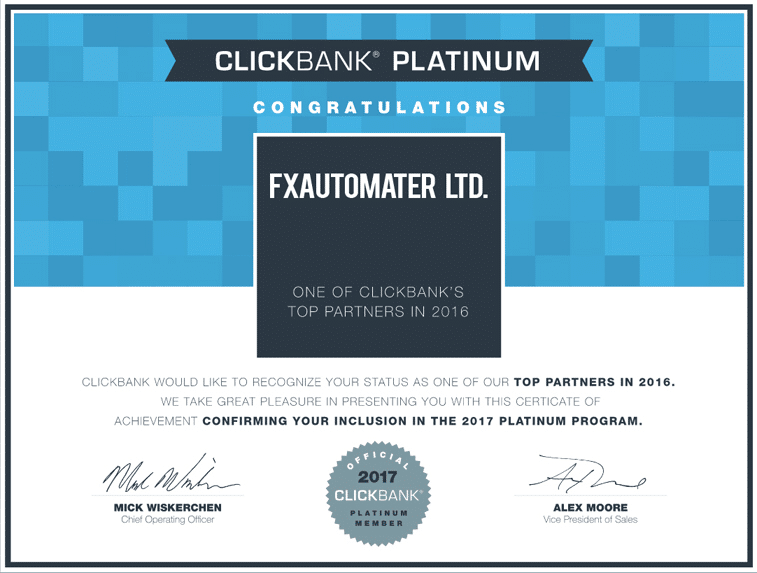 There's a sertifikat that's given to FXAutomater Ltd. in 2017 as one of the main partners in 2016. The company has joined Clickbank's Platinum Program in 2017 as well. All affiliated companies will get up to 35% ($105) from each sold copy. To get started we have to complete a registration on click bank and receive marketing materials.
People feedback


Nevertheless, there are over a year of trading results. There are no people testimonials on Forex Peace Army.
Wrapping up
Advantages
Strategies are well-explained
The backtests were provided
Real-account trading results
the 60-day money-back guarantee
Disadvantages
No settings explanations provided
It's the second version of a robot designed in 2013 that replaced it
Real tradings results are available only for two symbols
Mediocre trading results for the last four months
Empty FPA page
No people feedback provided
Summary
The robot united three strategies to trade all day long, but the real account trading results show that the profitability isn't increased with increasing the number of strategies on the board. Usually, a single well-designed scalper can provide from 5% to 10% of the monthly gain, trading with the same risks. Even with 50% OFF, the offer doesn't look convenient. There are no explanations why the developers decided to remove a previous version of the Diamond robot instead of updating. It looked like they wanted to sell the same robot twice, and this is unprofessional.