Forex Gold Investor is a trading solution from FX Automater. The company is a well-known Forex robot designer. The system is introduced as a proven "sure bet" investment.
Is this service a viable option?
We are sure that you have to wait and check March, April, and May 2021 trading results because the system is going to show the loss result and the end of March 2021. We have to understand if the system will be updated to keep working smoothly.
How to start trading with Forex Gold Investor


There's a short-time offer that never ends.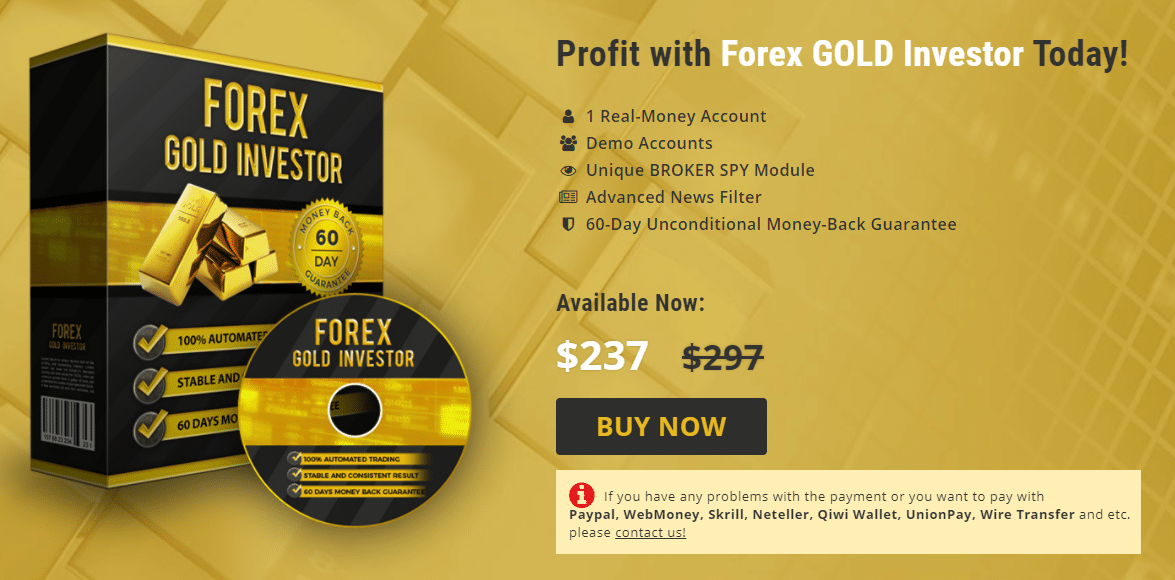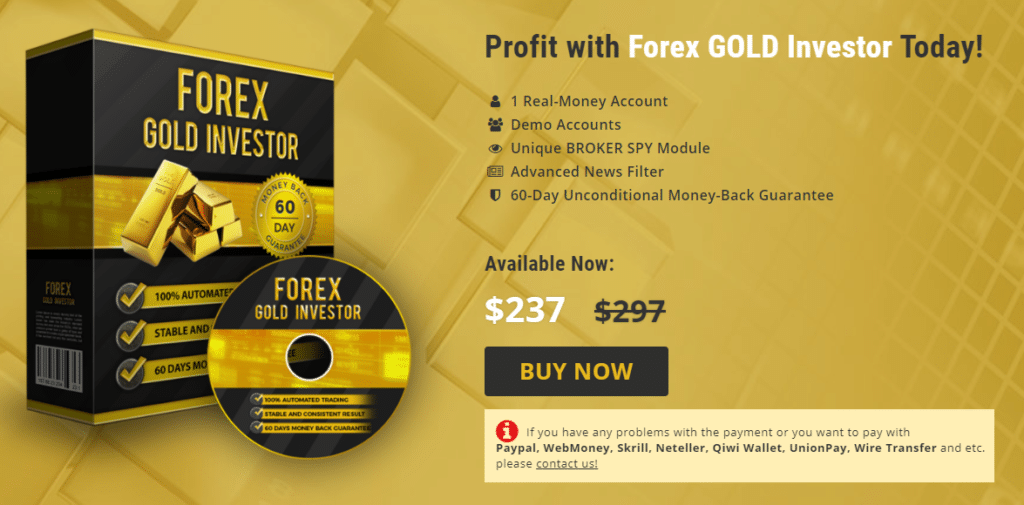 Forex Gold Investor costs $237 with a $60 discount. The package includes one real account license, unlimited demo accounts, broker protection module, news filters, a 60-day money-back guarantee.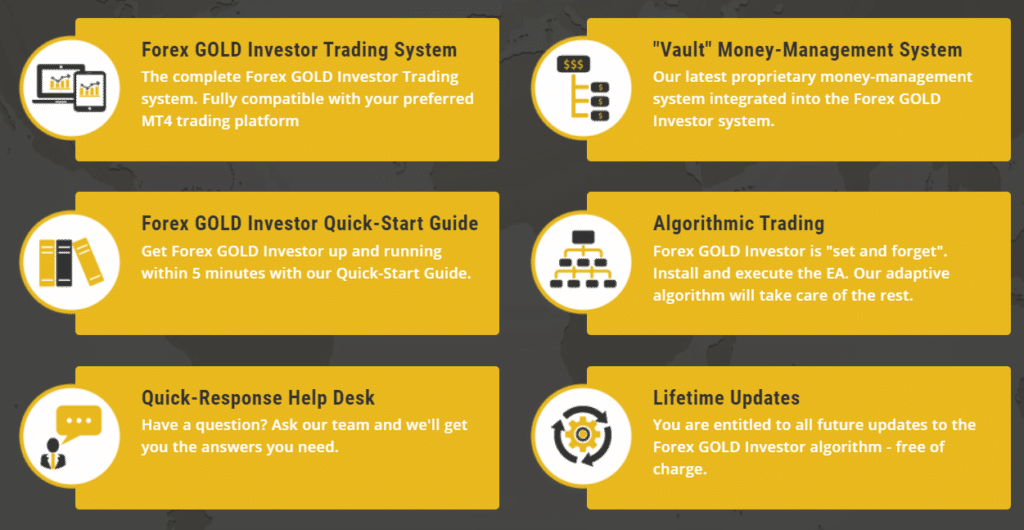 We can expect to receive support, lifetime updates, and a PDF user manual.
FX Automater has the most well-designed presentation among other design companies. It's a pleasure to read their presentations.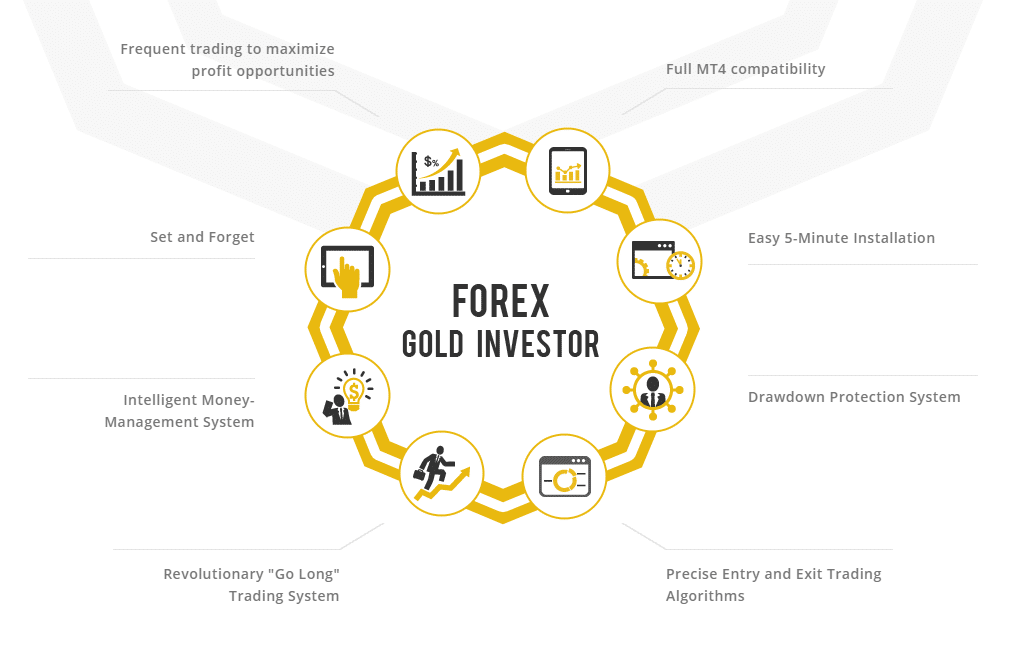 The robot works completely automatically.
The system can be deployed on the MT4 terminal only.
It's a frequently traded trading solution.
The robot works with a need for human intervention.
There's an intelligent money-management system.
The installation will take five minutes.
There's a breakdown protection system.
We have a "Go Long" (?) system on the board.
The MM system calculates well entry and exit points.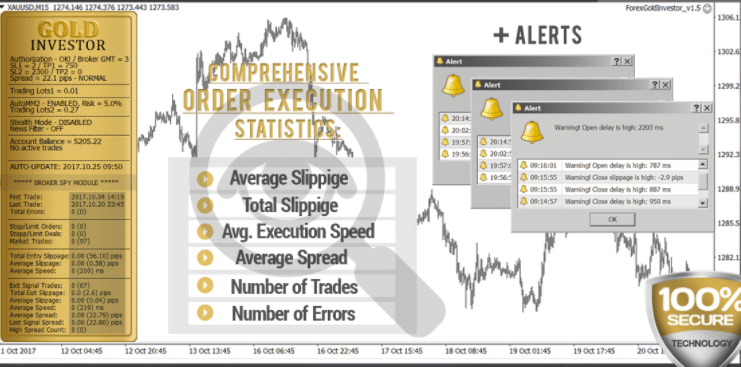 The Broker Spy Module protects us from our Stop Loss being hunted, from opening deals when the market experiences High Slippage or High Spreads.
The system is ready for 2021's market conditions.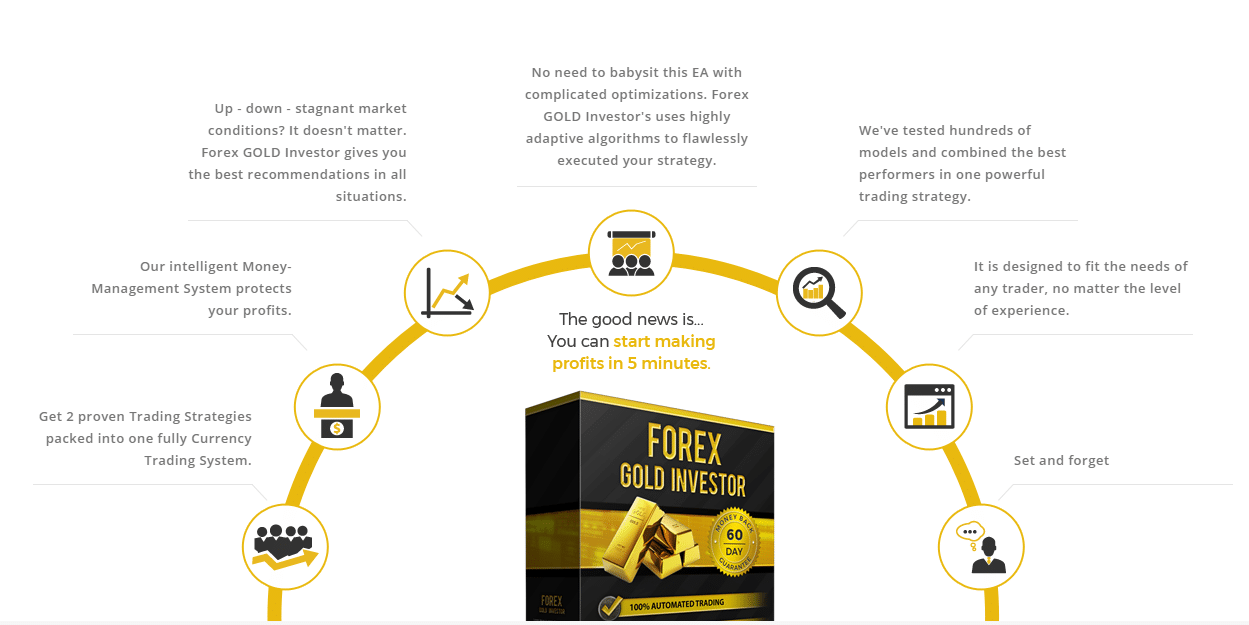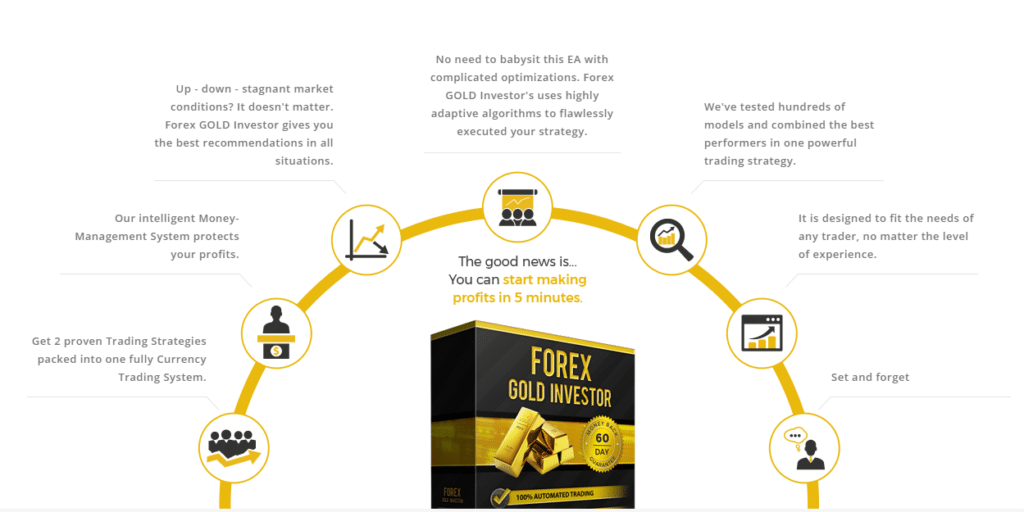 It's based on two proven trading strategies.
The robot was well tested with different models applied.
Forex Gold Investor backtests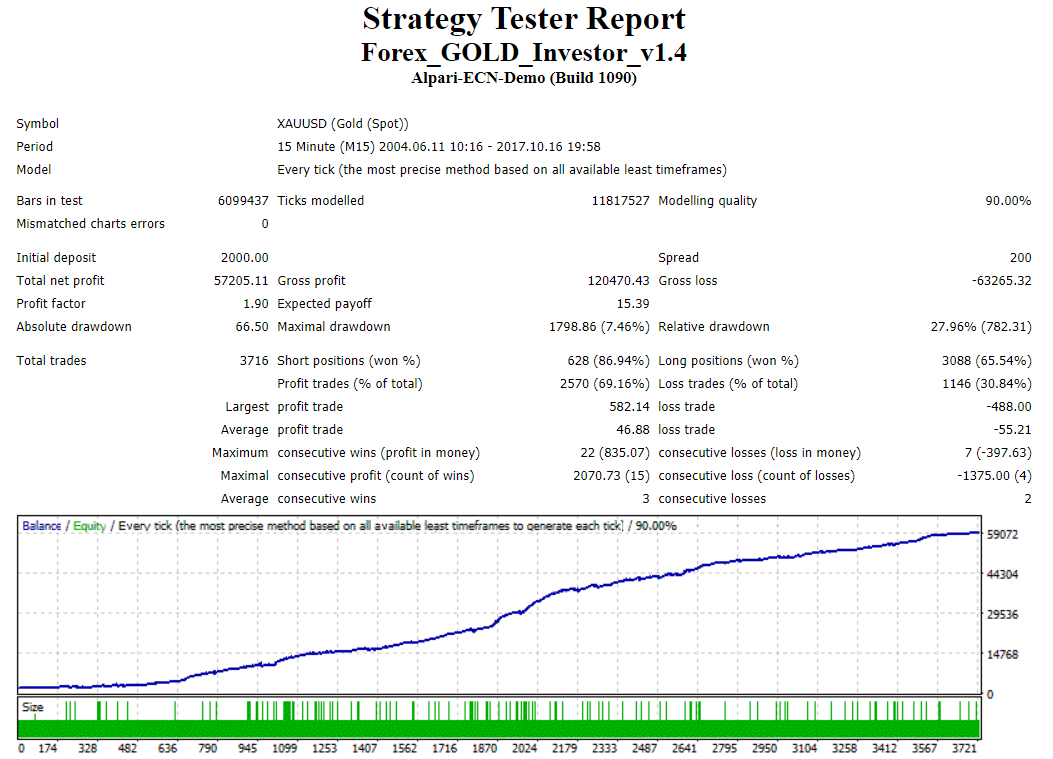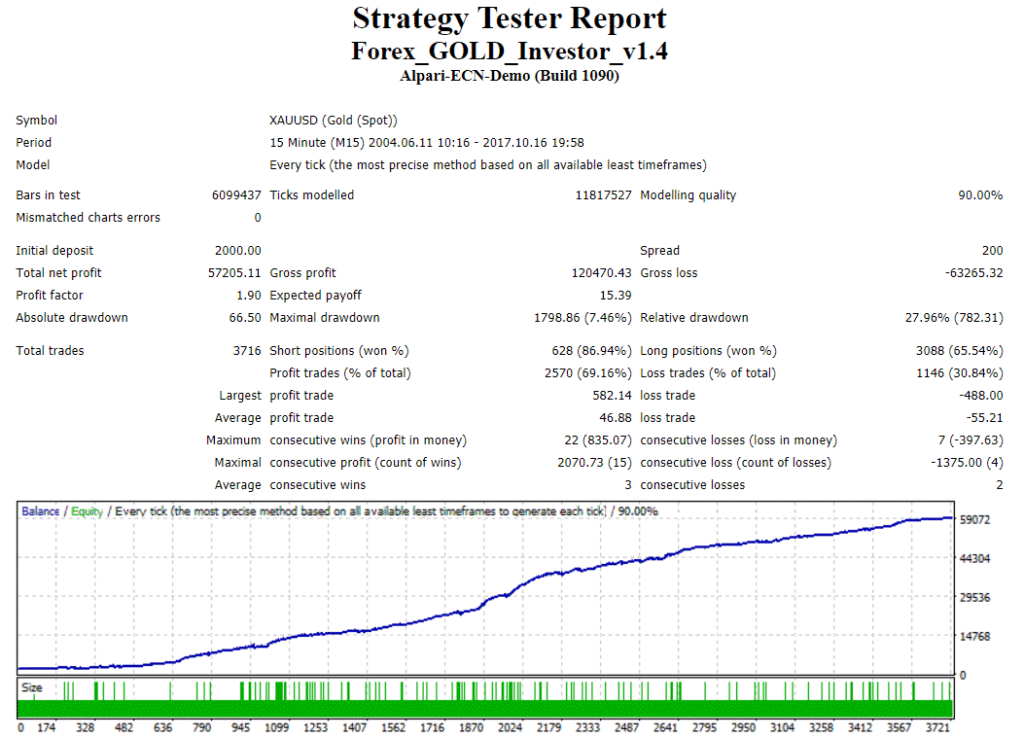 We have two backtests. This one was performed with fixed lots. It's a Gold backtest on the M15 time frame. The modeling quality was 90.00%. An initial deposit was $2,000. The total net profit has amounted to $57,205. The Profit Factor was 1.90. The maximum drawdown was 7.46%. The EA has closed 3716 deals with 86% of the win-rate for Shorts and 65% for Longs.
Trading Results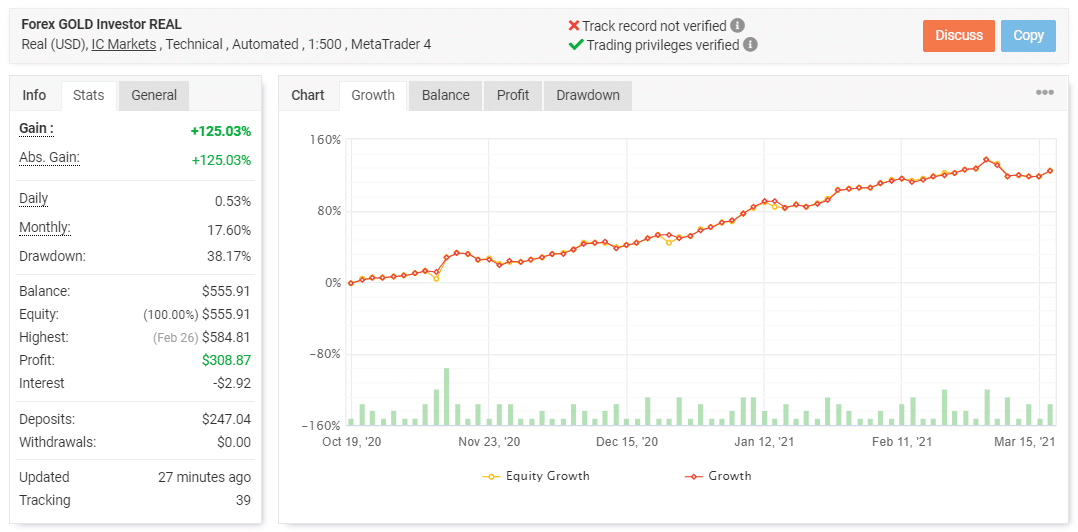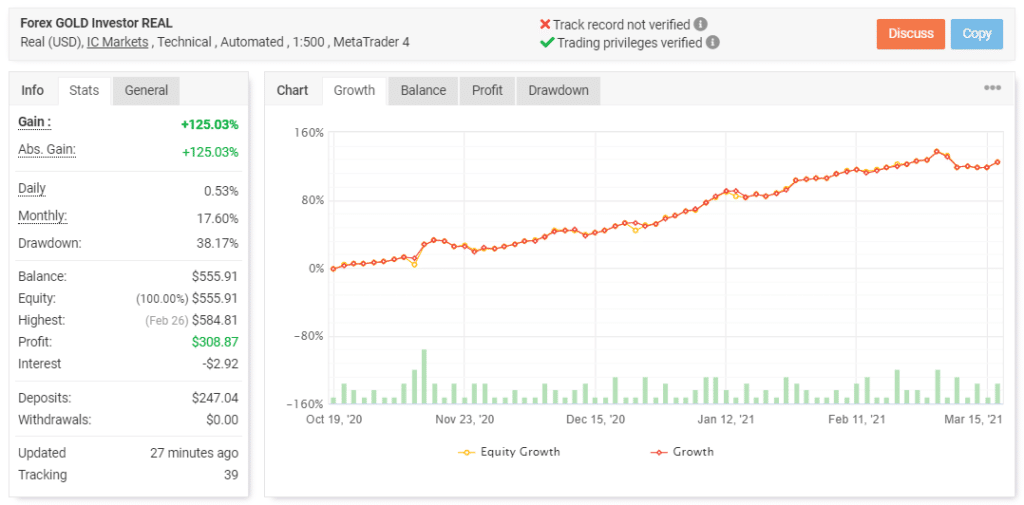 Forex Gold Investor works on the real USD account. The broker was chosen IC Markets. The robot trades automatically using data from technical indicators from MT4. The leverage is 1:500. The account doesn't have a verified track record. It was created on October 19, 2020, and deposited at $247.04. Since then, the absolute gain is +125.03%. An average monthly gain is 17.60%. The maximum drawdown is 38.17%. The account is tracked by 39 traders.


The robot has closed 126 deals with 25171 pips. An average win is 464.44 pips when an average loss is -692.21 pips. The win-rate is 73% for Longs and 87% for Shorts. An average trade length is over ten hours. The Profit Factor is 2.36.


The BUY direction (94 deals) is traded three times more frequently than the SELL one (32 deals).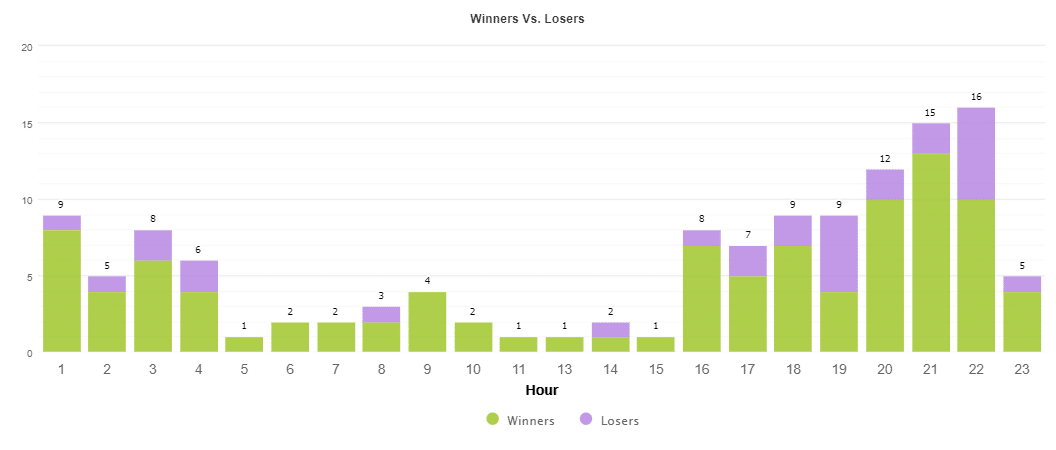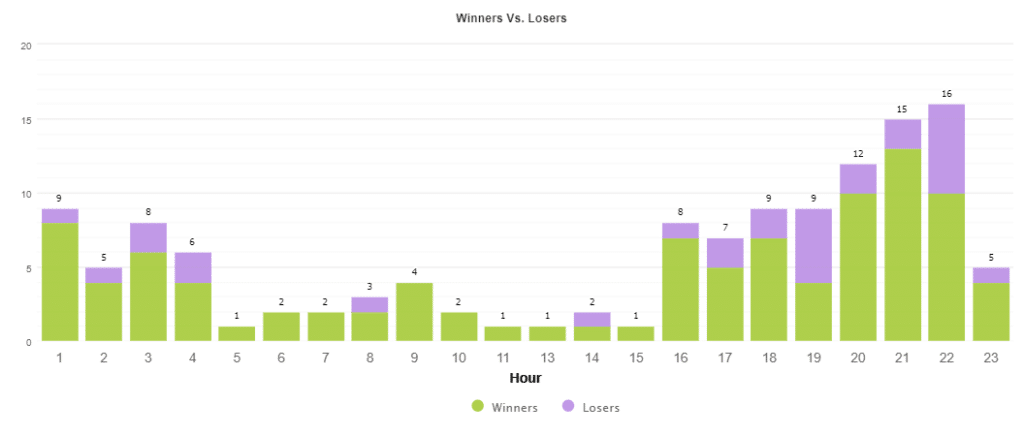 The robot focuses on trading during the American and Australian trading sessions.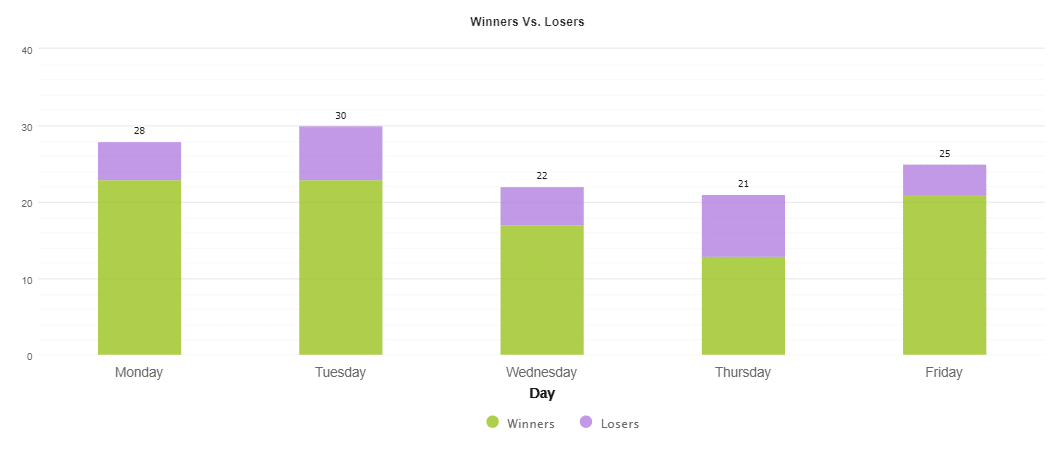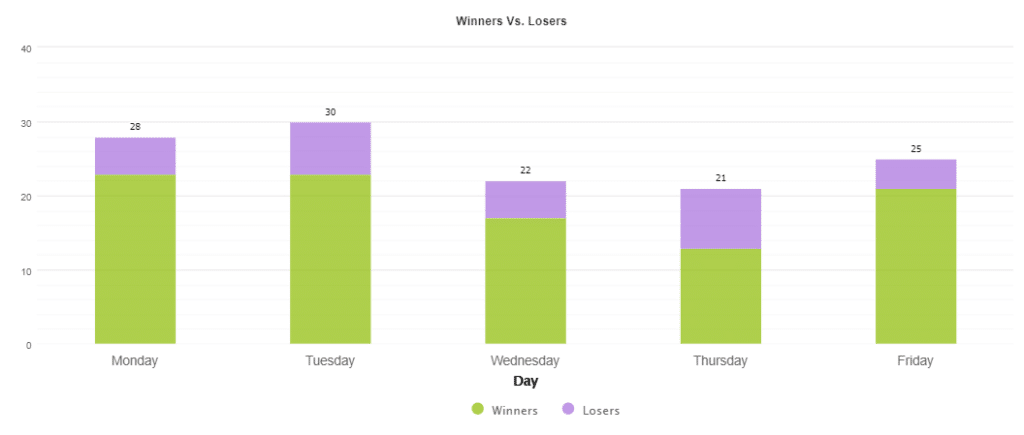 The most-traded day is Tuesday (30 deals).


The robot runs the account with medium risks to the account balance.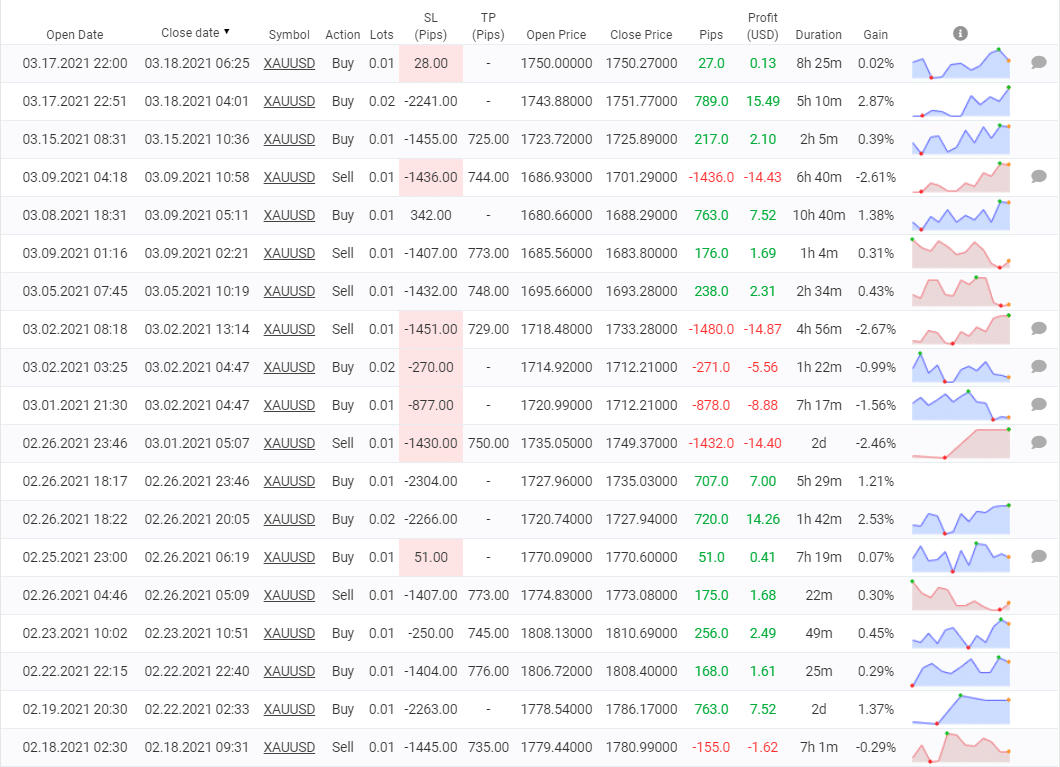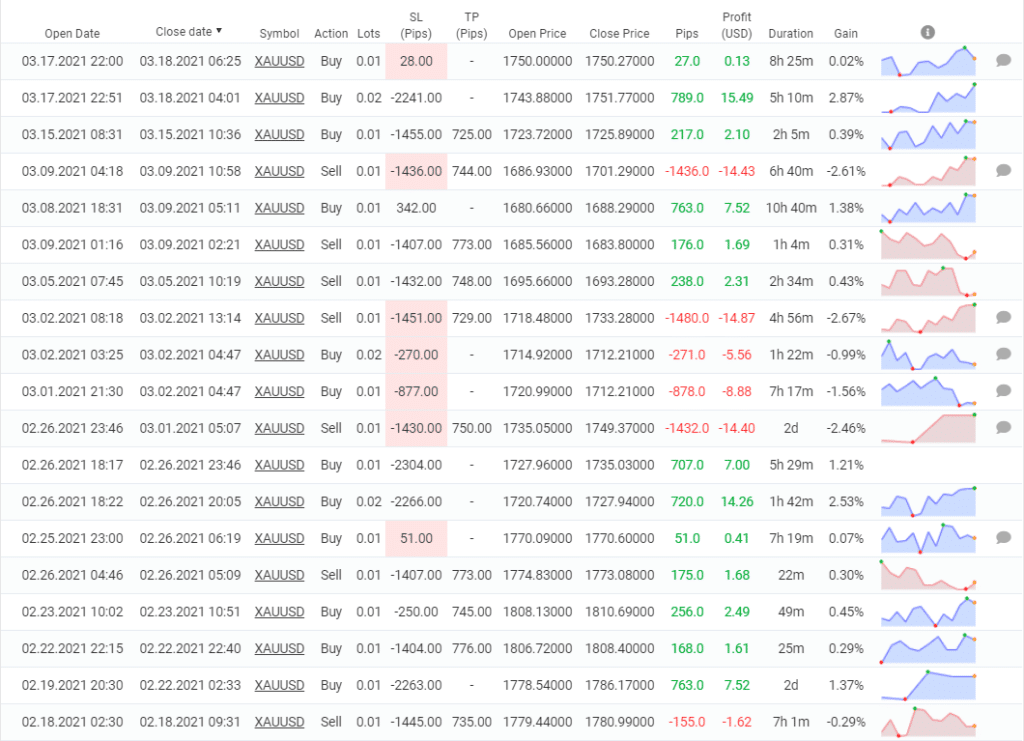 As we can see, the last time, the EA has closed many deals with losses.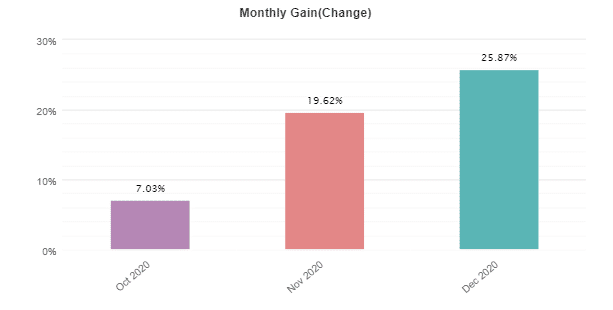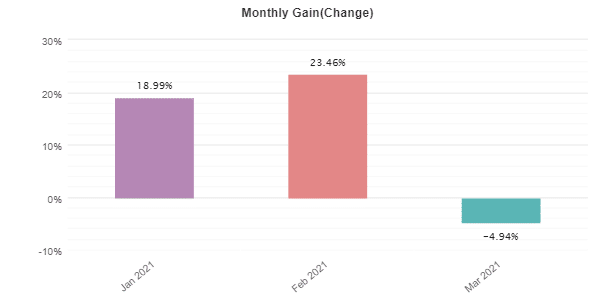 The system was profitable until March 2021.
Other notes


FX Automater has designed many well-known products like Forex Diamond, Volatility Factor, Wall Street Forex Robot, and others.
People feedback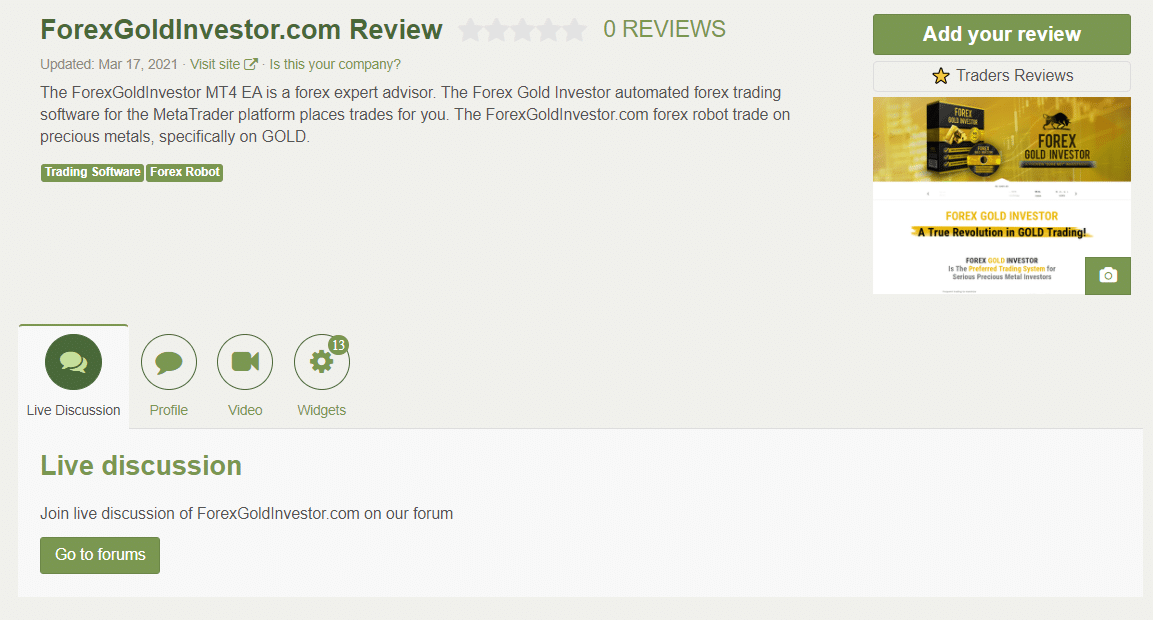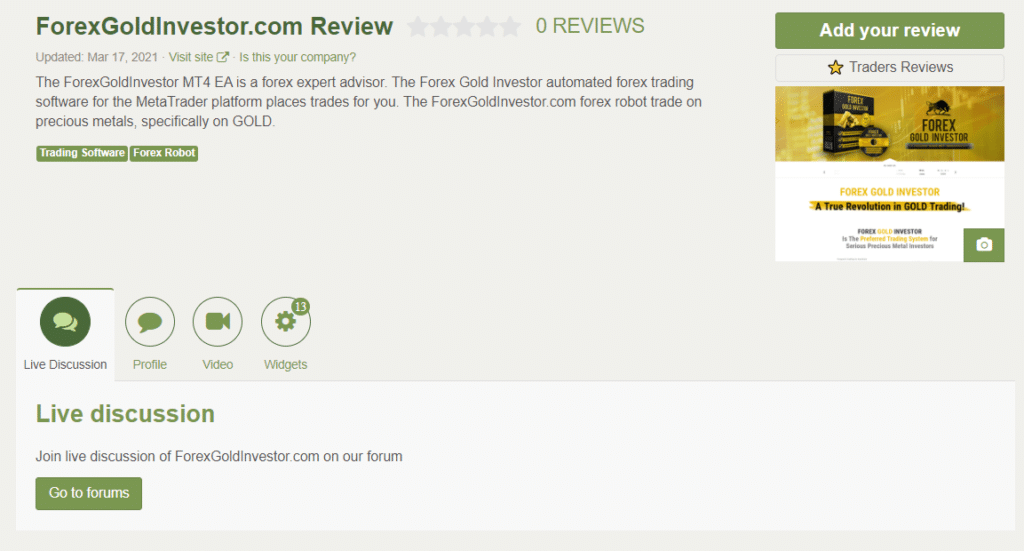 Forex Gold Investor has its own page on Forex Peace Army. There are no reviews or rates.
Wrapping up
Advantages
Well-known design company
Backtest reports provided
Verified real-account trading results provided
Affordable pricing
Money-back guarantee provided
Disadvantages
No strategy explanations provided
No settings explanations provided
No money-management advice given
March 2021 trading results are far from being great
No people feedback provided
Summary
Forex Gold Investor has been working quite well until now. Something happened in March 2021. The system stopped being profitable. So, if the developers care about it, there should be an update soon. Anyway, after a month of loss, the robot should be checked for half a year or so to be sure that won't happen again.