Forex Sugar EA is a robot that is designed by Brian Jones. We have no idea who's it. The main claim is "Yes, Trading In The Forex Market Is Profitable."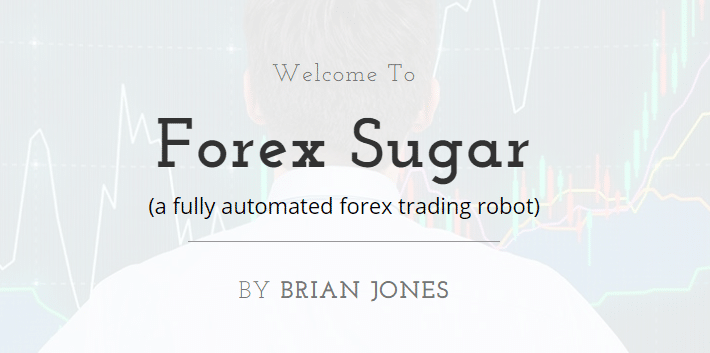 As soon as we keep being on the site for several seconds, we have an offer to exchange our email for their spam. We don't think it is an equal trade.
Is this robot a viable option?
We know that the robot blew a previous demo account in October – November 2020. We have no idea if this can happen again, but one thing should be taken into account – the developers don't risk their money. Last year the system was run on the demo account. Now, it's been running on another demo account as well.
How to start trading with Forex Sugar EA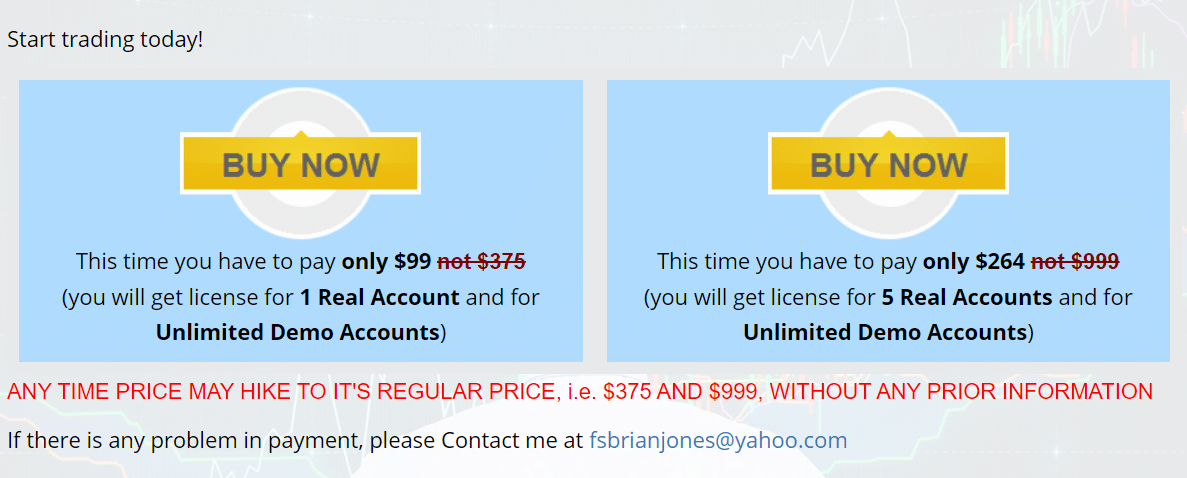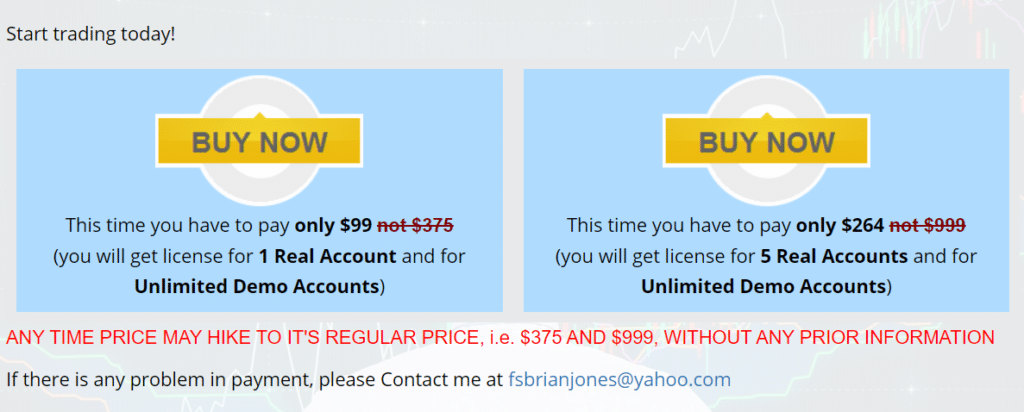 The offer has two packages. The first one costs $99 instead of $375. There's a single real account license on the board. The second pack includes five real account licenses for $264 instead of $999. This pricing is a scam. The EA can't cost $999.
The packages are featured by an unlimited number of demo account licenses.
We don't know anything about support, free updates and upgrades, and refund policy.
Let's talk about its settings, features, and other useful for a trader, information:
The robot works automatically on the terminal for a trader.
There are no human emotions behind auto-trading.
The robot is a system that's based entirely on smart calculations and technical indicators.
It works 24/5 on the account.
The system is easy to set up.
The system doesn't use fixed SL and TP, so all of them are dynamic. It's so dangerous because if the EA gets disconnected, the account will be blown.
The robot can work only on a stable market.
It uses News Filter to avoid trading High-Impact News periods.
It requires so many News Filter customizations from a trader. Many don't have this knowledge.
The robot trades a Price Action strategy.
The developers don't recommend small and fixed SL and TP for this EA.
There's broker protection that covers SL and TP levels from being hunted.
If a position opens and comes in loss after a few minutes, and EA feels that this is the wrong position, then it will close that position in little loss and won't wait for a big loss.
Forex Sugar EA backtests
The company provides no backtest reports. We don't know how well the system handled the past data before being released.
Trading results


The robot works on a demo USD account. It was created on January 26, 2021, and deposited at $1000. Since then, the balance (according to the chart) has become $1,398.


The robot works only with Gold. The total net return is 39.8%. An average monthly return is 18.7%. The maximum drawdown is low. The win-rate is good – 79.9%. The Profit Factor is low – 1.37. There were traded -591.8 pips. It means there's a Grid plus Martingale combo on the board. An average trade frequency is 3.1 deals daily. The account is live for 57 days.

The Risk to the Reward Ratio is high – 9.03. The risk of ruin is 0.0%. An average trade length is 6.9 hours. An average result is +$2.22. An average win is +$10.50 when an average loss is three times higher -$30.33.

The robot trades both directions equally by deals, but the SELL direction has brought -$169.39 of losses.

There's a single strategy on the board – #121314.

As we can see, there are only two profitable days – Wednesday ($210.28) and Friday ($410.26).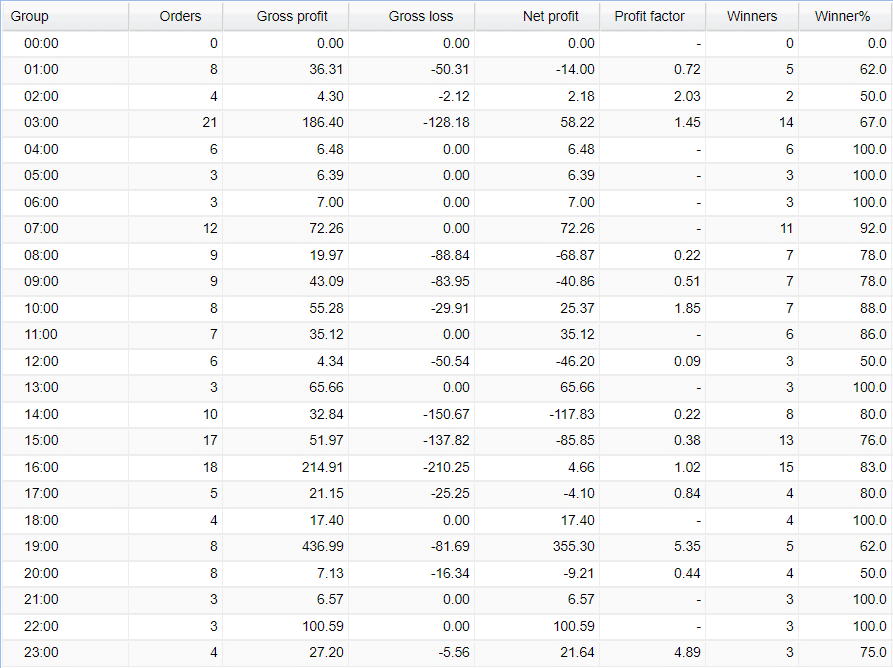 The robot trades all day long, avoiding High-Impact news periods.

We don't know if March 2021 is closed with a bigger monthly profit than February 2021.

The weekly trading activity looks the same for a long period.


From the closed deals, we know that the robot uses a Grid of several orders where some of which are Martingale.
Other notes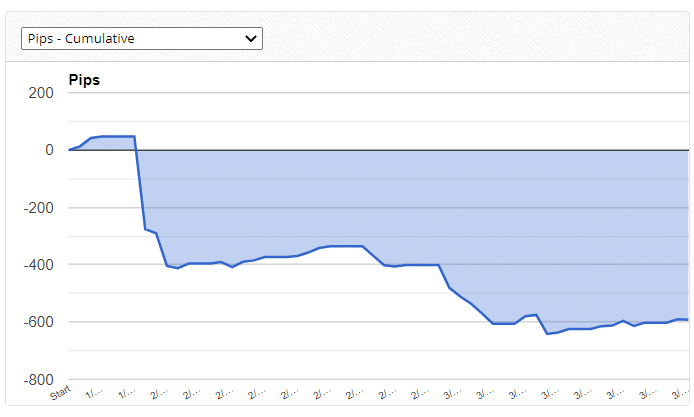 There's no well-designed strategy behind it. The profits are made only by performing a Martingale strategy. It's so dangerous, and we're not surprised that the developers didn't mention it.
People feedback
The company doesn't have customer testimonials published on the site. There are no pages on the sites like Forex Peace Army or Trustpilot deployed. It's a disadvantage because we don't know if common folks are profitable with it.
Wrapping up
Advantages
Real account trading results
Affordable pricing
Disadvantages
No team revealed
No settings explanations provided
No money-management advice given
No backtest reports provided
Risky trading
Grid and Martingale are on the board
The EA has blown a previous demo account several months ago
The developers don't set the robot to work on the real account
No people feedback provided
Summary
Forex Sugar EA looks like a scam. The presentation doesn't include extended explanations and backtest reports. The developers still avoid using the system on the real account to make money because they remember the previous EA's experience. We'd like you to avoid this system.