Forex Pip Shooter is a robot that provides automatic order execution on our terminal. The developers don't reveal a strategy behind this service. So, we should trust them blindly. Trading results look mediocre because of high drawdowns compared with monthly profits.
Is a Forex Pip Shooter robot still good to go?
The system provides little monthly profits with significant drawdowns. The presentation looks common and includes trading results. The vendore doesn't support a proper level of transparency, hiding information about themself. They haven't mentioned cross pairs to trade.
How to start trading with Forex Pip Shooter
We have prepared a list of features and other important information about the system.
Forex Pip Shooter can trade on the account without our supervision.
This is the only Expert Advisor Forex Robot that uses Pip Shooter technology for automated trading.
It's a simple trading solution to use.
It can make profits from the huge Forex market.
The advisor doesn't affect emotions during trading.
The robot works with various indicators to be sure that the time to get in the trade is calculated correctly.
The only platform to work is MT4.
We can use a user manual if we don't know something.
Trading is possible on 28 symbols.
It works on resistance and support price levels of these pairs, thanks to breakouts, rebounds and correlations.
It opens orders quite frequently.
The developers provide us with a profit calculator. So, we can check how much the system hypothetical can make.
The system should be safe.
The system can adapt to our needs.
Forex Pip Shooter guarantees profitability and safety since it is based on the most consolidated strategies, those that have enriched the world's best traders: spread trading, breakout, hedging.
We can purchase a robot for €800. There are no details about package features provided. We don't have a refund policy either.
Forex Pip Shooter backtests
The developers decided not to provide us with relevant backtest reports. This shades the system because it was tested and the final report of its results was received.
Trading results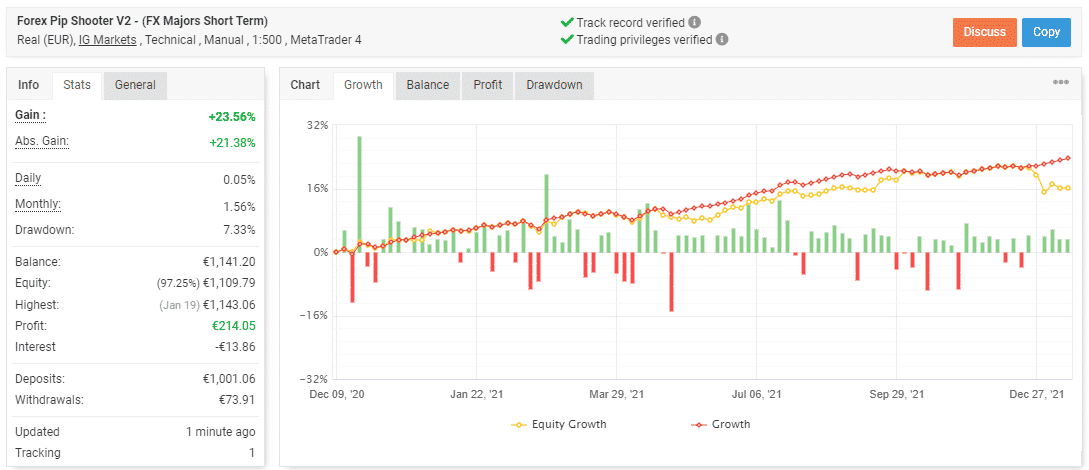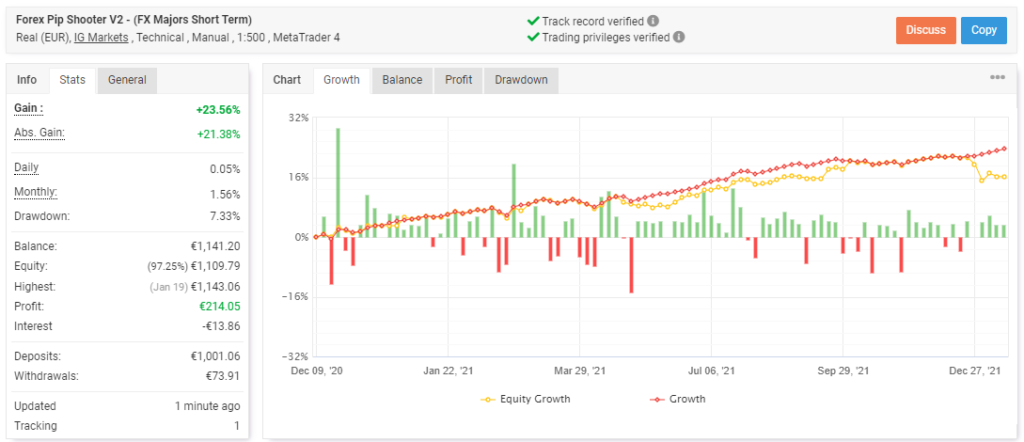 Forex Pip Shooter opens orders on a real EUR account on IC Markets automatically with 1:500 leverage on MT4. The account has a verified track record. So, we can trust the data we see. It was created on December 09, 2020, and deposited at €1001.06. Since then, the absolute gain has become 23.56%. An average monthly gain is 1.56%. The maximum drawdown is 7.33%. One person tracks the account.


The robot has executed 151 deals with 2907 pips. An average win is 47.38 pips when an average loss is -58.78 pips. The win rate is 75% for longs and 71% for shorts. An average trade length is four days. The profit factor is 2.27.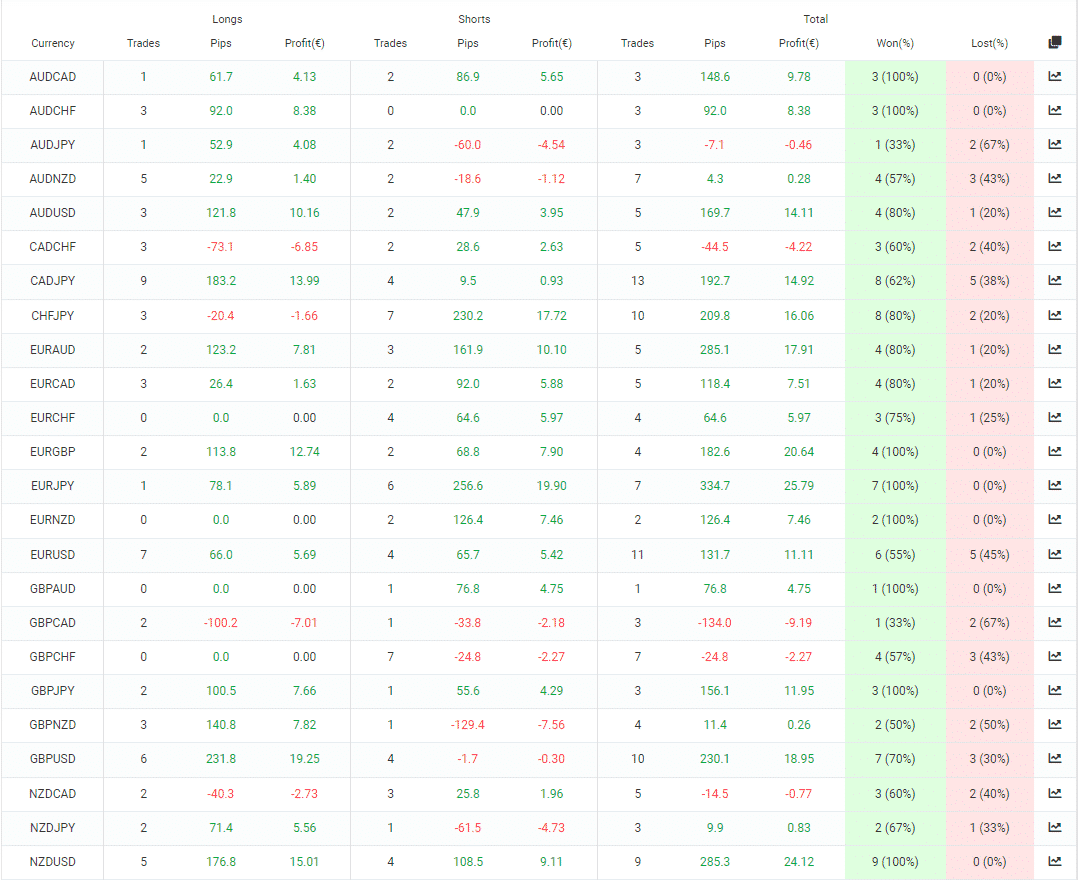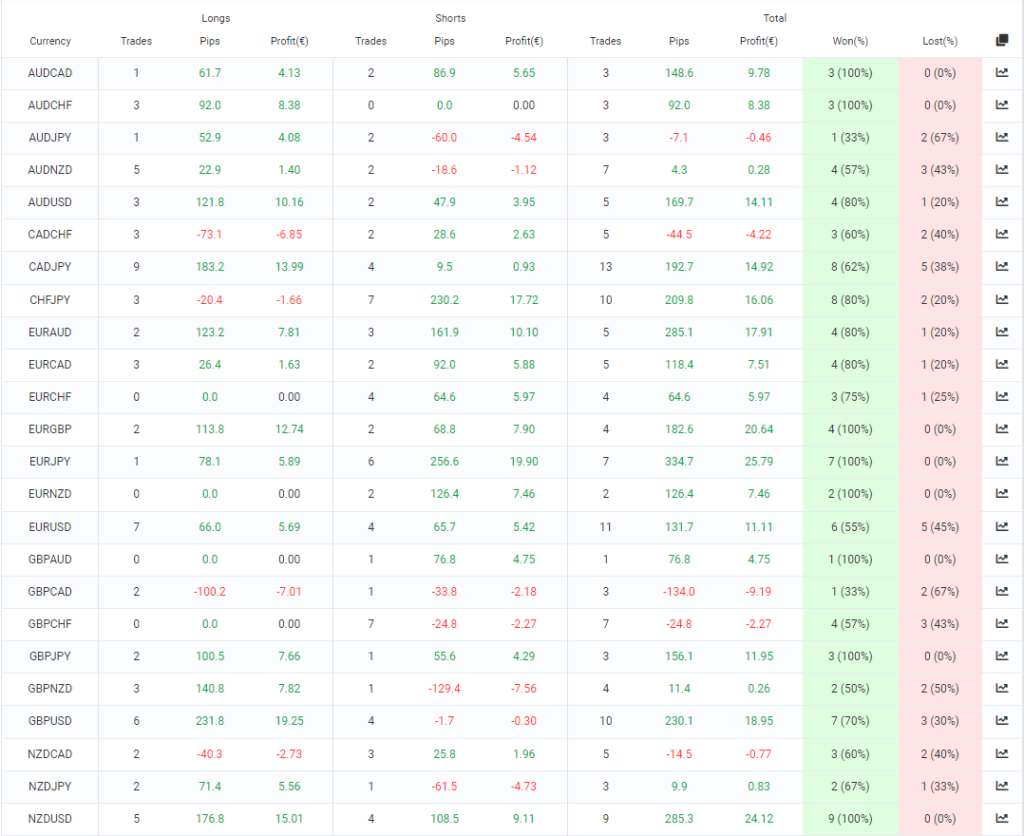 The system has lost many cross pairs. It doesn't look well-customized.


The core time period to trade is the European session.


Wednesday with 38 deals is the most traded day on average.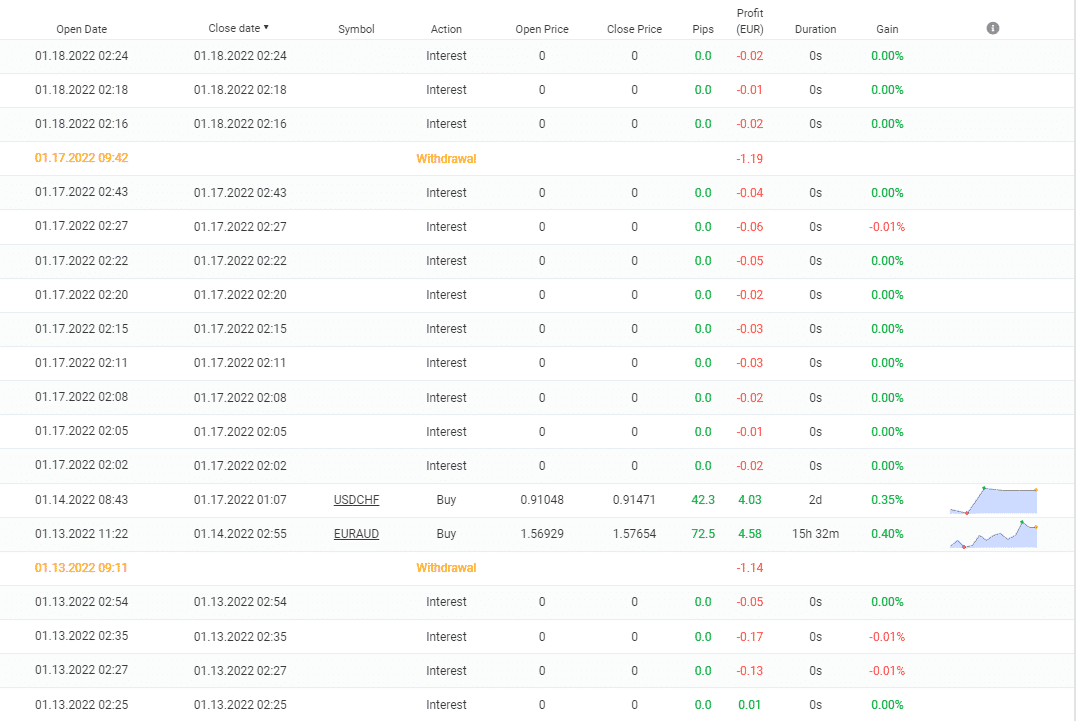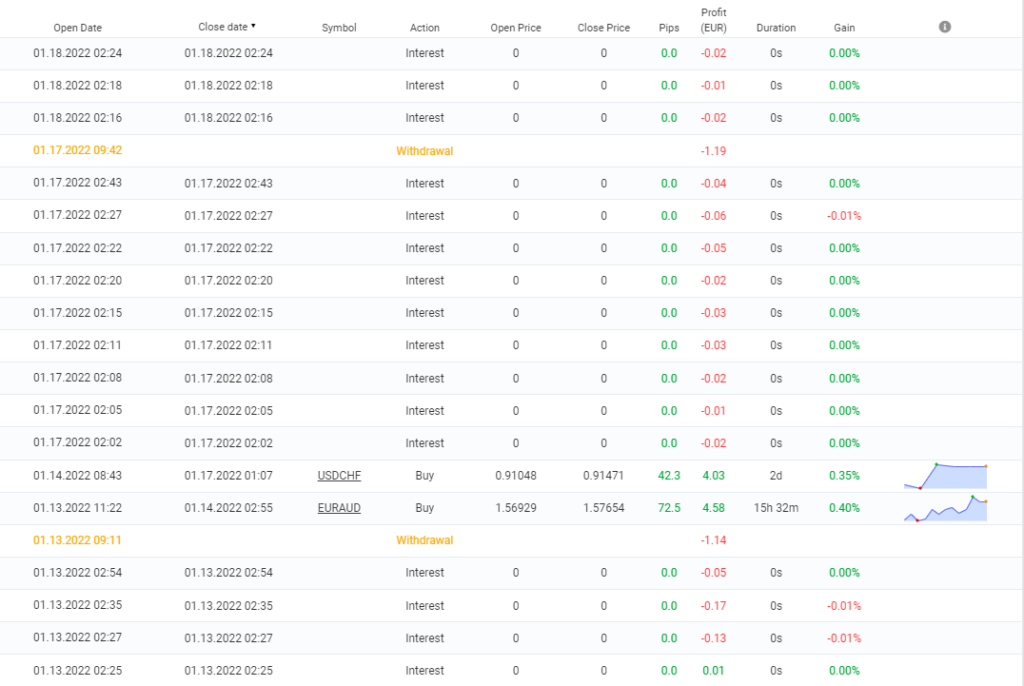 The advisor pays many commissions but trades with low frequency.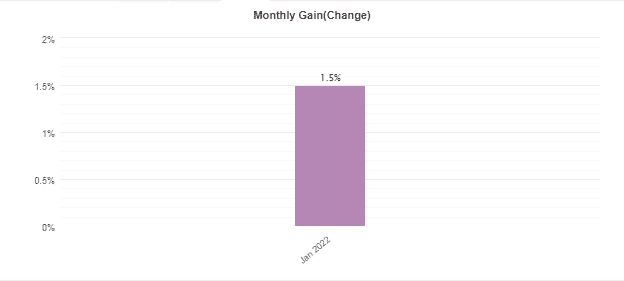 January 2022 looks like a profitable month.
Other notes
We can work with the suggested brokers: TopFX, Klimex, and Triomarkets.
People feedback
We have no testimonials written about how good this system is. So, it's up to us to trust the system or not to trust.
Wrapping up
Advantages
Disadvantages
No team revealed
No risk advice given
No settings or strategy details explanation provided
No backtest reports shown
It works with big drawdowns
No refund policy provided
No people's testimonials written
Forex Pip Shooter is a trading solution that shows a short profitability working with significant drawdowns. The presentation doesn't include information about backtest reports, strategies, and refunds. We couldn't find any sign of people's testimonials.