Automated systems in Forex have become very popular now. Whether you are a beginner or an experienced trader, an automated system reduces your time and effort. With minimal risk and assurance of high returns, it is no wonder you see many such systems available now.
Forex Progress Bot is one such system that promises a gain of $18,022 per month. Developed by Rita Lasker, this system works on any currency pair. Our experts have done a detailed review of this new system to give you their unbiased perspective on the system.
Is This A Perfect Automated System You Can Rely On?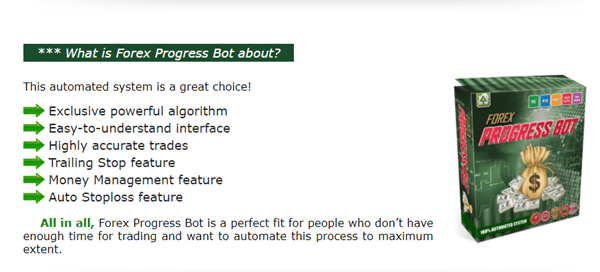 Developer Rita Lasker introduces this Forex robot as the right system for both beginners and experienced traders. She claims that the system uses an exclusive and powerful algorithm that helps perform accurate trades.
Other features of the system include easy to use interface, trailing stop feature, money management, and automatic stop loss. Working on all currency pairs, this Forex robot uses three different time frames namely M5, M15, and M30.
Green Forex Group owns and manages this system. Other Forex products of this group include Onyx Scalper, Forex Olympus, etc. While the developer mentions being available to reply to any queries, there is just the contact form and not phone or location info available.
Additionally, other than claiming to use an exclusive and powerful algorithm, Rita does not explain the strategy used. We would like more transparency on the part of the developer and vendor as this affects the reliability of the system.
How to Start Trading With Forex Progress Bot
Two different packages are available for this system – Forex Progress Bot and Forex Progress Bot Ultimate. While the former costs $99, the latter costs $228. The vendor informs that these prices are discounted prices. In the Ultimate package, additional features such as advanced algorithm, ultimate success rate, weak trades filter, 24/7 support, and remote assistance are offered.
Rita Lasker explains the working model of this system as a ready to use automation where you need to pick a currency pair, attach it to your chart and use any of the timeframes made available. With this automated system, you will be able to choose the right entry points and features like trailing stop, auto stop-loss, and money management allow for improved results. The developer recommends the use of MetaTrader 4 with any broker and a recommended deposit of a minimum of $200.
Forex Progress Bot Backtests
Rita Lasker does not provide any backtests to back her claim of making big profits with the system. Strategy reports give a fair idea of how a system works. You can assess the performance and know about the spread, profit ratio, and other relevant details. Without backtests, our assessment of this system is incomplete. We would like the developer to add backtests to corroborate her claim of big returns.
Trading Results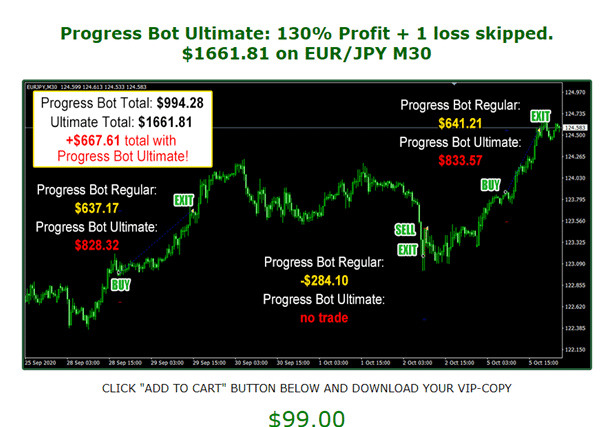 Several screenshots of trading results are displayed on the official site. While these show big returns, we are unable to assess the efficacy of the system fully. This is because the screenshots do not provide in-depth details of the trading account.
The gain percentage, risk/reward ratio, drawdown, etc. are data crucial for knowing how effective a system is. We would prefer results verified by sites such as Myfxbook, FXBlue, etc.
With verified results, the claims of the developer that the system can gain nearly $18,022.93 can be believed. However, since there are no such results made available, we are skeptical about the efficacy of this system.
Account Statement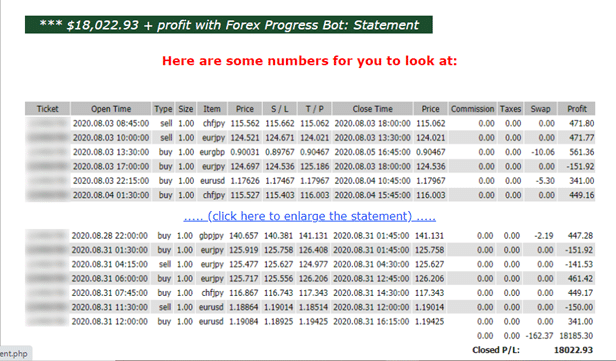 An account statement is shown by the developer which starts from 3rd August 2020 and closes on 31st August 2020. This statement is not of a current account and there is no info regarding the type of account, the broker used, and other relevant details. We expect better proof of this Forex robot's performance.
People Feedback
No user feedback is available for this system. Although the vendor provides a few feedback, they have a high chance of being manipulated. Reviews from trusted sites such as Forexpeacearmy, Myfxbook, Trustpilot, etc. are authentic and have less chance of being manipulated. The absence of feedback from users makes this system unreliable.
Summary
Advantages
30 days money-back guarantee
Automated system
Disadvantages
No verified trading results and backtests
Strategy used is not explained clearly
No user feedbacks
Wrapping up our review of Forex Progress Bot, we feel that the system does not provide the profits it claims to deliver. This is because the developer does not divulge any real and relevant info regarding the strategy used and the results. Without verified results, we are unable to analyze the system properly. The absence of user feedback also strengthens our suspicions that this system is not a reliable one.