We've got a Forex Robotron's presentation on the plate. The site design looks like a common HTML site from 1999. We don't know why the developers decided not to pay money for a modern site template.
Is this service a viable option?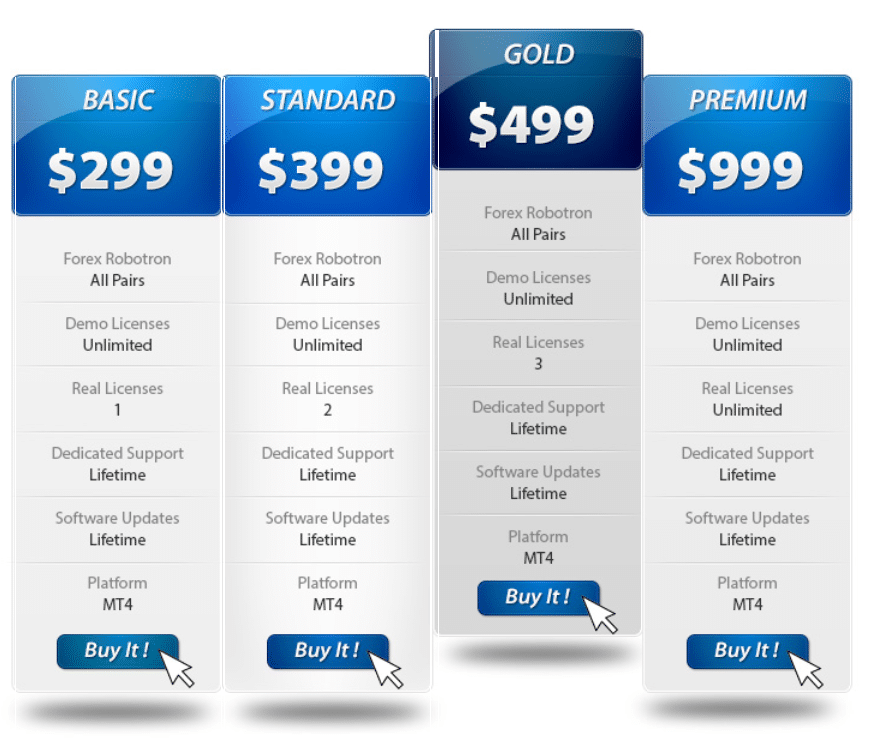 Forex Robotron is introduced in four packages that vary by the license: Basic, Standard, Gold, and Premium. The Basic pack's pricing is $299 for a copy. It includes one real account license. The Standard pack has a $399 price. It includes two real account licenses. The Gold pack costs $499 and is featured by three real licenses. The Premium pack is the most expensive and costs $999. It includes unlimited real accounts licenses.
The packages have the same in common: unlimited number of demo accounts, dedicated lifetime support, software updates for a lifetime, step-by-step user manual.
How to start trading with Forex Robotron
There are no so many features we can tell you about:
Forex Robotron trades automatically.
The system trading hours are before and past Midnight.
It works with five currency pairs EUR/AUD, EUR/CAD, EUR/CHF, EUR/GBP, and EUR/USD.
The main time frame is M5.
The trading frequency is 500 deals for a year.
We can customize settings to increase trading performance.
There's an "Option for NO Trades Open Over Weekend." It keeps our deals away from the Monday night sharp market moves.
The system can be used on NFA and FIFO-regulated brokers.
It can be run on Islamic accounts.
The system doesn't perform Hedging, Grid, Martingale, or Arbitrage risky trading strategy.
The robot is delivered with a step-by-step user guide.
Forex Robotron backtests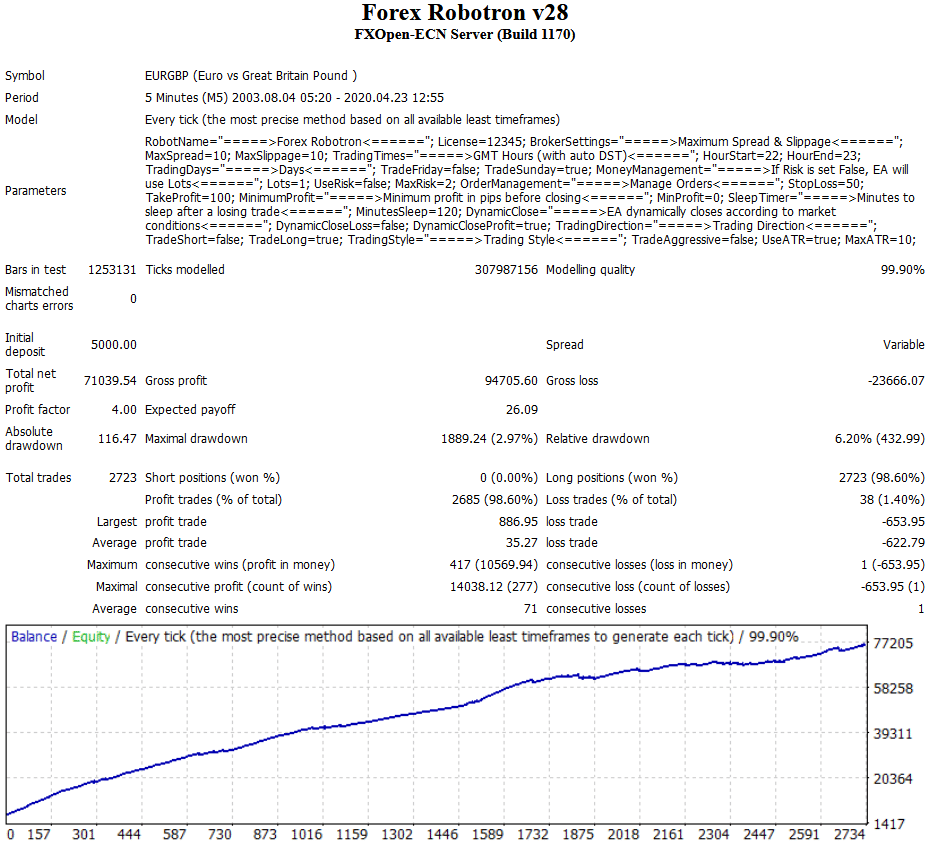 There's a EUR/GBP backtest report. The time frame was chosen M5. The data united seventeen years of ticks. The modeling quality was 99.90%. An Initial Deposit was $5,000. The Total Net Profit was $71,039.54. The Profit Factor was 4.00. The maximum drawdown was only 2.97%. Forex Robotron has closed 2723 deals with a 98.60% win-rate for Longs. The Short direction wasn't traded.

There are some screenshots from the StrategyQuant X site.
Trading results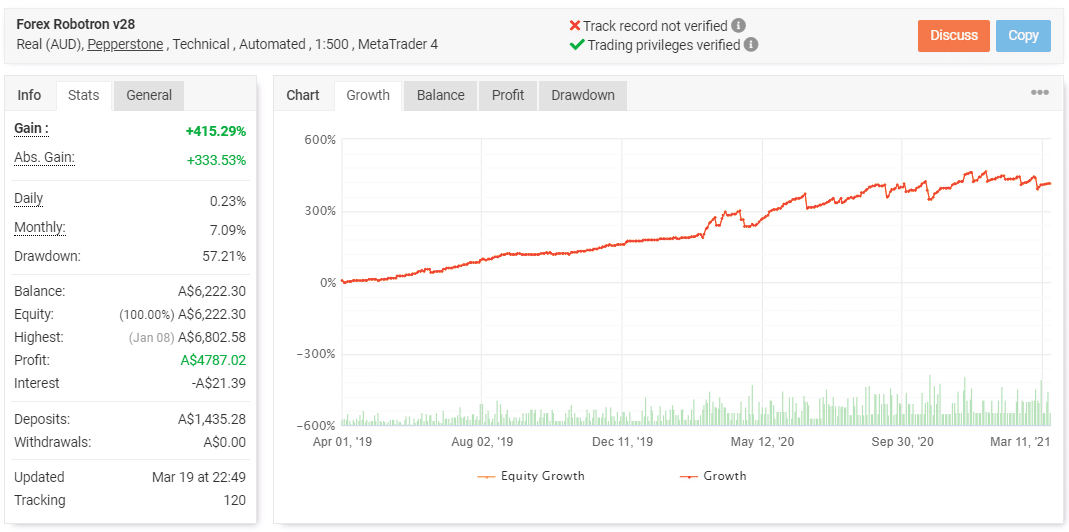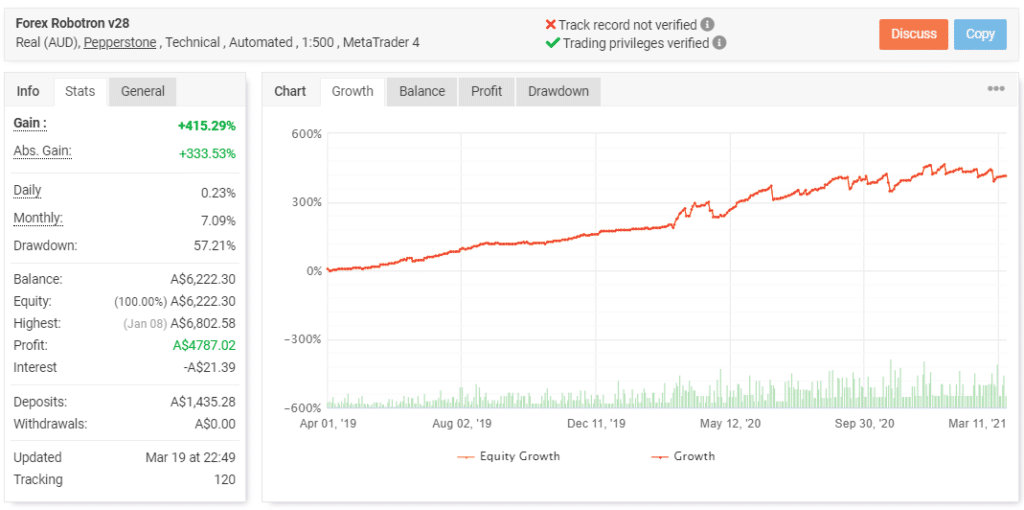 There are five accounts where only two of them are alive. It's one of the real AUD accounts on Pepperstone. The leverage is set at 1:500. It runs the account on the MetaTrader 4 platform. This account was created on April 01, 2019, and deposited at A$1,435.28. Since then, the absolute gain has become +415.29%. An average monthly gain is +7.09%. The maximum drawdown is 57.21%.


Forex Robotron has closed 957 deals with 1905.4 pips. An average win is 4.46 pips when an average loss is -7.52 pips. The win-rate is 79% for Longs and 70% for Shorts. An average trade length is over an hour. The Profit Factor is 1.47.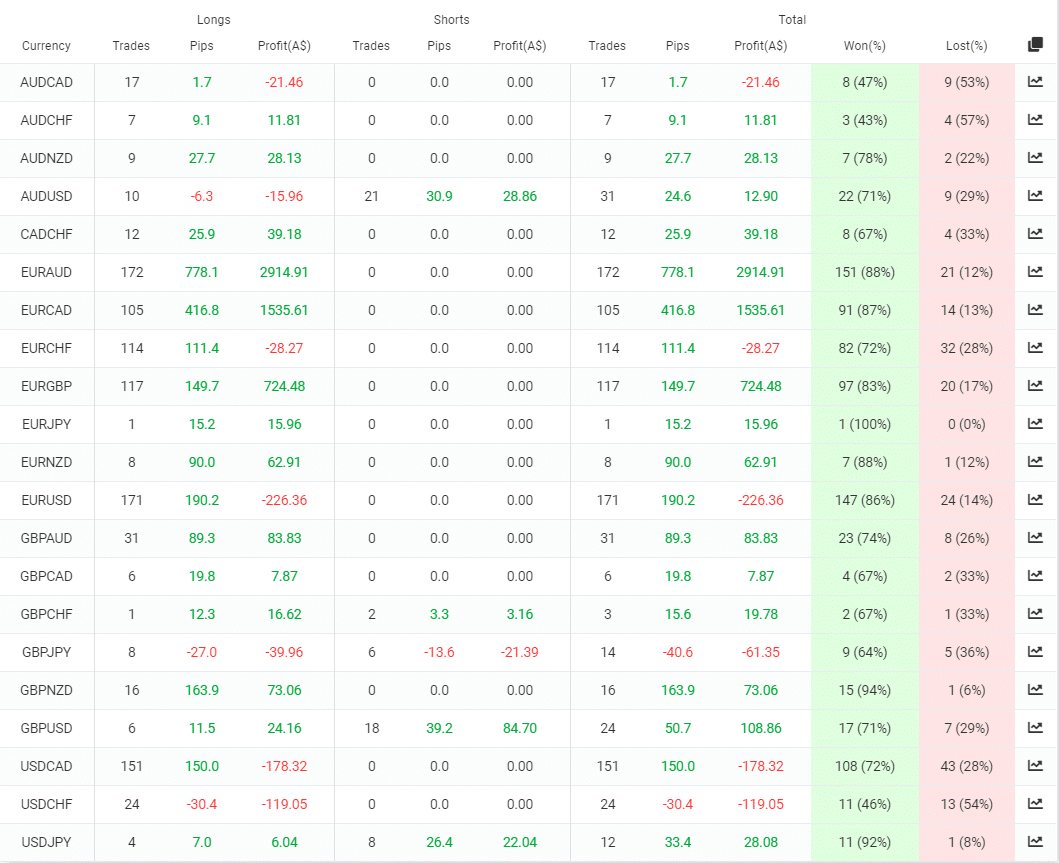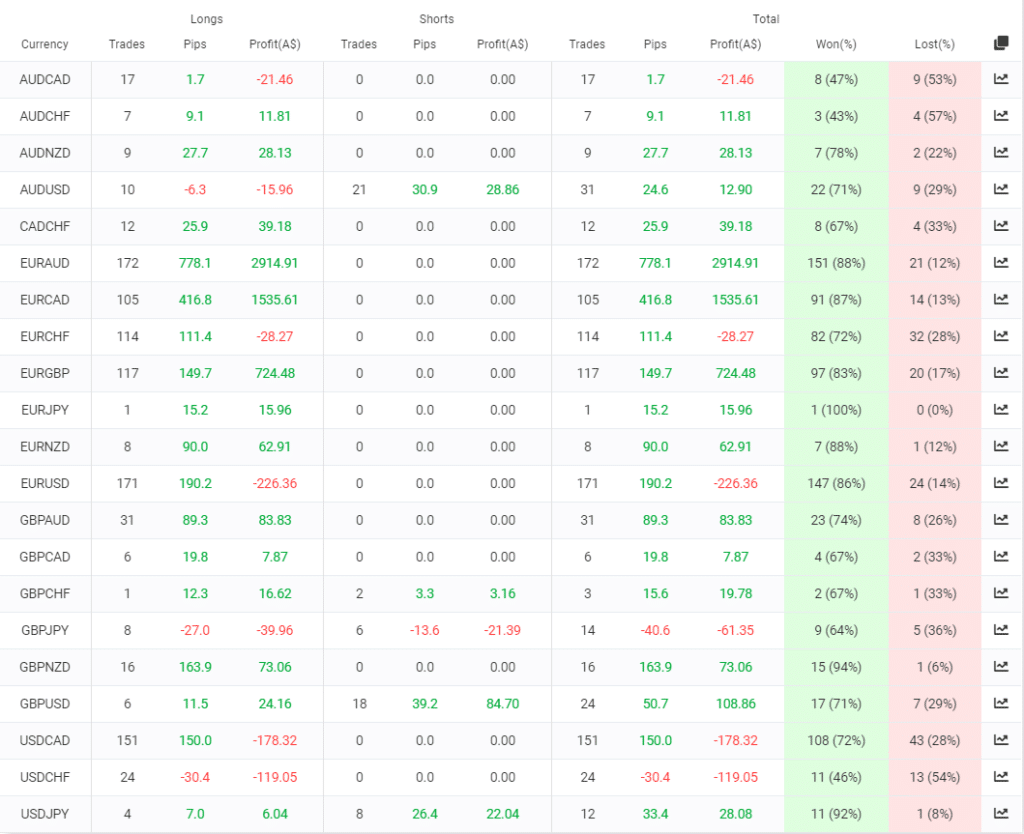 The most traded and profitable currency pair is EUR/AUD – 172 deals with $2,914.91.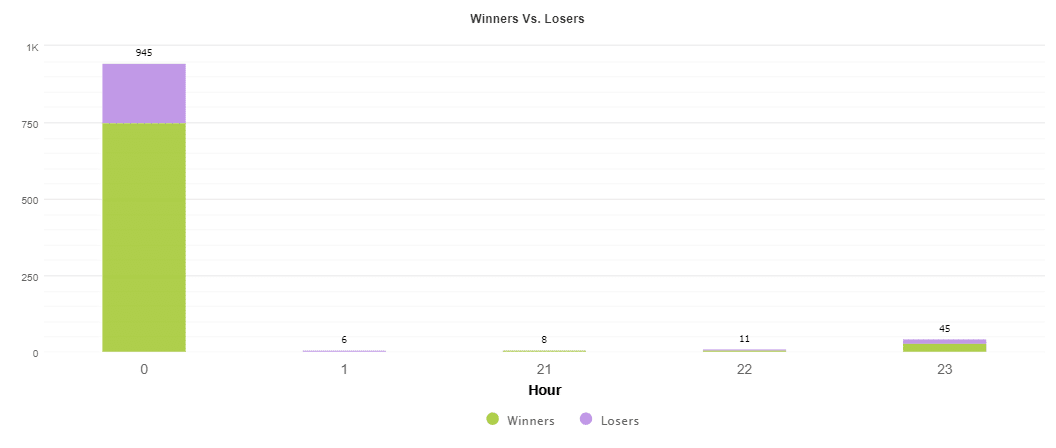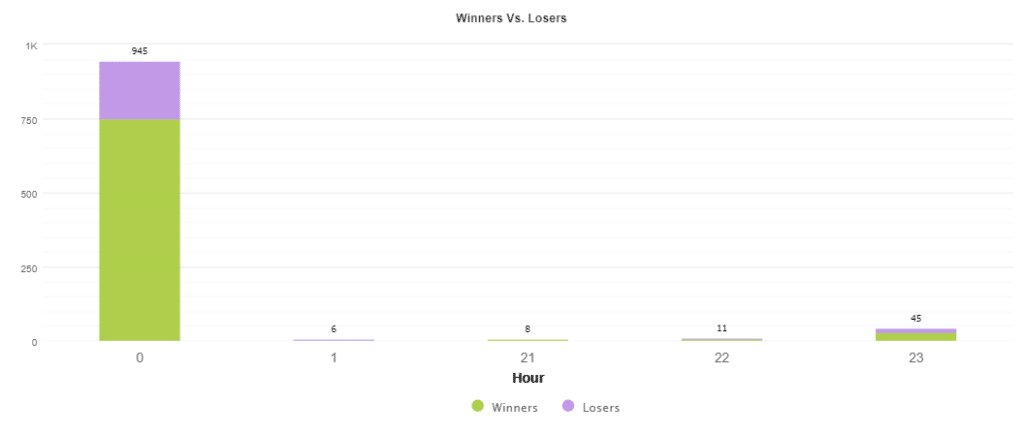 The robot mostly works after Midnight.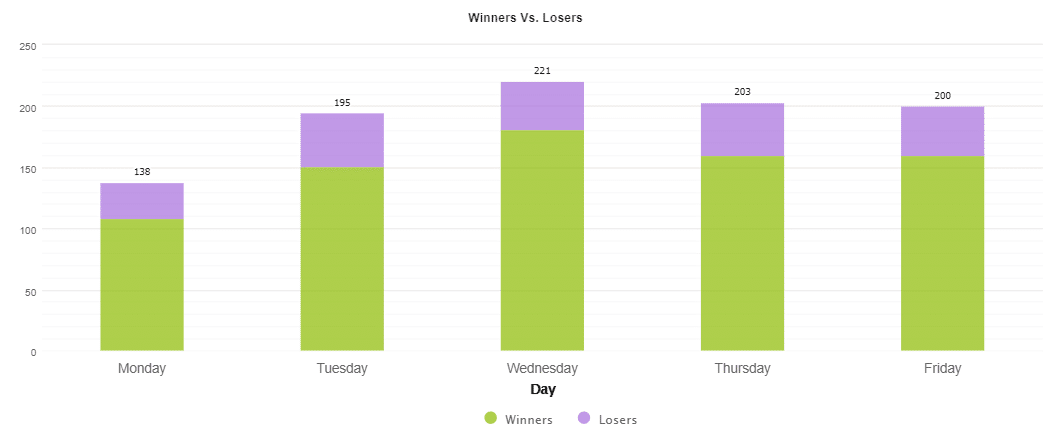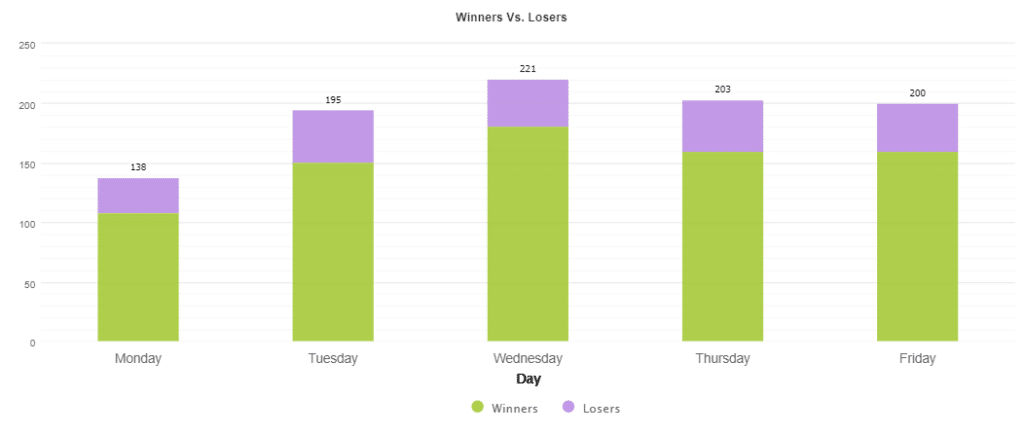 Wednesday is the most traded day – 221 deals. The less traded day is Monday (138 deals).


The system trades with medium risks to the account balance.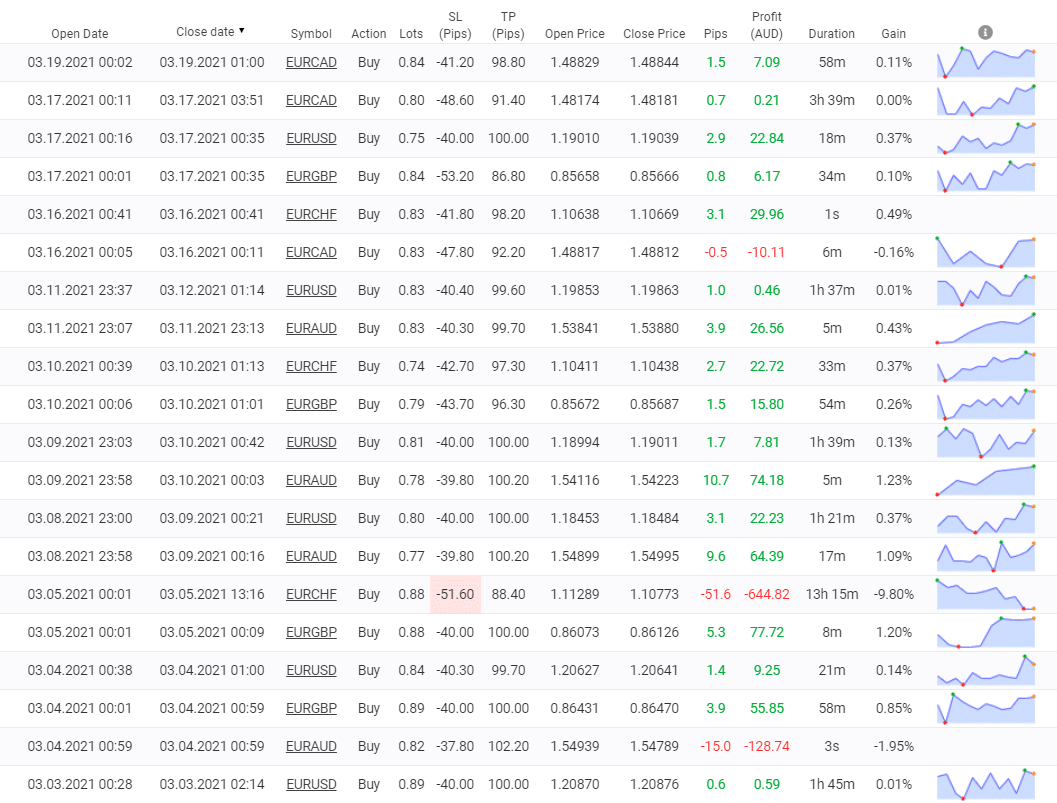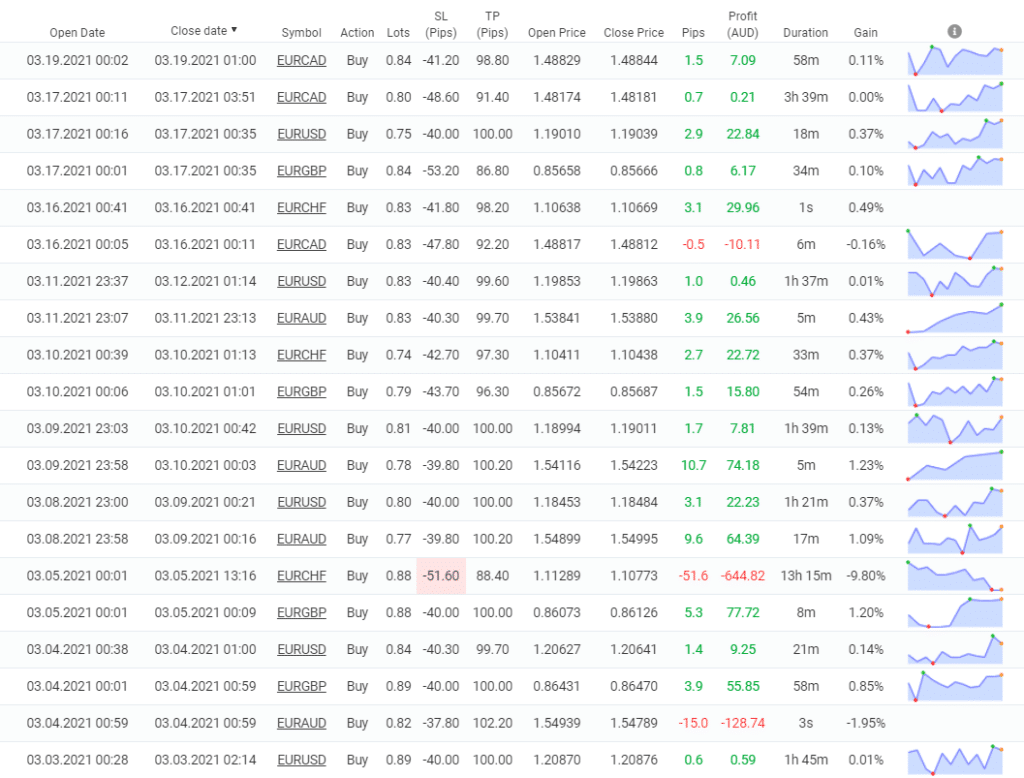 The robot losses much compared with gained profits.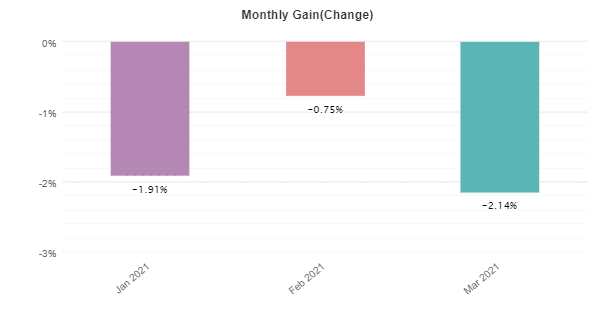 Now, in 2021, Forex Robotron is a scam.
Other notes

We're suggested to use one of these: XM, AvaTrade, FXOpen, or IC Markets brokers.
People feedback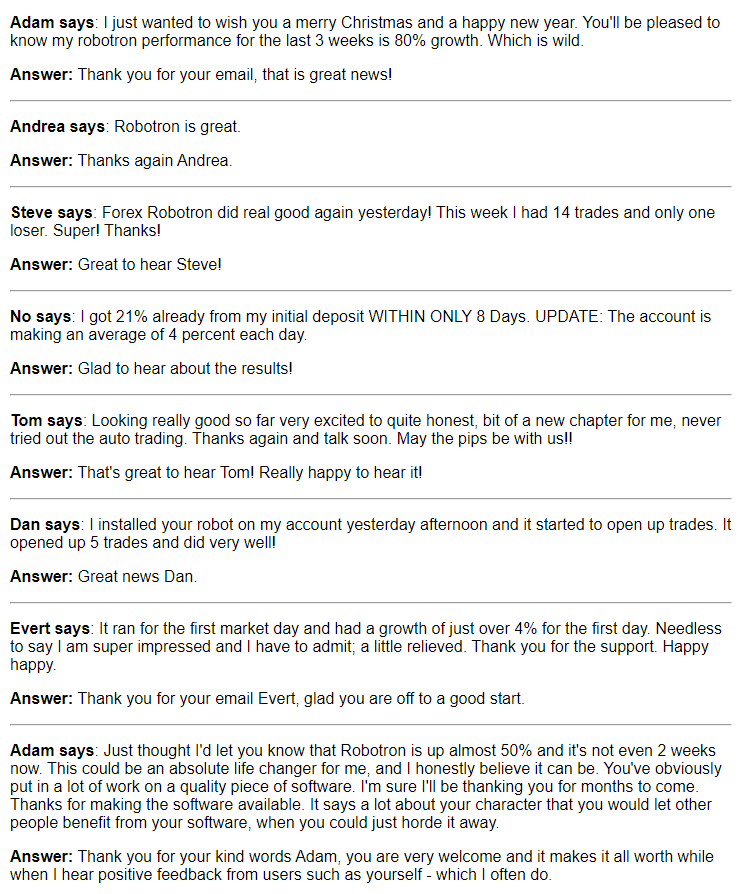 We've got much positive feedback from clients if it's true.


Forex Robotron manages a page on Forex Peace Army. There's a single review with a ⅗ rate.


This person isn't satisfied because the robot shows mediocre results running live.
Wrapping up
Advantages
Backtest reports provided
Real-account trading results provided
Acceptable pricing
Disadvantages
No team revealed
No strategy details explanations provided
Horrible trading results in 2021
No money-back-guarantee provided
No people feedback published on Forex Peace Army
Summary
Forex Robotron has been working for many years, but in 2021, it's a scam software. The system couldn't manage to be profitable for several months in a row. The developers didn't support the packages with a money-back-guarantee if we're not happy. So, we'd like you to avoid this robot.